Newberry – A new item could find its way onto the bills of customers of Clay Electric Co-op.
The City of Newberry is one of the few towns in Alachua County that Clay Electric doesn't have to pay a franchise fee to do business in. Newberry might soon be looking to change that.
A franchise fee is essentially a tax that a utility business sometimes must pay to operate in a certain area, said Derick Thomas, district manager for Clay Electric in Gainesville and Lake City.
"What you're paying for, in theory, is use of the city's right-of-ways and road crossings," he said. Right-of-way refers to permission to use a city or county's infrastructure, such as power cables, water lines and public roads. Many of Newberry's roads are county or state roads, Thomas said, so the franchise agreement probably wouldn't be worth a lot of money.
Since road maintenance is paid for by residents through tax, it is fair Clay Electric pays for their upkeep as well, said Newberry City Manager Keith Ashby, especially with all the wear and tear from the heavy vehicles they must use.
As of now, the city's attorneys are drafting a letter for Clay Electric, which could take a week or two, Ashby said.
The next step would be negotiating with the power company.
"The city can't just unilaterally do it," Thomas said.
Clay Electric would sit down with the city and they would determine what a fair market value for access to public infrastructure would be.
A Newberry ordinance was passed 12 years ago that asked for a franchise agreement with the company, but it was never enforced, Ashby said.
If the franchise fee is enacted, business would still continue as usual for Clay Electric, Thomas said.
The fee would be itemized on the bills of the company's customers.
"This isn't a tax on Clay Electric, but on the citizens of Newberry," he said.
Franchise fees are not uncommon, Ashby said. They are the norm across the state, and nearly every city in Alachua County that the power company operates in collects one.
"High Springs just got their franchise fee into play with Clay Electric," he said.
# # #
Email CMcKinney@
alachuatoday.com
Add a comment
Add a comment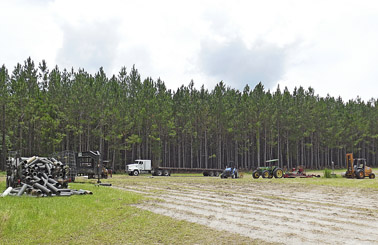 The City of High Springs is turning the city's wastewater sprayfield into a sod growing operation which will aid in repairs and upkeep of local ball fields.
HIGH SPRINGS – The city's plan to use the wastewater sprayfield to grow sod has finally taken root. Suwannee Valley Grassing, Inc. (SVG) of Lake City has agreed to plant the city's 17-acre sprayfield and turn over three acres of Bermuda sod grass to the city for ball field repairs, according to High Springs City Manager Ed Booth.
Booth said the wholesale price of Bermuda grass sod is $10,000 per acre, which means it would have cost the City $30,000 to purchase the sod commercially.
"Their [SVG] people are out there right now clearing the area of weeds and grasses so they can eventually plant the Bermuda grass," said Booth. "Planting should take place within the next three weeks. Then it takes about a month to get the sod established."
Once the field is planted and growing Bermuda grass, SVG will come in and cut it. The city will then transport their share of the sod to the ball fields, "unless SVG decides to transport it as a civic gesture," he said. "This should happen between November and February, when the soccer ball fields are not in use," said Booth.
Commissioners have agreed that if the funds are available in the next fiscal year's budget, a part-time recreation director will be hired. Booth, who anticipates being able to hire the position, explained that it will be up to the recreation director to get the sod laid on the fields.
There appears to be no downside to this project. The city sprays the field anyway and will now reap the benefit of that in the form of sod to improve the less than perfect city-owned ball fields. In addition, growing sod on the sprayfield removes some of the nitrates from the soil. "Had we not decided to do this, we would have had to move the sprayfield to a new location because it was becoming too nitrate rich," said Booth. "This solves several problems at once."
Depending on how this works out for the city, "we may look into it as an enterprise fund later," Booth said.
Previously he explained to the city commision that one city he knew of uses this method to earn money by selling sod to homeowners and businesses in their area. "I don't think we're quite ready for that yet, but it might be possible for the future," he said.
# # #
Email Cwalker@
alachuatoday.com
Add a comment
Add a comment
HIGH SPRINGS – Although initially High Springs charter officer evaluations were scheduled to be discussed at a public meeting, commissioners have now decided to meet individually with charter officers to discuss their reviews personally. The decision, which was prompted by an earlier suggestion by Commissioner Linda Gestrin, was arrived at by consensus at the May 23, 2013, regular city commission meeting.
Gestrin said she suggested the individual meetings as a way to further communication between the commissioners and the charter officers and felt each review should be discussed privately before the results are made public.
Making the process a little more difficult for some commissioners is the fact that the charter officers have no specific job descriptions. According to Commissioner Bob Barnas, the only description of the duties of those positions is in the Charter itself.
Charter officers for the City of High Springs are listed in Section 3.0 of the City Charter as the City Manager, City Attorney and City Clerk. Their powers and duties are listed in Section 3.04, 3.05 and 3.06, respectively.
As City Attorney Scott Walker and his staff are based out of Gainesville and Walker stated they had a heavy schedule for the next two months, Mayor Sue Weller suggested they come into High Springs earlier on commission meeting days to meet with each commissioner.
The deadline for the meetings is set for June 23, 2013. Following those meetings, the evaluation forms submitted by each commissioner will be available for public review.
# # #
Email Cwalker@
alachuatoday.com
Add a comment
Add a comment
ALACHUA – Soldiers who get head injuries during combat, athletes who sustain a blow to the cranium and drivers who might have brain damage after a car accident rely on doctors being able to effectively diagnose if and how much their brain has been injured. Medical professionals are in need of an objective way to measure and test for such injuries, says Alachua-based Banyan Biomarkers.
Banyan, which has headquarters in both Alachua and in Carlsbad, Calif., has raised $6 million in funds from anonymous private investors to develop a diagnostic test to look for traumatic brain injury.
The test is in a 2,000-person clinical trial phase, and looks for proteins in the blood that are present when the brain is damaged. The more proteins, the more severe the damage, said Jackson Streeter, CEO of Banyan. The science was developed by the University of Florida McKnight Brain Institute, he said. Blood samples can be run through a variety of different machines, making the method versatile, he added. The study is about one third of the way finished.
In addition to the money from private investors, Banyan has received $26.3 million in grants and contracts from the Department of Defense for the clinical trial.
The company is also conducting another study on sports-related injuries and how the test might help athletes.
The test should have FDA approval by sometime in 2015, Streeter said, and will help doctors have a reliable, non-subjective way of measuring brain injury.
"Traumatic brain injury is otherwise an invisible injury," he said.
# # #
Email CMcKinney@
alachuatoday.com
Add a comment
Add a comment
ALACHUA – Construction is underway on Alachua's planned welcome center. The City of Alachua and the Alachua Chamber of Commerce have been working together to create a welcome center for Alachua since 2011.
The center will be located at 14801 Main Street in the building that formerly housed the Alachua Police Department.
The welcome center will provide information promoting economic opportunity, cultural heritage, recreation and nature-based attractions in the area.
The estimated cost of renovations to the building is $78,970. Twenty-five thousand dollars in tax increment funds, a $25,000 grant from the City of Gainesville and $25,000 from the City of Alachua Downtown Redevelopment Trust Board will be used to cover costs.
Construction is estimated to be completed in early May, according to Alachua Chamber of Commerce President David Pope.
The decision to approve funding was unanimously approved by the Alachua City Commission on Monday, March 11.
# # #
Email estanton@
alachuatoday.com
Add a comment
Add a comment