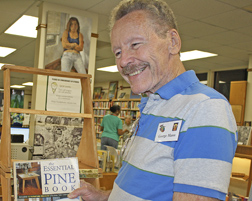 George Mann crafted four Franklin Chairs using the knowledge he gained from a book he checked out of the Hawthorne Library. Mann recently donated one of the versatile chairs, which can also be used as a stepladder, to the library.
HAWTHORNE– When Hawthorne resident George Mann checked out a book entitled
The Essential Pine Book
from the city's library six months ago, he got to work.
He made four stepladders that turn into chairs. One of those "Franklin Chairs" was presented on a table in the library as a showcase of how imagination is not limited to the bound pages of a book.
Portraits, carvings, beaded work and other pieces of art adorned the walls and shelves of the Hawthorne Library at the 46th Annual Hawthorne Artists' Appreciation Reception on Thursday night. Gainesville artist Susan C. Johnson spoke at the event.
The reception was part of a month-long art appreciation project at the library. Students from Shell Elementary School contributed art, and local teenagers created sidewalk art in front of the library entrance.
The library is not just a place for people to read books. It's also a community center, library manager Memree Stuart said.
One Hawthorne resident incorporated her mother's art. A young girl stood in the middle of a snowy path. The artist, Candy David, said that she found an unfinished painting by her mother and she finished it by painting a 3-year-old version of her mother on top of the picture.
Librarian Guylene Resue introduced the artists at the reception. She had two mismatched beaded purple earrings. They were both made by local artists, she said.
"I'm a walking art exhibit," Resue said.
Johnson then stood before the audience and talked about the inspiration behind her art. Horses, she said, are spiritual creatures. She works hard to listen to the sniffles and whinnies so she can capture that horse's personality, she said.
"When I get back to the studio, those are the sounds I'm hearing," she said.
Hawthorne artist Onya Laree brought her nephew, Kalai Boyd, 4, to the reception. Kalai opened up a composition book to reveal brown drawings and scribbles. Laree laughed, "I think it runs in the family."
Add a comment
Add a comment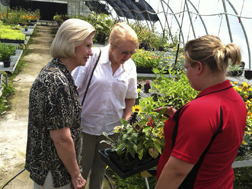 Area residents shop for spring plants at the Santa Fe High School FFA annual plant sale.
ALACHUA – Area gardeners may want to check out the Santa Fe High School FFA annual plant sale which is currently underway. FFA students have been planting and caring for a variety of plants that are being sold to the public. Flower and vegetable plants including zinnias, marigolds, salvia, peppers and much more are available at the school's greenhouse. The school is located at 16213 NW US Hwy 441 in Alachua. For more information, call 386-462-1125.
Submit your story by
Emailing community@
alachuatoday.com
Add a comment
Add a comment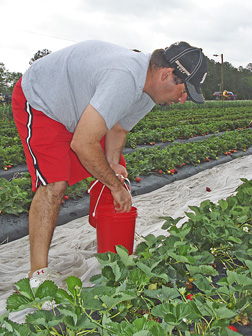 Mike Mandarino, an Alachua County resident, picks strawberries as it begins to rain at Rogers Farms on a recent Saturday afternoon. Rogers Farms is open 8 a.m. to 6 p.m. Monday through Saturday.
ALACHUA COUNTY – As he was picking strawberries Saturday afternoon and placing them into one of his two red buckets, it began to rain.
Mike Mandarino, an Alachua County resident and proponent of supporting the local community, was picking strawberries at Rogers Farms, which is located three miles north of Gainesville city limits on State Road 121.
"Everything we do, we do local," he said.
As strawberry season gets fully underway in the Alachua County area, increased strawberry sales underscore a growing trend of area residents buying produce locally.
Larry Rogers, owner of Rogers Farms since it opened in 1984, said that he has seen an increase in people wanting to buy local produce.
"They're realizing that fresh is much better," he said.
Rogers opened his five-acre strawberry field for the strawberry season on March 15 and plans to keep it open until mid-April, weather permitting.
Although local residents have always bought products such as fruits and vegetables locally, the phenomenon has recently become more prominent, said John VanSickle, professor of Food and Resource Economics at the University of Florida.
"It's a fad," he said. "It's growing in popularity."
The reason why people are buying more local produce is because they equate local with quality, he said. Some people also buy local because of the social atmosphere.
"They do it because the quality is considered to be higher and [because of] the community appeal of it," he said.
Although getting produce locally can be more time-consuming and less convenient than getting it at a supermarket, he supports residents buying produce locally because it helps the surrounding economy.
"Buying local is good from a community perspective to support local farmers," he said.
Although buying local is becoming more widespread, most produce consumed still comes from long distances away.
"The average distance from farm to plate is 1,500 miles," said Ashley Pennington, Outreach Coordinator for the UF Office of Sustainability.
Pennington believes that it is important to have a strong and vital local economy. Because of this, the UF Office of Sustainability hosts off- and on-campus events to encourage people to buy local produce.
As a local food producer, Rogers is glad that people are increasingly appreciating locally-grown produce.
"You're helping the local economy, that's for sure," he said.
Add a comment
Add a comment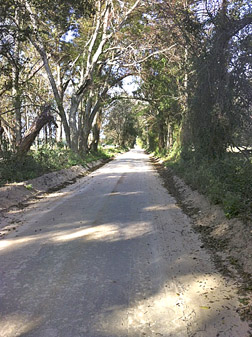 In the month of May we are going to see a lot of activity on our streets and roads. We will be putting in a storm water drain on NW 8
th
Avenue where it goes behind the industrial park. This will solve a longtime standing water and flooding problem in that neighborhood. We will be resurfacing NW 8
th
Avenue and NW 1
st
Avenue and many of the connector streets between them. We will also be resurfacing SW 1
st
Avenue, and fixing what I consider to be the worst piece of road in town – the block of SW 1
st
Avenue between 254
th
and 255
th
streets. A Community Development Block Grant (CDBG) makes these projects possible. Our General Services Director, Connie Goode, working with Planner Lowell Garrett and Grant Writer Wendy Kinser made this possible and we owe them a big thank you.
Rural graded roads have been an item of interest by the City Commission lately. City leaders have made a commitment to improve the quality of maintenance on these roads to better serve our farming and rural community. The city has added manpower to the road crew, and the road crew has tried some new techniques to keep the graded roads smooth and well drained in wet periods. Connie Goode reports that the maintenance crew is pulling more dirt from the sides of the road to the middle and adding lime rock and binder to the middle to raise the crown of the roads and improve drainage. I drove down Watermelon Pond Road recently and could notice a distinct difference where the new technique had been used.
Another solution used to improve rural roads is the "Chip Seal." The city installed the chip seal surface on SW 15th Avenue from US 41 to Jonesville Baptist Church a couple of years ago. Chip seal just puts a thin petroleum slurry over a lime rock road. It gives it a black top surface and keeps the dust down, but it is not an asphalt road by any stretch of the imagination. But it's a whole lot less expensive.
Paving a road to Department of Transportation (DOT) standards costs about $1 million per lane-mile. Chip sealing costs about $50,000 per lane mile. The city plans to chip seal SW 30th Avenue from CR 337 to the Nations Baseball Park next week. Then we plan to continue resurfacing SW 30th Avenue from the Baseball Park, to CR 241 South in the near future. We are hoping to get funding for this through development fees and plan on paving with asphalt to DOT standards.
This week, our Commission approved a project that will upgrade of all four of our city railroad crossings. This project, funded by a $1.4 DOT grant, will eventually build more sidewalks in town as well. Our thanks to Planners Lowell Garrett and Wendy Kinser and General Services Director Connie Goode for seeing this one through.
Submit your story by emailing This email address is being protected from spambots. You need JavaScript enabled to view it.
Add a comment
Add a comment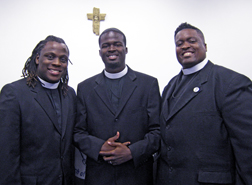 Adam Joy, Pastor of Fusion Dream Center Church of God In Christ (COGIC) was ordained March 31 at the church's new location. Bishop Edward Robinson performed the ordination, making Joy the newest and one of the youngest pastors in the area. Many in Joy's congregation, including his wife, Nakeshia, celebrated the occasion with him. Fusion Dream Center COGIC is located at 19930 NW U.S. Highway 441, Suite B, High Springs, Fla. For more information, call 352-474-1702.
Add a comment
Add a comment