Details

Published on

Friday, 28 December 2012 16:28

Written by Special to Alachua County Today
Hits: 5453
ALACHUA – The 11th annual Tour de Felasco mountain biking event will be held Jan. 12, 2013 at San Felasco Hammock Preserve State Park in Alachua. Registration for this popular event opened on Oct. 1 and filled within a few hours.
Approximately 500 cyclists will attempt 50 miles of challenging terrain, with a 62-mile metric century option for those wanting more. The Tour is not a race, but rather a group bicycle ride through one of North Florida's most diverse ecological and geological preserves, and the route includes areas of the state park that are open to bikes only on Tour day.
The Tour de Felasco is presented by the Friends of San Felasco, Inc., a non-profit Citizen Support Organization (CSO) that makes it possible to support the park through volunteer efforts. This is the main fundraiser for the park, and proceeds from the Tour go toward trail maintenance and other park improvements. The Tour is also supported by sponsorships from businesses, such as local bike shops. Approximately 70 volunteers help with this annual effort, and many volunteers assist with trail maintenance and other tasks throughout the year.
For more information about the Tour de Felasco, contact Mike Kelley at 352-538-5055 or email mckelley@bellsouth.net. To learn about recreational and volunteer opportunities at San Felasco Hammock Preserve State Park, visit the Friends of San Felasco website at http://www.sanfelasco.net/.
Add a comment
Add a comment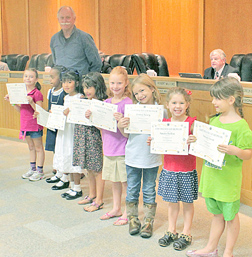 Students of Irby Elementary Art Teacher Lori Swarthout were honored by the Alachua City Commission in recognition of their excellence in art and participation in providing original art work to the City. The young artists will have a 20 piece art display that will be in City Hall through the month of November.
Add a comment
Add a comment
HIGH SPRINGS – High Springs commissioners and finance director Helen McIver searched the current year's budget to come up with $49,207 needed by the police department to upgrade their security system to be in compliance with state and federal requirements.
Noting that next year's budget did not have funds available for the needed purchases, McIver suggested areas in the current year's budget, which ends Sept. 30, that might have funds remaining to cover the expenditures.
Police Chief James Holly presented the equipment list at a previous special commission meeting stating that many cities had been working on the needed upgrades for the past couple of years. "Expenditures for FDLE/Communications are necessary to insure FDLE compliance as well as enhanced IT capability for the High Springs Police Department," explained Holly in his written request, referencing the Florida Department of Law Enforcement (FDLE).
High Springs officials were not aware of the required upgrades until recently, and had not planned for the expenditures in previous budget years.
McIver and Holly identified a total of $35,000 from the current Police Operations budget. Another $14,250 was found in other areas of the current budget to accommodate the additional required purchases.
Funds were cut from unused portions of the budget in the areas of Training and Travel for City Commissioners ($1,500), City Manager Professional Services ($1,000), Finance Accounting and Auditing ($1,000), City Manager Car Allowance ($5,400), City Manager Dues/Subscriptions/Membership ($750), Planning, Development Codes, Code Board Attorney ($2,400), and Planning, Development, Codes Contractual Services Building Official ($2,200).
# # #
Email Cwalker@
Alachuatoday.com
Add a comment
Add a comment
Items of note covered during the meeting included "Trick or Treat" and the fire department.
The commission proclaimed Wednesday, Oct. 31, from 6-8 p.m., as "Trick or Treat" night in High Springs. The body also discussed a ground breaking for the renovation to the fire station building on Oct. 27 at 9:30 a.m., and the expected Nov. 7 delivery of a new fire truck.
A special event permit for the Rotary Club's annual car show on Oct. 27 was granted along with several applications by various groups wishing to use the Civic Center.
A special commission meeting has been scheduled for Thursday, Oct. 18, to award the bid for the fire station renovation. Bidders were Anglin Construction Co., CK Contracting, Inc., North Florida General Contracting, Inc., Riverland Construction Services LLC and TH Building Group LLC.
Other items added to the Oct. 18 agenda include a discussion of a "state of the city" letter to be mailed out to all High Springs citizens and a discussion regarding opening the street around the sinkhole behind City Hall.
# # #
Email This email address is being protected from spambots. You need JavaScript enabled to view it.
Add a comment
Add a comment
Details

Published on

Sunday, 09 September 2012 16:10

Written by Special to Alachua County Today
Hits: 2892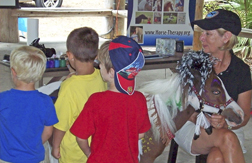 HIGH SPRINGS – Celebrate the 5th Annual Literacy Day event on Sept. 8 from 10 a.m. to 2 p.m. at O'Leno State Park. Have fun with Magic and the Gentle Carousel Therapy Horses.
Listen to stories read by local authors and guest readers, and talk with book illustrators. Stretch your legs and take a "Where Tales Meet Trails" adventure walk, and then sign up for a library card. There will also be an arts and crafts area, live animals and refreshments. Learn about adult literacy programs and rreceive a free state park day pass.
Admission to the park is free with the donation of a new or gently used family oriented book. To learn more about Gentle Carousel Therapy Horses, visit www.horse-therapy.org. To learn more about the park, visit www.floridastateparks.org/oleno. O'Leno State Park is located located 6 miles north of High Springs on U.S. Highway 441.
# # #
Submit your story by emailing
This email address is being protected from spambots. You need JavaScript enabled to view it.
Add a comment
Add a comment