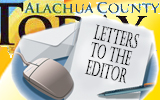 One Sunday afternoon in July I received a call from a friend asking me and my husband to join her and her husband at John Paul Park for some music under the trees. It was actually pleasant for July and there was plenty of tree cover to hide the sun. We brought our chairs and sat along the road, listening to the music, conversing with friends, enjoying the good nature of High Springs.
Why would our current majority on the Commission want to take that away? Quite possibly, they never experienced what I, and others, have experienced. If they had, they would not have voted to reopen the road that circles the Park.
Commissioners Barnas and Gestrin ran on platforms of nature, springs, family outings, bringing people back to High Springs.
Actions speak louder than words.
A vote for Pat Rush is a vote for taking all that is good about High Springs away. Don't let that happen.
Vote for Byran Williams for High Springs Commission.
Susan Beck
High Springs, Fla.
Add a comment
Add a comment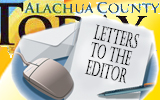 Did you know that Pat Rush's recent Campaign Treasurer's Report shows he knowingly broke election laws as stated in Florida Statutes 106.08 by accepting an excessive contribution?
If that's not enough, in a recent "Support for Rush," Letter to the Editor, its author gave her reasons for voting for Pat Rush. Among those she cited was, [he has] "practical experience in running a business." If running his Pat's Place business on Main Street out of business is the kind of knowing how to fail experience you want to run our city, then it is no wonder that Davis, Barnas and Gestrin also like Pat Rush – he fits right into their failure-oriented, law breaking style.
Pat Rush may blame the economy for his businesses demise ,but during the same economic turmoil period, other businesses in our city are still in business because they are managed better. I personally don't want Pat Rush to make clueless decisions on my behalf and so, my vote goes to Byran Williams because he has our Lord and our City in his heart, he has integrity in all his actions, and he will do what he needs to do to help High Springs thrive once again.
Gene Levine
High Springs, Fla.
Add a comment
Add a comment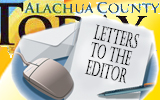 During the past many months I have had the opportunity to meet thousands of you as my campaign to unseat County Commissioner Mike Byerly, District 1, has taken me to dozens of events, forums, debates and other political gatherings. My message to you has been simple: It is time we stopped the economic bleeding we are suffering in the form of higher taxes, lower property values, stifling business regulations, reduced employment, and a massive deterioration of our roads. I stress that my election as your commissioner will offer the opportunity for a new direction for Alachua County government that focuses on core services, especially law enforcement, fire services and roads.
I thank all citizens for listening to my message and now ask you to go to the polls and vote for me, either by early voting or at your polling precinct on Tuesday, Nov. 6. With your support I can follow through on my vision to bring fiscal conservatism and common sense to the Alachua County Commission.
John Martin, Candidate
Alachua County Commission
Add a comment
Add a comment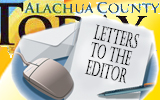 We moved to High Springs to buy the Grady House Bed & Breakfast. There were lots of options for beautiful B&B's to buy all over the Southeast. However, we looked here and fell in love with the Grady House and High Springs.
I immediately volunteered my time: cooking for Farmer's Market and other charity events; serving on boards of The Chamber and the Community Development Corporation (CDC); Mayor's Economic Development Task Force; Code Enforcement Member; and Alachua County Tourist Development Council. My husband and I never minded donating time, energy, food, or money to an event for High Springs. In the process, we met wonderful and equally dedicated friends.
Recently, the High Springs City Commission ordered an audit of its CRA at a cost of $11,000 to further their agenda. As a result, I have been wrongfully accused by Commissioners Barnas, Gestrin and Davis, and CRA Members Sylvia Newcomb and Ann Carter of using $15,000 of CRA money to pay for a "commercial" to promote the Grady House.
Carter , who calls herself "a truth person" and who supposedly "loves the truth," didn't even read the entire audit. She wants those who have inappropriately used money to be "brought to justice." And because Barnas said it was true, his candidate, Pat Rush is spreading this deliberate untruth on the campaign trail. It's not debatable; it's provably untrue.
The "commercial" they are referring to is a video shot by Visit Florida which appears on its website. The CRA chose to spend $1,500 of its own money -- not $15,000, and it was a wise decision. Visit Gainesville partnered with the CRA and paid the other $1,500. Total $3,000.
Clearly, today's CRA members never even looked at the video at http://www.visitflorida.com/video/310-high-springs
If they had, they would have seen just how ludicrous their comments and attacks were. The video is a beautiful travel narrative of High Springs. Many businesses, rivers and springs were featured. No self-promotion, no inappropriate use of funds by the CDC or me, but rather a partnership and pooling of resources by those interested in bringing visitors to High Springs. Not one favorable word about the Grady House was uttered…by anyone.
Certain elected officials with obvious agendas, one candidate (Pat Rush) and appointed members of the CRA have made derogatory and damaging false statements about me, my intentions and my integrity. This is not acceptable to me and should not be tolerated by you. In an instant, the false attacks, manipulations and overstatements expressed by them about me could be shifted and redirected at any one of you, if you dare to disagree. It is blatantly unfair to level criticisms against well-meaning individuals, volunteers and organizations without the benefit of any truth.
This propaganda being spread by Barnas and his candidate Pat Rush is consistent with the bullying, accusatory and mean-spirited tactics of the majority of this Commission who makes statements without facts, maligns decent hard-working citizens, demoralizes employees and governs by creating a fear of retaliation and retribution among local residents.
Ask yourself: Do I want three more years of a tyrannical and oppressive Commission? Do I want three more years of a Commission who is resolute on furthering their own agendas, ignoring the concerns and opinions of the citizens? Do I want three more years of fear of retaliation by those who are committed to destroying and bankrupting High Springs?
If you don't want to continue this destructive path, vote for Byran Williams. If you want a return to civility, to having your concerns heard and heeded, and to a Commission that is not furthering a vendetta, vote for Byran Williams.
Lucie Regensdorf
High Springs, Fla.
Add a comment
Add a comment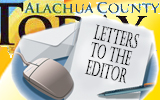 Last week at the end of my driveway across the street, someone placed a "Pat Rush" campaign sign. Throughout the day, people offered to go over and pull it up. My response was, no leave it be. As it stands it is only a minor irritant to myself. Removing or destroying the sign would have only caused an issue. The sign was eventually removed. Whether one of the neighborhood kids or the City grass control crew removed it, I'm unsure.
I do want Byran Williams elected to the High Springs City Commission Nov. 6. My preference for Byran and rejection of Mr. Rush is purely an embrace of Byran's ideas. Ideas being fought out in a political arena. The City's problems are mounting fast. I believe , and I hope Byran has convinced the majority of voters in High Springs that his approach to solving the City's problems is more effective. Vote Williams.
The City does not need ongoing animosity between individuals and factions. There are differences of opinion between groups. Understandable, anywhere there are five people, there will be five absolutely correct opinions.
I think Byran Williams is the best choice for High Springs. Whomever you vote for Nov. 6, locally or nationally, the election legitimizes your choice. For all of us it's back to reality by Nov. 10. Yes, your mortgage is due.
Vote; live with the results. Be mindful, the enemy you spent the last six months making is the same person you will greet at the next community social event, business roundtable or at Church.
Ronald K. Wilson
High Springs, Fla.

Add a comment
Add a comment