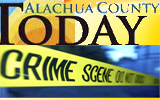 HAWTHORNE – No arrest has been made in the Wednesday, April 25 shooting death of 23-year-old Calvin D. Thomas in Hawthorne. In the week since the incident, deputies have learned that it was Thomas who fired the first shots, Alachua County Sheriff's Office (ACSO) spokesman Art Forgey said Wednesday.
Around 1 p.m. on April 25, a disturbance occurred at 7429 SE 225th Way in Hawthorne, deputies say. According to witnesses, Thomas drove up to the scene, exited the vehicle and started firing rounds from a handgun into the crowd gathered around the disturbance.
Deputies say someone in that crowd returned fire on Thomas, ultimately striking him once and killing him. Between Thomas and the other apparent shooter, multiple shots were fired, Forgey said.
"As far as we know, no one else was injured as a result of shooting," he said.
He would not release details on the weapons believed to have been used in the shooting.
Authorities have reportedly interviewed numerous witnesses, but still have others with whom they wish to speak.
The disturbance that was underway when Thomas arrived reportedly involved one of his family members. Although Forgey did not elaborate on the nature of the disturbance, he said deputies do not believe the incident to be gang or drug related.
Forgey said ACSO deputies have been returning to the area where the shooting occurred to canvass the surrounding neighborhoods in hopes of finding more witnesses.
"Deputies are also disseminating information about our gun bounty and reward program," he said.
That program offers up a $1,000 reward to anyone assisting with the recovery of firearms used in gun-related crimes. The reward is available, even to anonymous tipsters. Anyone with information may remain anonymous by calling 352-372-STOP (7867).