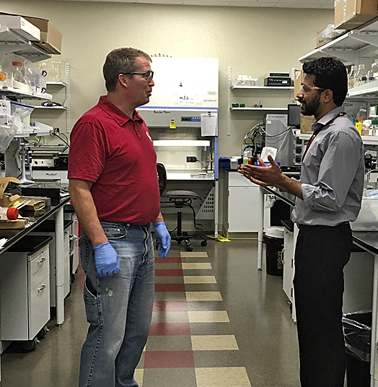 KRISTINE ORREGO/Alachua County Today
L-R: Dirk Hunt, Technology Transfer Manager and Nitin Garg, Assistant Director, Upstream.

ALACHUA – A new 42,500 sq ft building for the biotech company Applied Genetic Technologies (AGTC) is in its final stages of completion.
Located in Foundations Park across the street from Progress Corporate Park on U.S. Highway 441, it is the first building for the company to merge its administrative offices with its labs under the same roof.
According to Chief Financial Officer Larry Bullock, the company was previously located in Progress Park.
He said their employees were scattered in four different buildings, including the EmiLiv Building, UF's Center of Excellence for Regenerative Health Biotechnology (CERHB), RTI Surgical and the BDI Building.
He also said the new building is ideal for their ongoing growth, which is projected to increase over the next few years.
"Now we're all under one roof, which makes it much more convenient for all of us to communicate," Bullock said. "We're currently at around 50 employees. Over the next few years, we anticipate that will grow to probably close to 75. We've expanded pretty significantly our lab facilities, so those are the sorts of things that we will continue to expand."
Construction has been ongoing on the new building – situated alongside U.S. 441 heading into Alachua – since the ribbon-cutting ceremony for Foundation Park was held in May. The AGTC building is the first of several slated for construction in the park.
"The advantage of moving over to Foundation Park is that we are all centralized [now]," said Idania Sanchez, executive assistant to Sue Washer, the president and CEO of AGTC. "We're all together – the offices, plus the labs."
Sanchez also said AGTC, the only current tenant of the building, might lease out some space for another company.
"We're hoping that we can lease other companies as well, but we're really going very quickly, so we might take some additional space," she said.
AGTC has ongoing programs to research, combat and focus on developing groundbreaking healthcare solutions to patients with rare diseases, according to their website.
Bullock said some of this ongoing research includes the development of gene therapy products. Their main area of interest currently is ocular diseases.
"We're looking at genetic causes of blindness or genetic causes of severe visual impairments," he said.
AGTC will host an open house at the new facility at 14193 N.W. 119th Terrace in Alachua at 4:30 p.m. on Thursday, Feb. 18.
# # #
Email Korrego@
alachuatoday.com
Add a comment
Add a comment
ALACHUA COUNTY – Several changes may soon be coming to the way the county funds rural fire protection services.
The Alachua County Board of County Commissioners (BOCC) is expected to convene a joint meeting with the Town of LaCrosse on March 1. Although many issues may be up for discussion, two will certainly be the county's handling of its contract for fire services with Melrose and recent requests for additional fire services funding from Windsor, Cross Creek and Newberry.
At their last joint meeting in March 2015, the only topic on LaCrosse's agenda was the need for additional funding for the town's fire department due to increased calls in nearby unincorporated portions of the county.
After weeks of discussions, the BOCC suggested LaCrosse either increase its property taxes or eliminate its fire department. The latter option would result in reliance on the service of county fire departments located in the cities of Alachua, which is 10-15 minutes away, and Waldo, which is 30 minutes away, for the nearly 90 acres of properties in LaCrosse's district.
Ultimately, LaCrosse chose to increase taxes to keep the fire station and reduce the cost of property owners' insurance. Insurance companies can double or sometimes triple property owners' rates if their property is located farther than five miles from the closest fire department.
With what now appears to be a county increase in funding for Melrose, Windsor is asking for additional funding with several smaller cities cuing up behind them to ask for the same.
Bill Northcutt, Alachua County Fire Services Chief, says he expects to be out of town when the joint BOCC/LaCrosse meeting takes place, but explained that the cost to the county for Melrose did not increase the county's budget, despite reports to the contrary.
"The county had one paid employee located at the Melrose Fire Department for 40 hours a week. We paid the employee's salary, etc., plus provided them $55,000. Now we are asking Melrose to put two full-time employees of their own out there at a total cost of $234,767. We are paying them the same total amount this year, although we are no longer paying our staff to be one of the people out there," said Northcutt.
The rates that the smaller cities are currently being paid was determined by previous Chief Will May. "I don't think Chief May considered the total cost of the individual departments in any financial agreements," said Northcutt. "The philosophy that Chief May used was based on his calculation of what a department with two people would cost."
Since that time, the population has grown in the rural areas of Alachua County. According to Northcutt, there hasn't been a review since fiscal year 2010.
"There is not just one global philosophy as to how this [funding] should work," he said. The BOCC has several ways they can look at how to fund smaller community fire departments.
One way is by the value of the properties each department protects. Another by how much each community generates under the Municipal Service Taxing Unit. A third by looking at the number of responses each department attends. Then whether there are two people on duty or four may also be considered.
The final item the BOCC has to consider is how to determine the funding source, the item Northcutt says the BOCC will struggle with the most.
All interested parties are expected to attend the BOCC meeting scheduled for 10 a.m., March 1, for discussion and potential decision on a uniform philosophy for funding the smaller fire partners in Alachua County.
# # #
Email Cwalker@
alachuatoday.com
Add a comment
Add a comment
KRISTINA ORREGO/Alachua County Today
Newberry High School's Kamryn James Johnson demonstrates his video scene in the Eastbay commercial popularized by the hashtag "#UpEarlyStayLate."
NEWBERRY – First, his foot is seen digging into a red-orange track. Then, among a mirage of sweaty faces and fixed stares, the chant of men singing in unison is heard in the background.
"This is an Eastbay athlete's spring," the narrator of the commercial says. "It's tough and sweaty. It gets up early and stays up late. It grunts with effort and hollers with pride. This is what we find beautiful -- long, hard work."
In a sudden flash, two track runners are seen going at lightning speed. The one in gray is in the lead.
"And that's how we like it," the narrator concludes. "And that's how we win. From the field, to the pitch, to the track. Get the best to be your best, at Eastbay.com."
The camera focuses on the runner in grey before it fades to black.
That runner is 17-year-old Kamryn James Johnson, a junior at Newberry High School.
Eastbay published this recent video, titled "Eastbay Spring Sports: Effort is Everything," on YouTube on Feb. 1.
The video is part of the brand's new campaign of the same name and is being popularized by the hashtag, "#UpEarlyStayLate."
Johnson, who is also a model at the Manikin Model and Talent Agency, said he received an email about being in the commercial from the agency as he was getting ready to go to school.
Then he traveled to Miami for the casting, which was about two hours long.
"They had me run, [and] do some stretches," he said. "And then on the way home from Miami, they called me right back and told me I got the spot."
He said he was amazed to see the final product because, despite shooting several scenes for about six hours, he didn't know which parts would actually be in the commercial.
Johnson has run track since his freshman year at Newberry High. He placed first in District championships in the 400m dash that same year.
In 2015, he joined the AAU Track and Field team and received multiple gold, silver and bronze awards in the 100m dash, 200m dash and 400m dash events.
He's currently training to be in AAU's Junior Olympic Games and will compete in the qualifiers at Florida State University in June. If he makes it through, he will compete in the Jr. Olympic games in August.
Johnson said Eastbay's slogan "Effort is everything" not only applies to his athletic achievements, but also a mindset he applies to other aspects of his life.
"It's what I go by," he said. "Without effort, you'll just be one of the regulars. You have to put in extra hours to be the best."
# # #
Email Korrego@
alachuatoday.com
Add a comment
Add a comment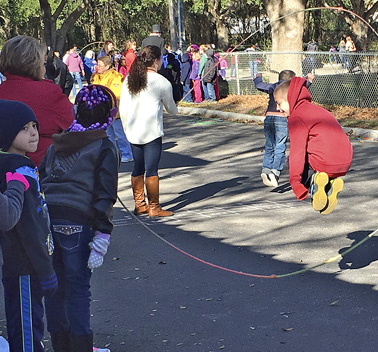 KRISTINA ORREGO/Alachua County Today
Jumping rope is a heaerthealthy activity that local elementary students put into action as they jumped rope to raise funds for the American Heart Association.

ALACHUA – Nearly 500 W.W. Irby Elementary School students braved the cold Wednesday, Feb. 10 to participate in Jump Rope for Heart, a nationwide annual event intended to promote heart health awareness and raise funds for the American Heart Association.
Students who participate can win prizes, from jump ropes to lanyards.
Volunteers and teachers' aides were present, as well as Alachua Mayor Gib Coerper and Chief of Police Chad Scott. An Abraham Lincoln impersonator also made an appearance, donning a formal top hat, suit and booming voice while preaching the importance of reading.
Principal Valde Fortner said students were taught about the basic functions of the heart during morning announcements for several weeks in preparation for the event. She said she sees the cause as not only an opportunity for the students to exercise and learn healthy habits, but also as a way to bring the entire community together.
"[This event] makes me feel like we have provided our students with a good opportunity to be together as a whole, school-wide community," she said.
She also said having the Lincoln impersonator prompted thoughtful questions from the students.
"During lunch I was sitting with a group and one student said to me, 'Was Abraham Lincoln really that tall?'" she said. "I mean, that's a pretty neat question. It's those connections that will forever remain with them."
Maria Ortega, a second grade teacher at Irby said Ray Crone, the P.E. teacher, taught students that children who have heart conditions are just like them. She said she was also proud that Kinsey Young, one of the students in her class, won second place.
"I think it's important for the kids to participate in community service and help others their age, or even younger, that have heart conditions," Ortega said. "I also think it's important for the kids to learn healthy habits – like jump roping and physical activity – that they can use for the rest of their lives."
Wednesday's event marked the last Jump Rope for Heart event for Crone, who will be retiring in June. He's coached the event for the past 15 years. He said he would be back for future Jump Rope for Heart events to volunteer, however.
"I really wanted this jump rope for heart to be the best one," he said. "And I thought it was awesome. I thought the weather was a little chilly, but the kids warmed up quickly."
He said he wants students to revisit the school and remember taking part in the event.
One student he mentioned, who was a senior at Santa Fe High School two years ago, told him Jump Rope for Heart "was her favorite Irby memory."
"She really hit the nail on the head for me," Crone said. "She brought it home. It's a really worthwhile event."
# # #
Email Korrego@
alachuatoday.com
Add a comment
Add a comment
ALACHUA – Charges of embezzlement from 11 homeowner associations (HOA) in Alachua and Gainesville led to combined charges and a conviction of racketeering for an employee of a Gainesville-based HOA management company.
Sally Ann Wilson, 53, who lived in High Springs, and worked for Sun Lu Properties, Inc., will receive a 10-year state prison sentence, minus 379 days for time served, and additional penalties after being found guilty of racketeering.
Wilson pled no contest to multiple charges leading to a combined charge of racketeering after it was found that she used her affiliation with Sun Lu Properties to embezzle funds from the HOAs she managed. Judge Stanley Griffis found Wilson guilty after she entered her plea.
On Jan. 28 the State Attorney's Office notified Alachua's Meadowglen Property Owners association that Wilson will receive a 10-year state prison sentence, minus time served, and additional penalties after being found guilty.
Other penalties include $250,000 restitution over 20-year probation to HOAs and 20 years supervised probation after serving her 10-year prison sentence.
Although charges were filed against Wilson by representatives of Meadowglen Property Owners' Association, they were not the first organization to notice fund deficits. According to earlier comments from Gainesville Police Department spokesperson Ben Tobias, the original case was first brought to the attention of authorities by John Hartwell of the University Terrace Gainesville Condominium Association. By the time the Alachua County Sheriff's Office started looking into it, the GPD already had three open cases on the matter.
An earlier report indicated that the total amount of embezzled funds was approximately $150,000. Initially it was thought that only four HOAs were involved in Wilson's embezzlement scheme, but additional investigations revealed a total of 11 HOAs had funds embezzled from them.
In addition to Meadowglen Property Owners in Alachua, University Terrace West, Millhopper North HOA, University Terrace Gainesville Condominium Association, Saanvi HOA, Edgemoore Subdivision, Palmetto Villas Condominium, Bartram Woods, Hampton Ridge HOA, Kanapaha Meadows HOA and Moffy Oaks HOA were also impacted.
Terri Warrington, treasurer of the Meadowglen Property Owners' Association, first noticed her organization was about $8,000 short after reviewing bank statements she received on April 8, according to records from Meadowglen. On April 10, Meadowglen canceled their contract with Sun Lu.
Warrington went to City of Alachua police officer Danny Chalker, who referred the case to GPD since the alleged crimes were committed in Gainesville. She told him $7,424 worth of fraudulent checks were made out to Sally Wilson, Kenneth Grundmann, John Rivers and Danielle Novak, according to a police report from GPD.
From the dates of May 10 to Oct. 15, 2012, there were five checks made out to Wilson totaling $1,126 from Meadowglen. Warrington said the checks were not authorized. From May 2012 to March 2013, 13 other checks were written to Grundmann, Rivers and Novak.
Grundmann admitted Wilson wrote the checks, and he cashed them. Grundmann and Rivers were both maintenance workers for Sun Lu, said Warrington.
Grundmann pled guilty to another case and was ordered by Judge William Davis to pay restitution in the amount of $20,080. Prosecutors were unable to find enough evidence to prosecute Rivers, and Novak was never charged in this case according to Gary Lloyd, Deputy Chief Investigator, State Attorney's Office.
# # #
Email Cwalker@
alachuatoday.com
Add a comment
Add a comment