ARCHER – A $650,000 grant for a sewer system in the City of Archer was spared earlier this month from Florida Governor Rick Scott's promise to veto more than $250 million from the State Legislature's 2016 budget, according to former city commissioner Doug Jones.
Archer has accumulated a total of $1.4 million in legislative grants for the project, thanks in part to State Senator Rob Bradley, who was instrumental in getting $750,000 in 2014, Jones said.
"Those kinds of things at the state level don't happen unless you've got strong support from your delegation," Jones said.
Citizens of Archer are presently relying on septic tank systems for the disposal of wastewater.
Zeriah Folston, Archer's City Manager, said a lack of proper upkeep for these septic tanks has left some in poor condition.
State Representative Keith Perry said he took a tour of some of the areas in Archer where the septic tanks were not functioning correctly after he was contacted by the city commission.
While Archer is not in his district, Perry said he is familiar with the town as his father lived there for years.
Perry said that while septic tanks can be fixed, his greatest concerns were in regard to Archer's economic limitations without a wastewater system.
"If desired, they could have businesses that could locate there… Or new restaurants could open," he said. "You can't build a business first, [you have to] build the infrastructure first."
He said some of the next steps to advance the project include environmental studies and making sure that the sites they've chosen are suitable.
"So, then it's really up to the City of Archer as far as the direction they want to go," he said. "But once this is fully in place, it certainly wouldn't be limited."
Another concern for the citizens of Archer would be the financial implications of such a project, potentially leading to increased local taxes.
However, Folston said he believes that the State's commitment to the project will make it reasonable for residents.
"The State [partnering] with us was a huge step in terms of helping us make things affordable," he said. "We have a resilient group of people…. My board's desire is to make it more affordable, and securing partnerships like the one we had with the State is [going to] help us do that."
Folston said the next phase will include designing how the sewer system will look and how to ensure that it's environmentally friendly.
The City is collaborating with Debra Preble, the vice president of Preble-Rish Inc. Consulting Engineers out of Tallahassee, to work on a preliminary engineering report for the sewer system. There is no specific date for completion of the report at this time, Folston said.
"Archer intends to use some of the most advanced wastewater treatment technology that is available, including infiltrating wetlands for affluent disposal and aquifer recharge," Folston said.
The effects of wastewater expansion and the responsible growth that a City can enjoy were evident during his time working with the City of Alachua, Folston said.
He said he has the same vision for Archer a few years down the road.
# # #
Email Korrego@
alachuatoday.com
Add a comment
Add a comment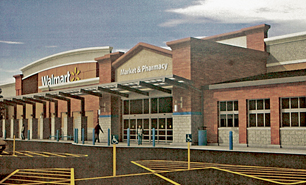 Alachua County Today file photo
Previously submitted architectural rendering depicts typical Walmart storefront.
ALACHUA – A site plan was submitted to the City of Alachua for a new Walmart Supercenter to be located near the I-75 and U.S. Highway 441 interchange in Alachua.
CPH Engineers, Jacksonville, submitted the plan late last week.
"Due to the size of the retail store submitted by Walmart (which is over 80,000 square feet), the site plan would go before the Planning & Zoning Board and then the City Commission for approval," said Assistant City Manager Adam Boukari. "Following site plan approval, construction can commence.
"The process typically lasts four months, but the time-frame can change depending on what deficiencies, if any, exist and the time it takes for the applicant to correct them," he said. "Of course, the site plan process ensures compliance with the City's Comprehensive Plan and Land Development Regulations."
The applicant is responsible for ensuring proper building permits are applied for and issued through the City in addition to permits that may be required by other governmental agencies.
"People really want a Walmart in Alachua," said Mayor Gib Coerper. "They don't want to have to drive to Gainesville to do their shopping. Retail shopping is a component we have been missing. There will be other things that come with retail shopping that serve the rest of the community as well.
"People ask me all the time, 'When are they coming?'" he said. "My typical response is, 'When you see the sign go up and they start turning dirt, you'll know for sure.' Projects like this take time, just like when Publix announced they were coming to Alachua."
"There are several benefits of having a Walmart in Alachua once they complete the Planning & Zoning and City Commission approval process," said Alachua Commissioner Robert Wilford. Among the benefits he cited are job creation, provision of retail shopping opportunities to the citizens, and income to the city in the form of property and sales taxes to help the city carry out other city services. "In addition," said Wilford, "Walmart will help attract other businesses around the I-75 corridor."
According to the Planning & Zoning Board schedule, any application received prior to April 28 will appear on the July 12 Planning & Zoning Board agenda.
# # #
Email Cwalker@
alachuatoday.com
Add a comment
Add a comment
ALACHUA, ARCHER and NEWBERRY – City elections Tuesday night saw a former commissioner defeat a former mayor in Archer, while incumbents won by wide margins in Alachua and narrowly in Newberry.
Alachua's electorate voted heavily in favor of incumbents Mayor Gib Coerper and Commissioner Robert Wilford as they defeated challengers Tamara Robbins and Linda Lundy 627 to 242 and 568 to 290 respectively. Coerper garnered 72 percent of the vote while Wilford captured 66 percent.
Coerper and Wilford both said they look forward to continuing the work they have been involved in with the City Commission in Alachua.
"I truly appreciated getting to meet new people, walking through neighborhoods [while campaigning]," Coerper said. "The positive outlook everyone has is outstanding. They're excited to be here, to live in Alachua."
"It's been an honor to serve, and I look forward to Alachua's future, with continued development along I-75 and many bright days ahead," said Wilford. "We've had the same commission in place since 2012, and we work well together even though we don't always agree."
Archer's Joan White received 65 percent of the vote in her 154 to 82 victory over incumbent Commissioner Doug Jones. White said she attributes her win to a strong group of supporters.
"They stood by me," she said. "They went with me, and they were honest and were straightforward with the citizens."
White said she feels she resonated with voters because she wants to make citizens involved in the government process again.
"They [citizens] didn't feel like they were a part of it," she said. "They didn't feel like they were getting the respect that they deserved, they didn't feel like they were being listened to and I think that's what did it."
Newberry City Commissioner Rick Coleman defeated challenger Darryl Bowdoin by a margin of 277 to 199, representing 58 percent of the vote. Coleman was thankful for a positive campaign experience and was eager to continue work the commission has been involved in, including going into a contract with the Alachua County Sheriff's Office after the city opted out of the Alachua County Law Enforcement Municipal Service Taxing Unit.
"It was great," he said. "My opponent worked very hard and ran a very clean race. I just want to thank the citizens of Newberry for having the confidence to vote me back in."
Other commissioners were reelected to new terms Tuesday night without facing opposition. In Archer, Commissioners Marjorie Zander and Fletcher Hope will begin new four-year terms, while Commissioners Monty Farnsworth and Jason McGehee begin new two-year terms in Newberry.
# # #
Email editor@
alachuatoday.com
Add a comment
Add a comment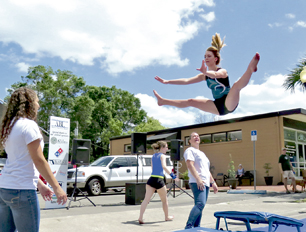 RAINA BARNETT/Alachua County Today
Breezy spring weather offered a perfect backdrop for high flying gymnasts to show off their skills Sunday at the Alachua Main Street Spring Festival.
Add a comment
Add a comment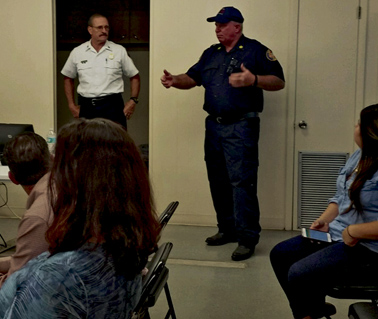 CM WALKER/Alachua County Today

Town of LaCrosse Fire Chief Paul McDavid speaks about fire rescue services at the joint Alachua County and Town of Lacrosse meeting.
LACROSSE – Alachua County is considering taking over fire/rescue services throughout the county and may institute a fire services assessment to help pay for it.
Following a joint meeting between the Town Council in the Town of LaCrosse and the Alachua County Board of County Commissioners (BOCC) Monday night, it appears likely that the county will soon be asked to vote to take over fire/rescue services throughout Alachua County.
The only exception pointed out at the meeting would be the City of Gainesville, which in the past has declined to combine forces.
The option is under consideration due to the recent notification by Insurance Services Office, Inc. (ISO) that each fire/rescue station must have four trained fire fighters at each structure fire.
While Alachua County can easily produce the number of trained personnel at a structure fire, the Town of LaCrosse and many other small municipalities cannot afford the cost of the additional staff.
The Town of LaCrosse recently raised its millage rate by three points to increase revenues to keep its station in operation.
"We dug deep into our reserves to also pay for needed equipment and a new roof on our fire station," said Laura Ling, the town's financial officer.
Even if the town raised its millage rate to the maximum rate of 10, taxpayers in the 1.5-sq.-mile town still could not generate enough money to pay for the additional cost of a fourth person on duty 24/7.
Although using volunteer firefighters was discussed, several negative issues concerning the town's ability to attract volunteers were brought up.
Many LaCrosse residents work in Gainesville, which is 15 miles away. "Many volunteers could not be counted on to be able to leave their jobs and show up at a structure fire within a reasonable period of time," said LaCrosse Fire Chief Paul McDavid.
He also noted that several of his current paid firefighters had to travel from other towns to work for his fire department. "We have paid firefighters who live in St. Augustine, Crystal River and Jacksonville. It's not that easy to get volunteers in the local area," he said.
Without that fourth firefighter, the town's ISO rating would go to 10. "At that level, some insurance companies may not write an insurance policy at all. If they do, it will be at a very high cost to the property owner," said McDavid.
However, Alachua County's ISO rating is three. If the county took over serving the 82-sq.-mile area that LaCrosse currently covers, insurance rates would drop for properties within five miles of the fire station.
"I think having the county provide fire/rescue services would be a real benefit to the people within District 22," said McDavid. "Our citizens would have advanced life support, which we currently can't provide. I realize I am supporting the very thing that will put me out of a job, but my concern is for the well being of the people in this community, not my job."
During a short presentation earlier in the evening, Alachua County Fire Chief Bill Northcutt explained that the county's Municipal Service Taxing Unit (MSTU) assessment was put in place for the short term to allow the county time to determine how much fire services cost and how to pay for them. "If we did that study now, we might be able to implement a fire services assessment for everyone in the county, thereby reducing the MSTU assessment. In addition, many of our citizens would enjoy a reduction in their insurance rates."
Although the county has previously discussed placing a fire station closer to Alachua's Turkey Creek subdivision, Northcutt said, "That's a problem for the City of Alachua." He contended that LaCrosse is the place to put a new station if the BOCC decides to take over providing the service.
"The cost to build and staff a new fire station is estimated to be more than $800,000," said Northcutt.
The next BOCC meeting to discuss fire services is scheduled for May 10.
# # #
Email Cwalker@
alachuatoday.com
Add a comment
Add a comment