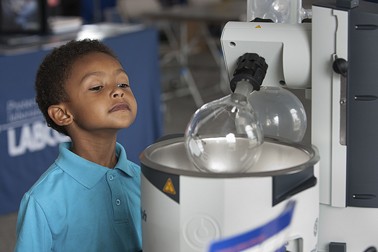 The latest innovations in biotechnology were on display for the over 500 people, including this youngster, who joined in the annual celebration.
ALACHUA – Thursday marked the 10th Annual BioFlorida Celebration of Biotechnology. The high tech event took place May 9, at RTI Biologics in Alachua's Progress Corporate Park on U.S. Highway 441.
Once visitors entered the huge tented area, they were face-to-face with the latest innovations in biotechnology. Over 500 people passed between the rows of over 70 scientific vendors displaying their products and services.
Visitors to the high-tech celebration could also hop aboard a bus for a tour of the research park, which houses biotechnology companies and UF's Sid Martin Biotechnology Incubator and its resident companies, which include Pasteuria Science, AxoGen, Banyan Biomarkers and Applied Food Technologies, among others.
The Sid Martin Biotechnology Incubator was recently selected as the 2013 Incubator of the Year by the National Business Incubation Association, out of a field of 7,000 contenders worldwide. The Incubator provides lab space, greenhouses and fermentation facilities to its member companies.
Also this year, Jim Talton, CEO of Nanotherapeutics, which is located in the park, spoke about his company which recently was awarded a U.S. Department of Defense contract in an amount up to $360 million to develop medical countermeasures, including the development and manufacture of drugs and vaccines to combat bioterrorism.
Nearly 1,200 people now work in Progress Corporate Park, and of the more than 30 businesses located there, two-thirds are bioscience or technology companies.
# # #
Email editor@
alachuatoday.com
Add a comment
Add a comment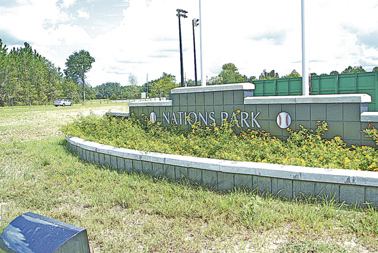 Newberry's Nations Park, which officially opened in March, boasts 16 baseball stadiums and will host a week-long tournament in July.
NEWBERRY - It was built to put Newberry in the tourism big-leagues, but snags have cast doubts about whether it will work.
Nations Park, 25325 SW 15th Avenue, had its grand opening in Newberry in late March. The giant facility hosts 16 baseball stadiums for young athletes from all around the country. About four years in the making, it was meant to attract tourism dollars to the area. With its managers hoping to eventually expand it to a 32-stadium complex, the park, owned by the City of Newberry, seems to be an ambitious idea, but controversies, delays in opening and a slow start have raised questions about whether it can get teams and spectators to play ball.
Lou Presutti, founder of Cooperstown Dreams Park in upstate New York, and the City of Newberry, with financial help from the Alachua County Tourism Development Council collaborated on the project. The Davis family donated the land for the park. In order to pay for it, the Board of County Commissioners raised the Alachua County tourist development tax from 3 percent to 5 percent. Half of the increase, about $7 million, funded the construction of the park. Another $700,000 was provided by the State of Florida in the form of a grant. The tax is a charge on staying at a hotel.
Using tax revenue from hotels makes sense, said Roland Loog, director of Visit Gainesville, a marketing organization for tourism in Alachua County. The park is projected to bring in more tourists, meaning more people needing a place to sleep.
"This was done to create economic impact," he said.
There could be some issues with the relationship between the hotels and the park, however.
Lou Presutti tells the teams that sign up they have to stay in one of the seven approved hotels, said Bill Conrad, mayor of Newberry. The Nations Park website says players and their families must stay at one of these hotels. Those hotels have agreed to give him $25 out of every night, Conrad said. If they don't pay, Presutti will remove the hotel from the list.
This practice is legal and happens all the time in the hotel industry, said Richard Blalock, the recreation director for Newberry who has connections with Presutti. Blalock was instrumental in bringing plans for Nations Park into fruition, said Visit Gainesville's Loog.
The complex was originally supposed to open last year, but the discovery of endangered gopher tortoises in 2011 temporarily halted construction, delaying the opening, said Keith Ashby, city manager for Newberry.
Despite having the grand opening on March 23, that wasn't this park's first ballgame. Trial tournaments were held last summer to make sure the facilities lights, toilets and other fixtures were working.
During those trial tournaments, parents complained about being seated in a poorly ventilated area near the outfield.
"That was to eliminate some of the problems that come along with youth sports, such as parents getting too aggressive," said Newberry recreation director Blalock. "We don't want parents trying to coach the kids."
These issues were addressed by lowering a wall that separates the bleachers from the field, allowing parents to sit closer and get better airflow, Blalock said.
When the park officially opened, the debut tournament was disappointing, said Mayor Conrad.
"By last Christmas, only about 20 teams signed up." By the time the event happened, there were 40 teams participating. That sounds promising, but most of the teams were local or Florida teams, he said.
"The baseball fields aren't for local kids to play baseball, they're a business to bring in tourism," he said. Many of the people coming in went home at night, rather than staying at a hotel. The tournament only lasted a weekend, so those who did need get a room only booked one night. Nation's Park is supposed to host week-long events, meaning seven nights of hotel business instead of one or two, he said. Now, the facility announced that a five-week tournament scheduled for July has been condensed into one week.
"We haven't really met our obligation to the hotel community in bringing any tourism to them," Conrad said.
It's too early to say how the park will fare in the future, said city manager Ashby. Presutti's contract allows for a three-year "ramp-up period" before the facility must start meeting tougher economic goals by hosting more tournaments.
"All new businesses take a while to get going," he said. "Give them the benefit of the doubt; give them three years before saying it's a success or failure."
Figures given to the Board of County Commissioners by the City of Newberry and the Gainesville Sports Commission estimated the park would attract around 90,000 to 120,000 people each summer, and would inject $20 million into the local economy.
On average, Loog said each team equals three hotel rooms, including parents and coaches. A conservative estimate, he said, found that each room brings in about $300. With tournaments featuring upwards of 20 teams, Loog he believes said Nations Park will be a massive boon to the area.
"When this is marketed properly, you're going to see teams come," he said. "I still remain very optimistic."
Blalock noted the park's management and the Alachua County Tourism Development Council still need to do work to convince people north Florida can be a tourist destination just like the southern half of the state. The Nations Park staff is working on putting together vacation packages that include three or four days in Newberry to play baseball, and a couple of days in Orlando, he said.
Presutti was unavailable for comment. He is currently planning on building another baseball complex in South Carolina, but city manager Ashby said it would not compete with Nations Park, due to each facility targeting a different age group. He was supposed to get about $695,000 as payment for the project, about 10 percent of the construction cost, but ended up with $480,000 after donating money to the City of Newberry to help with some of the unforeseen costs of construction relating to sinkholes on the property, said Ashby.
Presutti was supposed to create 21 jobs by October 2012, Mayor Conrad said. But by that time, he had only created about three jobs. He was given an extension to January 2014.
One roadblock might be that it's just too costly for a coach to bring his team to the park.
In order to get teams to sign up for the March 23 grand opening tournament, the park had to lower the cost for registering a team from $3,000 to between $200 and $300. That's in addition to the cost of traveling to Newberry and renting a hotel room, which Conrad said gets pricey because of the deal between the hotels and Presutti.
"That looks like it's a pretty expensive trip to Florida to play baseball," he said.
The cost of playing at these fields is justified, Blalock said.
"Obviously, you got to pay a little bit more to play in this facility because of the infrastructure that was put in," he said.
The opening weekend was a good showcase for how cutting-edge Nations Park is, said Blalock. After rain interrupted a game, the players were back on the field as soon as the bad weather stopped. Because of the artificial turf and layers of rocks underneath that filter the water to a retention pond, the delay lasted only about 45 minutes, he said. Features like that, in addition to the guarantee of at least four games, make it worth the money, he added.
Nations Park came with the hope of vitalizing Newberry's economy, and opinions vary on whether it will sink or soar.
Only time will tell, said city manager Ashby.
"They haven't even started yet," he said.
# # #
Email CMcKinney@
alachuatoday.com
Add a comment
Add a comment
GAINESVILLE – The State Attorney's Office has disclosed the aggravating factors it intends to rely upon in the case against Russell Dewayne Hogg, the High Springs man accused of killing his son and wife in the front yard of the family's home in September 2011.
The State will argue that that the defendant was previously convicted in another felony involving violence; that the capital felony was especially henious, atrocious, or cruel; and that the homicide was cold, calculated and premeditated.
If 59-year-old Hogg is found guilty of first-degree murder, a crime punishable by death, these aggravating factors will play a role in his sentencing.
According to a Columbia County Sheriff's Office arrest report, Russell Hogg pulled into the driveway of his High Springs home on Sept. 11, 2011 and allegedly took out an AK-47, pointing it at his son, Anthony Hogg.
According to the report, Anthony Hogg told his father "What are you gonna do, shoot me?" and Russell Hogg responded by saying, "I sure will."
Hogg then fired two to three rounds at Anthony, killing him almost instantly.
As Trenda Hogg, Russell Hogg's wife, came running out of the home to check on Anthony, Russell Hogg allegedly pointed the gun at her and fired several rounds, according to the report.
Russell Hogg threw the gun down, and a witness picked up the gun and threw it under the home so Russell could not grab it and fire more rounds. Russell Hogg then got into his car and fled into Columbia County, according to the report.
Prior to the incident, Russell Hogg allegedly told several people that he was going to go over to the house and kill them. After leaving, he went back to the same people and allegedly told them he had just killed them, according to the report.
After his arrest, Russell Hogg made statements admitting to the murders. According to the report, he said that it hurt him to see his wife lying there barely breathing because he did not want her to die. He also stated that he would have just whipped his son if he could, rather than having to kill him.
Hogg will face two counts of first-degree murder, two counts of aggravated assault with weapon, and possession of weapon by convicted Florida felon.
A previous 1986 conviction for lewd and lascivious assault could also play a role in his sentencing.
The case is expected to go to trial in the fall.
# # #
E-mail ppotestades@
alachuatoday.com
Add a comment
Add a comment
Details

Published on

Thursday, 23 May 2013 02:14

Written by Special to Alachua County Today
Hits: 54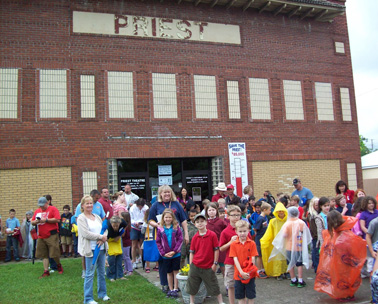 High Springs' Priest Theater hosted 92 second graders and their chaperones for a walking field trip and a movie.
HIGH SPRINGS – Five second grade classes from High Springs Community School enjoyed a walking field trip to the Priest Theater in downtown High Springs recently. The featured movie was "The Croods," a prehistoric comedy adventure that follows the world's first family as they embark on a journey of a lifetime.
Ninety-two second graders, with their teachers and 32 parent chaperones, enjoyed popcorn and soda in the nostalgic atmosphere of the local theater, owned by Alan and Janet Alligood. It was one of the highlights of the year for the students at this unique family theater that has entertained crowds for decades.
# # #
Email editor@
Alachuatoday.com
Add a comment
Add a comment
HIGH SPRINGS – An ordinance granting Clay Electric Cooperative an electrical franchise in the city of High Springs was unanimously approved on second reading following a brief public hearing Thursday, May 9, 2013.
Deputy City Attorney Sondra Randon said later that the franchise fee was last set at 6 percent, but through negotiation, would now be reduced to 5.5 percent.
City Manager Ed Booth negotiated the agreement with Clay Electric's general manager. He explained that the fee is a "pass-through fee," meaning the homeowner pays the franchise fee to Clay and they pass it along to the City. "The percentage is assessed against the homeowners' total usage," explained Booth.
Clay Electric has agreed to pay the City more than $25,000, which has been in arrears from March 25, 2012 to January 15, 2013, plus the franchise fees collected at the 5.5 percent rate from January 15, 2013 to the date of execution of the Acceptance of Franchise Agreement. Clay Electric has 15 days from the date of acceptance of the ordinance by the City to execute the Acceptance of Franchise Agreement, otherwise the agreement is null and void.
The agreement will be retroactive to Jan. 15, 2013, and will extend for a period of 10 years. It will also include an option to renew the Franchise Agreement for up to four additional 5-year terms, if nether party provides written notice to the other of their intention to conclude the agreement or renegotiate terms 90 days prior to the end of the contract period.
Clay Electric has held a franchise agreement with the City for more than 50 years. When the last agreement matured, the City was in the midst of management changes. When City Manager Ed Booth joined the City, he realized the contract had expired and contacted Clay Electric to negotiate a new agreement.
# # #
Email Cwalker@
alachuatoday.com
Add a comment
Add a comment