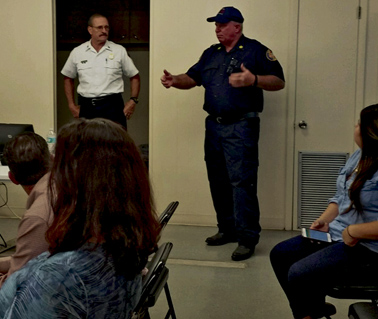 CM WALKER/Alachua County Today

Town of LaCrosse Fire Chief Paul McDavid speaks about fire rescue services at the joint Alachua County and Town of Lacrosse meeting.
LACROSSE – Alachua County is considering taking over fire/rescue services throughout the county and may institute a fire services assessment to help pay for it.
Following a joint meeting between the Town Council in the Town of LaCrosse and the Alachua County Board of County Commissioners (BOCC) Monday night, it appears likely that the county will soon be asked to vote to take over fire/rescue services throughout Alachua County.
The only exception pointed out at the meeting would be the City of Gainesville, which in the past has declined to combine forces.
The option is under consideration due to the recent notification by Insurance Services Office, Inc. (ISO) that each fire/rescue station must have four trained fire fighters at each structure fire.
While Alachua County can easily produce the number of trained personnel at a structure fire, the Town of LaCrosse and many other small municipalities cannot afford the cost of the additional staff.
The Town of LaCrosse recently raised its millage rate by three points to increase revenues to keep its station in operation.
"We dug deep into our reserves to also pay for needed equipment and a new roof on our fire station," said Laura Ling, the town's financial officer.
Even if the town raised its millage rate to the maximum rate of 10, taxpayers in the 1.5-sq.-mile town still could not generate enough money to pay for the additional cost of a fourth person on duty 24/7.
Although using volunteer firefighters was discussed, several negative issues concerning the town's ability to attract volunteers were brought up.
Many LaCrosse residents work in Gainesville, which is 15 miles away. "Many volunteers could not be counted on to be able to leave their jobs and show up at a structure fire within a reasonable period of time," said LaCrosse Fire Chief Paul McDavid.
He also noted that several of his current paid firefighters had to travel from other towns to work for his fire department. "We have paid firefighters who live in St. Augustine, Crystal River and Jacksonville. It's not that easy to get volunteers in the local area," he said.
Without that fourth firefighter, the town's ISO rating would go to 10. "At that level, some insurance companies may not write an insurance policy at all. If they do, it will be at a very high cost to the property owner," said McDavid.
However, Alachua County's ISO rating is three. If the county took over serving the 82-sq.-mile area that LaCrosse currently covers, insurance rates would drop for properties within five miles of the fire station.
"I think having the county provide fire/rescue services would be a real benefit to the people within District 22," said McDavid. "Our citizens would have advanced life support, which we currently can't provide. I realize I am supporting the very thing that will put me out of a job, but my concern is for the well being of the people in this community, not my job."
During a short presentation earlier in the evening, Alachua County Fire Chief Bill Northcutt explained that the county's Municipal Service Taxing Unit (MSTU) assessment was put in place for the short term to allow the county time to determine how much fire services cost and how to pay for them. "If we did that study now, we might be able to implement a fire services assessment for everyone in the county, thereby reducing the MSTU assessment. In addition, many of our citizens would enjoy a reduction in their insurance rates."
Although the county has previously discussed placing a fire station closer to Alachua's Turkey Creek subdivision, Northcutt said, "That's a problem for the City of Alachua." He contended that LaCrosse is the place to put a new station if the BOCC decides to take over providing the service.
"The cost to build and staff a new fire station is estimated to be more than $800,000," said Northcutt.
The next BOCC meeting to discuss fire services is scheduled for May 10.
# # #
Email Cwalker@
alachuatoday.com
Add a comment
Add a comment
Details

Published on

Wednesday, 20 April 2016 19:21

Written by Special to Alachua County Today
Hits: 967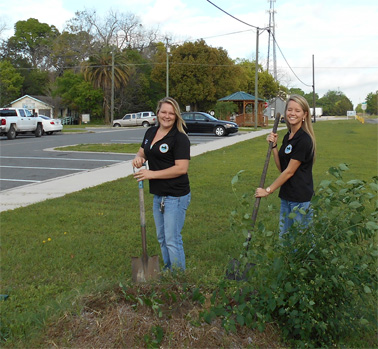 AMANDA RODRIQUEZ/Special to Alachua County Today
The City of High Springs celebrated Arbor Day on March 31. City staff planted a new tree along the town's Main Street to replace one that had died. L-R: Pictured are City of High Springs employees Courtney Odum and Julia Holbrook, who planted the tree near downtown Railroad Avenue.


Add a comment
Add a comment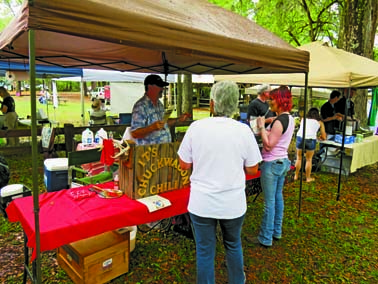 RAINA BARNETT/Alachua County Today
Chili, chili and more chili was the menu favorite at the Springs Celebration and Chili Cook Off this past Saturday. Despite rainy conditions the event drew a good crowd of chili enthusiasts.
HIGH SPRINGS – Volunteers, competitors, and chili enthusiasts gathered on the grounds of O'Leno State Park on Saturday for the annual Springs Celebration and Chili Cook Off.
Coordinated by the Friends of O'Leno, a non profit Citizen Support Organization (CSO), all proceeds from the cook off were used to support the state park.
Alachua County residents Thomas Bertucci and Raine Mincey won first place for People's Choice. They walked away with a first place plaque and a cash prize of $100.
This was the ninth year for the celebration, which involves efforts from myriad volunteers.
Cindy Preston, park service specialist of O'Leno, has organized every Chili Cookoff.
"It was mostly CSO and Harriet Walsh who came up with the idea," Preston said. "She is the treasurer of CSO."
Planning such an event takes time and effort, and Preston said she has been working with a team to make the springs celebration successful.
The annual chili cook off featured a "tasting kit" that was provided to participants for $5, which consisted of sample cups, a spoon, a pencil, and a ballot to vote on the best kind of chili.
Competitors ranged from first-timers to seasoned veterans.
Different categories included "no fillers" and "fillers," with fillers being defined as other ingredients like beans and onions.
O'Leno provided an ideal venue for music, dogs, and families to get together for a day of adventure in chili tasting.
The current state park has a rich history. The site of a 19th Century settlement, it later became a forestry training camp before opening to the public as a state park. To this day, O'Leno serves as a forestry training ground each summer.
# # #
Email Rbarnett@
alachuatoday.com
Add a comment
Add a comment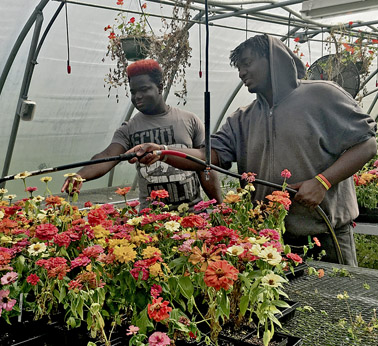 KRISTINA ORREGO/Alachua County Today
L-R: Access Biology Program student Quandrick Johnson and Santa Fe High School senior and Academy of AgriScience student Willie Curtis work in the school's land lab, which consists of the hydroponics unit, the shade house and the greenhouse.
ALACHUA – Santa Fe High School's Academy of AgriScience and the Access Biology program give students the opportunity to work in a greenhouse at the school, growing various types of crops and flowers.
JoAnn Brady, who teaches horticulture at the Academy, said students grow vegetables like tomatoes, cucumber, squash, lettuce and cabbage, and flowers like celosias, marigolds, dahlias, gazineas and vincas.
Brady said the greenhouse is open to students in the agriculture education program of all different levels.
The Access Biology program is geared toward students with disabilities and gives them the chance to take a hands-on approach to learning biology with a focus on plants according to Ryan Pass, an ESE teacher for the program.
Students work in the classroom, the greenhouse, and in the garden to learn about raising vegetable plants from the seed until they produce, he added.
Pass said that his students benefit from working in the greenhouse by learning the importance of teamwork as well as their own individual responsibilities to make sure they complete their tasks in the one hour a day they have at the greenhouse.
"Some students are being exposed to plants, gardens, and greenhouses for the first time," he noted. "Some students are getting their first taste of the various vegetables we are growing."
The horticulture land lab consists of the hydroponics unit, the shade house and the greenhouse. The vegetables are grown hydroponically while the azaleas are grown in the shade house.
Brady said this is the first year that students have attempted to grow vegetables using the Verti-Gro Hydroponics system.
"It's a mixture of water and fertilizer that flows to the top of [the] tubes and drips down into each one of the pots, " Brady said. "There's no water being wasted and there's no water draining off the bottom."
In addition to growing the plants themselves, the students also oversee the sales of the plants and track expenses. Anyone in the community can stop by the school between 9 a.m. and 3 p.m. to purchase plants in the agriscience department, Brady said
"We really encourage the public to come in and support the program because [that's] the only way to keep producing these type of plants," she said. "We have to buy the containers. We have to buy the media–the soil. And all of that costs money…By selling these, it just keeps our program going."
She said that, along with teaching students employability skills, they also utilize math skills that are valuable in other aspects of life.
"When we're figuring out landscaping, figuring out how many plants to put in an area–it's all using math," she said.
Brady also praised the Academy for its vet assisting program, as well as the exposure it gives students to different facets of the agricultural industry.
The school's land lab, which covers about 19 acres, is used to tend 20 cows that produce calves each year, she said. Students work with these calves to eventually display at state and youth fairs.
"So they get the advantage of working with the cattle [and learn] about the beef industry, she said.
She stated that the program is also an excellent way for students to become involved in the National FFA program. Only students in agriculture education classes are eligible.
The FFA is a fantastic leadership organization, giving students the opportunity to compete in contests – from prepared public speaking to livestock judging – to visiting and touring different agricultural industries, she said.
"It's skills that they will use in life no matter what profession they choose," Brady said.
# # #
Email Korrego@
alachuatoday.com
Add a comment
Add a comment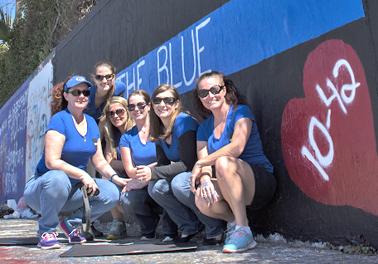 Photo Special to Alachua County Today
Alachua 10-42 members recently painted a message of support for law enforcement officers on Gainesville's 34th Street wall. Words "Back the Blue" and a red heart symbolize the group's dedication to the law enforcement community.
ALACHUA COUNTY – As Gainesville Police Department Officer Bobby White demonstrated in January when he responded to a noise complaint about a group of boys playing basketball by joining them for a game, officers often break negative stereotypes by showing empathy and compassion.
Alachua 10-42 is a group that seeks to emphasize this human aspect to law enforcement officers. Made up of spouses and family members of officers, the group strives to provide emotional support, resources, community activities and outreach for their families.
One of their most recent activities included painting on Gainesville's 34th Street with a solid blue line against a black background, marked with the words "Back the Blue" and a heart in the corner that read "10-42."
Shonta Bertzyk, a member of Alachua 10-42, said the group has also supported GoFundMe pages for two officers who were recently diagnosed with cancer.
The group evolved from a desire and a need for families to come together and decompress by sharing anything that people needed to get off their chests, Bertzyk said.
"When we talk about officers, the first line of defense is at the home," she said. "And just being there for them and talking to them and being a support just helps officers' morale. These officers go out and they deal with situations such as emergency services, trauma, car accidents [and] child abuse cases. They see things that the average community member does not."
She said officers' wives also realized that they needed each other to lend a hand in caring for each other's children or providing transportation.
"We do whatever we can for each other," she said. "I think [the start of the group] was very organic and it was a very much-needed support system."
Lindsay Howell said she's been in Alachua 10-42 for about two months.
On March 14, she and several group members went to cheer their husbands during a charity basketball game at Gainesville High School between deputies and students.
Howell said she liked that the event gave the opportunity for officers to interact with students and cast them in a more approachable light rather than as people to be feared.
"It's really brought to light that these are normal guys, with families and kids," she said. "They have histories and pasts of being young kids themselves. And I think that's been an eye-opener for the community to see that they're just normal guys who love to do what they do."
Howell said the group has received support from the Alachua Woman's Club, and she gave a presentation about Alachua 10-42 to the Alachua City Commission on Monday to continue to spread the word about the group.
"Alachua is so supportive of our police officers there," Howell said. "I think we're at an advantage and would like to get the word out as much as possible to get the support and just have people feel like they're part of the group and part of the community."
Ashley Dykes, another member, said the group has connected people who otherwise may not have known each other or met due to differing schedules, shifts, rotations or departments.
"[Alachua 10-42] has been an opportunity to build friendships and relationships," she said. "We have monthly meetings where we discuss things we can do within the community, or discuss events that we can do within our group. So I capture all of that for the group and get it out to our Facebook page."
The outreach of the group has not just been limited to Alachua County or Gainesville. Dykes said she recently visited an out-of-town officer who was being treated at Shands.
She decided to stop by to introduce herself to the family of the officer, and she was informed that they were in need of a notary.
Dykes said she passed the word along to other members of Alachua 10-42 and was able to get a notary for the family.
Alachua 10-42 will hold the 1st Annual Alachua County Night in Blue Gala on Sunday, May 15 at 6 p.m. at the Mustang Hangar at the University Air Center.
Tickets can be purchased via a link on the group's official website, alachua1042.org.
# # #
Email Korrego@
alachuatoday.com
Add a comment
Add a comment