Details

Published on

Wednesday, 04 May 2016 09:39

Written by LARRY BEHNKE Special to Alachua County Today
Hits: 1788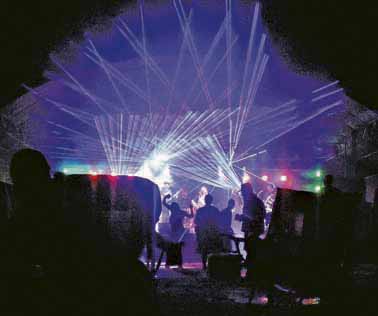 LARRY BEHNKE/Alachua County Today
Laser light show during Quartermoon's set at the Farm to Family Festival in Ellisville.
ELLISVILLE – Nearly a year after its last music weekend, the Farm to Family Full Moon Festival was back and better than ever.
Its new location was Ellisville, just off I-75 exit 414. The concert grounds sit behind All Tech Raceway, a half-mile dirt track for car races. Of course, no races are scheduled during concert weekends.
Many weeks of hard work by volunteers turned a once-thick forest into a shady field for the relocated stage, vendor tents and plenty of lounging space for folks to listen to a variety of bands. From Thursday through Sunday evenings, 21 musical acts played folk, reggae, country, bluegrass, rock, Latin and more.
Early bird tickets were $35 and $65 at the gate. Day tickets were also available, and camping was free.
The High Springs Lions Club helped sponsor and had one of the food tents. Other food and drinks were available.
A large Kids' Tent held games, face painting and art. It became especially popular during Friday night's downpour. During the rain, Hannah Harbor & the Lionhearts continued their set, while people sought shelter near the stage or under umbrellas.
However, a group of children didn't mind the rain and had fun playing in the dance floor area, which is white beach sand. They splashed and made sand castles as the music played on.
The next morning volunteers spread out several huge rolls of straw to make roads and paths passable again. The rest of the weekend was perfect: warm, sunny and breezy.
Don Applebaum began the concert series more than a decade ago as a way to pay the mortgage on his organic farm. He delivered produce from his farm to families. Concerts were held Saturday evenings during each month's full moon, but it grew too big for the farm. It eventually expanded into a three-day event, held three or four times each year.
The next music weekend will happen in the fall, when the weather is cooler.
Finding a permanent location for the festival has been a challenge the past few years, but folks enjoyed the new venue. Applebaum and friends have never given up on continuing this crowd-pleasing event.
# # #
Email editor@
alachuatoday.com
Add a comment
Add a comment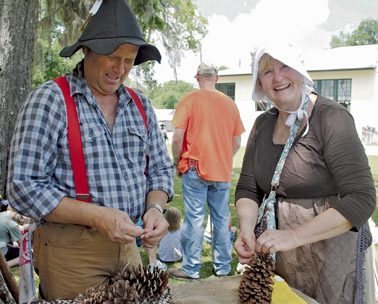 KRISTINA ORREGO/Alachua County Today
Pioneer Days offered a wide variety of activities for children of all ages. True to the pioneering spirit and using nature's ingredients, Cory and Peggie Bryan set up bird feeders for the children at Pioneer Days in High Springs.
Add a comment
Add a comment
HIGH SPRINGS – On April 16, students in Jessica Butts's classes, who are also in the High Springs Community School's FFA chapter, took part in a cleanup project to remove some of the garbage that had accumulated over the years near High Springs' namesake spring, Butt said.
The area they cleaned up was on the school's land lab property, which is adjacent to the spring, Butts said.
The project was supported by a $1,500 grant from the Tractor Supply Company of Gainesville, according to Judith Weaver, a teacher at the school.
Butts said the trash included an old broken lawnmower with weeds growing through it, a mattress and box spring, broken pots and pans, and cans.
The activity provided an opportunity for the students to learn the impact that litter and trash have on the water and, subsequently, the aquifer, she said.
"I wanted them to understand that everything that you do on the land also impacts the water," she said.
Butts said the students were happy to clean up the area and enjoyed working outside.
"I think they were surprised and almost excited when they would find something strange," she said. "Like, 'Look what I found!'"
Butts said her students researched agriculture and soils in preparation for the project.
Some of the other research also included how to measure best management practice (BMP) setbacks from water resources and use the data to relocate livestock out of storm water retention areas to a more suitable location, according to Weaver.
Butts said the livestock included goats that were placed there last year by the FFA and the Ag department. They have since been relocated to an area where their waste will not compromise the water or the aquifer.
"We've built kind of a containment area for our animal waste," Butts said. "So that it's kept in one space and it's not running off down anywhere where it's not supposed to be."
The students' research will be showcased as part of the Smithsonian Institute's Waterways Exhibit at the High Springs Historical Museum from July 16 to Aug. 27.
It will be on display on the sixth week of the exhibit, according to Kristina Young, the program director at the museum.
"We were one of six sites selected in the state of Florida to host this traveling exhibit," Young said.
Young said the museum's goal has been to invite community partners to get involved in talking about our waterways and our responsibility to protect them.
"The High Springs Community School was one of our first partners that we reached out to to involve our children," she said.
She said the exhibit is part of a bigger initiative that the Smithsonian Institute is trying to promote across the United States.
"Their goal is to invite rural areas to get involved," she said. "And our site – our community of High Springs – was selected to host this because we have such a valuable resource right here in our area."
# # #
Email Korrego@
alachuatoday.com
Add a comment
Add a comment
HIGH SPRINGS – The Alachua County Board of County Commissioners (BOCC) and High Springs City Commissioners held a joint meeting on April 14. It took no more than 43 minutes from Call to Order by BOCC Chair Robert "Hutch" Hutchinson and High Springs Mayor Byran Williams to adjournment to conclude the business of the day.
The meeting, which took place at High Springs City Hall, focused primarily on how to address the contaminated water well at the Alachua County Transfer Station and Alachua County Fire/Rescue Station #20.
As reported in late March, the water well serving the two county structures is contaminated. "County personnel are currently using bottled water for drinking and whatever cooking they might do on the premises," said Bill Northcutt, Alachua County Fire Chief.
Following initial discussion of the issue in which the City offered to extend existing water line across U.S. Highway 441 to serve the two facilities, both Northcutt and High Springs City Manager Ed Booth researched further options.
"We've looked at the Comprehensive Plan and an adjustment would have to be made to it," said Northcutt following the first meeting. "We are also researching options on filtration systems to determine costs and viability. We are doing our due diligence before we bring any option before the Board of County Commissioners for their determination."
"The City is nice enough to pursue the Florida Department of Transportation (FDOT) for permission to do the project," Northcutt said at that time.
During the joint meeting, Northcutt suggested the county drill another well on the property away from the existing well. Although the decision to drill another well on Transfer Station property might sound problematic, Northcutt said, "Not so. The new well would have a core around it, which is necessary for commercial use. The old well does not have that."
According to the County, a more up-to-date filtration system and updated equipment are expected to make a difference with the new well, which was also the least expensive option, said High Springs City Commissioner Scott Jamison.
# # #
Email Cwalker@
alachuatoday.com
Add a comment
Add a comment
ARCHER – A $650,000 grant for a sewer system in the City of Archer was spared earlier this month from Florida Governor Rick Scott's promise to veto more than $250 million from the State Legislature's 2016 budget, according to former city commissioner Doug Jones.
Archer has accumulated a total of $1.4 million in legislative grants for the project, thanks in part to State Senator Rob Bradley, who was instrumental in getting $750,000 in 2014, Jones said.
"Those kinds of things at the state level don't happen unless you've got strong support from your delegation," Jones said.
Citizens of Archer are presently relying on septic tank systems for the disposal of wastewater.
Zeriah Folston, Archer's City Manager, said a lack of proper upkeep for these septic tanks has left some in poor condition.
State Representative Keith Perry said he took a tour of some of the areas in Archer where the septic tanks were not functioning correctly after he was contacted by the city commission.
While Archer is not in his district, Perry said he is familiar with the town as his father lived there for years.
Perry said that while septic tanks can be fixed, his greatest concerns were in regard to Archer's economic limitations without a wastewater system.
"If desired, they could have businesses that could locate there… Or new restaurants could open," he said. "You can't build a business first, [you have to] build the infrastructure first."
He said some of the next steps to advance the project include environmental studies and making sure that the sites they've chosen are suitable.
"So, then it's really up to the City of Archer as far as the direction they want to go," he said. "But once this is fully in place, it certainly wouldn't be limited."
Another concern for the citizens of Archer would be the financial implications of such a project, potentially leading to increased local taxes.
However, Folston said he believes that the State's commitment to the project will make it reasonable for residents.
"The State [partnering] with us was a huge step in terms of helping us make things affordable," he said. "We have a resilient group of people…. My board's desire is to make it more affordable, and securing partnerships like the one we had with the State is [going to] help us do that."
Folston said the next phase will include designing how the sewer system will look and how to ensure that it's environmentally friendly.
The City is collaborating with Debra Preble, the vice president of Preble-Rish Inc. Consulting Engineers out of Tallahassee, to work on a preliminary engineering report for the sewer system. There is no specific date for completion of the report at this time, Folston said.
"Archer intends to use some of the most advanced wastewater treatment technology that is available, including infiltrating wetlands for affluent disposal and aquifer recharge," Folston said.
The effects of wastewater expansion and the responsible growth that a City can enjoy were evident during his time working with the City of Alachua, Folston said.
He said he has the same vision for Archer a few years down the road.
# # #
Email Korrego@
alachuatoday.com
Add a comment
Add a comment