NEWBERRY – At the City of Newberry's latest commission meeting, city manager Keith Ashby asked for a show of hands from those were 70 years old and also in an executive position. No hands rose up.
After 10 years of managing Newberry, Ashby, who is 70 years old and in an executive position, has decided to retire within the next three to six months.
"I feel good about it, and they gave me a standing ovation," he said about his announcement on Monday night, Jan. 13.
The position feels more like a stressful environment lately, he said, after several major turnovers in the city's senior staff. The parks and recreation director, city planner and utility director are leaving soon or have left already.
"I recently lost my right arm, Richard Blalock," Ashby said. Blalock, recreation director, along with Commissioner Joe Hoffman, had the goal of expanding the role of the Parks and Recreation Department.
"Then I lost my left arm, Lowell Garrett," he said. Garrett was the best city planner in North Florida, Ashby said, bringing an invaluable perspective on the regulatory and statutory sides of business.
After having heart issues this past year that resulted in two operations, Ashby said he is ready to leave the high pressure of his position to spend more time with his wife, Sara, and five sons.
He will see the commission through the transitional period that comes with staff reorganization, but then he will look into teaching government courses at Santa Fe College and Saint Leo University as an adjunct professor.
He said he looks forward to the dinner that will be put on in honor of his career with the city, where he will have a chance to say a few words.
Ashby grew up between Melbourne and Carmel, N.Y. He went on to be an Air Force pilot for 30 years and retired as a colonel in 1997. He has been in county and city management ever since.
# # #
Email cgrinstead@
alachuatoday.com
Add a comment
Add a comment
ALACHUA – City commissioners met on Monday, Jan. 13 to discuss a Community Development Block Grant (CDBG) and conduct the second of two mandatory public hearings for the grant.
City officials said the grant would allow the City of Alachua to receive as much as $700,000. Grant money would be put toward community needs, particularly road resurfacing, under the current funding cycle.
During the a meeting last May, the city commission held the first of two required public hearings to determine the type of application for the city.
"The city is projected to be submitted to the Department of Economic Opportunity on or before March 12, 2014, depending on the opening of the CDBG grant application cycle," said Assistant City Manager Adam Boukari.
Upon completion of the first public hearing, the city commission unanimously agreed to direct city administration to proceed with an application in the neighborhood revitalization category for the grant. According to an email from the city manager's office, the Citizen Advisory Task Force meetings for this application were held on May 21 and Aug. 20 last year.
The grant comes from the United States Department of Housing and Urban Development. According to the grant's website, "The Community Development Block Grant program is a flexible program that provides communities with resources to address a wide range of unique community development needs."
To help prepare for the grant application, the city hired J. Scott Modesitt of Summit Professional Service, Inc. to assess the city's score for the grant. The grant is based off of a calculated score using income surveys performed by Summit Professional Services. Other factors that are considered are fair housing activity, readiness to proceed and matching funds. At each of the two public hearings, overviews on fair housing were provided.
"I am fairly confident that the city will receive the grant," Modesitt said, "It really depends on what other communities are also applying for the grant."
Modesitt said the grant will be used by the city to resurface the roads in parts of the Merrillwood Housing Project in northeast Alachua.
"The whole community is the beneficiary of this grant, it is very good for the city," said Mayor Gib Coerper. "Re-pavement in these neighborhoods is needed," he said, "and the City of Alachua is really thankful."
Coerper says the city has been applying for the CDBG for many years. He said he is extremely happy with the work from city administration and Summit Professional Services.
If the grant application is successful, approximately $60,000 of the $700,000 grant will be used to pay for administrative costs, Mayor Coerper said.
# # #
Email zkapadia@
alachuatoday.com
Add a comment
Add a comment
HIGH SPRINGS – Some city residents of High Springs may find it easier to get in and out of their neighborhoods if plans are approved to spend up to $445,000 in gas-tax income on road improvements.
Commissioners are expected to approve the roads under consideration as part of their Thursday, Jan. 16, meeting.
City Manager Ed Booth recently met with Alachua County Public Works representatives to review the roads and solidify a collaborative effort between the city and county to complete the road improvements.
"The city will be preparing the roads, cutting limbs and doing whatever is necessary to make it easy for the county to come in and actually complete the road improvements," Booth said. "These roads include some of the most traveled dirt roads that serve city residents."
Although most of the roads set aside for improvement are dirt, one is asphalt. A one-block section of Northwest First Street, in front of The Priest Theater, will receive a 1-inch overlay of asphalt over the existing asphalt, Booth said.
The city will also do the preparation work on the dirt roads and the county will come in and "chip and seal" those roads, he said.
He describes "chip and seal" as a rock and oil emulsion that the county uses on many of their roads. It has the same characteristics as asphalt, but it is porous, so it eliminates the requirement and cost of engineering and drainage.
"It is used on dirt roads that have never been paved," Booth said.
Booth identified Northwest 158th Street and Northwest 160th Street, near the sewer plant, as one location that serves a number of homes on those two streets.
Another area under consideration is Northwest 214th Terrace, which turns into Northwest 154th Place, and then turns into Northwest 222nd Street. It is identified as a two-mile stretch that runs along Tillman Estates. Another area is described as a big "U." It runs from Northwest 196th Street to Northwest 215th Street, and turns into Northwest 200th Avenue, finally turning into Northwest 296th Street.
"This will take care of most of the high-volume dirt roads and keeps the city from having to grade those roads every time it rains at a cost of $150 per grading," Booth said.
# # #
Email cwalker@
alachuatoday.com
Add a comment
Add a comment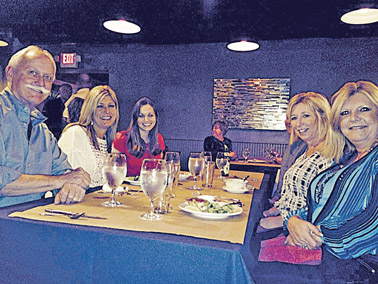 ZUBIN KAPADIA/ Alachua County Today
Alachua Mayor Gib Coerper, City Manager Traci Cain and friends enjoy dinner at the bistro.
ALACHUA – A new restaurant is making its presence known in the city of Alachua. Jake's Bistro brings a new eatery scene for the city and its citizens. The bistro will play host to a variety of foods, chefs and guests.
The restaurant opened their doors to the public on Wednesday, Jan. 15. The owner, David Kirk, and head chef, James Belle, held a soft opening on Jan. 13 and 14. The soft opening played host to guests like Mayor Gib Coerper and City Manager Traci Cain, and helped to train employees.
The restaurant is located in the heart of Alachua on Main Street, surrounded by other local businesses.
As of right now, the bistro will be open from Tuesdays to Thursdays, from 4 p.m. to 9 p.m., and Fridays and Saturdays from 4 p.m. to 10 p.m. After Valentine's Day, Kirk plans to hold Sunday brunches from 11 a.m. to 2 p.m.
Starting in early March, Kirk says the store will change restaurant hours to start at 11a.m.
Belle said the bistro couples their restaurant style with seasonal menus likely to change four times a year. Every night, guests will see six or seven nightly features to choose from. Separate from the nightly features, the bistro will have five appetizers, two soups and three salads. Belle said he is inspired by cuisines from all over the world.
"Looking all over the community, I wanted to give them a chance to visit places they may never have a chance to go," Belle said. "I can take them to France, Spain, Italy."
Local guests said they had no complaints about the restaurant. Their wait time was around 10 or 15 minutes.
"The food is definitely worth the wait," said Hasan Rasheed, a post-graduate University of Florida student. "Every aspect of the dish complements the other."
Kirk, a resident of Alachua County, said they try to buy as much local produce and product as possible.
Kirk said he has been dreaming and looking to own a restaurant for the last three years. He said is extremely thankful for how supportive the city has been and how welcome the community has made him feel.
As Mayor Coerper left the restaurant, he gave Kirk a firm handshake.
"Great job, Mr. Kirk," he said.
# # #
Email zkapadia@
alachuatoday.com
Add a comment
Add a comment
HIGH SPRINGS – High Springs Community School media specialist Judith Weaver is one of just twenty teachers nationwide to be honored for her work in environmental education.
The U.S. Green Building Council named Weaver as a Trailblazing Teacher for 2013, an award reserved for teachers who have demonstrated their commitment to advance environmental awareness and who bring environmental sustainability into the classroom.
In a congratulatory letter, Anisa Baldwin Metzger, manager of the Center for Green Schools Fellowship Program in Washington, D.C., praised Weaver.
"Your application stood out as an incredible example of deep student engagement and innovative classroom instruction," Metzger wrote.
Weaver was recognized for coordinating a wide variety of learning activities focused on the importance of water conservation. As a starting point, she used a book called "Long Walk for Water," which tells the story of a Sudanese girl who must walk four hours every day for water.
"We wanted kids to be aware of how lucky we are, that we have a resource we need to protect," Weaver said. "Otherwise, it may not always be there."
One of the learning activities used by Weaver involved students carrying jugs of water around campus to raise both awareness and money to build wells in Cambodia, a project sponsored by the local Rotary Club. Students also designed and built water towers, visited a water exhibit at the University of Florida, listened to expert guest speakers, learned about springs and aquifers and heard about threats to the water supply.
Students also learned about small things they could do to help protect that supply, like turning off water when they brushed their teeth.
"Little things like that build up, small things matter," Weaver said. "We can't wait for government or corporations to fix things, it has to start with us."
She cited the collaboration between language arts, math, science and social studies teachers, who used materials and designed classroom activities that complemented the water conservation theme. As a result, students boosted their academic skills while expanding their awareness of an important environmental issue, Weaver said.
The Environmental Protection Agency also recognized the High Springs Community School in 2013 for their reduction in water use at the school by 70 percent, as well as for the school's environmental education activities.
# # #
Email cwalker@
alachuatoday.com
Add a comment
Add a comment