ALACHUA – Charges of embezzlement from 11 homeowner associations (HOA) in Alachua and Gainesville led to combined charges and a conviction of racketeering for an employee of a Gainesville-based HOA management company.
Sally Ann Wilson, 53, who lived in High Springs, and worked for Sun Lu Properties, Inc., will receive a 10-year state prison sentence, minus 379 days for time served, and additional penalties after being found guilty of racketeering.
Wilson pled no contest to multiple charges leading to a combined charge of racketeering after it was found that she used her affiliation with Sun Lu Properties to embezzle funds from the HOAs she managed. Judge Stanley Griffis found Wilson guilty after she entered her plea.
On Jan. 28 the State Attorney's Office notified Alachua's Meadowglen Property Owners association that Wilson will receive a 10-year state prison sentence, minus time served, and additional penalties after being found guilty.
Other penalties include $250,000 restitution over 20-year probation to HOAs and 20 years supervised probation after serving her 10-year prison sentence.
Although charges were filed against Wilson by representatives of Meadowglen Property Owners' Association, they were not the first organization to notice fund deficits. According to earlier comments from Gainesville Police Department spokesperson Ben Tobias, the original case was first brought to the attention of authorities by John Hartwell of the University Terrace Gainesville Condominium Association. By the time the Alachua County Sheriff's Office started looking into it, the GPD already had three open cases on the matter.
An earlier report indicated that the total amount of embezzled funds was approximately $150,000. Initially it was thought that only four HOAs were involved in Wilson's embezzlement scheme, but additional investigations revealed a total of 11 HOAs had funds embezzled from them.
In addition to Meadowglen Property Owners in Alachua, University Terrace West, Millhopper North HOA, University Terrace Gainesville Condominium Association, Saanvi HOA, Edgemoore Subdivision, Palmetto Villas Condominium, Bartram Woods, Hampton Ridge HOA, Kanapaha Meadows HOA and Moffy Oaks HOA were also impacted.
Terri Warrington, treasurer of the Meadowglen Property Owners' Association, first noticed her organization was about $8,000 short after reviewing bank statements she received on April 8, according to records from Meadowglen. On April 10, Meadowglen canceled their contract with Sun Lu.
Warrington went to City of Alachua police officer Danny Chalker, who referred the case to GPD since the alleged crimes were committed in Gainesville. She told him $7,424 worth of fraudulent checks were made out to Sally Wilson, Kenneth Grundmann, John Rivers and Danielle Novak, according to a police report from GPD.
From the dates of May 10 to Oct. 15, 2012, there were five checks made out to Wilson totaling $1,126 from Meadowglen. Warrington said the checks were not authorized. From May 2012 to March 2013, 13 other checks were written to Grundmann, Rivers and Novak.
Grundmann admitted Wilson wrote the checks, and he cashed them. Grundmann and Rivers were both maintenance workers for Sun Lu, said Warrington.
Grundmann pled guilty to another case and was ordered by Judge William Davis to pay restitution in the amount of $20,080. Prosecutors were unable to find enough evidence to prosecute Rivers, and Novak was never charged in this case according to Gary Lloyd, Deputy Chief Investigator, State Attorney's Office.
# # #
Email Cwalker@
alachuatoday.com
Add a comment
Add a comment
Special to Alachua County Today
GTM offers football and cheerleading opportunities to area youth with the goal of positively impacting their lives. Members of one of the organization's football teams celebrate a team victory earlier in the season.
Several young boys eagerly waited to receive their trophies at the GTM Football banquet last Friday.
"Those kids itch in their seats from the time they walk in and see the trophies until they actually receive them," said Coach Alden Crawford.
Crawford is one of four founders and partners of the Gainesville Greater Than Me (GTM) Black Stallions football and cheerleading organization along with President Savonte Hunt, Andre Hunt and Willie Britt.
Savonte said the motivation for starting the team in 2014 was to make an impact on children's lives.
"We want to be a positive influence, to give them some values, and to teach the boys how to be men," he said.
Crawford concurred, saying the popularity of football helps attract youth.
"We wanted a way to get the attention of the kids in the community, with a huge focus on the younger minority males," he said. "We want to express the right values of life and provide a family environment for them."
GTM, currently working with about 85 boys aged 5 to 14, was the brainchild of Savonte, older brother Andre and Crawford.
The Hunt brothers are from Archer and played high school football with Crawford at Buchholz. Savonte and Crawford are the same age, and both continued their playing careers at Concordia University in Chicago.
After graduating in 2012, they returned home with visions of what would become GTM already in mind.
"We really wanted to get a youth center in Archer and tried to get a team there, too, but that didn't happen," Savonte said. "But we play all our home games with GTM in Archer at Wilson Robinson Park and have a great relationship with the City."
Savonte, Andre and Crawford at first started coaching with the Northwest Boys and Girls Club in Gainesville, where they met Britt. Crawford said it was after their first season with the Club that they decided to take a chance with their own venture.
"A parent approached Savonte and Andre and asked them, 'Whatever happened to y'all starting your own thing with the kids?' She pretty much told us that she and her husband supported us, and from there we took action," he said.
GTM operated four teams this past season, one each at the 6-and-under, 8-and-under, 10-and-under, and 12-and-under age levels. Savonte said this coming season, which begins in July, will see the addition of a 14-and-under team.
He said the meaning behind the name "Greater Than Me" comes from a desire to make other people better.
"The idea of 'pay it forward,' that's the perfect way to say it," he said. "You make the kids greater than yourself. It's a world changing idea. If you make a kid greater than you, then he makes someone greater than him, then obviously you're going to end up with a better world."
That motivation naturally lends itself to instilling a hard work ethic and drives the organization to seek out the toughest competition, Crawford said.
"On the football side of things, it better prepares the kids to move on as they get older," he said. "It teaches them to compete."
GTM participates in the United Youth Football League, but Savonte stated that the desire to play against the best has led to scheduling games with teams from the Boys and Girls Club and Pop Warner in the past.
"We end up playing about 15 games from July to December; it's a long season," he said. "But we work to get our kids on bigger stages, get noticed and win championships at the highest levels."
He was quick to note that volunteers are more than welcome.
"We have about 12 coaches, three per team, and it's still not enough," he said. "We'd love people to volunteer, even if it's just coming out one time to speak to the kids and let them know that there are people who care about them."
The banquet provided such an opportunity for current Gator defensive backs Jalen Tabor and Quincy Wilson, who spoke to the kids about the importance of family and school in order to compete at a top college football program.
GTM can be contacted by phone at 352-642-4121, email at This email address is being protected from spambots. You need JavaScript enabled to view it. , and as "Gainesville GTM Black Stallions" on Facebook.
# # #
Email Dwisener@
alachuatoday.com
Add a comment
Add a comment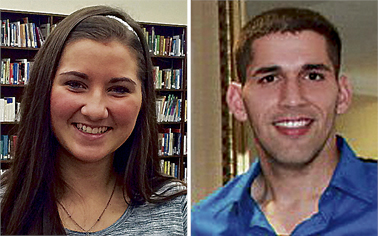 GAINESVILLE – Three volunteers who collectively contribute more than 60 hours every week to local schools have been named Alachua County's School Volunteers of the Year for 2016.
Cary Emerson, Adam Boukari and Sally Holly will represent the district in the statewide Outstanding School Volunteer Awards program, which honors youth, adult and senior volunteers who have shown outstanding dedication and commitment to quality education in Florida.
"Our district would not enjoy its current success were it not for the contributions of volunteers like Cary, Adam and Sally," said Superintendent Dr. Owen Roberts. "They provide time and talents that make a huge difference in the lives of our students."
Santa Fe High School Principal Elizabeth LeClear echoed Roberts' comments. "Cary Emerson is an extraordinary young woman," she said. "She is such a hard worker and is always positive and pleasant. She is a great representative of Santa Fe High School."
Emerson is a senior at Santa Fe. She's been volunteering since she arrived at the school, and has contributed more than 600 hours in just the last 18 months. She's organized numerous school events, including the Raider Rally and the annual Pie Auction to benefit early childhood programs. She's involved with several clubs, including service clubs such as Interact, the youth version of the Rotary Club. She's also serving on Santa Fe's School Advisory Council.
Cary says she loves helping others and that serving at Santa Fe is a natural fit.
"My parents and grandparents are alumni, so I love being part of that tradition," she said. "I want to make the school even better and make an impact."
Emerson's service also extends to the community. She is involved in several volunteer activities with her church, including annual mission trips to Haiti.
Adam Boukari is the district's Adult Volunteer of the Year and contributes his time and expertise at both the local school and district level. Despite his busy schedule as Assistant City Manager for the City of Alachua, he has contributed more than 500 hours of service over the last year and a half. At Santa Fe High School, he both tutors and mentors students. He chaperons field trips. He's served as the president of the boy's basketball Booster Club for seven years. Boukari also serves on the District Advisory Council, a group of local citizens who advise the School Board on key issues affecting Alachua County Public Schools.
Boukari said his one-on-one connections with the student are the most important of his volunteer activities.
"Mentoring is so rewarding, both for the student and for the mentor," he said. "You see these kids grow up to be wonderful members of society, and it feels good to know that you had a part in that."
"Adam Boukari is an alumnus of Santa Fe," said LeClear. "He gives so much of his time to our students. What an incredible student mentor. His dedication to our high school benefits so many of our students," she said.
The district's senior Volunteer of the Year is Sally Holly. She volunteers about 30 hours every week at Professional Academies Magnet at Loften High School, and has racked up nearly 1000 hours since the beginning of the 2014-15 school year. Holly, fondly known as "Grandma Sally" to students and staff, has been volunteering in the Infant Room of the ACCEPT program (Alachua County Continuing Education for Pregnant/Parenting Teenagers).
"I just love the babies and seeing them smile and grow," said Holly.
In addition to providing critical stimulation and love to the infants, Holly has also been a role model for the teens in the program.
"Grandma Sally is one of the most energetic persons in the childcare center at the golden age of seventy-five," said Childcare Center Director Angela Monroe. "She often is seen reading to little babies while sitting on the floor and is always up for assisting the other care workers in taking the babies out for a stroller ride or assisting the other paraprofessionals with the older children on the playground," she said.
The state is expected to announce the five top volunteers in each of the three categories in the next few weeks.
Emerson, Boukari and Holly will be among 93 school volunteers recognized at the annual Alachua County Public Schools Outstanding School Volunteer Luncheon on Feb. 11, sponsored this year by the Florida Credit Union and the Rotary Club of Gainesville.
# # #
Email Cwalker@
alachuatoday.com
Add a comment
Add a comment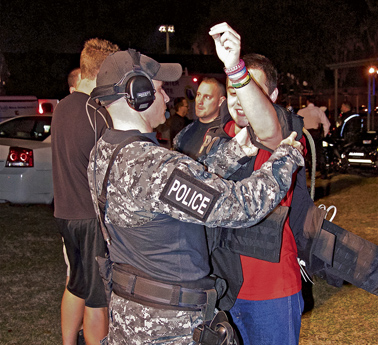 Bob Brown/Alachua County Today
Alachua County SWAT team members demonstrate special weapons and tactics to students at the Newberry High School Law Enforcement Expo.
ALACHUA and NEWBERRY – High School students interested in vocational opportunities after graduation have several options in different county schools.
Students can receive training within Career Academies, commonly referred to as magnet programs, that specialize in providing education tailored to particular lines of work.
While there are 13 Academies spread throughout county high schools, only two of those schools are outside the city of Gainesville.
Santa Fe High School in Alachua is home to both the Academy of AgriScience and the Institute of Biotechnology, while Newberry High School houses the Academy of Criminal Justice.
JoAnn Brady, Director of the Academy of AgriScience, said students who have completed the Veterinary Assisting program are eligible to test for the Veterinary Assisting Certification through the Florida Veterinary Medicine Association.
"It prepares students," Brady said. "They are having many experiences with animals and training that would prepare them for vet school, and the FFA provides really great leadership opportunities."
AgriScience offers tracks other than Veterinary Assisting as well, such as courses in plant science, farm power and machinery, and livestock judging.
"My philosophy is to have all the doors open for them when they graduate," Brady said.
The kinds of research in AgriScience and Biotechnology can be intimately related, which makes the housing of both Academies at Santa Fe ideal.
A greenhouse and hydroponics center allows students to grow plants without soil by using liquidized nutrients instead.
Tyler Jones, a senior in the Institute of Biotechnology, said he likes working with plants the most.
"At first I didn't even know what it [biotechnology] was, and as I kept going, it got more and more interesting, and I love science," Jones said. "Mostly I like plants."
Jones plans on going to the University of Central Florida to major in biotechnology.
"The important thing about our program is that there's an industry certification that used to not be available called the BACE exam," said William McDavid, Director of the Institute of Biotechnology. "It proves that the students can work in a lab, that their skill level is worthy."
Water Resource Specialist, Bio Technician, and Lab Assistant are a few of the jobs available upon completing the biotechnology program at Santa Fe.
Students may also be able to capitalize on the close proximity of several biotechnology companies located in and around Progress Park in Alachua.
At Newberry high school, the Academy of Criminal Justice is a magnet program that is associated with the Criminal Justice program at Santa Fe College in Gainesville.
Director Patrick Treese has been teaching, recruiting and guiding students through the program since 2008.
There are four levels of training. According to Treese, in ninth grade, students are taught street law, proper handcuffing techniques, and how to conduct traffic stops. In tenth grade, investigation is the focus, while state law is highlighted in eleventh grade and on-the-field situations in twelfth.
As a sworn Federal Enforcement officer, Treese brings first-hand knowledge to the students.
"I tell my students to turn off the TV, turn off the social media, because what they see on there in regards to law enforcement is not real," Treese said.
On average, Treese teaches about 150 students, and he said about 80 to 85 percent go on to college.
The students that Treese has taught still come to him long after graduation for guidance and letters of recommendation.
"If the kids want to get into law enforcement, I'm there to help, to make sure they are successful," he said. "I tell them all the time, the decisions you make now affect you later down the road."
# # #
Email Rbarnett@
alachuatoday.com
Add a comment
Add a comment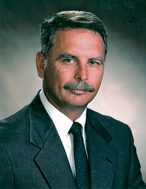 HIGH SPRINGS – William Joseph Coughlin, Jr., 64, passed away on Saturday, Jan. 23, 2016, at his home in High Springs following a battle with non-Hodgkin Lymphoma that began when he was diagnosed in April 2012.
He served the City of High Springs as city commissioner for two three-year terms beginning in 2000 and again in 2007 and served as mayor in 2003 and 2010.
Following chemotherapy, Coughlin was able to go back to work at the University of Florida in 2013. According to his wife, Donna, he did well after that.
"I would say that 2014 was his best year," she said. "He still had some limitations, but he could do most everything. We went hiking in the North Carolina mountains."
Coughlin retired in April 2015, and "that's when his lymphoma came back," Donna said. "He went through chemotherapy and radiation therapy, then developed a clot in his left leg. He went through a thrombectomy, which took a lot out of him. No matter how hard he tried, the lymphoma continued to come back."
Coughlin passed away eight days after his doctor told him there was nothing else he could do for him, and he went home with the support of his family and hospice.
Donna describes Coughlin as an energetic, outdoors man who was happiest when he was near the water. He surfed when he was young and always had several salt water fishing boats. He loved salt water fishing with his two brothers, she said.
He was a very involved and devoted father. "He raised our two excellent children: Megan who graduated from UF Law School, and Kelly, who is in school to become a physicians assistant," Donna said.
She noted that Coughlin loved music. "He had a bugle in his early years. As an adult he studied the mandolin, the guitar and then the violin. He made sure both the girls received piano lessons. At night after dinner, he would practice his instruments."
He was also active in sports. "We met while playing co-ed soccer with various teams," Donna said. "He taught Kelly and she got into competitive soccer. Eventually, they played co-ed soccer together. He taught Megan tennis, and she played in high school.
"My husband was a very positive and energetic force in all of our lives. He really participated and was a real partner. He went too soon. We got married when I was 30 and he was 33. We could have used more time together, but we enjoyed the time we did have."
Coughlin was born in Baltimore, Maryland, on Oct. 21, 1951, to parents William Joseph and Mary Newell Coughlin, the first of seven children. Following high school, he served in the United States Navy for six years on a nuclear submarine. After the Navy, Coughlin attended the University of Florida where he earned a masters degree in Nuclear Engineering.
Coughlin and his wife met in Gainesville and later moved to High Springs, where they raised their children.
He is survived by his wife, Donna, three children, Megan and Kelly Coughlin and Joseph Reid, his parents and six siblings. A funeral mass was held on Thursday., Jan. 28, at St. Madeleine's Catholic Church.
In lieu of flowers the family requests that donations be made to the Santa Fe Shrine of Our Lady of La Leche at St. Madeleine's Catholic Church, 17155 N.W. U.S. Hwy. 441, High Springs, FL 32643.
# # #
Email Cwalker@
alachuatoday.com
Add a comment
Add a comment