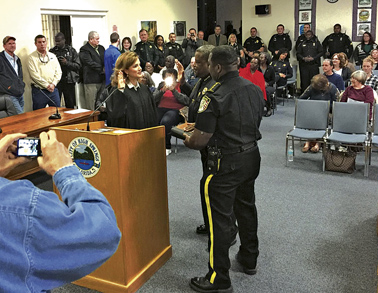 Alachua County Judge Susanne Wilson Bullard (left) swears in Joel DeCoursey (center) as Chief of the High Springs Police Department. The ceremony was conducted at the beginning of the Jan. 14 High Springs City Commission meeting. Alachua Police Chief Chad Scott (right) looks on. City and county dignitaries, as well as officers from Alachua County Sheriff's Office, the High Springs and Alachua Police Departments turned out to witness the event.
Add a comment
Add a comment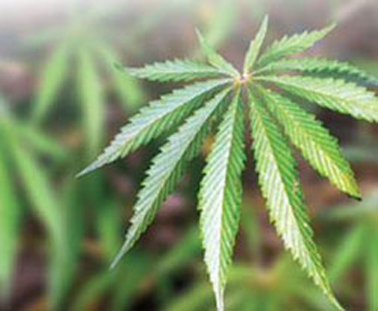 ALACHUA – A medicinal marijuana processing and development facility could soon be located in Progress Corporate Park.
Robert Wallace, owner of Chestnut Hill Tree Farm in Alachua, announced the potential project while presenting a status update on the farm to the Alachua City Commission Monday night.
The Florida Senate passed a bill legalizing medicinal marijuana in June 2014, and the City of Alachua has been working on its land development regulations to address the change in state law since January 2015.
Wallace said Chestnut Hill is one of only five businesses in the state licensed for growing medicinal marijuana.
"We have a deadline of Feb. 7 to apply for a license to cultivate," he said. Chestnut Hill will start growing marijuana in early spring at its farm located off NW 94th Avenue in Alachua.
Wallace stated that preparation of the farm has been extensive, including the construction of 10,000 sq ft of state-of-the-art greenhouses and expansive security measures.
"We have a 10 foot high Fort Knox-style fence with three rows of concertina wire and are working with GRU and Shands to install cameras for surveillance, and will also have 24-hour on-site security," he said.
After the marijuana is grown and cultivated, it will need to be processed into medicinal form.
"Our processing plan is for medicine that is very unique and is a new development in combination with some international pharmaceutical companies, and we would like to put our processing facility at my property at Progress Park – essentially a pharmaceutical development operation," Wallace said.
Wallace made a point to emphasize that the kind of marijuana that will be grown is low-THC, non-psychoactive and high-CBD designed very specifically for use in patients with epilepsy and particular forms of cancer.
The site for dispensing the medicine will be in Gainesville at a location next to Shands Hospital.
# # #
Add a comment
Add a comment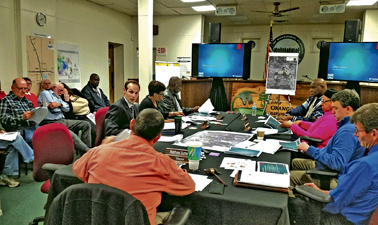 Photo by C.M. Walker/Alachua County Today
City of Hawthorne officials met to discuss environmental concerns related to the development of 1,200 acres of property annexed into the city limits.
HAWTHORNE – Hawthorne city commissioners held a workshop Tuesday to address environmental concerns identified by Alachua County regarding the future development of 1,200 acres recently annexed by the City of Hawthorne.
Although county staff recommended rejecting the annexation, the county commission instead has asked Hawthorne to address certain environmental concerns.
"The county asked that we improve wetland protection policies, designate conservation areas related to wetlands and provide additional buffering from incompatible uses," said Hawthorne Mayor Matt Surrency.
The land in question is owned by Plum Creek Timber, the largest land owner in the county and one of the largest real estate investment trusts in the country.
Hawthorne is the epicenter for the first part of Plum Creek's massive development plan for eastern Alachua County, called Envision Alachua, which could potentially impact 7,000 acres and create 30,000 jobs over the next 50 years.
The Hawthorne portion of Plum Creek's project potentially includes development of 800 residences, 150,000 sq. ft. of retail space and 2.85 million sq. ft. of manufacturing space.
Chris Dougherty of Littlejohn Engineering Associates in Orlando researched the county's concerns and prepared a presentation for Tuesday evening's workshop.
While Hawthorne currently contracts with Alachua County for planning services, the city decided to make an exception in this instance.
"We outsourced this project to Littlejohn because we wanted to hire a company with no current ties to the city or county," Surrency said. "We had to go all the way to Orlando to find that company."
Dougherty explained certain aspects of the city's Comprehensive Plan and how it works, what regulations and regulatory agencies would enforce certain aspects of the Plum Creek development, and identified areas that require more stringent wetland protection.
The recommendations will go back to the city's Planning and Zoning Board for review and final recommendation to the city commission. "Once approved, the plan will be forwarded to Tallahassee," said City Manager Ellen Vause.
"This is now a city issue and it will not go back to the county for any further action," Surrency said. However, the city is looking at the county suggestions in an effort to develop the best possible plan.
"There are always pros and cons to development and we believe the city can ensure economic development and environmental protection at the same time," Surrency said.
"The important thing to note is that everybody on our commission has been raised in the Hawthorne area and are long-time residents of Hawthorne. We are going to maintain the small town character of Hawthorne through our Planning and Zoning Board."
# # #
Email Cwalker@
alachuatoday.com
Add a comment
Add a comment

Ringgold Rowe Williams
ARCHER – Four suspects have been charged in a Jan. 11 shooting in Archer. Shortly after 1 a.m. on Monday, Jan. 11, the Alachua County Sheriff's Office Combined Communications Center (ACSO) received a 9-1-1 call from an individual stating that his brother had been shot.
Multiple patrol units responded to the area and located a black Nissan Titan overturned in the 14000 block of SW 175th Avenue. Deputies found the victim, 24-year old Joenathan Young, III, inside the vehicle, partially clothed and bleeding profusely from an apparent gunshot wound. Young was transported to UF Health at Shands Hospital in Gainesville for treatment of his injuries.
At approximately 1:45 a.m. that same morning, ACSO patrol deputies attempted to conduct a traffic stop on a vehicle in the 500 block of SE 13th Street for an unrelated traffic infraction. After attempting to elude deputies, all occupants of the vehicle fled on foot resulting in a coordinated search of the area involving both Alachua County Sheriff's Deputies and the Gainesville Police Department.
Through the course of the investigation, ACSO detectives were able to establish that 22-year-old Faheem Sharod Ringgold, of 16470 N.E. 60th Street in Williston, was connected to both the shooting as well as the attempted traffic stop, labeling him as a person of interest.
ACSO detectives reached out to the Levy County Sheriff's Office for assistance in locating him. On the morning of Jan. 12, deputies with the Levy County Sheriff's Office spotted Ringgold in a vehicle traveling toward Alachua County and relayed that information to ACSO.
ACSO deputies soon located the vehicle and took Ringgold into custody. Investigations revealed that Ringgold, along with three other accomplices, conspired to rob the victim, luring him from his home. In that robbery attempt, 17-year-old Ta'Vione A. Williams brandished a firearm and shot the victim and stripped the victim of his clothing before fleeing the scene along with Ringgold, 17- year-old Kasey M. Rowe, and another juvenile accomplice.
Ringgold remains in the Alachua County Jail on charges of Grand Theft, and will face additional charges of Robbery and Attempted Murder. Rowe was taken into custody late Tuesday evening and Williams was arrested by deputies Wednesday morning. Both face charges of Robbery and Attempted Murder. The fourth suspect has been identified and detectives are in the process of obtaining an arrest warrant.
# # #
Email editor@
alachuatoday.com
Add a comment
Add a comment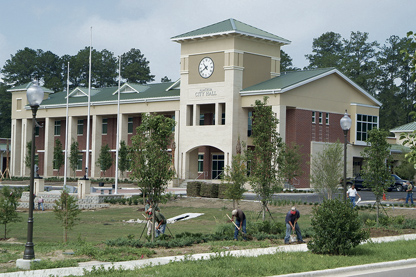 Alachua County Today file photo
Alachua City Hall, a component of Alachua's Municipal Complex, is a reminder of the City of Alachua's nearly 10,000 population and its place as the second largest municipality in the county.
ALACHUA – A cemetery, a dirt road, and a Florida Historical Marker are all that note the existence of the first major city in Alachua County.
Forest, mobile homes and houses now reside nondescriptly on most of the land that was once Newnansville, the first Alachua County Seat and metropolitan hub in North Central Florida.
Newnansville sprang up in the early 1820s on the first major transportation route to cross Northern Florida, the Bellamy Road, which also doubled as the town's Main Street, remnants of which still exist in part as a private dirt road.
It became the center for trade, local plantation commerce and government in the area, then later a refuge for settlers during the Second Seminole War with the construction of Fort Gilleland within its borders.
By slim margins, leading county residents voted to move the county seat to the newly-created town of Gainesville in 1853 because it was plotted on the first major railway to pass through the county.
When the Savannah, Florida and Western Railway completed a new line to Gainesville about a mile and a half southwest of Newnansville in 1884, residents and businesses began to migrate to the new transportation hub.
So it was that Newnansville was slowly abandoned and the City of Alachua created in its stead, leaving Alachua as the inheritor of its history and tradition.
Alachua is the second largest community in the county, with a population of approximately 9,000 as of the 2010 U.S. Census.
It self-identifies as "The Good Life Community," and when it comes to recreational departments, that is surely the case.
Alachua has one of the area's more extensive recreation programs, with facilities that range from the Hal Brady Recreation Complex to a downtown baseball field to four neighborhood parks and a Splash Park.
"I've lived here for 41 years, and the best thing I ever did was move here," Alachua Mayor Gib Coerper said.
Mayor Coerper said the underlying motivation for many Alachua residents has been to have a self-sufficient community.
"The universal want here has always been to be able to live, work and play in Alachua," he said.
Dating back to the town's relocation from Newnansville to its present site, Mayor Coerper stated that economic prosperity has long been a major priority for the city.
"Alachua has always been a business-minded community," he said. "It was started by business people and is why it became so successful."
He also noted that Alachua is not negligent of its land and heritage, highlighting the over 1,000 acres of environmentally-sensitive land the city has set aside over the past six years as well as the importance of the city's Downtown Historic District.
Part of Newnansville's legacy, however, is not positive. As in most small Southern towns (indeed, in every community in Alachua County), vestiges of segregation still exist in the form of distinct sections of the city split between predominantly "white" and "black" populations.
As underscored by Mayor Coerper, leading residents of Alachua still respond to the entrepreneurial drive that motivated their forebears to leave home for economic opportunity: Alachua actively seeks to attract businesses within its borders, having welcomed the Progress Corporate Park and Dollar General and Wal-Mart Distribution Centers within the past 30 years.
Perhaps in a related way – and somewhat distinctly from most Alachua County communities – Alachua emphasizes community growth more through new expansion and construction than historic or cultural preservation.
The newly-approved master plan for the vast Legacy Park; recent construction of the new City Hall and Police Department complexes; the just-completed Publix shopping center; and the long-disputed proposed Wal-Mart Supercenter are all evidence of the former.
Alachua has at least one potential opportunity for more of the latter: the Newnansville Town Site itself – though technically just outside the Alachua city limits and already listed on the National Register of Historic Places – remains an untapped cultural and historical goldmine, with incredibly little archaeological work having been performed or even attempted on one of Florida's earliest and least-disturbed pioneer settlement sites.
Contingent on the approval of the property owners of the several parcels that comprise the site, perhaps Newnansville still has lessons left to teach.
# # #
Email Dwisener@
alachuatoday.com
Add a comment
Add a comment