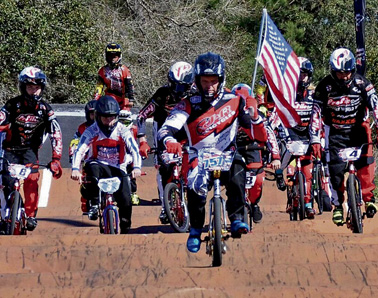 ROBERT KORSON/Special to Alachua County Today
Benny Wright carries the flag at teh Sunshine State Florida Cup Race at High Springs BMX.
HIGH SPRINGS – Over 880 BMX riders ranging in age from 18 months to 50 participated in the Sunshine State Florida Cup Race at High Springs BMX from Feb. 26 to 28.
The race, a qualifier for the state championship, included stops 5 and 6 of the 10-stop series that has taken place over five weekends.
The next qualifier will be from April 1 to 3 in Naples, followed by another from April 29 to May 1 in Cape Coral. The Florida state championship will take place in St. Cloud from May 20 to 21.
Laura Pringle, the track operator at High Springs BMX, said now is the peak time for riders, who advance based on a point system, to be working hard to accumulate points at every part of the series.
"It's midway through the season," she said. "So, after the holidays, people are really getting into race mode. They're starting to scramble to try to get better qualifiers to move up in the rankings of their particular age and proficiency ranking."
She said the track in High Springs attracts men and women of all different skill levels, from novices to experts.
The weekend before the race in February, several elite riders raced in Tampa for an international event, which also served as a qualifier for a world championship, she said.
"We actually had some of them take advantage of the opportunity to come and race as well," she said. "Some of our pro classes were stacked with riders from all over the world, including the current world champion in the Elite Men."
Jeff Korson, 29, placed first in the Cruiser Class division during the race at High Springs.
Korson, who's been riding BMX since 2004, said he had previously been beaten by several riders but began training to finally win.
"[To train] I actually started riding dirt bikes a little bit," he said. "That helped me to be able to do full laps, consistently. And then as far as getting out of the gate, the explosive power. I've been doing a lot of jump spots. It felt great to finally beat them."
He said he plans to add weight training in preparation for the championship race in May because he won't have the home track advantage.
Ashley Turner, who won second place in her division, said she's been riding BMX since she was 5 years old. The sport is a family affair – she said both her parents are also riders.
"My mom is number one in the state of Florida for the Cruiser division and for the Woman's class," she said. "And my dad does it for fun but he wants to compete as well. Pretty much, I felt determined to work harder to reach number one."
Turner said her training routine before a race includes running, weight training and plyometrics to help her easily get over jumps.
High Springs BMX, established in 2002, is a not for profit organization run completely by volunteers and relies entirely on sponsorship and entry fees, according to its website.
"I think what also makes our track special is that it's extremely well maintained and very well designed," Pringle said. "So it's really popular among the riders. They really enjoy riding the track. It's challenging but it's also fun."
# # #
Email Korrego@
alachuatoday.com
Add a comment
Add a comment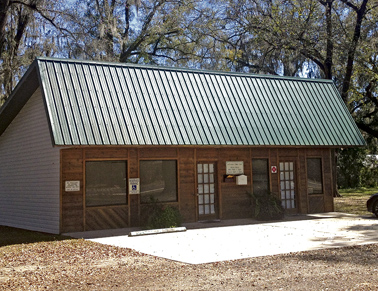 DAVID S. WISENER/Alachua County Today
The Town of LaCrosse hownhall sits nestled beneath a canopy of oaks in the rural community of fewer than 400 people.
LACROSSE – LaCrosse is the quintessential small, rural southern town.
With a population of less than 400, it's the smallest incorporated community in Alachua County.
"People like the small town element that provides some privacy, and I think that's the draw for most people to LaCrosse," said Mayor Diane Dubberly.
Situated a few miles northeast of the city of Alachua and the first county settlement of Newnansville, the LaCrosse area was first settled not long after the end of the Second Seminole War in 1842.
The John Cellon and Richard Parker families are credited as the most influential pioneers of LaCrosse, and both families maintain a presence in the community to this day.
The grandfather of Parker's wife, Hannah Flowers, was among the earliest American settlers in Alachua County, having moved into the area in 1813 while Florida was still a Spanish possession.
While LaCrosse didn't have a post office until 1881, the community existed for at least 30 years prior. Farming has always been the principle industry, with the primary crop shifting from cotton to potatoes after the boll weevil devastated Southern cotton crops through the early 20th Century.
There is no definitive answer for how LaCrosse received its name, but the most likely origin may hint at the influence of the political ramifications from a little-studied nearby community.
According to John Pickard's book "Florida's Eden: An Illustrated History of Alachua County," the town of Gordon was established within a handful of miles of LaCrosse by seven ex-Union officers soon after the end of the Civil War.
Garth "Wilky" James was the leading figure in Gordon who began the community as a cotton plantation of over 3,000 acres with the intent of creating an integrated society, hiring 30 black workers to work alongside 40 white workers and building a school for fifty white and black children.
Pickard writes that James "served as the Gordon postmaster and enthusiastically entered into local politics." Within the short span of five years, however, three consecutive failed cotton harvests, two failed political campaigns, bouts of malaria, and noted strife from nearby residents caused James to leave Florida in 1871.
Coincidentally or not, the name of "LaCrosse" was used 10 years later, attributed alternatively to Richard Parker's influential son, H.C. Parker, and the wife of cotton merchant John Eli Futch.
An article from the "Gainesville Daily Sun" in 1914 notes that the community called LaCrosse was originally known as Hickory Head and DeSoto before H.C. Parker made the change in honor of a short-lived but popular political newspaper based out of La Crosse, Wisconsin, the "La Crosse Daily Democrat."
The background behind Mrs. Futch's naming also notes that she recommended "LaCrosse" because "I've always loved the name of La Crosse, ever since I read about La Crosse, Wisconsin," according to "Places in the Sun: The History and Romance of Florida Place-Names" by Bertha E. Bloodworth and Alton C. Morris.
The "Daily Democrat" had been heavily critical of all things Republican, an obviously attractive opinion in the post-war, Reconstruction Era South.
H.C. Parker became LaCrosse's largest benefactor, contributing the land on which the community rests, operating a large mercantile store and farm, and supporting the construction of a school house and church.
The peak of prosperity came at the turn of the 20th Century, when LaCrosse boasted several stores, a hotel, and two cotton gins.
Mayor Dubberly said maintaining the consistent small-town atmosphere is important to most of LaCrosse's residents.
"We don't have a real impetus to be a bigger city," she said. "We have more geographical area than population. We look somewhat similar to the way we did when I moved here in 1980."
Dubberly said the transportation improvements currently underway along State Road 121 will hopefully contribute to the presence of a few more businesses in the near future, though.
"We would like to see a few more on-street businesses," she said. "We're on one of the main routes from Gainesville through Union County and on into Georgia. But our residents would like us to stay about this size. We're just a rural small town with those kinds of values."
# # #
Email Dwisener@
alachuatoday.com
Add a comment
Add a comment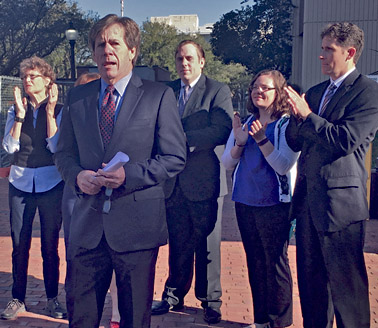 KRISTINA ORREGO/Alachua County Today
Surrounded by supporters, Rod Smith announced his state senate candidacy Tuesday.
GAINESVILLE - Rod Smith is running for his former state senate seat.
The Alachua resident and previous gubernatorial candidate announced his candidacy for Florida Senate District 8 Tuesday morning outside the Alachua County Civil Courthouse.
Smith said he is tired of people yelling at each other to fix problems.
"We're not getting things done because we've reached a point where too many people would rather see a problem go unsolved than see the other side get credit for solving it," he told the gathered crowd
Alachua County is currently part of District 7, but redrawn district lines will include all of Alachua, Putnam, and a large portion of Marion counties in District 8.
Smith, a Democrat, is the second candidate to announce within the past week, joining current Florida Representative Keith Perry, a Republican, who announced his candidacy last Thursday.
Smith works as an attorney for the Gainesville law firm Avera & Smith.
His political career includes serving as State Attorney for the Florida Eighth Judicial Circuit from 1992 until 2000, when he was elected State Senator for District 14, an office he held until he unsuccessfully ran for governor in 2006.
In 2010, Smith ran for Lieutenant Governor on a ticket with Alex Sink as gubernatorial candidate, losing to Rick Scott.
He was also the head of the Florida Democratic Party from 2010 to 2013.
Smith said that while most politicians now are motivated to please sponsors and succeed in polls, he wants to focus on issues that directly impact families.
Some of his goals include improving the public school system, promoting clean water and providing accessible and affordable health care.
Smith, who grew up on a farm in Alachua, said he'll also be focusing on improving community colleges, praising them as the ultimate way to further higher education.
"I know what hard work can do, but I also know that some people have not had the opportunities that I've had," he said. "Our job is not to fix the outcome for people, just to make sure that everybody gets to the starting line and [has] the chance to succeed"
He said his decision to run for senator again was driven by the need to see local areas, such as Putnam County and the east side of Alachua County, prosper economically.
"People at this university, the health care system, the public schools here locally - we are not moving forward at the rate we need to be moving forward," he said.
Smith emphasized the importance he places on considering both the Republican and Democratic stances on issues.
Partisanship only leads to a deadlock, he said, and deadlock doesn't move people forward in resolving issues.
"I think almost everybody, [even] my worst enemy, would say I tried to work hard to reach across the aisle to find people of talent, and they exist on both sides of the aisle."
In an interview, Smith recalled several times he's worked with members of the Republican Party to make important legal decisions.
He said one such decision was the passing of the Medical Malpractice Amendment in November 2004, when he and a coalition of Republicans brought it to fruition.
The amendment prohibits the issuing of medical licenses to doctors with multiple malpractice incidents.
Smith also said he and Tom Lee, a Republican, worked closely together during the Terri Schiavo case.
Schiavo's case led to a vast number of legal ramifications dealing with whether the government should intervene in the decision to keep a comatose person alive.
After Schiavo, who suffered a cardiac arrest in 1990 that left her in a vegetative state, had her feeding tube removed for the second time, the federal court passed "Terri's Law."
The law allowed then-governor Jeb Bush to order that her feeding tube be re-inserted.
"Terri's Law" was overturned in May of 2004.
"It turned out to be nine democrats and eight republicans [who] stood together on that issue," Smith said. "We believe that families, and not governments, should make life and death decisions regarding their loved ones."
Smith said he's even seen the effects of overly-strict partisanship on a personal level. When he attended the funeral of a chair of the Republican Party who passed away, people told him they were surprised he was there.
"I said, 'Why would you be surprised?'" he said. "My view is that we are free men first, we are Americans next, we are Floridians next. All those things count before we start talking about which party we're in."
# # #
Email Korrego@
alachuatoday.com
Add a comment
Add a comment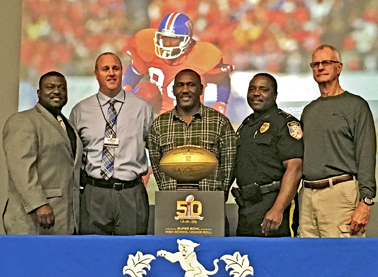 KRISTINA ORREGO/Alachua County Today
Ricky Nattiel, center, accepted the NFL's commemorative Super Bowl 50th Anniversary golden football on behalf of Newberry High School. A Newberry High School graduate, Nattiel went to UF on a a full football scholarship and played professionally for the Denver Broncos, playing in two Super Bowls.
NEWBERRY – It's not often that the NFL commemorates a smalltown high school like Newberry's.
A golden football sent by the NFL was presented to Newberry High School Wednesday, Feb. 24 during a Super Bowl Honor Roll ceremony honoring the Super Bowl's 50th anniversary.
Newberry earned the distinction because an alumnus, former Denver Broncos' wide receiver Ricky Nattiel, played in at least one Super Bowl, qualifying the high school for a grant from the NFL that could include up to $5,000 for the Panther football program.
Nattiel returned to his high school alma mater for the ceremony in front of family, friends, coaches and more than 70 Newberry High School students.
Nattiel was a wide receiver his high school freshman year, a position he would play again as a star at the University of Florida and in the NFL.
Former Newberry Coach Terrell Bass, however, noticed Nattiel's speed and suggested he switch to quarterback.
Twenty-one wins against a mere four losses later, Bass said it was one of the smartest moves he ever made.
Nattiel later attended UF on a full football scholarship. In 1984, he famously dashed 96 yards for a touchdown when the Gators played the Georgia Bulldogs, which earned him the nickname "Ricky the Rocket."
He graduated from UF with a degree in public health, along with 117 receptions for 2,086 yards and 18 touchdowns.
The Denver Broncos selected him in the first round of the 1987 NFL draft, and he went on to play in the NFL for six seasons, including in eight playoff games and two Super Bowls.
Bass, Newberry's football coach from 1979 to 1989, took the stage before Nattiel to honor him and remember some of his experiences coaching him.
He said Nattiel's mother, who was sitting next to her son on stage, wasn't too keen on the idea of her son becoming quarterback at first.
"But we convinced him to do it," Baths said. "He was reluctant to begin with, but Ricky was always up for a new challenge… and really the rest of it is history."
Baths then commended Nattiel's dedication to being a good student as well as an athlete.
"His mama made sure of that because she would come up here and make sure Ricky was in line," he said. "And that's the kind of parents we need in the school system here today."
Nattiel thanked the faculty and acknowledged the efforts of his mother and late father, who passed away last year, for his success.
"Most importantly, God has blessed me with good people, including this young lady right here, my mom," he said.
Nattiel shared advice with the students, encouraging them to work hard even when no one is watching and give full effort in everything they do so they don't have regrets later in life.
"Get in the classroom and [listen] to the teachers [and] to the principals," he said. "If those teachers see you get your butt in that classroom [and] you're engaged [when] class is over, you stay five minutes late. I promise you, they notice. Every little thing, guys, people watch."
# # #
Email Korrego@
alachuatoday.com
Add a comment
Add a comment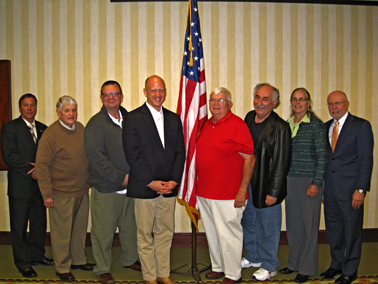 Front row L to R: Bradford County Commissioner Daniel Riddick, Chair of the North Central Florida Regional Planning Council; Robert Wilford, City of Alachua Commissioner; Doug Jones, City of Archer Commissioner; Noah Valenstein, Executive Director of the Suwannee River Water Management District; Mayor Louie Davis, City of Waldo; Harvey Budd and Helen Warren, City of Gainesville Commissioners; and Scott Koons, Executive Director of the North Central Florida Regional Planning Council.
GAINESVILLE – Bradford County Commissioner Daniel Riddick, Chair of the North Central Florida Regional Planning Council welcomed Noah Valenstein, the Executive Director of the Suwannee River Water Management District to the Feb. 25 meeting of the Council held in Lake City. Also in attendance were City of Gainesville Commissioners Harvey Budd and Helen Warren; City of Alachua Commissioner Robert Wilford; City of Archer Commissioner Doug Jones; and City of Waldo Mayor Louie Davis. Mr. Valenstein's remarks provided Council members an overview of the Suwannee River Water Management District's mission, programs and projects focusing on enhancing partnerships, planning for an adequate water supply and managing water resources throughout the north central Florida region.
The Council, whose members are local elected officials and gubernatorial appointees, administers a variety of state and federal programs for north central Florida including Alachua, Bradford, Columbia, Dixie, Gilchrist, Hamilton, Lafayette, Levy, Madison, Marion, Suwannee, Taylor and Union Counties.
Programs include development of the Strategic Regional Policy Plan, technical assistance to local governments in development of comprehensive plans, land development regulations and grant management, and administration of developments of regional impact, local mitigation strategies, hazardous materials, homeland security and economic development programs.
In addition, the Council staffs the Metropolitan Transportation Planning Organization for the Gainesville Urbanized Area, the North Central Florida Local Emergency Planning Committee, the North Central Florida Regional Hazardous Materials Response Team and The Original Florida Tourism Task Force.
# # #
Email editor@
alachuatoday.com
Add a comment
Add a comment