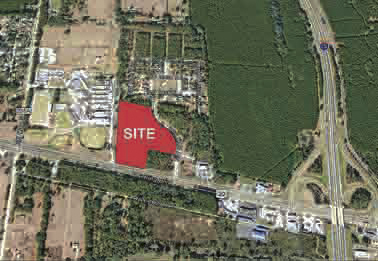 Illustration special to/Alachua County Today
The proposed site for the Publix Supermarket is located between Santa Fe High School and NW 167th Boulevard along U.S. Highway 441.

ALACHUA – Publix Super Markets, Inc. has tentatively approved an Alachua site for a new store to be built in 2016, according to an Orlando-based development group.
WindCrest Companies is conducting studies for a shopping complex to be located on the parcel of land between Santa Fe High School and NW 167th Boulevard that it says will include Publix.
The proposed development would consist of an approximate 46,000 square foot Publix Supermarket, 9,100 square feet in adjacent retail stores and an outparcel with a 3,500 square foot fast-food restaurant.
An email from WindCrest Vice President Tom Murray dated Jan. 7, 2014 stated that some contingencies were still being worked through, but proposals from consultants were being requested to develop the site.
The City of Alachua has not received an application from Publix, though it has been in communication with WindCrest regarding development proceedings since late last year, according to Assistant City Manager Adam Boukari.
Most recent events include the submission of Traffic Impact Analysis and Signal Warrant Analysis reports to the Florida Department of Transportation on March 18 by Traffic Planning and Design, Inc. of Maitland.
The purpose of these studies is to assess the impact the complex would have on traffic in the surrounding areas, notably on U.S. Highway 441, which would run adjacent to part of the development.
The study estimates the development will generate 5,134 new daily trips on affected roadways, which it states will still keep roads at satisfactory Levels of Service as determined by FDOT.
Two points of access to the complex are currently being proposed, one directly off NW 167th Boulevard and the other as a right-in only driveway on US 441.
A traffic light will be required at the intersection of US 441 and NW 167th Boulevard, however, the study states.
Other roadway impacts that were analyzed were on NW 188th Street, County Road 235A, NW 147th Drive, and I-75 ramps and segments north and south of US 441.
# # #
Email dwisener@
alachuatoday.com
Add a comment
Add a comment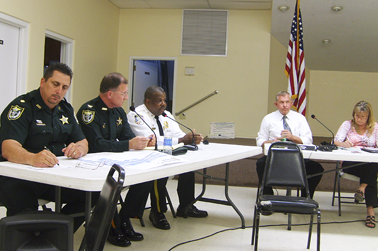 Carol Walker/Alachua County Today
L-R: ACSO Director of Operations Major Mike Fellows, ACSO Chief Deputy Col. David Huckstep, City of Alachua Police Chief Joel DeCoursey, Jr., High Springs City Manager Ed Booth and High Springs Vice-Mayor Sue Weller.

HIGH SPRINGS – A larger than usual audience was on hand at the High Springs City Commission March 20 workshop to discuss changes to the High Springs Police Department (HSPD). Expecting the larger crowd, the city shifted the meeting location from City Hall to the High Springs Civic Center.
Alachua County Sheriff's Office (ACSO) representatives Col. David Huckstep and Director of Operations Maj. Mike Fellows along with City of Alachua Police Chief Joel DeCoursey, Jr., formed a panel to review, comment and answer questions related to City Manager Ed Booth's plan to add two positions to the HSPD...an investigator and a lieutenant.
Booth originally laid out his plan at a March 6 workshop. At that time, he presented a chart showing the current HSPD staff structure and also a second chart showing the proposed structure with the two new positions added.
An investigator, said Booth earlier, would be able to do follow up when a crime occurs, leaving the street officer free to handle other calls. The department formerly had an investigator, but the position had never been filled after it was vacated according to the city.
The second proposed position was the addition of a lieutenant to provide additional leadership and take over some of the duties currently handled by the police chief. Some of those duties may include acting as the public information officer, providing staff management, monitoring social media and helping to reduce cyber crime.
All three members of the panel stressed that the commissioners should first ask themselves what amount of service they wanted to provide their citizens and then decide how those services could best be provided. They explained how those two positions worked at ACSO and in the Alachua Police Department and suggested that if the city could afford it, the addition of the two positions would provide more services to the citizens.
Col. Huckstep explained that if the city wanted to keep one officer on duty 24/7, it would require five officers. One sergeant would oversee five to nine officers, which would comprise a squad. For every four to five squads, you would have a lieutenant, he said.
While Mayor Byran Williams attempted to keep questions from audience members on topic, he often had to ask the audience to be quiet and polite. He also struggled with some members of the audience, many of whom preferred to talk about the police chief's position rather than ask the panel of officers questions regarding the proposed staffing changes.
After Williams suggested that if there were no further questions for the officers, they should be let go, some audience members asked the officers a series of questions in an attempt to involve them in disputes they felt they had with the city and/or city manager.
The officers had to defend themselves several times on the issue of how the city could afford the two new positions, which the mayor reminded audience members was not the topic for the officers panel.
The "if it isn't broken, why fix it" argument came up again. Once again the mayor had to reiterate that the issue was not the workshop topic and not appropriate for this panel, which was to address how these positions function in their specific organizations, something the officers had already discussed.
Some speakers tried to turn the conversation topic toward the issue of the former police chief's firing, something city officials have said several times they are not free to discuss. Although former police chief Steve Holley was in the audience, he did not address the commission or the panel.
Some commissioners said they would support at least one, if not both, of the suggested positions if funding was available during the budget process.
# # #
email cwalker@
alachuatoday.com
Add a comment
Add a comment
HIGH SPRINGS – Representatives from Causseaux, Hewett & Walpole, Inc. (CHW), a Gainesville-based engineering and land planning company, requested a Site Review Committee meeting with High Springs city officials on March 6. The map they brought for review was of a potential site for a new Walgreen's Drug Store on U.S. 441 in High Springs.
The Site Review Committee is comprised of the city manager and heads of each department. The purpose of the review was to determine if the initial site plan for Walgreen's had any fatal flaws such as ingress/egress problems, or parking issues. The committee detected no major flaws in the design and gave CHW the "go ahead" to proceed.
City Manager Ed Booth displayed the site plan for commissioners at a workshop held later that night and said it would be located where Urban Threads and the gas station next door are presently, which is close to the CVS Drug Store location across U.S. 441.
However, in checking with Walgreen's home office in Illinois, nobody at that location was familiar with the proposed project. When contacted, Jerry Dedenbach, Director of Planning at CHW, seemed surprised that the possible location for a new Walgreens was known. The Site Review Committee is a public meeting, which Booth said led him to make the announcement when he did.
Dedenbach said his company searches across the state looking at hundreds of sites for their clients, but indicated that this site was only one of many sites they were reviewing.
# # #
Email cwalker@
alachuatoday.com
Add a comment
Add a comment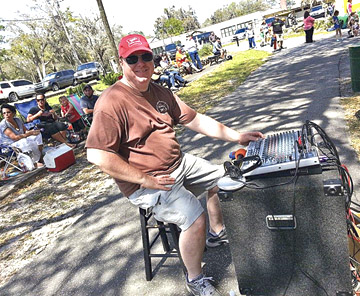 Carol Walker/Alachua County Today
Program Organizer Michael Loveday was caught by the camera as he manned the soundboard for performers during the second annniversary celebration and concert for the Music in the Park entertainment series on Sunday, March 16, at James Paul Park in High Springs.

HIGH SPRINGS – A celebration of the second anniversary of High Springs' Music in the Park (MIP) Series was a resounding success with at least 160 people stopping by the hear the music, play in the Bounce House, sample the anniversary cake and generally enjoy the day with friends and neighbors.
The MIP program, headed up by Michael Loveday, was started as a way to help support musicians and local artists find an audience for their music. "People started showing up to hear a couple of people play music," said Loveday, and it has grown from there.
Performers for the Sunday, March 16, event included Darryl Brewer, Higgs McGee Band, Museum of Oddities and H.R. Hertner.
Programs feature acoustic music "a hair over talking level," he said. Programs are good family-friendly music that you would not normally hear on the radio and are performed by area musicians who are excellent. Newberry artist Rick Randlett, a blues musician is one such artist. "He is on the top 10 worldwide," said Loveday. Higgs McGee Band, a new country band is also a favorite. H.R. Gertner is the number one Americana acoustic act in Gainesville said Loveday. He also touts local country musician, Cliff Dorsey. "He has a great voice," he said.
Each month he tries to locate a different musician or group. "Everyone is a volunteer," he said. "We put out a tip jar, but that's the only money the musicians get for playing here. They just do it for the love of the music and the appreciation they receive from anyone who stops by to listen."
Looking forward to the rest of this year, Loveday explained that there will be a larger show in April for High Springs' Pioneer Days, which is a two-day event the weekend of April 26-27. "We plan to do a few larger shows throughout the year with single acts in between," he said. The High Springs Community School Band, under the direction of Vito Montauk, will be invited to perform as one of the larger shows. Beginner, intermediate and symphonic bands will play for that event, he said.
Many people and businesses helped sponsor the second anniversary show. The City of High Springs, the High Springs Chamber of Commerce, Subway, Winn-Dixie, Ship It & More, The Diner, Walker's Second Fiddle and Moonwalk Entertainment were among them.
"Moonwalk brought their bounce house out for donations only," he said. "We couldn't do this every month without the help of the local businesses that help sponsor our events. We really appreciate their support."
# # #
email cwalker@
alachuatoday.com
Add a comment
Add a comment
ALACHUA – The City of Alachua's financial report has received the highest audit opinion for the eleventh consecutive year.
Alachua received an "unmodified" opinion on the annual audit of its basic financial statements for fiscal year 2012-2013.
The results were revealed at the city commission meeting on March 24 by the city's independent certified public accountants, Purvis Gray & Company.
There also were no recommendations issued for Alachua to improve financial management.
According to Ron Whitesides, presenter for Purvis Gray & Company, Alachua also had an increase in total revenues of approximately $1.7 million, due in large part to utility rate adjustments and federal and state grants received.
City expenditures also decreased by nearly $800,000, Whitesides said, in part due to lapsed salaries and road resurfacing projects being delayed to next fiscal year.
The entire report can be accessed online at the City of Alachua Website at www.cityofalachua.com, "Agendas & Minutes" under the "Quick Links" section.
# # #
Email dwisener@
alachuatoday.com
Add a comment
Add a comment