Developer wants other locals to revive golf course, initiate recovery
ALACHUA – A tee shot straight down the middle of the fairway will still put you in the rough at the Turkey Creek Golf Course in Alachua.
The once proud golf course community has seen their course of lush greens turn into a much thicker, unplayable course of lush untamed foliage since the closing of the golf course more than three years ago.
The gated community of 1,000 homes on U.S. Highway 441 has watched property values plummet over the last several years and some residents are fed up. One resident in particular said he has had enough and plans to lead the community in an effort to revitalize the property.
John Tingue is the man with the plan. A retired father of six and grandfather of 10, Tingue has been a resident of the Turkey Creek Community since 1997 and said he is ready to take a stand with the help of fellow Turkey Creek resident Forest Hope.
"We're a wounded, but we're not a defeated community," Tingue said.
Tingue's group, the Turkey Creek Member's Club (TCMC), hosted five invitation-only meetings with the Turkey Creek Master Owner's Association, the Alachua City Commission and the Alachua County Commission about its plan to restore Turkey Creek. The TCMC now plans to host a community meeting at 7 p.m. on July 29 at Cavalry Baptist Church located at 13920 NW U.S. Highway 441 in Alachua to discuss the plan with the Turkey Creek community as well as other interested parties.
"We have a whole new concept, a whole new plan for our community," Tingue said. "We're hungry for recovery."
If the plan comes to fruition, Turkey Creek Golf and Country Club will acquire the property by Oct. 1, 2014, become the Turkey Creek Members Club and have a grand opening by June 2015.
"It's less about the product and more about the people," Tingue said.
In the presentation, Tingue shows the property value of two homes inside the community built in 2009: one for $305,000 and the other for $448,000. Over the last five years, the home's values have dropped by $56,000 and $99,000, or 18 percent and 22 percent respectively.
One misconception Tingue wants cleared up is that Turkey Creek may be gated, but it is not a private community and the rejuvenation of the community will benefit more than just those living within the gates.
"There's a lot of people today that want to have a facility to bring their families and friends to dine, to play golf, to go to the pool, play tennis," Tingue said. "So outside of our community […] there was a huge interest [in the Turkey Creek Community]."
The TCMC has set up a website, FixUsFirst.org, for those interested in learning more about the plan or interested in becoming members.
"Whether it's somebody that just wants to volunteer from $15 a month to somebody that wants to be a financial partner, which we're seeking 10 of, which is $200,000," Tingue said.
Alachua City Commissioner Ben Boukari, Jr., said that the City of Alachua will try to help the TCMC any way it can to get Turkey Creek back to where it needs to be.
"We've got to look at ways to see how we can help them," Boukari said. "We've just got to be creative and look for ways to support them."
Boukari, who has seen the TCMC presentation, said he likes the plan Tingue and Hope have in place for the future of Turkey Creek.
"I think it's fantastic, I think it's exciting, […] I spoke to Forest Hope several weeks ago and John Tingue and they were just saying 'you know, look, we can't wait for someone to come buy this course. We can't let it go any further or any longer just sitting there, we've got to do something ourselves,'" Boukari said. "I think it's a great plan and you know I've been around that golf course, I worked there back when I was in high school."
Boukari also acknowledged that the success of Turkey Creek could have a large impact on the rest of Alachua.
"They're 33 percent of our population, they're part of our community, they make up our community," Boukari said. "They're our school teachers, and our students, and our shoppers, our business owners. Turkey Creek is Alachua."
# # #
Email abrand@
alachuatoday.com
Add a comment
Add a comment
Details

Published on

Sunday, 10 August 2014 21:13

Written by Special to Alachua County Today
Hits: 5800
ORLANDO – Managers and public officials from municipal electric utilities throughout Florida elected six of their own to lead a statewide power agency in 2014-2015. Elections for the Florida Municipal Power Agency's Board of Directors and All-Requirements Project Executive Committee took place at the Agency's annual meeting held on July 18 in Naples, Fla.
Members of FMPA re-elected Newberry Mayor Bill Conrad as Chairman of the Board of Directors for 2014-2015. This is his second term as Chairman. He previously served one term as Treasurer and has served on FMPA's Board of Directors and FMPA's Executive Committee since 2009.
Homestead Public Services Director of Electric Utilities Barbara Quiñones was re-elected Vice Chairman of the Board of Directors. She was first elected to fill an unexpired term as Vice Chairman in January 2014, and she has served on FMPA's Board since 2009.
William Thiess, Director of Utilities for Fort Pierce Utilities Authority, was re-elected Treasurer. This is his second term as Treasurer. Thiess was appointed as his city's alternate to FMPA's Board of Directors in 2006 and as a member of the Board in 2012. He was also appointed as an alternate to the Executive Committee in 2006 and as a member of the Committee in 2012.
Lynne Tejeda, General Manager and CEO of Keys Energy Services, was re-elected Secretary. This is her second term as Secretary. She was appointed as her utility's alternate to FMPA's Board of Directors in 2005 and as a member of the Board in 2013. She has served on the Executive Committee since 2005. She is also Chair of FMPA's Conservation and Renewable Energy Advisory Committee, of which she is a founding member.
FMPA's Board of Directors makes policy decisions for the power supply projects of FMPA, except the All-Requirements Project. Each of FMPA's 31 members appoints one representative to the Board of Directors, and Board officers are elected by popular vote of the members.
Email editor@
alachuatoday.com
# # #
Add a comment
Add a comment
LACROSSE – Three Florida Department of Transportation (FDOT) projects are expected to impact LaCrosse residents beginning in late 2015 or early 2016. The first is a 6-mile resurfacing project from LaCrosse to the Union County line, which is currently slated to begin fall 2015. Preliminary cost estimates for this project are in the vicinity of $3.25 million.
Another resurfacing project beginning at U.S. Highway 441 in Gainesville and continuing approximately 9 1⁄2 miles to LaCrosse on SR 221 is slated to begin in spring 2016. Preliminary cost estimates for this project are in the vicinity of $3.89 million.
While both projects are needed and will greatly enhance the safety of traffic and pedestrians along S.R. 221, the project that will have the most direct impact to the town's residents is part of the Transportation Alternatives Program. Project information was available to the public at an open house held July 14 at LaCrosse Town Hall.
At the meeting, FDOT representatives proposed enhancements which would add a new sidewalk to connect to an existing sidewalk and provide for the installation of pedestrian lighting on both sides of the roadway from N.W. 202nd Place to just south of the CSX railroad crossing. Welcome signs at both ends of town were also included in the project description.
Residents were encouraged to review the proposed plans, ask questions of FDOT staff and provide input into the project, which is currently scheduled to begin in early 2016. Project costs are estimated to be $971,000.
The enhancement project has been a long time in coming. Mayor Dianne Dubberly submitted an application for project funding to Alachua County in 2001.
"Eventually, our project worked its way up to the top of the list as other projects were scheduled to be completed," said
Dubberly. Once the project reached that point, the county turned it over to FDOT to add to their project list.
"We are about half-way through their [FDOT's] 5-year plan," said Dubberly. "I feel confident that this project will be completed as scheduled."
# # #
Email cwalker@
alachuatoday.com
Add a comment
Add a comment
HIGH SPRINGS – If High Springs shut down their emergency communications center and contracted with the Alachua County Combined Communications Center (CCC) for those services, it would likely save the city over $114,000 annually.
During an earlier presentation of the city's proposed 2014/2015 budget, which included the costs associated with continuing to maintain emergency communication services locally, Commissioner Scott Jamison asked to see a comparison of what the budget figures would be if the city was to have the county provide those services.
During the July 24 commission meeting, those figures were provided to commissioners and showed a reduction in expenses of $114,715.
The topic of maintaining services locally or contracting with the county to take over emergency communications has come up off and on during the year. The last time it arose, commissioners agreed to postpone further discussion until budget planning for 2014/2015 to allow time for actual costs to be calculated.
According to High Springs City Manager Ed Booth, the cost of eliminating local communications services can be viewed in two categories. Information technology expenses would be reduced by $10,000 and police communications expenses would be reduced by $104,715, for a total reduction in city costs of $114,715.
The cost of having Alachua County take over those services again would be based on the number of calls handled by the CCC multiplied by the percentage of the population. Looking at the previous contract the city had with the county, the city was charged 60 percent per 1,000,000 citizens, based on a population of fewer than 6,000 residents.
The last year the county provided communication service to High Springs, which was 2012, costs were approximately $80,000, said Booth.
Concern has been expressed that if the city eliminated the service locally and engaged the CCC again, the county's costs to the city for those services would escalate when the population increases to 6,000. City Hall estimates a current High Springs population of 5,494 residents. However, it is unknown at this time how or if a population increase would affect costs for future CCC services.
Commissioner Bob Barnas said that all the signs in the city would have to be replaced to accommodate E-911 addressing if the county handled emergency calls for the city. He suggested the cost for all of that be built into whatever figures the county might charge to handle emergency calls for the city.
Actually, that is not the case, said Keith Godwin, Alachua County Director of E-911 Services and a resident of High Springs. "The signs are fine just as they are," he said. "The county handles calls for the city's fire department and ambulance services without any problem right now. It would be no different for other emergency services," he said.
Booth commented that he had been asked to provide both sets of budget figures, which he did. He also said he had already budgeted local emergency communications services into next year's budget.
"At this time, that's all I've been asked to do," he said. "Unless a majority of the commissioners want me to do something else and give me further direction, that's where things stand," he said.
# # #
Email cwalker@
alachuatoday.com
Add a comment
Add a comment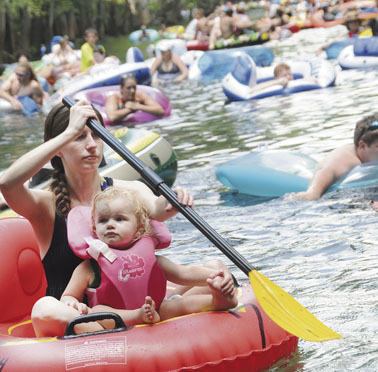 If you canoed the Sante Fe River last weekend taking advantage of the long holiday, you might have been floating alongside of world-renowned cave diver Rick Stanton.
Rum 138 co-owner Doug Jipson said the European diver came into his kayak and canoe rental shop near Rum Island asking to explore the river from above instead of beneath the surface for a change.
"He asked 'Can you take us up to 441 to dive,' " Jipson said about Stanton's request. "He has dived every springs," Jipson added. "He's the number one rated diver out of Europe."
So Jipson said he dropped Stanton and his crew off at Hornsby Springs near Camp Kulaqua.
"He's always been beneath," Jipson said. "Now he's going to be above."
Jipson and his wife Merrillee opened Rum138 one year ago. "It's our anniversary," Jipson said.
"We have seen a huge growth because we are smack dab in the middle of all of the springs. I turned 40 people away on Saturday.
Meanwhile, at Rum Island, snorkeler Jim Allen and his granddaughter Mia, 8, said they were searching for creatures. "We come here to enjoy the flora and fauna Allen said with his mask still on as he climbed out of the water.
A canoe was approaching sporting an American flag and paddlers Andrew and Sarah Kittrell of Jacksonville were trailing behind their friends from High Springs. The Kittrells were being watched by 10 turtles perched on a branch and a Blue Heron.
Over at Itchetucknee Springs State Park, employee Jimmy Decker was trying to squeeze as many tubes and rafts onto the flatbed of the tram hauler as possible so he could get the next 75 passengers back where they started.
"Memorial Day weekend is when we start the tram service," Decker said.
Lisa and Justin Daniels of Jacksonville have just reached the end of their float down the Itchetucknee as they introduced their daughter Paisley, 2, to the experience. "She sat on my lap the whole time," Lisa said.
Now Miss Linda Lynch is manning the booth below the tube tree her employee Rudy made. Lowe's Tubeland was hopping all weekend and Lynch was enjoying a plate of hot dogs and fresh cut watermelon.
Lynch is a co-owner of the business that's been in the family for years, she said. "My grandparents started it."
"Sundays are always slower to start," Lynch said about the weekend. "Part of the river is still closed.
"Best time is to come during the week," she advises to avoid crowds. "It starts Memorial weekend through Labor Day weekend."
Over at Poe Springs things are going smoothly. "It was busy," said Vernest LeGree, Acting Parks Open Space Superintendent for Alachua County. "A lot of activity, not overcrowded. Everybody seemed to enjoy themselves and there was a steady stream of people coming and going.
LeGree said new steps replaced the old steps into the springs that had started to erode. And he noted that water levels were still above normal.
"It's pretty high, he said. "There's three or four steps going down into the springs."
River Ranch Water Park lifeguard Jeremie Thompson, 16, of Lake City, was enjoying the start of his second season at the water park of Camp Kulaqua.
"It gets crazy when the summer camps come in," he said. "The heat is the most challenging and the funnest park of the job is the slide," he added.
"You get to go down it at the end of the day."
Joseph Shook, 18, is waving cars down on Route 27 trying to entice customers to stop at the Ichetucknee Tube Center. His day started at 7:30 a.m. and lasts until about 3 p.m., he said.
He describes his job. "It can range from when a customer pulls up you tie the tubes on for them, to greeting customers," he said. "It depends on the situation."
Shook bows and waves his arm as if to give permission for the next car to pull up curbside.
"Since I'm waving for hours, I might as well enjoy myself," he said.
"Those blue ones right there," he said as he pointed to a stack of tubes, "Are really comfy and they're two dollars more."
Back to Kulaqua River Ranch where Manager Jeanette Queen said they had a good turnout. We've had 300 to 350," she said.
"Our next community days are June 22 and 29.
We're starting to catch on and trying to make it where we're out in the neighborhood more," she adds.
"There's all locals here. If they aren't a local, it's because they came with a family that is local."
Back in Alachua, one-year-old Christopher Torres won't budge from the circle of fountains squirting all around him. He is soaked and sporting a Superman shirt. His parents heard about the Splash Park on Gainesville Word of Mouth on Facebook.
Manning the facility is City of Alachua employee Kade Talton who is double checking the pH and chlorine levels. He just emptied a filter and jotted down the readings in a log.
"My job is to keep it clean and make sure the chemicals are right," Talton said.
It is Christopher's first birthday and he is still sitting in the circle of sprinklers and he couldn't be happier.
# # #
Email scook@
alachuatoday.com
Add a comment
Add a comment