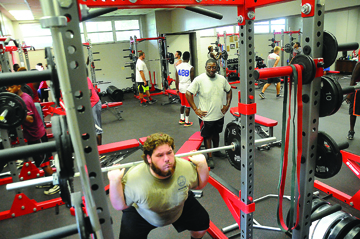 SUZETTE COOK/Alachua County Today
The Santa Fe High School Raiders football team got their first workout in on Aug. 25 since the completion of a state of the art 12 station workout room made possible by patrons. Nose guard Steven Williams, above, takes his turn.
ALACHUA – It is 8 a.m. and Building 25 at Santa Fe High School is about to fill up with the Raider Varsity Football Team.
Head Coach Bill Wiles has his list ready. Jog, Raider jacks, plank, side bridge, leg throw, bench bar, squat bar, shrug, iso neck with partner.
This is the first full workout for the Raider team in the school's new weight room that is about four times bigger than it was a few months ago. Walls are down and with the help of fundraising leader Faye Zuidema, local businesses and patrons stepped up to support the request for a better way for all Raiders to build strength.
"We had a vision," said SFHS Athletic Director Michele Faulk. "It was going to cost about $52,000, and Faye Zuidema got a lot of community business leaders involved. In less than two months, we raised $62,000."
On Aug. 21, patrons were invited to Building 25 to see what their donations turned into.
"You can do so many different things with this," Faulk said and pointed to one of 12 universal workout stations that cost about $5,000 each.
Coach Wiles came in for a quick visit before kickoff and shook hands with platinum sponsors Greg Waitcus of Santa Fe Ford and Alan Hitchcock. He made his way around the room and greeted and thanked all of the patrons involved.
Faulk addressed the attendees, "We wanted you to see, this is what your money went for and our kids can't stay out of here. This community amazes me beyond words. You are so giving in less than two months we raised this money."
On the donor wall, plaques list the sponsors: Santa Fe Ford, The Hitchcock Family, Darrell Timberlake, Coach Warren Buck, O'steen Brothers, Inc., The Crane Foundation, High Springs Electric, Inc., Zac Zedlais, Bev's Burger Cafe', Rothseiden Family, Jack and Faye Zuidema, Cedar Lane Farms, Inc., Rembert Family Foundation, Inc., Hitchcock's Foodway, Santa Fe High School Advisory Council, Captial City Bank, Raoul Wallenberg, Reverend Hillery & Donna Bassriel, The Thomas Family:Clay, Kevin and Jackson, Renasant Bank, Custom Lighting, Inc., Bottita Family, Gussie M. W. Lee and Family, Main Street Pie Co., Mason J. Hancock, Alachua Farm & Lumber and Joel DeCoursey, Jr.
Former Raider athletes and coaches names are on the wall. Former SFHS Coach Warren Buck is standing next to one of his players who also donated to the project. Darrell Timberlake, class of 1989, broke the record in points in a game, Coach Buck says. Buck graduated from SFHS in 1964 came back to coach in 1974. "I coached for 30 years," Buck said. "We've never had anything this nice before. I know they'll utilize it use it real well."
He pointed to Timberlake said, "He still holds the record 54 points in one game against Interlachen."
Timberlake was a forward for the Raider basketball team, and he also helped support the expansion with a substantial donation.
"It's fantastic," Timberlake said about the facility. "We've been very blessed and very honored to help the school out."
Principal Dr. Beth LeClear joked that the place "looks like a college locker room," and added, "Our community knew that we needed something for our children, and look at what we got. It's amazing. No other place than Santa Fe."
Assistant Track Coach and Algebra Teacher Basil Wetherington said he is excited to get his athletes on the equipment.
"These are half-rack multipurpose, so we can do all of the Olympic exercises, the traditional static, all the compound exercises, suspension training," Wetherington said.
"You're talking about complete 100 percent total body exercise, all confined in a small space that you can get 3 or 4 athletes at each rack. With 12 racks, that's 48 to 50 athletes working out at once, plus excess space to do our other exercise.
Platinum sponsor Alan Hitchcock said he has always been a fan of the Raiders' sports teams.
"It's very exciting," he said. "Because it's really a state of the art, brand new, first class facility that I hope the kids will really be excited about building their bodies and making themselves into bigger stronger athletes."
Hitchcock said he was a basketball player and that he continues to follow SFHS sports.
"I'm a big supporter of Coach Wiles," he added. "And I hope this really helps him take us to the next level."
Wiles knew exactly what to do with the new equipment as he took over the workout room on Aug. 25.
"Front plank hold for 30," he shouted out directions. "On your front, 30, on your right, 30, on your left, 30. Make sure your body is straight."
Then he introduced his athletes to the equipment. "Take those off, lay them on the floor," he said about weights on the rack. "Put them on about two or three, there you go," he instructed.
Clink clank clink clank, metal on metal sounds took over the room.
The players dug into the workout.
"It a good atmosphere, said Isaiah Cromarty, 16. "It makes me want to work out."
Junior Tryston Dejesus agreed. "It's really nice, way better than we used to have.
Senior Defensive Nose Guard Steven Williams said his exercise of choice is the bench press. "It looks good," he said about the new facility and added what he plans to get out of it.
"A lot of strength, a lot of team building."
At the end of the workout, the team gathered in the center of the room and built up to the same team cheer they execute before taking the field. "Raiders, Raiders, Raiders," they yelled in unison.
They showed up for that first workout filtering in one by one, stopping at the sponsor wall and reading the names of the people and businesses that made the workout space a reality.
They left Building 25 in a group, as a team and headed to class with more energy than they arrived with.
Add a comment
Add a comment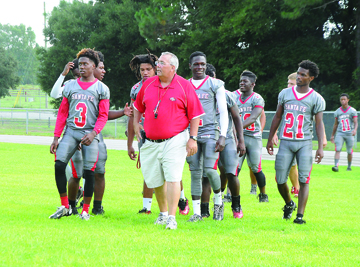 By SUZETTE COOK/Today editor
ALACHUA – While the Cady Studios photographer from Lake City was lining up the Santa Fe High School Raiders Varsity Football team last week for yearbook portraits, SFHS Head Football Coach Bill Wiles was trying to get the message across to his players that the change in district competition for the 2015-2016 season is not something to underestimate.
In January, Wiles said the new map was drawn and announced.
"We'll be playing a difficult schedule, Wiles said. "What worries me, is that we changed districts. So our kids are perceiving it as we were in a district with Suwannee and North Marion, and now, no longer we are. Our kids' perception is that it's going to be easy."
Preseason practice for Raiders started on Aug. 3. And the team is gearing up for its first game on Aug. 21.
This is Wiles' fourth year coaching at SFHS.
"We should have a good football team," he said, but added, "Nothing is given to you. We live in a society where people expect things for nothing."
"Every year you have to rebuild your team," Wiles said. "Last year's team has nothing to do with this year's team. Whatever they want to be. They're either listening to us, and they'll take coaching. This team is starting from scratch."
Then he listed the new lineup of top teams that the Raiders will meet up with on the line of scrimmage soon. "Bradford County, Keystone Heights, P.K. Yonge, Interlachen," he said. "We open the season with Newberry."
Then it will be on to Charlton County , Georgia "to play one of the best teams in the nation," he said. "I don't know if the kids are ready. We play a 7A school from Tallahassee and we're a 4A team. We play a brutal schedule."
Then coach sent over players to talk about the upcoming season.
Captain Caysaun Wakley, 17, is a linebacker, a senior, and has a goal of making to the NFL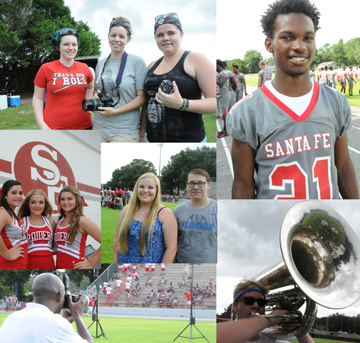 "I feel like we've got a really good chance," Wakley said, "I'm feeling confident. If we just come out and play our game, we can succeed and possibly get a state championship."
Wakley said he has been taking in 5,000 calories a day to pick up an extra 20 pounds.
"Give it your all, it's about how you're going to show up and what you're going to be remembered for," he said.
Captain Tyler Hughey, also a linebacker and senior said, "We're coming out of a pretty tough district. It's going to be the same challenge. We've got to play every game like we're playing against the best team in the state. We've got to be able to go out there and make plays.
"Our goal is to win a state championship. Intensity, leadership, encourage my teammates, lead by example," the 17-year-old said about how he plans to make the best of his senior year at SFHS.
Senior running back Kenyatta Patterson said, "I've got heart and pride. I try to do the best for our team." His advice for his teammates: "Give it everything you've got on that field."
Senior Jamari Markham, 17, said he thinks the district changes "eased the competition."
"It's still good," Markham said. "I'm going out with the same mentality as last year. We're playing for each other, trying to go to state," the offensive tackled said. "I made the best out of my high school career."
Jack-of-all-trades Walter Jenkins plays tight end, fullback defensive end, linebacker and on special teams.
"Make sure you go full speed, the whole time," is the mantra Jenkins plays by. "This is my last year," the 17-year-old senior said. "Come out here and play fast, strong and got to be together. I'm not that vocal," he said. "I lead by example."
The athletes will be sharing the field with cheerleaders and the Raider Regiment Band.
"It's mostly sophomores, cheerleader Kassidi Tillman said about the squad this year. "The team is rebuilding this season. We have a lot of new people, so we are teaching the basics and practicing a lot."
Tillman said the cheer team looks forward to interacting with fans this year. "We try to get interactive," she said. "Yell back at us when we have cheers, when we have signs, yell what they say. We want them talking back."
Band Director Nate Bisco said the production this year is called "Time Flies" and it is his brain child. "We're portraying the history of aviation," he said. "Going back to DiVinci to hopefully Mission to Mars," he added.
Songs to listen for include "Come Fly With Me," "Leaving On A Jet Plane," and Rocket Man."
"Our color guard will be starting as mechanics," Bisco said. "Half of them are going to then become flight attendants and pilots and the other half are going to then become astronauts in the last piece."
"We're very excited about this show, and it should be another great season of the Raider Regiment."
According to Coach Wiles, the football team is in charge of its fate for the 2015-2016 season.
"They got to care about each other, take coaching," he said.
"In Florida, there are 500 and some football teams, and at the finish line, eight are going to cross it. Depends on how hard they work, how they live their life from day to day.There's a lot of things that go into being a good football team.
"You got to be a good person first."
Add a comment
Add a comment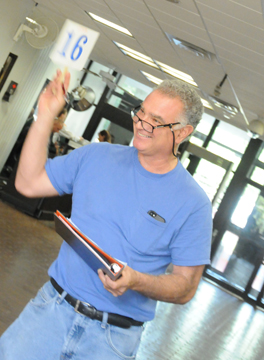 ALACHUA COUNTY – The days of Alachua County's Clerk of the Court and Comptroller J.K. "Buddy" Irby and his staff standing in the lobby of the courthouse near the elevators auctioning off foreclosed properties are numbered.
As of Sept. 1, 2015, Realauction.com will take over the auction process holding them online at www.alachua.realforeclose.com.
The Fort Lauderdale-based company already represents 28 counties in Florida, and hopes to help increase auction revenue for Alachua County by increasing the number of bidders who can take part in the purchase of foreclosed properties, said RealAuction.com CEO Lloyd McClendon.
"We provide this service for many clerks around the state," McClendon said. "Buyers can avoid parking and other hassles, and do this from the comfort of their home or office."
Registration is free, McClendon said, and placing a bid is free. "But you need a deposit in order to win," he added. "You'll need 5 percent of the amount you intend to win with."
With no buyer's premium, McClendon does the math.
"You're able to win 20 times your deposit. So if you put down $1,000 deposit, the maximum amount of property you can purchase is $20,000."
According to McClendon, Realauction.com charges the county a $49 transaction fee for every home it sells for counties using its online software and services.
"We've done foreclosures in Florida since 2008, using the online foreclosure system with 700,000 cases auctioned so far," he said.
According to Irby, the idea is that auction participation will be available to everyone throughout the country. And the more bidders in the mix, the higher the selling price could go.
The online auction service will go live on Monday, Aug. 17.
Bidders who want to take a class to learn the software can attend a live training course at the Alachua County Courthouse Center, 201 W. University Ave. at 2 p.m. on Aug. 17.
Realauction is conducting the class and space can be reserved by calling 877-361-7325.
According to Irby, the bank holding the mortgage often ends up being the high bidder.
"They usually bid up to the amount they held the mortgage on it," Irby said.
"They just want to get their money back. They don't really want the property."
"How high the bank will bid so they don't lose money," is up to each bank, Irby said.
"Some settle for getting 75 percent of their money back. But nobody knows that but the bank."
Irby describes the process of what a normal auction goes like.
"We stand at the courthouse," he said. "My staff or myself goes out and announces the property. It's been properly advertised.
"It usually starts off at $100, and the next bid may be $10,000 and then we go from there. We really don't know what's going to happen."
This procedure will play out the old-fashioned way until Sept. 1, Irby said. "And we'll have lots of them," he added Those interested in searching the database can visit www.Alachuaclerk.org and click on Foreclosures, "And it list all the foreclosures we have coming up," Irby said.
"Every now and then, people have gotten a really good bargain. It just depends on who shows up."
To close the bid under the current system, Irby said the winning bidder has to deposit 5 percent of the bid with the county.
"They have until the end of business next day to pay. If you don't have the money, we don't close the bid and somebody else does the bidding. If they don't show back up, the money is kept by the court."
Switching to the new online system has been in the planning stages for about six months," Irby said. He advises potential bidders to research the properties thoroughly before they bid.
"We tell people 'buyer beware.' They want to do their research. What it is, if there are liens or other loans against the property. Research before you start jumping in and bidding."
McClendon echoes the warning of buyer beware.
"There's no guarantee," McClendon said.
"You have to obtain a title search. It's best if you have an attorney, a real estate professional to help. You really need to do your research, since there's no guarantees from the clerk's office. All lot of times, bidders get excited and speed through the warnings."
The online process does help prevent bidders from fixing the rate on a property, McClendon said.
"Online saves the public time, money, and the clerk's office resources," he said. "It prevents collusion. No longer can people get together and 'fix the deal.' "
At the Aug. 11 auction held in the courthouse lobby, four bidders took part in the foreclosure auction process.
One local property investor picked up a 4-bedroom house for $38,000. He said he will miss going to auctions in person because he said he got to know who the other bidders are, and once the process goes online, you won't know who your competition will be, or how high they'll be willing to go.
Add a comment
Add a comment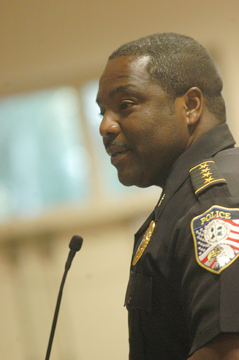 BY SUZETTE COOK/Today Editor
ALACHUA – The Alachua City Commission agreed on Aug. 10 to replace Alachua County Sheriff Office deputies with Alachua Police Department officers in a unanimous vote to insure continued staffing of the School Resource Officer Program.
In a contract prepared as an agreement between the School Board of Alachua County and the city of Alachua, the SBAC agrees to pay the city $82,805.12 for the 2015-2016 school year. The funds will be used to place an SRO at Santa Fe High School, Mebane Middle School, Alachua Elementary School and Irby Elementary School.
APD Chief Chad Scott, a former resource officer, addressed the commission about creating three part-time positions to continue to serve local schools.
"I believe that with these additional positions to the police department, we will be able to implement a school resource program and still accommodate staffing needs and patrol functions," Scott said.
"I feel this is a huge opportunity for the Alachua Police Department to continue to build a positive relationship with our community."
Scott said he served as an SRO at Lake Forest Elementary, Fort Clarke Middle School, Oakview Middle School and Newberry High School.
"I still hold close relationships with students," he said. "As the Chief of Police, I look forward to keeping the public schools in the city of Alachua safe."
Santa Fe High School Principal Dr. Beth LeClear said she looks forward to working with the APD.
"I am very excited," LeClear said. "Chief Scott and I have already met. His priority is the safety of the children of Alachua. I am very happy to work with Chief Scott and his team. We have previously hired City of Alachua [officers] and they are always professional, positive and great role models for the students of Santa Fe. I am looking forward to a great year."
According to the contract, the city of Alachua "reserves control in determining staffing levels for the SROP in each of the four schools."
Commissioner Gary Hardacre said he is happy to have that control in the city's hands.
"I'm glad we're taking this away from the sheriff. I think it's in the best interest of our citizens that our police chief, with the help of the city manager, makes these decisions. That way, our citizens really have a voice. If we have a problem in our community, I feel a lot more confident it will be handled the way it should be [having] direct control over that."
Vice Mayor Ben Boukari, Jr. said he has fond memories of the resources officers from schools he attended.
"I think this is actually fantastic," he said. "When I was in elementary school, I remember 'officer friendly.' I remember her talking to us about stop signs and how important they were. That sounds so small, but it's huge to a little kid learning."
Commissioner Robert Wilford said his sister was an educator for 30 years, and he believes in the SROP. "The idea of children seeing a police officer in a positive light," Wilford said. "I am very exciting with us taking the lead and cutting out the middle man.
Commissioner Shirley Green Brown is a retired educator.
"Just to see the partnership between the school board and our city police department," she said. "What a wonderful relationship you will have with the students in this community. Thank you to the city, thank you to the staff."
Mayor Gib Coerper congratulated the city on "making this happen before the school year starts."
"All of us have been involved with the school," Coerper said. "I see what a difference it makes. You will also be the recipient of the third grade letters this year," he reminded Chief Scott of the tradition of having elementary students write letters to the mayor and police chief each year.
SBAC Public Information Officer Jackie Johnson is also excited about the agreement.
"We're glad of the opportunity to strengthen our relationship with the city of Alachua and the Alachua Police Department through this contract," she said.
"Having the city's own law enforcement officers working with the students, families and staff in their community will certainly be a benefit."
Add a comment
Add a comment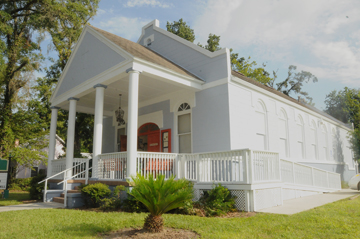 Photo SUZETTE COOK/Alachua County Today
HIGH SPRINGS – The High Springs Playhouse has a fresh coat of exterior paint and a fresh set of events listed on the marquee out front.
According to President of High Springs Playhouse Linda Burleson, the fresh coat of Windy Blue, Bracing and Quicksilver colors have people taking a second look at the 1950s structure that is currently featuring the youth production of "The Jungle Book."
Robert Karl owner of Karl's Painting and Home Repair out of Gainesville put some finishing touches on the theater Friday. "It was an old brown and they picked out the new colors," Karl said. "It's brightened up and everybody really loves the new colors."
Burleson said the renovations come from "generous sponsors and donations."
"It desperately needed it," Burleson said. "I think we've gotten the right reactions. It's catching people's eye as they go by. It's refreshing."
On the porch of the theater sits a giant bench that once served as a prop from a production of "You're a Good Man Charlie Brown."
"We replaced this ramp," Burleson said about the access ramp that leads up to the porch. "Our plan is for it to last forever."
"This took a lot of money," she said. "Donations came from the High Springs CRA and from the community. People really stepped up."
The recent production "The Jungle Book" took the stage on Aug. 7 with a sold out crowd.
Set designer Daniel Palmer helped with the stage," Burleson said.
He crafted the hut from the jungle and "Made it wonderful," she added. "Best set we've had all year."
One major interior upgrade are the arches over the decorative windows, said Burleson.
The next project the playhouse is working on solving is leaky air conditioner.
"A few weeks ago, they brought in an air conditioning service that cleaned out the air conditioner," Burleson said. "We have a bad Freon leak and are Band-Aiding it every weekend getting a recharge of Freon.
"We are scrambling to raise money," she said. Quotes for a new system are coming in at $7,000 to $13,000.
Upcoming events include the production of "Harvey" and on Aug. 29, Burleson said "Directors are being invited to come see the playhouse.
"We're inviting experienced directors who were here, but haven't seen the building in a while. Others have directed here before we got these seats," she added.
"Now we have professional lighting, sound, and want to get people back in here to see the changes."
Add a comment
Add a comment