NEWBERRY — Rodney Hyden, a local concrete contractor, is building a splash park for the City of Newberry in lieu of a 10-year prison sentence.
City of Newberry Mayor Bill Conrad said Hyden was facing a 10-year mandatory minimum sentence after a jury convicted him of attempted possession of cocaine with intent to distribute it.
The court accepted Hyden's proposal that he be allowed to perform community service and sentenced him to a drastically reduced punishment. At his trial, Hyden, 56, said he'd been entrapped into committing the crime, but the jury rejected that defense.
Conrad said he met with Hyden, who proposed his idea for the Splash Park. Then Conrad wrote a letter to the judge indicating his interest.
"He would build it, design it, oversee construction and do fundraising through his subcontractors to provide us with a splash park in the City of Newberry for little or no cost," Conrad said.
Hyden's sentence is 60 days in jail followed by five years of supervised release, during which time he will be required to perform community service including construction of the splash park, said his Jacksonville-based lawyer, Mark Rosenblum.
In addition to the splash park, Hyden is volunteering his time and expertise in construction to Alachua Habitat for Humanity, Rosenblum said.
The park is in its planning phase, and there is no start or completion date yet. Conrad said they have tentatively decided on Triangle Park for the location.
"We like that location," Conrad said, "but we have a lot of research to do before we're sure that's going to work."
Hyden will not be involved in the project when he starts his jail sentence in early June, but Rosenblum said Hyden will start the project when he is released.
"This is an example of a forward thinking court engaging in creative sentencing of a non-violent person," Rosenblum said, "allowing for a gain for the community rather than the warehousing of a productive person."
# # #
Email ksu@
alachuatoday.com
Add a comment
Add a comment
HIGH SPRINGS – The city's Code Enforcement Board may soon have a schedule of fines they can levy to those citizens who do not comply with city codes. While the city already has an ordinance allowing their board to levy fines, a schedule of fines has never been created. In the past, the board could levy a fine based on their own discretion depending on the degree of infraction. However, if the citizen complied with the regulations, the board frequently forgave the fine, even if it cost the city to pursue the case.
In cases where citizens have not complied within a reasonable time, the city would notify the property owner that they would go onto the property and either clean up the problem or remove a dilapidated structure, depending on the issue, and would then be able to file a lien against the property for the cost of cleanup and all relevant fines.
While all of these remedies are still available to the city, the schedule of fines will eventually be set by the city commission as part of this new ordinance and fine waivers, should the property owner ask for one.
Citizens will have to go before the city commission to plead their case for reduction or waiver of fees instead of asking for fee waivers from the Code Enforcement Board at the time they present evidence of compliance with city codes.
Commissioners may decide to waive fines when the property owner comes into compliance, but they likely will also take into consideration and possibly charge citizens for the city's cost in having to pursue the case, especially if the case leads to the cost of filing a lien.
City Manager Ed Booth recommended at the May 13 commission meeting that the city attorney's office determine a schedule of fines based on what other cities of similar size have set.
Although no action was taken at the meeting, it is expected that a new ordinance will be presented in the future for commission approval.
# # #
Email cwalker @
alachuatoday.com
Add a comment
Add a comment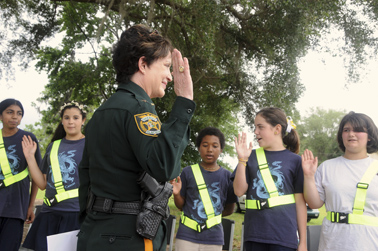 SUZETTE COOK/Alachua County Today
Alachua County Sheriff Saide Darnell swears in 11 new safety patgrols officers at Alachua Learning Center.
ALACHUA – Two Alachua County Sheriff cars pulled up on the lawn near the basketball courts at Alachua Learning Center on April 29 but no one was in trouble. Sheriff Sadie Darnell climbed out of one vehicle while Deputy William Edward May got out of the second.
The whole school was gathered to celebrate the swearing in of 11 new safety patrol officers.
"It's actually a real honor," said 16-year-old Makayla Miller, 16. "I wasn't expecting to be the captain."
Darnell greeted the crowd and explained to the students what was happening and why it was important.
"Their badge and banner show they have the added responsibility to make sure that everyone is safe and orderly," Darnell said. "Don't run, don't hit, don't say bad words or be mean to each other. Become the leaders in our society that model the way and behave the right way."
Darnell explained to the students what was about to happen. "A pledge is a promise that they will do the things they say," Darnell said. "They're making a public promise. This is their job but they aren't going to get paid for it. But they will get a reward," she added "They get to go to Washington D.C. where they'll find out about our government and where the laws are made."
"See my badge," Darnell said and pointed to hers. "It's a star. It's visible representation of what they are doing.
"Pay attention to the words," she said. "And practice the words every day."
Darnell asked the students to raise their right hand and repeat after her.
"I promise to do my best to:
• Report for duty on time
• Perform my duties faithfully
• Strive to prevent accidents
• Always set a good example
• Obey my teachers and officers of the Patrol
• Report dangerous student practices
• Strive to earn the respect of fellow students.
I promise to abide by this pledge"
After they all said the pledge, each student was called up by name to receive a safety patrol badge sponsored by AAA.
Seventh grader Varshana Trudeau was excited about his new role. "I'll be helping the little kids and it will be a lot of responsibility," he said.
Darnell said the safety patrol has been in place for 37 years in Citrus, Levy and Alachua counties.
"This is one of the few opportunities that rewards children for good behavior," she said. "They are starting in their role models of good citizens, they look out for one another."
Krishna Rivera, administrative director at Alachua Learning Center said the patrol would be a good opportunity for students at the school.
"We've always been talking about it. Sheriff May and Triple A and Ms. Hayton helped make this happen."
The new student patrol members are Captain Makayla Miller, Lieutenant Lauren Ashton , Sergeant Abhay Edwards, Romero Alejandra, Jade Coyle, Jonette Gadomski, Laura Byers, Logan Tugman,, Nistha Kowlessar, Radhapriya Uzcategui and Varshana Trudeau.
Darnell said, "Our role is to keep our county safe. Their role is to keep the school safe and orderly."
# # #
Email scook@
alachuatoday.com
Add a comment
Add a comment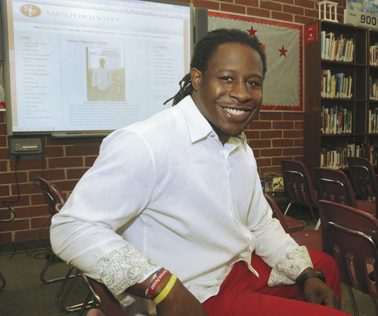 SUZETTE COOK/Alachua County Today
Santa Fe High School 1997 graduate and former NFL football playher Adrian Peterson visited Santa Fe High School to speak about his new book "Don't Dis My Abilities" recently.
ALACHUA – Adrian Peterson, 34, is walking down the hallway at Santa Fe High School like he never left. The 1997 graduate and all-star football and basketball player is home after all. Next to him is a student pushing a rolling cart with a box of books on it. This time, Peterson is more than a famous athlete. He's an author bringing his own book to the Raider media center.
"The library still looks the same," Peterson says to the students in front of him. "It still smells the same, just the people are different."
And then he begins to talk of his journey.
"I am living proof of hard work," he says. "That being from Alachua, Florida, I grew up with a speech impediment, had a big dream and made it to the NFL."
Peterson started dreaming of becoming an NFL player at the age of six, he says. "But I didn't get drafted until I was 21 years old," he adds.
He remembers what it was like struggling when he spoke with a stutter in class. "I always wanted to speak clearly," he says. "I could hear kids in the background laughing and snickering, and I remembered what my parents told me. 'You go to school to learn, not to make friends.' "
Peterson played for four years as a Raider and won a state title before becoming the first sophomore at Georgia Southern University to win two National Championships in 1999 and 2000.
After he graduated college, Peterson was drafted by the Chicago Bears in the sixth round. He played for eight years, including the 2006 NFC Championship season and Super Bowl XLI, and ran for over 1,200 yards in his career.
Santa Fe High invited Peterson to come by and talk about his new autobiography "Don't Dis My Abilities" which talks about his success as a football player, as well as his current difficulty with a speech impediment and infant daughter's medical issues.
The visit was made possible by a donation the media center received from Dollar General, Media Specialist Georgeanna Moore, says. "In the fall, we received a phone call from Dollar General saying that we'd been selected as a literacy program they would like to donate to," Moore says. "So they came out and there were kids in the media center, teachers came in from the copy room. They handed me a check for $40,000.
"So since then, we call it literacy explosion," Moore says. "We are trying to do something to get the kids motivated to read and into studying."
A projected image of the cover of Peterson's book shines on one wall as he speaks. Students are leaning in listening to his stories and advice.
When he wants to make a point he repeats it.
"Start a habit," he says. "Start a habit. A habit is something that is hard to break.
Instead of going home and getting on your Smartphone or facebook, read a little bit."
Peterson knew he would need to speak in public one day, he says. So he continued to take speech classes. "In high school, I did interviews with the Gainesville Sun and TV 20, he says. "At Georgia Southern, I went from doing seven interviews my entire high school career to seven or eight interviews in a day with media such as ESPN.
Interviews intensified when Peterson spoke as a Chicago Bear player after games. "In one interview session there'd be 20 microphones, 20 pens and papers, 20 video cameras in front of you," he says.
"I knew one day I would need to express myself."
Peterson offers more advice to the students.
"It's okay to look up to a professional athlete," he says. "But find someone you can touch. Find someone who does it the right way, every day."
Go to school, make good grades, take the right classes and put yourself into the right position so when a university calls and offers you a scholarship, you're ready."
I am proud of myself for having perfect attendance from 2nd to 8th grade," Peterson says about why going to school is so important. "If you see it and listen to it in class, you'll learn it."
A student asks Peterson about how he wrote his book.
"It started off as a hobby," he says.
"Just put your ideas on paper. Don't worry about punctuation, just get your ideas on paper. A week here, put it away and come back to it. A month here, in between flights. Off season and then, one day I looked up and I had 30 pages.
"I wrote mostly on the computer, but sometimes when I didn't have a laptop, I would think of an idea and then put it on my iphone and when I got back to the computer, I would write it out."
Students asked Peterson about his education, family and current work. "I own a small trucking company, started a youth flag football team in Chicago and stay at home with four kids," he says.
"I graduated before my last collegiate football game," he says. "So if the NFL didn't want me, I still had a plan B which was a degree in recreation and a minor in sociology."
Students applauded at the end of Peterson's presentation and he visited with them and posed for photographs before the next class arrived.
Sophomore Austin White said he learned a lot from Peterson. White, 16, plays center on the Raider football team.
"Always keep a strong work ethic," he said about Peterson's advice. "School comes first, work hard and stay strong."
# # #
Email scook@
alachuatoday.com
Add a comment
Add a comment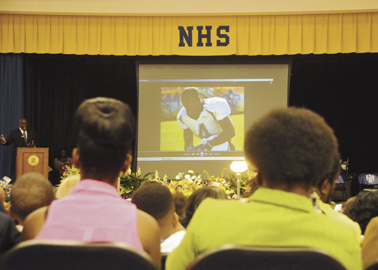 SUZETTE COOK/Alachua County Today
More than 500 friends, family and faculty gathered at Newberry High School on April 26th to celebrate and remember 2007 graduate Antwan Ivey, who passed away unexpectedly on April 14. Ivey became a star running back for Charleston Southern University in 2008 and 2009. He planned to return to CSU for an NFL scouting day. Ivey was known as "Kelo" to his fellow players and friends because of his small stature. The celebration included words of inspiration by Pastor Winter Brown and was presented by former NHS Principal Hershal Lyons.
Add a comment
Add a comment