School holds 22nd annual Jump Rope for Heart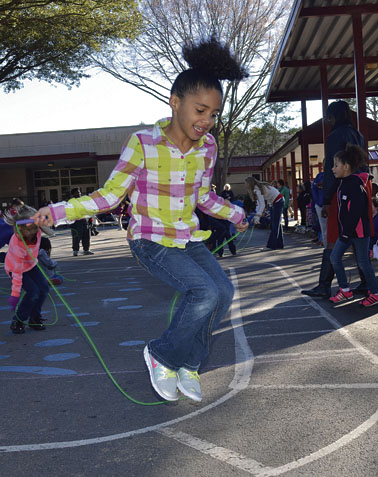 Irby Elementary students have participated in Jump Rope for Heart for 22 years. Students jumped rope with their classmates Feb. 11 to raise funds for the American Heart Association.
ALACHUA – Jump Rope for Heart has a special meaning to McKenzie Kozma, a second grader at Irby Elementary. Born with a hole in her heart, McKenzie was front and center Wednesday morning, encouraging her classmates to "Jump Rope for Heart." In her role as head heart cheerleader, McKenzie was this year's Heart Ambassador for the event at the school.
For over 20 years, Irby Elementary has participated in Jump Rope for Heart, which is dedicated to raising money and awareness for healthy hearts and healthy living. This year, it took place on an unusually crisp morning in front of the school's cafeteria with youngsters bundled up in coats and sweaters to demonstrate their rope jumping abilities.
A number of parents volunteered to help with the event, which couldn't have taken place without them, according to Irby physical education teacher and Jump Rope for Heart coordinator Ray Crone.
This is Irby's 22nd year participating in Jump Rope for Heart, and it has become a community event as students from Santa Fe High School and former teachers and principals from other Alachua schools showed up in support. Valdenora Fortner, principal of Irby, was joined by Santa Fe High School Principal Beth LeClear and Athletic Director Michele Faulk as well as Alachua Elementary Principal Eva Copeland. Irby's former speech pathologist and current City of Alachua Commissioner Shirley Green Brown was in attendance as well. Alachua Police Department Chief Joel DeCoursey, Jr., along with several police officers and an officer from the Alachua County Sheriff's Office were on hand to witness the event as was Damon Messina of the City of Alachua Recreation Department.
The span of the school's participation has been so long that now second generation students are jumping rope, such as Trista Jefferson. Crone remembers teaching her father. And second grader Emory Bryan used his grandfather's jump rope.
The students get excited about Jump Rope for Heart, Crone said. Students, such as Destiny, who just learned to jump rope, practice in the days leading up to the actual event. "She asked me to watch her jump in afterschool," said Crone. "Teachers love to see progress like that since now she's pretty good."
By the time the well-orchestrated event was over, students had participated in a Zumba warm up, watched teachers jump, jumped with long ropes, short ropes, participated in "minute mania" and the "endurance jump."
But the importance of the event isn't lost on these youngsters and they understand it's not just about jumping rope and having fun.
The goal of the event is to raise money for the American Heart Association, but it also aims to promote health awareness and live a healthy lifestyle by exercising, eating well and getting adequate sleep.
The students understand the importance of their participation, Crone said.
One youngster, Gage, asked Crone how much money does it take to save someone's life?
# # #
Email editor@
alachuatoday.com
Add a comment
Add a comment
To the model train enthusiasts attending the National Model Railroad Association workshop, restoring model trains is an art and a science. And as these model train hobbyists can attest, it often takes glue, creativity and persistence.
ALACHUA – Forty-three railroad modelers from across northern Florida gathered at the First United Methodist Church of Alachua on Jan. 31 to attend a meeting and workshops sponsored by the North Central Florida Model Railroad Club in Alachua.
The Northern Division of the Sunshine Region of the National Model Railroad Association put on the program which included a workshop about using LED lighting in railroad models, presented by Larry Eggering from Jacksonville. A second workshop was led by David Orr of Jacksonville who described and demonstrated some techniques for weathering model railroad rolling stock. Harold McGee from Gainesville presented some of the history of railroads in North Central Florida.
The program also included a "show-and-tell" session. Eric Peterson, Richard Mellon, David Orr, Richard Paul, Rich Miller, Allen Scott and Sam Viviano talked about models they had brought for display. The High Springs Historical Society described the model in their museum of the former Atlantic Coast Line maintenance facilities in High Springs.
"Many more people showed up than I would have expected," said High Springs resident Sam Viviano who specializes in restoring old trains in damaged condition to almost new. "I have two trains that are 78 years old...my age," he said. Most of the trains he brought to share with others were 50-70 years old. "I look in junk train boxes and put trains together and restore them."
He explained that sometimes that can be difficult. "I was looking for wheels for one train. They aren't made any longer," he said. He eventually found a merchant that still had the old wheels in stock and ordered them. When they arrived, there were no axles. After searching for axles, which he was unable to find, he went into Sheffield's Hardware one day and showed Mrs. Sheffield an axle. "Do you have anything that's this shape?" he asked. She rummaged around in a nail bin and pulled out something close that he was able to make into an axle. "That's how it goes when you're trying to restore old items," he said.
"I received eight business cards or phone numbers from people I met at this event who want me to help guide them through restoring old trains," he said.
Viviano, a retired teacher, donated a train layout to the High Springs Historic Society to help get youngsters interested in railroading. "Model railroading teaches kids so much," he said. "Kids learn about art, architecture, mechanics, electricity and a whole host of things they would never be motivated to look into if they weren't interested in model railroading," he said.
One couple, both of whom are members of the High Springs Historic Society, attended after hearing about the event from a friend in Chiefland. Jayne and Pete Woodward said the historic society is working on an 8 x 24-feet diorama depicting the late 1800s to early 1900s in High Springs, which includes the railroad. "We were able to get some interesting and valuable insights and information on railroad history and modeling techniques," said Jayne Woodward.
After the meeting, attendees were invited to view the layout placed by the North Central Florida Model Railroad Club at the Alachua Chamber of Commerce and Historical Museum. They were also invited to visit the clubhouse, located upstairs in the Old Copeland Plan, where several more layouts were on display. For additional information about this organization, visit www.ncfmodelrailroad.com.
# # #
Email Cwalker@
alachuatoday.com
Add a comment
Add a comment
Tenth Anniversary Celebration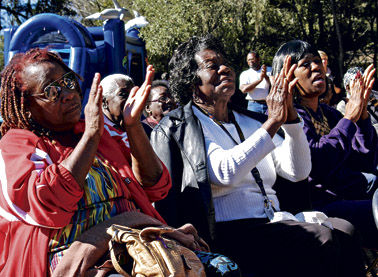 'Dr. King was a true prophet who spoke to the true consciousness of this nation'
--Pastor Natron Curtis
'Recognize all we have accomplished together'
-- Alachua City Manager Traci Cain
'Create a dream that you have'
-- Master of Ceremony Wilma Rogers
'We are living the dream'
--Chief of Police Joel DeCoursey, Jr.
'Everybody can be great - everybody can serve'
--Pastor Natron Curtis
Add a comment
Add a comment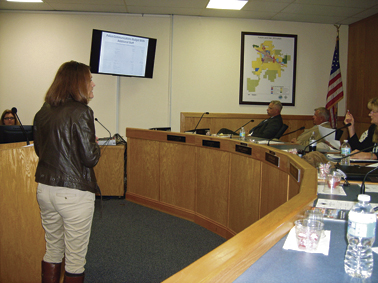 Residents address the High Springs City Commission during a Jan. 20, 2015 workshop to discuss the future of the town's emergency dispatch services.
HIGH SPRINGS – Local versus county dispatch of High Springs Police Department (HSPD) emergency calls was the topic of the Jan. 20 High Springs City Commission workshop. This issue has been a hot-button topic for a number of years and in 2012 High Springs brought back dispatch duties to the HSPD from Alachua County.
A panel of county representatives was on hand to answer questions and explain how the transition might benefit the safety of citizens and HSPD officers, should the commission decide to contract with Alachua County for dispatch services.
Alachua County Director for the Office of E911/Communications Keith Godwin, Alachua County Sheriff's Office (ACSO) Technical Services Division Manager Jim Lanier and ACSO Chief Deputy Col. David Huckstep made up the panel. Lanier is responsible for 911 communications at ACSO.
High Springs City Manager Ed Booth said the workshop was scheduled because commissioners had asked for it and also because some police officers had expressed concerns. "The system that is in place right now is not safe for them," he said. One reason is that with only one dispatcher on duty, "that person could be taking a citizen's call when an officer needs assistance. If the City decides to keep dispatch local," he said, "at least two dispatchers need to be on duty at a time." That requirement would mean the City of High Springs will have to hire three more dispatchers to provide adequate coverage for both the citizens and the officers.
Booth said the city's fire department, which is dispatched by the county, leaves the fire department before the police dispatcher is able to dispatch police officers to the same call. "You can hear it," he said. "First you hear the fire engine's siren, then a little bit later you hear the police siren. There is lag time between the two calls," he said.
He explained the process by which each of those calls is received and explained that the police officers should be able to be dispatched at least at the same time as the fire fighters.
"We are building the best police department any small town could have," said Booth. "I need a second dispatcher per shift."
Finance Director Jennifer Stull presented information showing that the cost to the City of High Springs with the addition of three dispatchers would be $389,995. She compared that with the cost of Alachua County handling dispatching at $183,182.
Based on the number of calls received by HSPD dispatchers that would have gone to Alachua County, had they dispatched the calls, the cost would have been $105,096, calculated at 7,164 calls at $14.67 per call. Stull pointed out that when the county had the city's dispatching duties, about three years ago, the cost was about $75,000, but she was erring on the side of caution to calculate the highest amount the City could have been billed.
Booth said if the city commissioners chose to let the county handle dispatching duties, he had spoken with Sheriff Darnell and she said she would hire any qualified dispatcher the city had on staff.
One area of confusion seemed to be around the issue of re-addressing the streets to accommodate the county's E-911 grid system. Huckstep said the Sheriff would require that the City readdress the streets by September 2015. He said the City was asked to do that previously, but no effort was made by theCity to accomplish that.
Godwin explained the city didn't have to change street addressing if they chose not to go with county dispatch. But he pointed out that going to the E-911 grid system would lessen confusion for everyone. "There are three cities in the county named 'Main Street.' It has been confusing often for dispatchers to know which Main Street a caller is calling about." He suggested the City call their Main Street "High Springs Main Street" to improve communication in emergencies.
High Springs Fire Chief Bruce Gillingham said the City was going to be required to change their street signs to reflective signs within the next two years. Godwin said he thought the county would pay for those signs if the city re-addresses their streets to conform to E-911 addressing.
One of the benefits of having the county dispatch for HSPD is that the county 911 system has 14-16 trained dispatchers on duty for every shift. Another benefit is that calls are dispatched to a computer, which each officer has in his car. Officers can see the calls as they come in so there is less lag time than with the current system. Everyone is hooked into the same system and can hear if an officer is having a problem or needs assistance and proceed accordingly.
Godwin explained that the county's state-of-the-art system was recently updated to keep up with technological advances. He pointed out that the high cost of keeping up with advancing technology becomes cost prohibitive for smaller cities.
While no decision was made about changing dispatch service from HSPD to the Alachua County Sheriff's Office, it is expected the High Springs City Commission will take up the questions of re-addressing and changes to HSPD's dispatch methods at a formal city commission meeting in February.
# # #
Email cwalker@
alachuatoday.com
Add a comment
Add a comment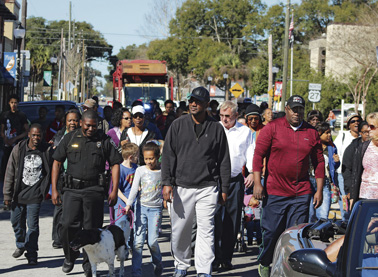 The High Springs community came together Monday, uniting in their commitment to honor the legacy of Dr. Martin Luther King, Jr.
HIGH SPRINGS – The High Springs Community Development Association (CDA), in conjunction with the City of High Springs and McDonalds in Alachua, sponsored a Commemorative March in celebration of Rev. Martin Luther King, Jr.'s birthday on Mon., Jan. 19. The march began at City Hall and culminated at Catherine L. Taylor Park.
Master of Ceremonies at the park location was Rev. Byran Williams, CDA President. Speakers included Rev. Morris and Gloria Kelly. Music and singing were also part of the celebration. Refreshments were provided to help celebrate the event.
"We have been conducting events around MLK's birthday for at least 15 years," according to Rev. Williams. "We have a weekend of events to celebrate each year."
In addition to the march, which attracted about 75 people, an open service was held on Thursday, Jan. 15, King's actual birthday, at Allen Chapel AME Church, 10 S.E. MLK Blvd., and a 4 p.m., Sunday worship service was held on Jan. 18 at Mt. Olive Missionary Baptist Church, 948 S.E. Railroad Avenue.
Church service offerings, donations and proceeds from the weekend events are donated to the High Springs Child Care MLK Center, 125 S.E. Douglas Street.
# # #
Email cwalker@
alachuatoday.com
Add a comment
Add a comment