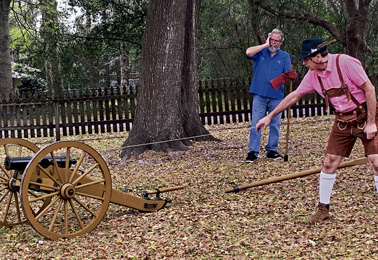 KRISTINA ORREGO/Alachua County Today
Loud booms and billowing smoke accompanied Archer Historical Society member Robert Kasicki's firing of a 19th Century style cannon.
ARCHER – The whistles of the trains in Archer were once loud enough to distract children as they sat in school. The noise scared chickens so much they stopped laying eggs.
Ann Green, a member of the Archer Historical Society, said the people of Archer didn't have the easiest time getting used to the Yulee Railroad when its line was completed through Archer in March of 1858.
Yet nearly 160 years later, it's a reason for a festival.
Local families and vendors came out Saturday for Yulee Day, an event held every March in Archer to celebrate the Yulee Railroad.
A line-up of cars, men on motorcycles from the Gainesville Shrine Club and an Alachua County fire truck all made their way through the street for a parade during the afternoon.
Boisterous booms left heavy clouds of gray smoke in the air as Historical Society member Robert Kasicki fired 19th Century-style canons outside his home.
The Archer Historical Museum was open to visitors to peruse 19th Century relics and featured a miniature model railroad, which continuously coursed around while children watched on in awe.
Mayor Corey Harris said he was excited about the event because he considers it to be a great way to show Archer's rich history.
"Yulee Day is an opportunity for the citizens to host a number of families and individuals from surrounding communities and showcase and highlight what the city of Archer is all about," he said.
David Levy Yulee, born June 12, 1810, founded the Florida Railroad Company and served as its president from 1853 to 1866. It was the first cross-state railroad and ran from Fernandina Beach to Cedar Key, according to Green.
Green said the railroad became the way Yulee, owner of Cotton Wood Plantation just outside of Archer, could transport cotton either to Fernandina or Cedar Key, where it would get put on boats and sent to Cuba or Northern states.
Yulee also studied and practiced law in St. Augustine. He served as a U.S. senator from 1845 to 1851 and 1855 to 1861.
"The sentiment around the railroad is it's about the main thing we have right now that we celebrate on an annual basis," Green said. "[The railroad] doesn't run anymore, but it's still marked."
# # #
Email Korrego@
alachuatoday.com
Add a comment
Add a comment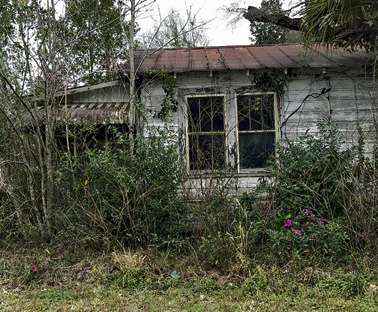 C.M. WALKER/Alachua County Today
One of several neglected and overgrown High Springs properties the city hopes to clean up through a clean up campaign that will include additional similar properties. City staff will also be identifying city-owned properties to clean up and sell to the highest bidder.

HIGH SPRINGS – Members of the High Springs Code Board met for the first time in four years on March 1 to discuss ways in which some of the blighted areas in the city could be improved.
The next morning, City Manager Ed Booth, Building Inspector Scott Thomason and former Code Board member Mike Kearney were seen driving around the city identifying specific properties that appeared to be abandoned, overgrown and falling into disrepair.
Cleaning up the city has been a project Booth has mentioned several times at recent city meetings.
"We are going to be meeting on a monthly basis from now on," said Booth, "and we intend to have properties for the board to review at each meeting."
Kearney, who Booth said has a Code Enforcement Certificate which will allow him to contract with the city, will assist in selling 14 properties the city currently owns.
"He is locating the city-owned properties and determining the range of value so when we go out for bid, the city will get the most we can for those 14 properties," said Booth. "The idea is that we want to put those properties back on the tax roll and get them cleaned up."
Booth hopes to get enough money from the sale of the city-owned properties to pay for the cleanup of others.
"I should get enough money from the sale of those properties to contract with the prison for workers to clean up the other properties we are identifying," he said.
Booth also wants to have a clean-up weekend to encourage property owners to get rid of old tires and junk that may have accumulated around their homes.
"We would provide hot dogs and hamburgers and rally our citizens to help make our city presentable," he said. "High Springs is definitely growing and we need to look like we're prosperous and support the growth process. I have faith our citizens want our city to look like a place people want to visit and possibly move into."
For those who cannot clean up their property because of age or disability, neighbors, friends and church members can be a big help.
For those who aren't interested in cleaning up their properties, "we will bring their situation to the Code Board," said Booth. The board can fine those property owners. If that still doesn't work, the board can authorize the city to go onto the property, clean it up and apply the cost of the cleanup to the homeowner in the form of a lien against their property.
"Sometimes a homeowner will die and their children or heirs, who may live far away, do not want the property," said Booth. "In that case, they can either choose to turn the property over to the city and we'll clean it up and sell it or they can authorize us to clean it up and send them the bill," he said.
Booth said he is talking about hundreds of properties, not just a few. "We identified about 30 as an initial start, plus we have at least a hundred more that are owned and inhabited that need to be cleaned up as well. It's just the tip of the iceberg," he said.
Booth contends that properties with underbrush, vines and garbage are unsafe. "They fester rodents and snakes, and many of those properties have owners who need to step up and address their overgrown yards and lots," he said.
Several Douglass area community members have asked the city to improve the properties in their area. The city met with residents at Allen Chapel earlier this week to discuss their needs.
"We have been talking about creating another redevelopment area in High Springs. Our Community Redevelopment Agency (CRA) is extremely interested in pursuing the Douglass Community area as the next CRA District," said Booth.
# # #
Email Cwalker@
alachuatoday.com
Add a comment
Add a comment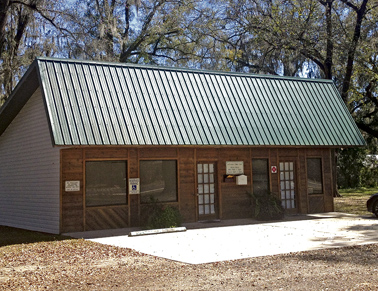 DAVID S. WISENER/Alachua County Today
The Town of LaCrosse hownhall sits nestled beneath a canopy of oaks in the rural community of fewer than 400 people.
LACROSSE – LaCrosse is the quintessential small, rural southern town.
With a population of less than 400, it's the smallest incorporated community in Alachua County.
"People like the small town element that provides some privacy, and I think that's the draw for most people to LaCrosse," said Mayor Diane Dubberly.
Situated a few miles northeast of the city of Alachua and the first county settlement of Newnansville, the LaCrosse area was first settled not long after the end of the Second Seminole War in 1842.
The John Cellon and Richard Parker families are credited as the most influential pioneers of LaCrosse, and both families maintain a presence in the community to this day.
The grandfather of Parker's wife, Hannah Flowers, was among the earliest American settlers in Alachua County, having moved into the area in 1813 while Florida was still a Spanish possession.
While LaCrosse didn't have a post office until 1881, the community existed for at least 30 years prior. Farming has always been the principle industry, with the primary crop shifting from cotton to potatoes after the boll weevil devastated Southern cotton crops through the early 20th Century.
There is no definitive answer for how LaCrosse received its name, but the most likely origin may hint at the influence of the political ramifications from a little-studied nearby community.
According to John Pickard's book "Florida's Eden: An Illustrated History of Alachua County," the town of Gordon was established within a handful of miles of LaCrosse by seven ex-Union officers soon after the end of the Civil War.
Garth "Wilky" James was the leading figure in Gordon who began the community as a cotton plantation of over 3,000 acres with the intent of creating an integrated society, hiring 30 black workers to work alongside 40 white workers and building a school for fifty white and black children.
Pickard writes that James "served as the Gordon postmaster and enthusiastically entered into local politics." Within the short span of five years, however, three consecutive failed cotton harvests, two failed political campaigns, bouts of malaria, and noted strife from nearby residents caused James to leave Florida in 1871.
Coincidentally or not, the name of "LaCrosse" was used 10 years later, attributed alternatively to Richard Parker's influential son, H.C. Parker, and the wife of cotton merchant John Eli Futch.
An article from the "Gainesville Daily Sun" in 1914 notes that the community called LaCrosse was originally known as Hickory Head and DeSoto before H.C. Parker made the change in honor of a short-lived but popular political newspaper based out of La Crosse, Wisconsin, the "La Crosse Daily Democrat."
The background behind Mrs. Futch's naming also notes that she recommended "LaCrosse" because "I've always loved the name of La Crosse, ever since I read about La Crosse, Wisconsin," according to "Places in the Sun: The History and Romance of Florida Place-Names" by Bertha E. Bloodworth and Alton C. Morris.
The "Daily Democrat" had been heavily critical of all things Republican, an obviously attractive opinion in the post-war, Reconstruction Era South.
H.C. Parker became LaCrosse's largest benefactor, contributing the land on which the community rests, operating a large mercantile store and farm, and supporting the construction of a school house and church.
The peak of prosperity came at the turn of the 20th Century, when LaCrosse boasted several stores, a hotel, and two cotton gins.
Mayor Dubberly said maintaining the consistent small-town atmosphere is important to most of LaCrosse's residents.
"We don't have a real impetus to be a bigger city," she said. "We have more geographical area than population. We look somewhat similar to the way we did when I moved here in 1980."
Dubberly said the transportation improvements currently underway along State Road 121 will hopefully contribute to the presence of a few more businesses in the near future, though.
"We would like to see a few more on-street businesses," she said. "We're on one of the main routes from Gainesville through Union County and on into Georgia. But our residents would like us to stay about this size. We're just a rural small town with those kinds of values."
# # #
Email Dwisener@
alachuatoday.com
Add a comment
Add a comment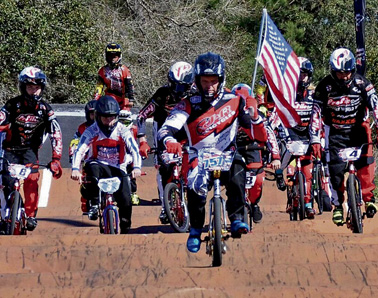 ROBERT KORSON/Special to Alachua County Today
Benny Wright carries the flag at teh Sunshine State Florida Cup Race at High Springs BMX.
HIGH SPRINGS – Over 880 BMX riders ranging in age from 18 months to 50 participated in the Sunshine State Florida Cup Race at High Springs BMX from Feb. 26 to 28.
The race, a qualifier for the state championship, included stops 5 and 6 of the 10-stop series that has taken place over five weekends.
The next qualifier will be from April 1 to 3 in Naples, followed by another from April 29 to May 1 in Cape Coral. The Florida state championship will take place in St. Cloud from May 20 to 21.
Laura Pringle, the track operator at High Springs BMX, said now is the peak time for riders, who advance based on a point system, to be working hard to accumulate points at every part of the series.
"It's midway through the season," she said. "So, after the holidays, people are really getting into race mode. They're starting to scramble to try to get better qualifiers to move up in the rankings of their particular age and proficiency ranking."
She said the track in High Springs attracts men and women of all different skill levels, from novices to experts.
The weekend before the race in February, several elite riders raced in Tampa for an international event, which also served as a qualifier for a world championship, she said.
"We actually had some of them take advantage of the opportunity to come and race as well," she said. "Some of our pro classes were stacked with riders from all over the world, including the current world champion in the Elite Men."
Jeff Korson, 29, placed first in the Cruiser Class division during the race at High Springs.
Korson, who's been riding BMX since 2004, said he had previously been beaten by several riders but began training to finally win.
"[To train] I actually started riding dirt bikes a little bit," he said. "That helped me to be able to do full laps, consistently. And then as far as getting out of the gate, the explosive power. I've been doing a lot of jump spots. It felt great to finally beat them."
He said he plans to add weight training in preparation for the championship race in May because he won't have the home track advantage.
Ashley Turner, who won second place in her division, said she's been riding BMX since she was 5 years old. The sport is a family affair – she said both her parents are also riders.
"My mom is number one in the state of Florida for the Cruiser division and for the Woman's class," she said. "And my dad does it for fun but he wants to compete as well. Pretty much, I felt determined to work harder to reach number one."
Turner said her training routine before a race includes running, weight training and plyometrics to help her easily get over jumps.
High Springs BMX, established in 2002, is a not for profit organization run completely by volunteers and relies entirely on sponsorship and entry fees, according to its website.
"I think what also makes our track special is that it's extremely well maintained and very well designed," Pringle said. "So it's really popular among the riders. They really enjoy riding the track. It's challenging but it's also fun."
# # #
Email Korrego@
alachuatoday.com
Add a comment
Add a comment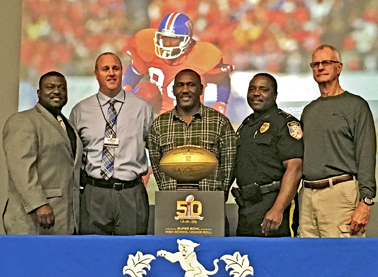 KRISTINA ORREGO/Alachua County Today
Ricky Nattiel, center, accepted the NFL's commemorative Super Bowl 50th Anniversary golden football on behalf of Newberry High School. A Newberry High School graduate, Nattiel went to UF on a a full football scholarship and played professionally for the Denver Broncos, playing in two Super Bowls.
NEWBERRY – It's not often that the NFL commemorates a smalltown high school like Newberry's.
A golden football sent by the NFL was presented to Newberry High School Wednesday, Feb. 24 during a Super Bowl Honor Roll ceremony honoring the Super Bowl's 50th anniversary.
Newberry earned the distinction because an alumnus, former Denver Broncos' wide receiver Ricky Nattiel, played in at least one Super Bowl, qualifying the high school for a grant from the NFL that could include up to $5,000 for the Panther football program.
Nattiel returned to his high school alma mater for the ceremony in front of family, friends, coaches and more than 70 Newberry High School students.
Nattiel was a wide receiver his high school freshman year, a position he would play again as a star at the University of Florida and in the NFL.
Former Newberry Coach Terrell Bass, however, noticed Nattiel's speed and suggested he switch to quarterback.
Twenty-one wins against a mere four losses later, Bass said it was one of the smartest moves he ever made.
Nattiel later attended UF on a full football scholarship. In 1984, he famously dashed 96 yards for a touchdown when the Gators played the Georgia Bulldogs, which earned him the nickname "Ricky the Rocket."
He graduated from UF with a degree in public health, along with 117 receptions for 2,086 yards and 18 touchdowns.
The Denver Broncos selected him in the first round of the 1987 NFL draft, and he went on to play in the NFL for six seasons, including in eight playoff games and two Super Bowls.
Bass, Newberry's football coach from 1979 to 1989, took the stage before Nattiel to honor him and remember some of his experiences coaching him.
He said Nattiel's mother, who was sitting next to her son on stage, wasn't too keen on the idea of her son becoming quarterback at first.
"But we convinced him to do it," Baths said. "He was reluctant to begin with, but Ricky was always up for a new challenge… and really the rest of it is history."
Baths then commended Nattiel's dedication to being a good student as well as an athlete.
"His mama made sure of that because she would come up here and make sure Ricky was in line," he said. "And that's the kind of parents we need in the school system here today."
Nattiel thanked the faculty and acknowledged the efforts of his mother and late father, who passed away last year, for his success.
"Most importantly, God has blessed me with good people, including this young lady right here, my mom," he said.
Nattiel shared advice with the students, encouraging them to work hard even when no one is watching and give full effort in everything they do so they don't have regrets later in life.
"Get in the classroom and [listen] to the teachers [and] to the principals," he said. "If those teachers see you get your butt in that classroom [and] you're engaged [when] class is over, you stay five minutes late. I promise you, they notice. Every little thing, guys, people watch."
# # #
Email Korrego@
alachuatoday.com
Add a comment
Add a comment