HIGH SPRINGS – A standing-room-only audience looked on as High Springs City Clerk Jenny Parham administered the oaths of office to newly-elected commissioners Jason Evans and Gloria James. Both took their seats as City Manager Ed Booth called the City Commission to order.
Both candidates offered brief remarks. James thanked the citizens of High Springs and all who had faith in her enough to give her a chance to serve her community. "While I am here, I will give you my best," she said. "I will do whatever I can as long as it is beneficial to the citizens of High Springs."
Evans said it was an honor to be on the commission. Although he ran unopposed, he said he was grateful to those supporters who encouraged and supported him.
"I have been told this is the first time a father and son have served on this commission. I don't know if that's true, but I hope I can be as well thought of as he is after serving." He made a point of saying that if people didn't want to know his honest opinion on something, they shouldn't ask. He further commented that he thought there was a good group of people on the commission and although they might disagree, he felt they could do so in a respectful manner.
When the moment came to elect a mayor and vice-mayor for the coming term, former mayor Sue Weller and former vice-mayor Scott Jamison were unanimously elected to serve in those same positions for the 2015 term.
"I am excited about being mayor again and look forward to what I believe will be a very good year for our city," said Weller later. "I appreciate the commission's confidence in my filling this position and will work hard with my fellow commissioners to move the city forward."
Jamison was clearly surprised by his unanimous election as vice-mayor. "I'm honored they would want me to serve in this position a second time," he said. "It was unexpected. I feel very humbled and appreciate their [commission] confidence in me."
City Manager Ed Booth presented a plaque to commemorate outgoing Mayor Byran Williams and his extensive service to his community as mayor. In presenting the plaque Booth praised Williams for his hard work during the past year in which the two attended numerous meetings, traveled to talk with people and agencies and "worked as hard as he could to help develop a solid economic development program for the city."
Commissioner Byran Williams said in a later interview that he had enjoyed his term of office, but he was ready to let someone else take the reins for a while. "As mayor, I have traveled a lot, attended a great many more meetings and events and been involved in more activities on behalf of my city. As grateful as I am for the opportunity to serve my fellow citizens, I am just as ready to serve in other ways now."
After the plaque presentation, Williams thanked the citizens of High Springs and said he hoped the city would have a wonderful year.
Due to the upcoming holidays, the High Springs City Commission will meet only one more time before the end of this calendar year on Dec. 11.
# # #
Email cwalker@
alachuatoday.com
Add a comment
Add a comment
ALACHUA – Publix, Family Dollar and AutoZone were given the green light for their respective projects in the city of Alachua. The City's Planning and Zoning Board approved two site plans at their Nov. 18 meeting. The approvals mark the final review required by a board.
City staff and project developers presented plans for the Alachua Marketplace, which will be the Publix shopping center, as well as the proposed Family Dollar and AutoZone site.
The Alachua Marketplace will be located on NW U.S. Highway 441, northwest of 167th Boulevard and adjacent to Santa Fe High School. A traffic signal will be installed at the intersection of NW U.S. 441 and 167th Boulevard before Publix or any of the retailers in that development receive a certificate of occupancy.
After the developer installs the traffic signal, the maintenance and operation will be taken over by the Florida Department of Transportation (FDOT).
Answering concerns of congestion at U.S. 441 from a resident in nearby Heritage Oaks, a representative for the Publix developer assured citizens that the traffic light would be installed as soon as possible.
The proposed project includes a 56,431 square foot building with 46,031 square foot for use by Publix and the remaining 10,400 square feett designated for some eight retail bays.
The Family Dollar and AutoZone will be located on U.S. 441 directly across the street from the Hitchcock's plaza in Alachua, and just south of the Oak Hill Plaza where Food Lion was formerly located.
The project site is currently home to a car wash and Tropical Sno snow cone stand, both of which will be demolished to make way for Family Dollar and AutoZone. The proposed Family Dollar will be 8,389 square feet and the AutoZone will be 6,816 square feet.
Family Dollar will be relocating from its current location in the Oak Hill Plaza to the new site. As part of Tuesday's approval, the site plan calls for a slight westward shift in the access point on U.S. 441. According to City staff, the shift was a requirement of FDOT, which expressed concerns that the existing entrance for the car wash and snow cone stand is too close to the NW 144th Street intersection.
One Alachua resident expressed concerns that Family Dollar's relocation from the Oak Hill Plaza would compound the likelihood of that plaza becoming dilapidated, especially since there is no occupant where former anchor tenant Food Lion was located.
Planning and Zoning Board member Virginia Johns said that the board would like to see Alachua grow.
"Hopefully there will be some businesses who are interested in the development, and we'd love to see it full as well," she said.
Since the Alachua Market Place development and the Family Dollar and AutoZone development received their final site plan approvals, the only other City hurdle is a certificate of occupancy for each building, which is issued after a satisfactory building inspection.
# # #
Email jhundley@
alachuatoday.com
Add a comment
Add a comment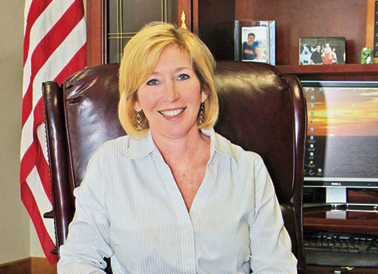 ALACHUA – During the July 28 City of Alachua commission meeting, commissioners voted unanimously to extend City Manager Traci Cain's contract for another four years to September 2018. Her current contract was set to expire on Sept. 30 of this year.
Cain began her career at Santa Fe College prior to joining the city in January 1992 as a fiscal assistant. She was promoted to Utility Billing Supervisor and has since served as Human Resources Director, Assistant City Manager, Interim City Manager (twice) and was appointed as City Manager in March 2010. She has also served under five city managers during her time with the city and says she has learned a lot from each one.
"One of the things that I appreciate about Traci is that she has done several different jobs at City Hall," said Mayor Gib Coerper. "The knowledge and experience a person gets by doing that is incredible. She has built on what she's learned in those positions and has a great understanding of what it takes to do many of the employees' jobs, which is extremely helpful," he said.
"Traci took over at a time when the city was in dire financial straits," said Commissioner Ben Boukari, Jr. Due to the economic downturn and other factors, the city was facing several financial obstacles. "We needed to make some changes," said Boukari.
Cain said her first audit report alerted her to specific financial concerns that needed immediate attention. With each successive year, our city's audit reports have improved dramatically, said Boukari. "Under her leadership, the city is in much better financial shape and is growing responsibly," he said.
Clearly her first goal was to strengthen the financial condition of the city and provide financial solvency. "The economy was impacting the government and the city had financial challenges to overcome," said Cain.
Cain immediately cut the budget and made sure the city's utility rates were competitive. "The city had not raised water and wastewater rates in 16 years at that time, but the costs were going up each year," she said. "We needed to have all of our utility funds be self-sustaining, which they currently are."
Since that time, a lot has changed. Under her leadership, the city has managed to set their millage rate at 5.5 mills for the fifth consecutive year. "We have not raised taxes, but have managed to reinvest in our infrastructure and continue to enhance the quality of life for our citizens," she said.
In the past few years the city has been able to build a new wastewater treatment facility, make upgrades to the electrical substation, resurface roads and provide road reconstruction projects like the one just completed in front of City Hall at 142nd Terrace and 150th Avenue. The city has also purchased 105 acres of land adjacent to the Hal Brady Recreation Complex to provide for future expansion of the city's recreation facilities.
Another feather in the city's cap is that they have promoted good economic development. "We are making sure the city is a player and is involved in all levels of economic development throughout the state," said Cain. She believes economic development is critical to the long-term health of the city.
Cain credits a good commission and her excellent staff for the improved condition of the city.
"This is a team effort," she said. "We are not satisfied with the status quo. We have to provide excellent customer service to our citizens and continue to invest in our infrastructure if we are to continue to attract more businesses and residents to our city," said Cain.
According to commissioners, Cain continues this team concept into other aspects of her job. "Traci could have asked for and probably received salary increases," said Boukari. "Instead, she sticks to whatever the employees get. If they get a cost of living increase, then she does. But she doesn't believe she should be rewarded when the employees aren't eligible for the same rewards," he said. "That's pretty admirable."
Her contract calls for a continued salary of $118,500. Her starting salary as city manager was $111,500.
"I can't be successful without the employees," said Cain. "We have all made sacrifices to get the city in a better financial situation. I can't take credit for doing that and not see them get the same rewards knowing they have sacrificed as well," she said.
Regarding her future goals for the city, Cain said one goal would be to work toward diversifying the retail opportunities for citizens so the city is self-sufficient. She would also like to see city services continue to grow with the technology age to enable the city to deliver faster, more efficient services to its citizens.
By April 2018, the 46-year-old says she will have 30 years in with the state and will be eligible to retire. She says she plans to do so, which is why she did not ask the commission for a longer contract extension.
"It has been great working at the city," said Cain. "To be born and raised here and be in this position is humbling and makes me very proud," she said.
"The financial future of this city is strong. With the direction of the commission and the commitment of the staff, I believe the city will continue to grow in a responsible manner and offer its citizens a great place to live and work," she said.
# # #
Email cwalker@
alachuatoday.com
Add a comment
Add a comment
Double World Series kick off in Alachua, local coaches say teams are ready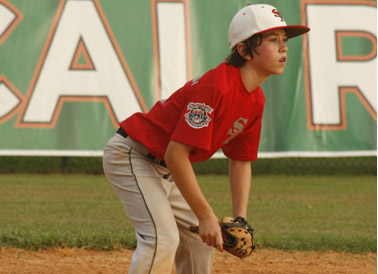 SUZETTE COOK/Alachua County Today
Santa Fe All-Stars shortstop Zach Wetterqvist covers second base during scrimmage against the Santa Fe Force.
ALACHUA – With the Babe Ruth World Series upon us, the local teams representing Alachua are doing their best to prepare for the big tournament. Lindsay Fico, head coach of the Santa Fe All-Stars softball team and former University of Florida softball player, explained that being ready for the World Series is simply about being comfortable.
"We're trying to not change anything that we've done over the entire summer in preparation," Fico said. "The thing is, when you try to change practice schedules and the way you approach practice with a group of girls at this age, you can bring more nerves than excitement."
Fico said that in order for her team to succeed in the World Series, they just have to play like they have in previous tournaments this summer.
"Over the summer, they've played in a bunch of travel ball tournaments in anywhere from Cambridge, Georgia to Panama City and even down in little parts of Central Florida in tournaments. They managed to go undefeated and win those tournaments. I truly think that if they just approach [the World Series] the same way that they approached those last few tournaments, we'll have a really good showing."
Fico, who started with the team as outside help and a hitting coach, was named head coach for the World Series not only for her dedication to the team and her experience as a player, but because of the example she has set for the girls.
"She's been a big inspiration for these girls," said Bubba Burnham, a fellow coach of the All-Stars and president of Santa Fe Babe Ruth Softball. "Us other coaches, we're just dads. We haven't played softball at their level. Lindsay brings a lot to the table for these girls to look up to. She's been there and done what they're doing now."
Burnham and two other dads to players on the team even stepped up to help the team practice by pinch running bases during practice.
"I was one of them, out of breath, another coach that had been coaching with us all that time, Dean Snyder, he was another one and one [David Watson] was a parent on this team."
"That's one of the ways that we have found to put pressure on the girls in live situations, to see how they react."
"What we've done the last couple of weeks to help the girls try and experience game-like situations is put a full defensive field out there and have the dads that come to practice who are always willing to help anyway they can, run bases for situations to help them see people moving on the bases and see real time movement," Fico added.
"The biggest reason why I wanted to help with them is that I remember how fun it was at this age to play in a World Series and on a big stage like they have there in Alachua," said Fico. "It's just a really cool time for a kid. To help these girls improve physically, mentally and emotionally in the game that they love, I jumped at the opportunity."
Al Beckelhiemer, head coach of the Santa Fe Force baseball team, explained that he gave his guys a couple of days to rest up before the big tournament.
"Right now, we're taking a break," he said.
Beckelhiemer said that before his team's brief time off before the World Series, they were playing "lots and lots of games," practicing five days a week and were even having doubleheaders.
"We gave them the last couple of days to rest up and be ready to go for when the World Series starts," he said.
Beckelhiemer added that being prepared for the big tournament is something that he has to worry about more than his players.
"They're way more prepared than I am," he joked.
"One of the ways that I keep them on the right track is that I just stay on 'em hard and keep them focused on the main thing: doing what their job is supposed to require of them on the ball field. And just keep 'em moving."
Beckelhiemer wasn't even afraid to share his thoughts on his team's championship potential.
"I feel the team has a chance of getting into the actual World Series Championship as long as they all keep their head up," he said.
Wesley Carter, head coach of Santa Fe All-Stars baseball team, explained that hard work and fundamentals are his main points of emphasis in preparation for the World Series.
"I have a great bunch of boys and they've been working very hard on fundamentals, throwing strikes, running bases well and trying to hit the baseball better," Carter said. "They're a hardworking bunch and a pleasure to coach."
Carter explained that they are just trying to go into this tournament like it's not as big as its name.
"I've just tried to tell them that it's just another ball game," he said. "We're just playing teams from way off and we're going to do the same things we always do.
"We're gonna' throw strikes, we're gonna' run bases like crazy and we're gonna' play good defense."
Carter added that at the end of the day, it's just a game.
"Most importantly, we're going to strive to have fun," he said.
# # #
Email Tschuyler@
Alachuatoday.com
Add a comment
Add a comment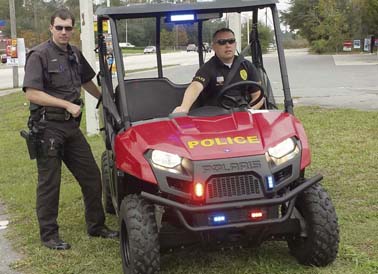 SUZETTE COOK/Alachua County Today
The City of Waldo bought this ATV Polaris with drug bust funds.
WALDO – The City of Waldo turned drug forfeiture dollars into a $9,500 red Polaris 500 All Terrain Vehicle (ATV) to help them monitor the back roads and wooded areas of their rural community. Waldo Police Chief Mike Szabo explained that they used these funds to purchase the vehicle in May 2011 and the two-seater has remained a very useful law enforcement tool.
On any given day you might see the red patrol vehicle parked in between brick buildings, tucked away and out of sight.
"Sometimes CSX Railroad will contact us and ask us to patrol their railroad tracks," he said. "When we have to go back in the woods to areas impassible by other vehicles, this is what we take. We have used it during Click It or Ticket campaigns, along tree lined areas and trails, and sometimes along sidewalks next to parked vehicles," he said.
In addition, the Alachua Police Department has borrowed it to use during their recent July 4th event.
"We send someone along from our department," said Szabo, "but their department finds it useful to get into places where there is standing traffic or where normal patrol vehicles cannot go."
The Polaris has been used by Alachua County and by Lake City during the Olustee Festival and Battle Reenactment in February.
The vehicle is something Szabo says their small city could never have afforded on their own, "but it has been really useful in a number of situations," he said. "We are pleased to have it."
# # #
Email cwalker@
alachuatoday.com
Add a comment
Add a comment