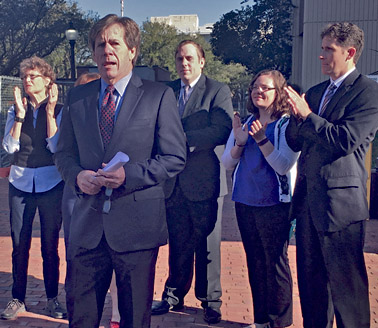 KRISTINA ORREGO/Alachua County Today
Surrounded by supporters, Rod Smith announced his state senate candidacy Tuesday.
GAINESVILLE - Rod Smith is running for his former state senate seat.
The Alachua resident and previous gubernatorial candidate announced his candidacy for Florida Senate District 8 Tuesday morning outside the Alachua County Civil Courthouse.
Smith said he is tired of people yelling at each other to fix problems.
"We're not getting things done because we've reached a point where too many people would rather see a problem go unsolved than see the other side get credit for solving it," he told the gathered crowd
Alachua County is currently part of District 7, but redrawn district lines will include all of Alachua, Putnam, and a large portion of Marion counties in District 8.
Smith, a Democrat, is the second candidate to announce within the past week, joining current Florida Representative Keith Perry, a Republican, who announced his candidacy last Thursday.
Smith works as an attorney for the Gainesville law firm Avera & Smith.
His political career includes serving as State Attorney for the Florida Eighth Judicial Circuit from 1992 until 2000, when he was elected State Senator for District 14, an office he held until he unsuccessfully ran for governor in 2006.
In 2010, Smith ran for Lieutenant Governor on a ticket with Alex Sink as gubernatorial candidate, losing to Rick Scott.
He was also the head of the Florida Democratic Party from 2010 to 2013.
Smith said that while most politicians now are motivated to please sponsors and succeed in polls, he wants to focus on issues that directly impact families.
Some of his goals include improving the public school system, promoting clean water and providing accessible and affordable health care.
Smith, who grew up on a farm in Alachua, said he'll also be focusing on improving community colleges, praising them as the ultimate way to further higher education.
"I know what hard work can do, but I also know that some people have not had the opportunities that I've had," he said. "Our job is not to fix the outcome for people, just to make sure that everybody gets to the starting line and [has] the chance to succeed"
He said his decision to run for senator again was driven by the need to see local areas, such as Putnam County and the east side of Alachua County, prosper economically.
"People at this university, the health care system, the public schools here locally - we are not moving forward at the rate we need to be moving forward," he said.
Smith emphasized the importance he places on considering both the Republican and Democratic stances on issues.
Partisanship only leads to a deadlock, he said, and deadlock doesn't move people forward in resolving issues.
"I think almost everybody, [even] my worst enemy, would say I tried to work hard to reach across the aisle to find people of talent, and they exist on both sides of the aisle."
In an interview, Smith recalled several times he's worked with members of the Republican Party to make important legal decisions.
He said one such decision was the passing of the Medical Malpractice Amendment in November 2004, when he and a coalition of Republicans brought it to fruition.
The amendment prohibits the issuing of medical licenses to doctors with multiple malpractice incidents.
Smith also said he and Tom Lee, a Republican, worked closely together during the Terri Schiavo case.
Schiavo's case led to a vast number of legal ramifications dealing with whether the government should intervene in the decision to keep a comatose person alive.
After Schiavo, who suffered a cardiac arrest in 1990 that left her in a vegetative state, had her feeding tube removed for the second time, the federal court passed "Terri's Law."
The law allowed then-governor Jeb Bush to order that her feeding tube be re-inserted.
"Terri's Law" was overturned in May of 2004.
"It turned out to be nine democrats and eight republicans [who] stood together on that issue," Smith said. "We believe that families, and not governments, should make life and death decisions regarding their loved ones."
Smith said he's even seen the effects of overly-strict partisanship on a personal level. When he attended the funeral of a chair of the Republican Party who passed away, people told him they were surprised he was there.
"I said, 'Why would you be surprised?'" he said. "My view is that we are free men first, we are Americans next, we are Floridians next. All those things count before we start talking about which party we're in."
# # #
Email Korrego@
alachuatoday.com
Add a comment
Add a comment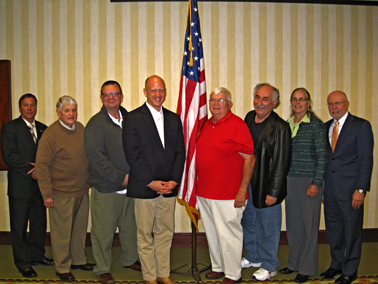 Front row L to R: Bradford County Commissioner Daniel Riddick, Chair of the North Central Florida Regional Planning Council; Robert Wilford, City of Alachua Commissioner; Doug Jones, City of Archer Commissioner; Noah Valenstein, Executive Director of the Suwannee River Water Management District; Mayor Louie Davis, City of Waldo; Harvey Budd and Helen Warren, City of Gainesville Commissioners; and Scott Koons, Executive Director of the North Central Florida Regional Planning Council.
GAINESVILLE – Bradford County Commissioner Daniel Riddick, Chair of the North Central Florida Regional Planning Council welcomed Noah Valenstein, the Executive Director of the Suwannee River Water Management District to the Feb. 25 meeting of the Council held in Lake City. Also in attendance were City of Gainesville Commissioners Harvey Budd and Helen Warren; City of Alachua Commissioner Robert Wilford; City of Archer Commissioner Doug Jones; and City of Waldo Mayor Louie Davis. Mr. Valenstein's remarks provided Council members an overview of the Suwannee River Water Management District's mission, programs and projects focusing on enhancing partnerships, planning for an adequate water supply and managing water resources throughout the north central Florida region.
The Council, whose members are local elected officials and gubernatorial appointees, administers a variety of state and federal programs for north central Florida including Alachua, Bradford, Columbia, Dixie, Gilchrist, Hamilton, Lafayette, Levy, Madison, Marion, Suwannee, Taylor and Union Counties.
Programs include development of the Strategic Regional Policy Plan, technical assistance to local governments in development of comprehensive plans, land development regulations and grant management, and administration of developments of regional impact, local mitigation strategies, hazardous materials, homeland security and economic development programs.
In addition, the Council staffs the Metropolitan Transportation Planning Organization for the Gainesville Urbanized Area, the North Central Florida Local Emergency Planning Committee, the North Central Florida Regional Hazardous Materials Response Team and The Original Florida Tourism Task Force.
# # #
Email editor@
alachuatoday.com
Add a comment
Add a comment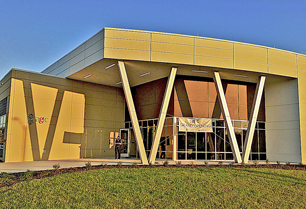 Special to Alachua County Today
Applied Genetic Technologies (AGTC) moved into its new combined corporate office and laboratory facility in Foundation Park located on U.S. Highway 441 in Alachua. The company previously occupied several buildings in Progress Corporate Park.
ALACHUA – Over 50 people attended the open house for the new building in Foundations Park housing biotech company AGTC.
Some of the notable faces at the event included Alachua Mayor Gib Coerper, Vice Mayor Ben Boukari Jr. and Assistant City Manager Adam Boukari.
Sue Washer, the President and CEO of AGTC, took the stage to express her gratitude to those in the community who helped make the new building a reality, including the construction company that worked swiftly to bring it to completion.
"We're very happy to be in the building and also for the super hard work from everybody from Concept Companies," she said. "They built this building to our specifications … It was just an amazing feat to get this all together.
"I just wanted to shout out to some many people in the community that helped make this happen," she continued. "Phil Hawley – he was really the person that stepped up and said, 'Hey, there's a local company that needs more space. We want that company to stay here in this community,' and he worked really hard with the University of Florida."
The open house allowed guests the opportunity to tour the labs and ask questions about the cutting-edge gene therapy research the company is involved in.
Current research at AGTC is concentrated on the treatment of rare eye diseases. One such disease is called achromatopsia, an inherited condition that causes impaired vision, light sensitivity and color-blindness, according to the website for the American Association for Pediatric Ophthalmology and Strabismus.
The disease currently only affects about 10,000 people in the U.S., according to AGTC Vice President and CMO Dr. Jeffrey Chulay.
"The types of diseases we're dealing with -- is even with the best corrective lenses and glasses, these people still can't see normally," he explained.
Chulay said AGTC is involved in creating a functional copy of a gene to replace a gene that is mutated or abnormal in patients. "The function of genes is to provide the instructions to a cell to make a protein," he said. "If the gene is mutated, or abnormal, then the instructions are wrong, and the cell will either make an abnormal protein, or it will not make any protein at all."
AGTC also studies animals that have the same gene inconsistencies. One video featured on the company website shows a dog afflicted with achromatopsia running into walls while trying to navigate a maze. The video later shows the same dog, treated with gene therapy, making its way through the maze with ease.
"In some of the animal models that we've looked at, where we have mutation in the same gene in the animal that we have in people, we've been able to show that we can restore and improve the vision in the animals," he said. "And that's what we're trying to do with people."
# # #
Email Korrego@
alachuatoday.com
Add a comment
Add a comment

GAINESVILLE — Chuck Clemons has come a long way after growing up on a chicken farm in High Springs.
"One of our mottos is 'We're taking our campaign from the chicken house to the State House,'" he said.
Clemons announced his candidacy for the Florida House of Representatives, District 21 earlier this month.
Clemons serves as Vice President for Advancement and Communications at Santa Fe College, a position he has held since 2007.
Clemons, a Republican, will seek the seat currently held by Keith Perry, who is widely expected to run for the Florida Senate.
Clemons said he was raised in High Springs and Alachua, graduating from Santa Fe High School in 1975. His connection with Florida extends beyond his own life, as he said he is a fourth-generation Floridian.
"My family settled in Florida before it became a state," he said. "I am proud to call District 21 home, and I am very excited about the opportunity to serve a region I love."
District 21 contains the western half of Alachua County, including the cities of Alachua, Gainesville, High Springs, and Newberry, and all of Gilchrist and Dixie counties.
Clemons named two primary motivations for deciding to run for the Florida House.
"I'm a big education advocate," he said. "As a Vice President at Santa Fe College, I've seen first hand how proper education can change lives for the better, and I want to advocate that at the state level.
"A second [point of emphasis] is protection of our natural resources. I learned to swim in Poe Springs. I know the fragility of our resources and the pressure 20 million people have on it."
Clemons began his professional life as a certified financial consultant, working for more than 20 years with small businesses and retirees. He served on the Alachua County Board of County Commissioners from 1996 through 2000, including as chairman in 1999.
President George W. Bush appointed him as the State Director of the United States Department of Agriculture Rural Development, an agency whose mission is to promote economic development and improve the quality of life in rural America. He served in that capacity from 2001 to 2007.
He has served as Past President of civic organizations such as Leadership Gainesville Alumni, Kiwanis Club of University City, the Kiwanis Club Foundation, and the Alpha Gamma Rho Education Foundation.
He is a co-founder and board member of Bikers on Parade for the U.S.A., which has raised over $500,000 for the American Red Cross and various veterans causes.
He and his wife, Jane, currently live in Newberry. They have four children and a six-year-old grandson.
# # #
Email Dwisener@
alachuatoday.com
Add a comment
Add a comment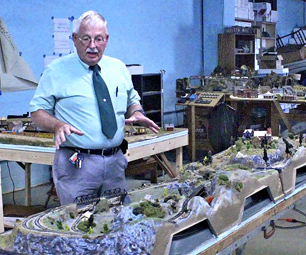 RAINA BARNETT/Alachua County Today
Members of the North Central Florida Railroad Club spend countless hours preparing railroad dioramas, attending to the smallest of details to ensure authenticity.
ALACHUA – The rich local history of farming and travel by trains is on display at the Welcome Center on Main Street in Alachua.
The most recent project of The North Central Florida Model Railroad Club depicts the 1930s to 1940s time period in Florida, complete with train tracks, miniature farms, old houses and family-owned businesses.
Dot Evans, an associate of the Alachua County Chamber of Commerce, said she enjoys the display.
"The detail that goes into it is amazing, like the little oranges," Evans said.
Jim Yakubsin, a member of the club, said these projects can take up to a year.
"There's a lot of different things we try to put in there," Yakubsin said. "We've got about 27 guys now. They've all got their interests and their own techniques, and we all love model railroading."
The club is busy preparing other, more specific projects for the future, namely a diorama of the city of Alachua itself.
"I did a lot of research in downtown Alachua, talked to a lot of people who lived here since they were kids," Yakubsin said.
Trains have been an integral part of Alachua's history.
"Parents used to put their kids on the train for a day and they would just head out to the ocean and come back," Yakubsin said.
Vada Horner, an Alachua County school teacher, has lived in Alachua for decades, and remembers how influential trains once were.
"Ms. Horner has taught for years," Yakubsin said. "She's taught all my children, and was interested in bringing some kids up here like a field trip so we could talk about the trains and the history."
The railroad club is more than a way to educate the public; it can bring back memories for older generations.
"I've been here since 1971; I was a policeman, I was a fireman, I did a lot of things with the city, I've been very involved," Yakubsin said. "When I retired from the sheriff's office and the military, I had some spare time so I got together with a couple guys and said, 'Let's go see what we can do,' so we started this."
Pictures from the past help the club reconstruct much of the local businesses and architecture.
The club primarily recruits new members through a hobby shop in Gainesville, HobbyTown.
"We put up flyers there, and believe it or not, there's a lot of people out there who like this stuff but never know about it," Yakubsin said.
The club tries to bring together the community through public events like expos.
"About three months ago we did our first expo down on Archer Road down by Shriners, and we had about 200 to 300 people come out," Yakubsin said. "We had only about 15 vendors. All of these conventions are in Orlando or Jacksonville, so when you get it going in a small community it's really great."
Ultimately, the club hopes to get the community interested in the local history of both the City and County of Alachua.
"We want to have open houses," Yakubsin said. "Our main goal is to have people come here, so we can educate them on the history of the railroad. We can do a lot of different things for the kids."
The club regularly meets every Thursday morning at the Tower Road Branch Library in Gainesville.
For more detailed information, Yakubsin encourages inquiries be made either through the website, ncfrailroadclub.weebly.com, or by phone, 352-222-8837.
# # #
Email Rbarnett@
alachuatoday.com
Add a comment
Add a comment