Maddox Foundry and Machine Works since 1905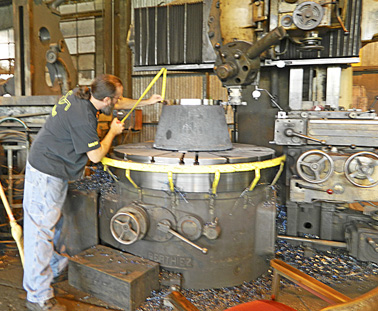 Locally owned Maddox Foundry and Machine Works, Inc. has produced metal foundry and machine works products since 1905. By the mid-20th Century, the company had expanded operations, selling internationally as well.

ARCHER – It survived its early years as a start up company, it survived the Great Depression, it survived World War II and it's surviving the current economic downturn.
Archer's Maddox Foundry and Machine Works, Inc. is a local, family-owned business that has produced metal foundry and machine works products since July 1905.
This summer will mark 108 years since it first began operations.
Current owners, Monte Marchant, Valerie Hipp and Marchant's daughter Mary Hope, have worked for years to maintain the company's vision true to the original owner, William 'Hitup' Maddox, Hope said.
Maddox, Marchant and Hipp's grandfather, wanted to create a one-stop shop, where a product would be designed and built under the same roof.
Even though he died in the early 1950s, his family members continue his tradition.
The history behind the foundry and the family is filled with sacrifice, passion and growth, Hope said.
"If we don't know where we've been, we don't know where we're going," she said.
Hope said her great grandfather Maddox first came to Florida from Georgia looking for a job. And 13 years later, after working for 90 cents a day at a phosphate mine company owned by C.W. Chase, he decided to open a foundry where he could supply the products needed by the two railroads that crossed through Archer at the time.
Hope said that without the help of Chase, who gave Maddox about $600, the foundry would not exist today.
The company has been passed down in the family from generation to generation.
"It's like a gift for us," Hope said. "We didn't have to sacrifice the way he did."
The family not only owns the company but also works in it. Hope's son, Chase Hope, is vice president, but she said he never sits down in his office because he is always working on a project.
"[He] makes sure the foundry gets the products out," she said.
The family is very dedicated to the company, Mary Hope said.
Her cousin, Bill Hipp, is the vice president and marketing sales representative at Maddox Foundry & Machine Works, Inc. Hipp's son, Paul Hipp, also works at the foundry.
"They can't wait to get to work, they can't wait to get in the dirt," Mary Hope said of Chase and Paul. "It's in their blood."
Mary Hope said she is committed to the foundry because of the history the building embodies, but mainly because she said her son was born with knowledge of the company. She said she is amazed about how much he knows at the age of 29.
Chase Hope works in every department of the company. Mary Hope said he doesn't ask other workers to do anything he can't.
She said that most of the employees are cross-trained. Because they are able to do more than one job, the company has been able to remain stable during this economy.
"It's the employees in the back that make this company run," she said. "It's important to make them feel needed."
Some workers also have had generations of their family work at the foundry, Mary Hope said.
Sam Brown Jr.'s father used to work at the foundry before he died. Brown is currently the person who oversees the operations in molding and melting.
The company has also grown since Maddox died, Bill Hipp said. It not only supplies products locally or out of state but out of the country as well.
He said that international shipping began around the late 1940s or early 1950s. They have sold products to companies in Puerto Rico, Philippines, Mexico and Venezuela since then.
Maddox Foundry has been able to stay in business also because the family has stayed together, Mary Hope said.
"If we didn't get along we knew the company would not survive," Mary Hope said.
# # #
E-mail acarroz@
alachuatoday.com
Add a comment
Add a comment
Kayak the Santa Fe set for March 3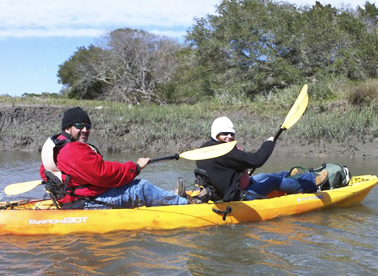 IRISHWATERDOGS sponsors outdoor activities such as kayaking, sailing, hiking and fishing at no cost to veterans.
HIGH SPRINGS – A program geared specifically for veterans may be coming to High Springs. Mayor Sue Weller and City Manager Edwin Booth met with outdoors enthusiast and owner of Jacksonville-based IRISHWATERDOGS (IWD), Dave McDaid to discuss ways the City and McDaid could work together to bring a chapter of the IRISHWATERDOGS WARRIORS program to the area.
The two-year-old Warriors program was started by McDaid as a non-profit branch of IWD to thank veterans, especially those who have been injured, for their service to the country and to help them reintegrate into society.
"This is an incredibly rewarding program that helps injured veterans with not just their physical injuries, but their PTSD through the healing power of water," McDaid said. The group is not limited to injured veterans, but embraces all veterans and also first responders.
"We are proud of our vets," said McDaid with a touch of a Dublin accent. "We want to thank them in a big way for all they have done for this country.
"We encourage them to join us on the first Sunday of each month for outdoor activities they may have missed in recent years because of their service. We also encourage them to invite their children or other family members to share the time and activities with them as well," he said.
Activities include kayaking, kayak fishing, sailing, nature walks, hiking, shore fishing and outdoor photography. "We start out with a hearty breakfast at 9 a.m., spend about four hours at whatever activity they choose and return for a good lunch and some music," said McDaid about the monthly events.
"Everything is paid for by us and we always have a lot of volunteers as well. If you want to fish, we will provide everything you need to fish. If you want to kayak, we provide everything needed for that as well. This is our way of saying thank you. We expect no payment from the veterans at all."
McDaid and Alee Karpf, Recreation Therapist from the VA Honor Center, 1604 SE 3rd Avenue, Gainesville, recently kayaked the Santa Fe River to plot a trip for the first High Springs event on Sunday, March 3. They put into the water at the first launch site off U.S. Highway 441 and journeyed to "the boil," the place where the water goes underground at O'Leno State Park. "We want to make sure the area we are paddling through is right for our participants, so we check it out first," said McDaid.
The group will take approximately six local injured veterans through the Santa Fe River route on Feb. 15 as a first small trial run.
Karpf said, "This program is very exciting for me. VA resources are not available for activities like this, although they are very therapeutic. This program doesn't cost the taxpayers a penny."
Each month Karpf and another staff member take two vans of 13-16 veterans to St. Augustine to participate in the monthly IRD program. "Many of our veterans are homeless and in transition," explained Karpf. "We are helping them get on their feet again. The veterans who participate love it," she said, "and talk about it for days."
Karpf works with veterans teaching them how to enjoy healthy leisure and build it into their lives. "Many of our veterans love to fish and/or be on the water and haven't had a chance to do that in a long time," she said. When family members are able to join in the activities with the veterans, Karpf said they relax and relate to each other more completely.
Karpf is excited that the program is expanding to include photography. "Dave will be teaching that," she said. Items that would be helpful to that program would be digital cameras to assign to the vets for their use during their trips. "We have computers the photographers could use to upload their photos," she added.
McDaid says one way veterans learn about the program is through the VA. "Kathy Williams from the VA in Tampa sends out newsletters to the various hospitals, American Legion and Disabled American Veterans groups to help us get the word out," he said. "We also have a forum on our web page so people can sign up for the activities they want to participate in."
Like any non-profit organization helping others, IWDWarriors is always in need of donations and volunteer participation. "In many cities the Rotary Club, Lions Club, Women's Club and other organizations help support our efforts either by fundraising, volunteering their time on the first Sunday of the month, or by cooking various foods to help feed our veterans," McDaid said. "We like to get as much citizen participation as possible. It's rewarding for all of our volunteers and participants and a really helpful way to give back to our veterans and first responders."
IWD was started sort of by accident. McDaid originally started a blog called "celtickayak" in 2006. The first few t-shirts they created were for McDaid and his friends to advertise the blog, but the shirts became so popular on the water that they quickly ran out. Soon after, "IRISHWATERDOGS" was born as a separate place to buy the shirts and caps. Since that time their outdoor wear, outdoor events and charity tournaments have grown.
IWD is in several cities in Florida and throughout the U.S. Fernandina Beach, St. Augustine, Tampa, Ft. Lauderdale and now, High Springs, are Florida cities participating in the IWD Warriors program.
Anyone wishing to support the IRISHWATERDOGS WARRIORS Program may do so by going to http://www.irishwaterdogswarriors.org/support.html. Anyone wishing to volunteer time or services to the program can contact Dave McDaid at This email address is being protected from spambots. You need JavaScript enabled to view it.
# # #
Email Cwalker@
alachuatoday.com
Add a comment
Add a comment
HIGH SPRINGS – A mediation hearing is scheduled for Feb. 22 in the legal case filed by Christian Popoli, the former City Planner who alleges he was wrongfully fired from the City of High Springs.
Popoli, who had chiefly been the City's planner, was hired in 2006, but fired amid the shuffle of employees during the politically tumultuous spring of 2012.
On Monday, Nov. 5, 2012, the City filed a motion to dismiss the case citing statute of limitations. The motion was denied by the court after a hearing on Thursday, Jan. 3, 2013.
On Thursday, Nov. 22, 2012, a new City Commission was seated in High Springs and a new mayor and vice mayor were elected. In addition, since the case began, a new city attorney and city manager have been hired.
Linda Rice Chapman, attorney for Popoli said, "It seemed after that change, all parties wanted the case to be resolved." Chapman petitioned the judge to order mediation and in January 2013 the court issued an order to have all parties participate in mediation within 60 days. The mediation date of Feb. 22 falls within that 60-day period.
"What we are looking for in this case is compensation to Mr. Popoli for monetary damages for wrongful termination," explained Chapman. "That would include lost salary and benefits, other related damages and attorney fees," she said.
Chapman continued by saying, "Because of the way the City has responded to this lawsuit and their failure to make records available, attorney fees are higher than the norm in this case." Citing records requests filed by Popoli beginning in March 2012, which to date have not been made available to him for litigation; Chapman explained Popoli has been greatly hampered in his ability to prepare for trial. "[Popoli] continues to ask for documents that are being denied him. We have had to find other ways in which to prepare for trial," she explained.
Chapman said, "I believe the case will be resolved on Feb. 22. I think everybody involved wants to find a resolution that is acceptable to both sides."
# # #
Email Cwalker@
alachuatoday.com
Add a comment
Add a comment
Applied Food Technologies identifies seafood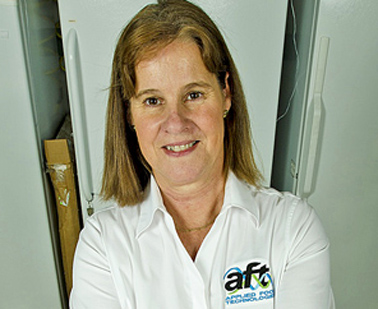 Applied Food Technologies founder and CEO LeeAnn Applewhite uses DNA sequencing to identify seafood products to combat fraud in the food industry.
ALACHUA – Are you sure that piece of grouper you're eating is really grouper? Applied Food Technologies can help you find out.
For more than eight years Applied Food Technologies has been identifying processed fish for the seafood industry from its headquarters in the University of Florida's Sid Martin Biotechnology Incubator at Progress Corporate Park.
The company engages in the research, development and commercialization of products and services for the food industry, specifically the development of molecular species identification tools.
Applied Food Technologies combats the growing problem of mislabeled seafood, which causes health and economic issues.
Since 2006 there have been more than 1,100 documented reports of fish fraud. Everything from cases of imitation crab being passed off as genuine to "seafood nuggets" being sold as scallops have been reported.
To identify the seafood, Applied Food Technologies use a process called polymerase chain reaction, or PCR. Each species of fish has specific segments of DNA that are unique. The company isolates and replicates these segments using PCR until there is enough DNA to sequence and compare to Applied Food Technology's database of verified DNA.
Applied Food Technologies routinely tests seafood products for companies at all stages in the supply chain – importers, suppliers, distributors, processors and restaurant and grocery chains. It also tests products detained by federal agencies such as FDA Import Alerts.
In addition to the FDA and UF, Applied Food Technologies also collaborates with the Smithsonian Institution, the University of Louisiana, the University of Kansas, the National Oceanic and Atmospheric Administration and the National Marine Fisheries Service to identify species and issue letters of validation.
Applied Food Technologies stands out from the competition because it is the only company that uses methods that are accepted by regulatory agencies for regulatory compliance testing, said CEO LeeAnn Applewhite.
The company has grown since its founding in 2004, making a name for itself in food technology.
"We started with three part-time employees and now have four full-time and four part-time employees," Applewhite said.
The company supports the Alachua community through hiring locally, providing internships to students at UF and Santa Fe College and judging local science fairs.
# # #
Email estanton@
alachuatoday.com
Add a comment
Add a comment
ARCHER – The City of Archer is taking steps to move the time of its municipal elections. With a 5-0 vote, commissioners agreed for the city attorney to draft an ordinance moving municipal elections to the spring.
During Monday's city commission meeting, Mayor Frank Ogborn agreed that moving the city's municipal elections would make national and state elections less overwhelming for voters.
Ogborn said he liked the idea when it was brought up during the Alachua County League of City meetings. He said that during the last election, because there were so many amendments voters had to read, Archer's elections got "lost in the shuffle."
"Voters don't want to read all that stuff," Ogborn said at the commission meeting. "I thought it was a good idea to move it to the spring."
City Manager Al Grieshaber, Jr. said in an interview that moving the municipal elections to the spring would allow electors to concentrate on them.
"When they have national and state elections...it's a voluminous amount of information to be digested in a short period of time and unless the electors have looked at sample ballots prior to entering the voting booth, it's an overload of information.
Commissioners are legally authorized to make the change through a City ordinance. Assistant City Attorney Tasha Fernandez said during the meeting that according to Florida Statue 100.3605, there is no need for a voter referendum.
Alachua County Supervisor of Elections Pam Carpenter said Gainesville, Newberry, Alachua, Hawthorne and the towns of LaCrosse and Micanopy have their municipal elections during the spring. However, Waldo and High Springs still hold their elections in November.
Alachua and Newberry have their elections on the same day, April 9.
Carpenter said she is working with cities to have their municipal elections on the same day in the spring in order to have public awareness of their municipal voting day. This has been an on-going process for the last eight years.
"[It would] provide voters with another annual election day," she said.
Archer is still in the process of drafting the ordinance so an election date has not been set, yet.
Grieshaber said in an interview that once the ordinance is drafted, which he hopes will be by March, a decision to pass the change of the election will be decided no later than June.
If the change is enacted, commission seats held by Gabe Green and Ogborn would be extended until spring 2015 instead of November 2014, Grieshaber said.
While commission terms are for four years, the positions of mayor and vice mayor, which will continue to be elected in January, last one year.
# # #
E-mail acarroz@
alachuatoday.com
Add a comment
Add a comment