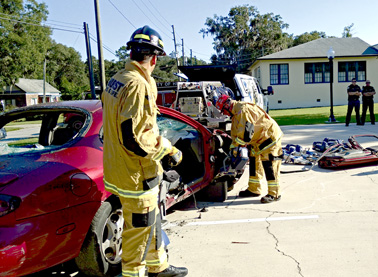 L-R: Mike Cannon and Barry Hopper, both of Hurst Jaws of Life demonstrate to area fire departments how the life-saving tool is used in a mock rescue operation. (Photo special to Alachua County Today )

HIGH SPRINGS – Local first responders now have another tool at their disposal to help save lives. Firehouse Subs Public Safety Foundation has issued a grant to provide one area fire department with state-of-the-art vehicle extrication tools. The High Springs Fire Department (HSFD) applied for the grant in June. In July they were notified they had been awarded the grant to purchase the requested new battery powered eDraulic by Hurst Jaws of Life.
Inclusive of the Jaws of Life are a Hurst eDraulic cutter, Hurst eDraulic spreader, Hurst telescoping eDraulic ram and C-Frame Ram Support, valued at up to $30,327.
On Thursday, Sept. 22, representatives from Hurst demonstrated how the equipment is used in a mock rescue operation. Firefighters from High Springs and other area fire departments, along with the media and members of the public attended as Hurst representatives dismantled a car as they would in an extrication situation. Not only were the doors removed, but the front quarter panel was dismantled to demonstrate how a person could be extricated, even if their legs were trapped.
The demonstration was held at the Historic High Springs Elementary School and Community Center, located next door to the High Springs Police Department.
Those in attendance who wished to participate were outfitted in actual turnout gear and worked with the team in using the equipment to extricate a patient from a vehicle.
"These new extrication tools from Hurst are battery powered and require no extra hoses or power unit, enabling firefighters to work freely and quickly with a stronger, smaller and lighter tool," said John Montgomery, Municipal Emergency Service (MES). MES carries Hurst equipment and Montgomery is the sales representative for northern Florida.
The battery included in the eDraulic extrication tools provides enough power for a one-hour rescue operation before needing to be replaced.
"Considering the amount of power and capabilities of these tools, this is a truly remarkable feat," said Kevin Mangan, Public Information Officer (PIO), High Springs Fire Department.
# # #
Email Cwalker@
alachuatoday.com
Add a comment
Add a comment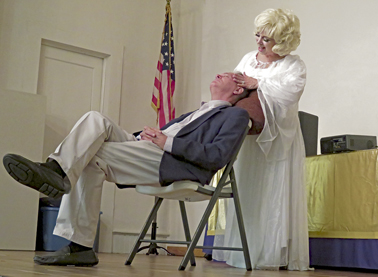 A preview of "Blithe Spirit" was on tap Saturday as the High Springs Women's Club hosted the season opening "Party with the Stars." Today photo/RAINA BARNETT

HIGH SPRINGS – A "Party with the Stars" was held in the High Springs Women's Club the evening of Saturday, Sept. 7. The cast from the season's first show, "Blithe Spirit," performed a sneak peek from a scene in the play. Small segments from the other shows, which include "Jacob Marley's Christmas Carol," "Six Women with Brain Death or Expiring Minds Want to Know," "Lend Me a Tenor," "A Rehearsal for Murder," and "Annie, Jr.," were also performed to entice the audience to buy tickets and attend the plays.
Julia Anderson, 30, an Alachua County Resident, was pulled in and performed on the stage for her first time just for the preview.
"Now I have plans to audition for 'Six Women with Brain Death or Expiring Minds Want to Know,'" she said. "I love how excited the audience gets."
Mary Jane Simone, the actress playing Elvira in the upcoming play "Blithe Spirit," was dressed in full ghost attire, complete with a white flowing gown and sparkly makeup.
"I'm from New York, and used to do television work," she said. "I like the off-camera aspect of a play."
The gala offered fresh hors d'oeuvres, sweets and veggies. Brochures were passed out with information about the plays and how to donate to the playhouse.
Board member of the High Springs Playhouse, Alison Horvath, said she has been involved with the playhouse for seven to eight years.
"I was also treasurer for five years, and I've been on stage a few times," she said. "I really want to see 'Blithe Spirit.'"
'Blithe Spirit' comes just in time for Halloween, with running dates from Sept. 30 to Oct. 23.
"This theatre is one of the most exciting and rewarding adventures," Simone said.
Tickets and more information on how to get involved can be found at highspringsplayhouse.com.
# # #
Rbarnett@
alachuatoday.com
Add a comment
Add a comment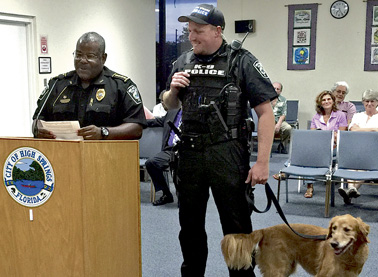 L-R: High Springs Police Chief Joel DeCoursey, Jr. (at the podium), High Springs Police Handler/Officer Ethan Presnell and K-9 Officer Aggie. K-9 Officer Aggie is retiring after years of service to the city. (Photo special to Alachua County Today)
HIGH SPRINGS – After several years of faithful and dedicated service to the citizens of High Springs and to the High Springs Police Department (HSPD), K-9 Officer Aggie officially retired Monday evening. During the High Springs Commission Meeting, she and her handler, HSPD Officer Ethan Presnell were awarded a plaque honoring her service by HSPD Chief Joel DeCoursey, Jr. Aggie will live out her retirement with Presnell and his family.
The plaque included a photo of Aggie and Presnell in front of their police vehicle, along with a shiny, new HSPD badge. "The one she wears while working is pretty beat up after all these years," said Presnell.
Aggie is a nine-year-old Golden Retriever who originally was handled by Sgt. Harper for the first four years of work with the department. He literally asked Presnell to take her on a few days before he died. Presnell has worked with her for another three and a half years.
Aggie was trained as a narcotics dog, but is also used in public relations situations...especially around school children. "She is a very calm sociable animal with a great temperament around people and children," said Presnell. "She is methodical at sniffing and this breed is excellent at duck or quail hunting."
A new full-blooded male German Shepherd named Caesar will begin formal training with Presnell soon. He currently lives with Aggie, Presnell and his family and is undergoing basic obedience training. "The dog was bred in Czechoslovakia and imported into the U.S. in January of this year," said Presnell. "He was purchased initially by a kennel in Palm Beach Gardens and will be two years old in December."
"Caesar was donated to the HSPD by an anonymous donor," said HSPD Lt. Antoine Sheppard. "A bullet-proof vest was purchased at a cost of about $700 through a donation," he said. "Leda Carrero started a donation drive to purchase the bullet-proof vest, but Claire Noble donated the full amount needed to purchase the vest," Sheppard said.
Caesar will be trained to apprehend as well as to be a narcotics dog. Training starts Oct. 3 and will proceed for about six months. When his training in that area is complete, he will be able to track suspects and apprehend them, if needed. After 570 hours of training, he will be tested and must be found to be 100 percent under control when he's working.
Presnell, who has had a history of working with dogs from his youth, will undergo training along with Caesar. "There are new case laws and best practices to learn about, as well as commands to learn," he said.
Ceasar will then undergo two to three more months of training to be a narcotics sniffing dog. He will be adept at doing both things by the end of his training.
Presnell, who has had a history of working with dogs from his youth, will undergo training along with Caesar. "There are new case laws and best practices to learn about," he said.
# # #
Email Cwalker@
alachuatoday.com
Add a comment
Add a comment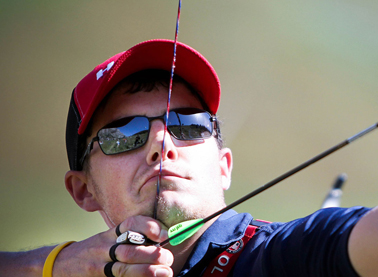 Area resident Jake Kaminski won silver medals in London in 2012 and most recently in Rio in 2016. He is also a three-time World Cup Team gold medalist. (Photo special to Alachua County Today)
NEWBERRY – One area resident, who previously trained at the Easton Newberry Sports Complex Archery Range, won silver medals at the London 2012 Summer Olympics and, more recently, at the Rio 2016 Olympics.
Jake Kaminski has been a multi-time United States Archery Team member and a three-time World Cup Team gold medalist.
In addition to his most recent wins, the 28-year-old won a gold medal at the 2014 Pan American Championships (individual), and the same year won a bronze medal at the Archery World Cup Stage 2 (team) and gold again in the Arizona Archery Enterprises (AAE) Arizona Cup (team). He has won too many other archery medals to list. He also coaches up and coming archers in his own backyard.
This year's Rio Silver Medal was in the category called Team Round Three-person. He was one of three people on the United States team to compete against three people from teams from several other countries.
Said Kaminski about his participation in the Olympics, "It's a once in a lifetime experience and I've been able to compete for the U.S. twice and received medals each time, which very few people do. So it's a dream come true, for sure."
"It was quite a spectacle," he said. "They made do with what they had. It was quite picturesque. We were able to shoot the final stretch [of the competition] at the same venue in which they hold Carnivale each year.
Kaminski has been training full time since 2006 and lived at the Olympic Training Center in Chula Vista, California from 2006 to 2012. He moved to the Daytona Beach area, where his parents live, for another three months and moved to this area for a possible job opportunity at Easton in Newberry. He now shoots full-time in his backyard.
He got started in archery after his dad won a bow in a gun raffle when he was six years old. "I found a bow in department store. I started shooting in my backyard and never stopped," he said.
"Easton is a great facility," he said, "but I get more out of shooting in my own backyard right now."
# # #
Email Cwalker@
alachuatoday.com
Add a comment
Add a comment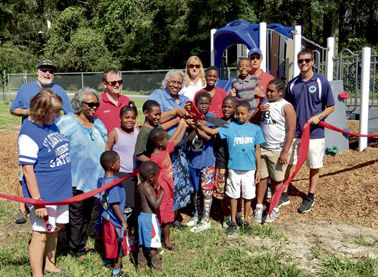 L-R: Catherine Taylor Park ribbon cutting with Linda and Tom Hewlett, High Springs Chamber President Yvonne Andrews, Commissioner Jason Evans, Vice-Mayor Gloria James, Commissioners Sue Weller and Scott Jamison, and Recreation Director Robert Basford. Neighborhood children were happy to have the new playground in their neighborhood and helped James with the huge scissors as she cut the ribbon. (Photo special to Alachua County Today)
HIGH SPRINGS – Grants from the Florida Recreation Development Assistance Program (FRDAP) have borne fruit in the form of renovations for two High Springs parks and playgrounds. Civic Center and Catherine Taylor parks have had their playground equipment, courts, nets, etc. improved over the past few months.
The Civic Center Playground was closed as work was being conducted, much to the dismay of parents with children at home during the summer break.
As all of the work at the Civic Center had been completed, the City held a grand opening/ribbon cutting ceremony at 10 a.m., Saturday, Sept. 10, complete with snow cones from Alachua's Tropical Sno.
Vice-Mayor Gloria James was at the helm at both parks to perform the ribbon cuttings. Also attending were High Springs City Commissioners Jason Evans, Scott Jamison and Sue Weller.
Catherine Taylor Park remained open during the upgrades, but a portion of the renovation had not been completed by Saturday. However, the playground equipment area had been upgraded and a ribbon cutting ceremony was held at 11 a.m. to open the playground area. Snow cones from Tropical Sno were provided at this park as well to keep everyone cool.
Resurfacing the basketball court is currently in progress and should be open in the near future.
"Both grants were sought to help bring the city's playground and playground equipment up to a higher, safer standard in High Springs," said City Manager Ed Booth earlier in the renovation process.
High Springs recreation director Robert Basford managed both grants and renovations simultaneously.
"It was a long process to do them both at the same time," he said. "A lot of work went on behind the scenes before we even began the actual renovations.
"These two parks turned into two of the nicer parks in the county," said Basford.
Upgrades at the Civic Park included state of the art playground equipment purchased from Gametime Playground and installed by by Kenico, Inc. "Additionally, renovation of the swing frame, replacement of swing chains and seats, installation of a whole new play structure and mulch borders were part of the upgrades," according to Basford. Tennis nets and basketball rims were replaced and tennis and basketball courts were resurfaced by local contractor, Stephen Toth of Tennis Unlimited, Inc.
"The same contractor, installer, etc. were used for Catherine Taylor Park," Basford said, "but the play structure itself is in a different shape and color from the Civic Center Playground."
"We hope to be able to be able to revamp every city park to bring them all up to code and make them state of the art playgrounds/parks," he said.
The City plans to renovate Walter Howard Park with another $50,000 FRDAP grant recently awarded to High Springs. "The state is still negotiating the contract and we are just waiting for that process to be completed," said Basford. With any luck at all, the actual park renovation is expected to begin sometime around the first of the year.
Both the Civic Center and Catherine Taylor Parks are open sunrise to sunset.
# # #
Email Cwalker@
alachuatoday.com
Add a comment
Add a comment