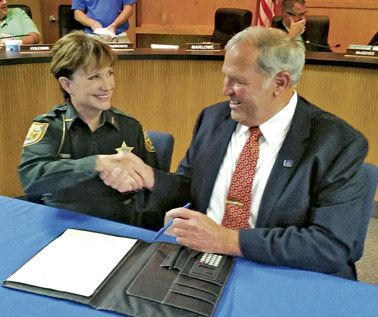 CAROL WALKER/Alachua County Today
Alachua County Sheriff Sadie Darnell and Newberry Mayor Bill Conrad agree on a ceremonial proclamation signifying the county's continued provision of law enforcement services to Newberry under a direct agreement.
NEWBERRY – Newberry City Commissioners and Alachua County Sheriff Sadie Darnell and members of her staff met Monday to sign a ceremonial proclamation signifying a direct agreement for the Sheriff's Office to continue to provide law enforcement services to the city by contract.
The agreement, which was actually executed on April 25, provides law enforcement coverage for Newberry for the next fiscal year, Oct. 1, 2016 – Sept. 30, 2017. As part of that contract, the city will pay Alachua County $740,000.
"This is not the first time the two have contracted together," said Sgt. Brandon Kutner, Alachua County Sheriff's Office Public Information Officer. "They did so under the Oelrich administration as well."
Since that time, the city has been paying for those services through the Law Enforcement MSTU, a municipal service taxing unit.
The city commission decided to opt out of the previous MSTU because the rate fluctuated year to year, making it difficult for the city to adequately account for it in its annual budgets.
City Manager Mike New has tried to negotiate different deals with the Sheriff where the city would know in advance what the MSTU amount would be.
"Apparently, that's not possible," Conrad said in February while negotiations were ongoing. "So this year we decided to opt out of the MSTU and write a separate contract with the Sheriff. We think that''s a better deal because we'll have a contract, we'll know what services we're getting and how much we're going to pay before we go into the budget cycle."
What does all this mean for the citizens of Newberry? "Best case scenario," said New, "is that through our budget process, there will be a reduction in our millage rate, and thus a reduction of costs for our citizens. Worst case scenario is this could be a wash for our citizens as they pay the city the same amount they would have paid the county MSTU if they were still paying into that fund. Either way, it's a no brainer."
The City of Newberry will be paying for law enforcement either through the city's General Fund or through ad valorem taxes rather than through the separate charge that appears on tax bills called, "Law Enforcement MSTU."
"That will cause city taxes to go up considerably, somewhere between one and two mills," said Conrad. "Right now our taxes are at about four mills. Citizens will see a significant increase in city taxes, which will be offset by a decrease in the fact that our citizens won't be paying MSTU."
The current MSTU agreement for law enforcement services will continue through Sept. 30, 2016, after which the new agreement will be in effect.
# # #
Email Cwalker@
alachuatoday.com
Add a comment
Add a comment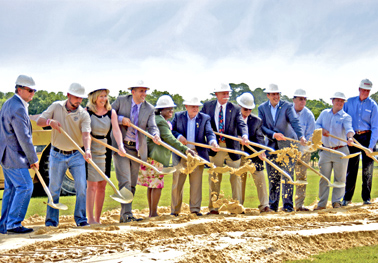 ELLEN BOUKARI/Alachua County Today
Alachua's Project Legacy is underway as Tuesday's groundbreaking of Phase I marked the official beginning of construction. L-R: Project designer Paul Stressing, City of Alachua Recreation Director Damon Messina, City Manager Traci Gresham, Assistant City Manager Adam Boukari, City Commissioner Shirley Green Brown, Vice Mayor Robert Wilford, Mayor Gib Coerper, Commissioner Gary Hardacre, Commissioner Ben Boukari, Jr., former recreation director Hal Brady, and Erik Otte and Doug Wilcox of Scherer Construction.
ALACHUA – With a few turns of dirt at Tuesday's groundbreaking, Alachua's "Project Legacy" has transitioned from plans and drawings to the beginnings of Legacy Park, a 105-acre recreation and cultural center abutting the existing Hal Brady Recreation Complex.
On hand for the groundbreaking ceremony were City of Alachua elected officials and staff as well as members of the design team, the construction firm, area residents and representatives from Santa Fe High School. Alachua City Manager Traci Gresham offered words of welcome followed by Assistant City Manager Adam Boukari, who provided the history of the project and acknowledged the City Commission's commitment and support to the community's quality of life.
"We are fortunate in Alachua to have a City Commission with foresight and understanding of how a dollar's investment today will result in a return that is exponentially greater for tomorrow and the days ahead," Boukari said.
Tuesday's groundbreaking kicked off Phase I, which is construction of the multi-purpose center. The initial design of the multi-purpose center calls for four full-sized dual basketball/volleyball courts with motorized bleachers seating 460 people, a performance stage, four multipurpose rooms, concession areas, multiuse trails, entry drive and related facilities.
"Project Legacy has been an exciting process for me as a city commissioner. First purchasing the 105-acre parcel right next to our Hal Brady recreation complex, then developing The Legacy Park master plan, and finally today breaking ground on the first phase," said Commissioner Gary Hardacre. "We are going to have more both passive and active recreation for our residents and schools."
The first phase of construction will create the main entrance off of Peggy Road along with building the approximately 36,000 square foot multi-purpose center at an estimated cost of $7.5 million, with cost of the entire park at completion estimated at between $19.7 to $20 million.
"Recreation and cultural arts are critical components to the quality of life in a community," said Commissioner Ben Boukari, Jr. "We are fortunate in the city of Alachua to have a community that understands this and embraces these opportunities."
Adjacent to the Hal Brady Recreation Complex, the City of Alachua purchased the 105-acre parcel in December 2011 with preliminary plans for additional recreation opportunities for the community. Prior to the purchase, the property was privately owned by a land development company and was planned for construction of approximately 200 houses.
City Commissioner Shirley Green Brown said, "In the 1980's, I volunteered at the recreation center with a roller skating program organized and started by Hal Brady and my husband, John Brown. Now, decades later, I am thrilled and excited to touch and experience the planning and implementation of the awesome construction of this multipurpose building in Legacy Park.
"This building will serve as a catalyst for all citizens, youth, young adults, seasoned and senior adults in our community for years to come."
"Although I am very proud of our outstanding sports programs, I am especially excited about our new multipurpose building at Legacy Park," Vice Mayor Robert Wilford said. "It will not only cater to sports activities, but will offer our citizens opportunities to see plays, musical programs, and other events. We are truly the "Good Life Community."
The 105-acre Legacy Park will be integrated with the existing 25-acre Hal Brady Recreation Complex to create one park. The Legacy Park Master Plan proposes four phases of construction that would include regulation-size baseball fields, Little League fields, tennis courts, basketball courts, a multi-purpose center, two game fields, a tournament field with stadium seating, an amphitheater with stage, a disc golf course, two dog parks, and walking trails.
"Today should be marked as one that will go down in history in the city of Alachua. Legacy Park and the multi-purpose center we broke ground on today will change the way our community not only enjoys recreation, but also brings huge opportunities for cultural activities and events. Legacy Park will be something special in North Central Florida," Alachua Mayor Gib Coerper said. "It is a tremendous step forward, not only for Alachua, but the entire surrounding region. When people look at our community – our jobs and educational opportunities and where they will live, Legacy Park will only serve to underscore the quality of life Alachua has to offer."
# # #
Email editor@
alachuatoday.com
Add a comment
Add a comment
Johnny E. Lewis's picture is not a very good one.
A Google Image search for the young soldier produces just a small and gritty black-and-white photograph.
A wide-brimmed cap shadows his eyes, but his youthful smile transcends the picture's graininess, representing the hope of someone who had a whole life to live.
Lewis, a graduate of Zephyrhills High School's Class of 1965, was only 19 when he was killed in the Vietnam War on April 6, 1967.
He left behind a wife, Janice Williams, the daughter of Mr. and Mrs. Barry V. Thomas.
They spent 15 months living as newlyweds in St. Augustine before he reported for military duty.
Lewis, whose name is positioned on panel 17E, row 112 of the Vietnam Veterans Memorial Wall in Washington, D.C., will be included on the Wall of Faces, an ongoing effort to match each fallen soldier's name with his or her individual picture.
The display will be part of an Education Center that will be situated between the Memorial Wall and the Lincoln Memorial.
Tim Tetz, the Director of Outreach for the Vietnam Veterans Memorial Fund, said the pictures will be displayed on a giant, two-story screen that will show the pictures of each soldier on their respective birthdays.
Although the physical display is not up yet, an online version of all pictures acquired is constantly being updated. Visitors to the website (vvmf.org) can also see which pictures are missing through the Advanced Search tool.
The fundraising for the center will be finalized in 2018, and the final building will hopefully be completed by 2020, Tetz said.
Locally, the Vietnam Veterans of America (VVA) Chapter 1036 in the Villages, Florida, is spearheading an effort to find and acquire all 777 of the photographs of fallen Vietnam soldiers from Florida who are listed on the wall.
There are approximately 30 other VVA chapters in Florida who are joining forces to find the rest of the pictures, according to an email from John Thomstatter, the secretary of Chapter 1036.
The search began in February of this year after Thomstatter spoke to someone at the Fund's office and realized that no one in Florida was doing anything to locate the missing photographs.
Thomstatter said only 46 of the 777 pictures have been collected for the project so far.
Duval County in the Jacksonville area has 101 missing photographs, the largest number of any county so far, he said.
Ten states have completed their search for all the pictures, and Oregon is the most recent state to reach that goal, according to an article on the Fund's website.
One obstacle that has made the process difficult is that sometimes the listed hometown of a soldier is not actually where he or she is from, Thomstatter said.
He noticed this discrepancy while researching the names of fallen soldiers from Monroe County prior to a trip to the Florida Keys.
"One person I did find out was from another state – Savannah, Georgia," he said. "So, the search doesn't always end up where you think it's gonna be."
He said he's also had difficulty finding pictures of certain soldiers because some of the schools in poorer neighborhoods might not have released a yearbook, or he can't find their obituaries.
Thomstatter is also working closely with Forest Hope, the president of the local VVA chapter in Alachua County and a Vietnam veteran.
Hope said the project is meaningful to him because he lost friends in combat – people who he graduated high school and played football with.
He said he's trying to acquire as many photographs as he can before Memorial Day, but there is no deadline. The photos aren't just limited to Alachua County – he said he's also searching for surrounding counties like Putnam, Columbia, Baker, Hamilton, Suwannee and Gilchrist.
"Just all the counties around this particular area," he said. "Anybody knows of someone who died in Vietnam, if they will go to that website and click on that person's name, if there's not a photograph, we need one."
Thomstatter, who is originally from Johnstown, Pennsylvania, said he worked to uncover more photographs of fallen soldiers that were missing when he used the Advanced Search to search for his hometown.
He said he then contacted the local librarian in that area and was able to obtain the pictures to add to the archive.
"It's really heart-warming," he said. "And people are really very eager to help you. They're recognizing the sacrifices that these soldiers made for their country."
Thomstatter was part of a maintenance company of about 100 others that worked below Saigon, Vietnam during the war. Although he wasn't in direct combat, he fully realized the impact of the losses when he started his search.
One story he encountered involved an entire helicopter crew that was killed after being hit with an RPG on a mission to save wounded soldiers.
"[Those stories] just bring back more awareness of all the sacrifices that people made when they were over there," he said.
He said every time he and his team research a soldier's name, they see the magnitude of the personal sacrifices and tragic loss to the comrades, families and communities they left behind.
"Our research team members share a common bond of realizing, 'There but by the grace of God go I,'" he said. "We knew there were no safe areas in the Vietnam war zone. The tragic results of war seldom justify the purpose."
Tetz said he appreciates the work that passionate volunteers like Thomstatter are contributing on a local level.
"Having that passion coupled with local knowledge is what we rely on to finish these communities and really to do a great job," he said.
He said he believes personifying names that are on the Wall brings a whole new appreciation for the fact that these people were living, breathing human beings.
"Of the 4.5 million visitors a year that come to the Wall, over half of them weren't alive in 1982 when the Wall was built," he said. "[The soldiers listed on the Wall] had lives; they had children. They had everything that is the magic of America. And they left those things behind."
# # #
Email Korrego@
alachuatoday.com
Add a comment
Add a comment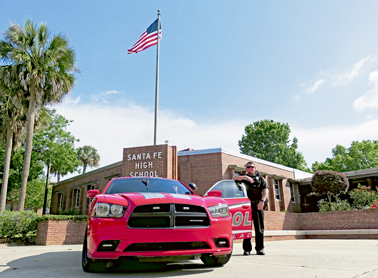 RAINA BARNETT/Alachua County Today
Santa Fe High School resource officer Robert Howell traded in his standard design Alachua Police Departmenet squad car for this fire engine red model. The car, which sports Santa Fe High School colors, is one of a kind in the City of Alachua's law enforcement fleet, and is popular with the local school's student body.
ALACHUA – The Santa Fe High School Raiders have a new 2014 Dodge Charger to showcase their school spirit as of Friday, April 29.
The Alachua Police Department (APD) suffered a loss to their squad car fleet in a car crash several months ago but was able to purchase the Charger at a price that matched the budget after insurance was collected.
"We set out to look for a replacement car," said APD Public Information Officer Jesse Sandusky. "We didn't have money left in the budget to purchase a brand new car, so we had to use what money we were able to get from the insurance. The car was previously going to be for a fire chief in south Florida, but it matched the price we were looking for."
The car is red, and at first, the department did not know where a red car would fit in with the others.
"We just kept thinking, 'What are we going to do with a red car?'" Sandusky said.
They came up with the idea to assign the car to the school resource officer at Santa Fe High School, Robert Howell. The original car at Santa Fe was then taken and put on the road to join the other APD vehicles.
For a final touch, the car was detailed in a Santa Fe Raiders theme.
"The city manager agreed, and we thought it was a great way to show pride for school spirit and build a positive relationship with the school and community," Sandusky said.
# # #
Email Rbarnett@
alachuatoday.com
Add a comment
Add a comment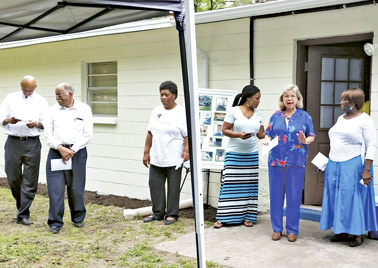 CAROL WALKER/Alachua County Today
Fun, food and fellowship were part of the dedication of Pastor Marcia Mobley's refurbished home and a joint celebration of National Rebuilding Together Day in Alachua's College Heights area. Center: Former City of Alachua mayor and commissioner Jean Calderwood speaks with Elder Corrisa Durr (left) and homeowner Pastor Marcia J. Mobley (right). Far left: Alachua County Commissioner Charles "Chuck" Chestnut, IV, attended the ceremony as well.
ALACHUA – One lucky woman now has the equivalent of a new home thanks to Rebuilding Together North Central Florida (NCF).
Friends, members of Heaven Bound Outreach Ministries in LaCrosse, and Rebuilding Together NCF volunteers helped make the improvements a reality.
Pastor Marcia J. Mobley's 1978 home in the College Heights section of Alachua had fallen into disrepair. The home, which is approximately 1,100 sq. ft., still had the original carpeting; a leaking hot water heater; a roof that needed to be replaced; and other health and safety issues requiring more professional attention and money than she had available.
Mobley applied to Rebuilding Together NCF for help.
"I finally received a $14,000 grant from Phillips Electronics, a national sponsor of Rebuilding Together, in early March," said R.D. Bonner, Director of Programs for Rebuilding Together NCF. "I added about $2,700 left over from an Alachua County grant and we began working on Pastor Mobley's house."
The job took approximately two months to complete and was finished April 30.
In honor of the project's completion and the anniversary of National Rebuilding Together Day, Mobley, members of her church and volunteers held a ceremony on that date.
Charles "Chuck" Chestnut IV of the Alachua County Board of County Commissioners and former mayor and commissioner of the City of Alachua Jean Calderwood addressed the audience.
Photos on a poster showed the home's previously dangerous condition. A guided tour conducted by Mobley showed all the repairs and new upgrades that had been made.
"A lot of work was completed in such a short time," said Mobley with a chuckle. "A lot of the time I was living only in the living room and bathroom as everything else was under construction."
"The National Center for Healthy Housing is a partner," explained Bonner. "They stress the seven elements of a healthy home and they heavily influence the things we tend to work on."
Those seven elements include a home that is dry, clean, pest free, safe, contaminant free, well ventilated and well maintained.
"Each weekend we would come out to work on the house, we were amazed at all the work that had been done during the week by Mobley and her friends," said Bonner.
Mobley said she now knows she is a painter as well as a minister.
Volunteers mowed the lawn and neatened everything around the house as well, according to Mobley. "It was a super effort," she said.
According to Bonner, Rebuilding Together has a lot of national partners who help when they have a large project. Of the larger partners who work in Alachua County, Bonner noted Lowes, Sears and Phillips.
"In addition, we have lots of businesses and skilled professionals who donate or discount their labor to help us out," said Bonner. Some he mentioned were Chris Tenney of Godwin Green Roofing in Gainesville; Jim Brown, Roofing, who did the soffit and fascia work on this project; and R. Murphy Construction of Gainesville, who donated a lot of skilled labor to do the "tricky stuff like doors."
National Rebuilding Together is in 40 of 50 states, said Bonner. Locally, the organization incorporated in 2005, although Bonner said people were doing this type of work prior to that date.
Bonner, who graduated from the University of Florida and had worked twice for Americorp, a partner with Rebuilding Together, joined the Alachua County organization in 2011.
Anyone in need of assistance can submit an application between Jan. 2-13, 2017. "We recommend people call before stopping by for an application so we can tell them what to bring with them," said Bonner.
The telephone number is 352-373-2573. Their address is 4550 SW 41st Boulevard, Suite #2, Gainesville 32608, which is located off of Fred Bear Boulevard.
# # #
Email Cwalker@
alachuatoday.com
Add a comment
Add a comment