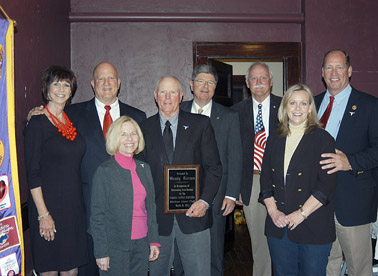 L-R: Judy Riviere, Marion C. "Bud" Riviere, Grace Larson, Woody Larson, Don James, Gib Coerper, Carol Yoho and Congressman Ted Yoho.
ALACHUA – It was another fun filled evening of laughter, good food and music at the 74th Annual Alachua Lions Club Cattlemen's Banquet on March 28.
The locally renowned banquet is held each year at the Alachua Woman's Club. Opening the banquet and welcoming guests was Alachua Lions Club President Don James, who then handed off the evening's agenda to Master of Ceremonies Bud Riviere an Alachua native.
Before presenting the Cattleman's award, longtime Alachua resident Ralph Cellon used his time at the podium to give a good ribbing to the dozens of politicians in attendance, bringing the room filled with hundreds of people to roaring and constant laughter. As a lifelong resident of Alachua and former City of Alachua mayor and Alachua County commissioner, among numerous other posts, Cellon offered rousing commentary on a seemingly endless line of people. Nevertheless, each person took Cellon's classic deadpan comedic style in stride.
Even Woody Larson, the 2013 Cattleman of the Year award recipient, was not spared from Cellon's barbs. Larson resides in Okochobee, Fla. and is the current president of the Florida Cattlemen's Association.
Keynote Speaker U.S. Congressman Ted Yoho also shared a few humorous stories with the audience as he detailed his experiences since being recently elected to the United States House of Representatives. A longtime resident of Gainesville, Yoho is a large animal veterinarian and now as a congressman represents the 3rd Congressional District, which includes portions of Alachua, Union, Gilchrist, Bradford, Marion, Clay, Suwannee, Dixie, Lafayette, Columbia, Levy, Madison and Hamilton counties.
Providing musical entertainment during dinner was Zack Emerson, Patrick Oberlin and Jessie Curtis, who played an array of musical pieces in jazz style. Also providing entertainment was Gussie Lee.
In keeping with tradition, the Santa Fe High School Chapter of FFA was on hand to serve up the choice aged controlled steaks, baked potatoes and dessert.
The Cattlemen's Banquet is the Alachua Lions Club's largest fundraiser of the year, and all profits from the banquet support charitable sight, hearing, youth and community service activities.
# # #
E-mail editor@
alachuatoday.com
Add a comment
Add a comment
Prometheon Pharma develops medicated patches as alternative to injections
ALACHUA – As a teenager Stephen Hsu was fascinated by the Greek myth of Prometheus, the titan whose gift of fire brought mankind out of darkness. Years later, Hsu became the CEO of his own biotechnology company, helping to brighten the pharmaceutical market with medicated patches.
Prometheon Pharma, LLC develops novel medicated adhesive patches that administer therapeutic biomolecules, such as insulin, that are normally injected under a patient's skin.
"Our delivery system is the first passive patch technology that offers patients a painless, needle-free and non-invasive alternative to frequent injections of perishable large molecule drugs," Hsu said.
Prometheon Pharma's drug patch, Topix™, is the first to incorporate heat-sensitive properties that maintain the stability of the medication at room temperature, Hsu said. Once the patch is on a patient's skin, it melts into a dermoadhesive gel that delivers a dose of the drug through the skin.
The company provides products mainly for pharmaceutical manufacturers who sublicense the Topix™ technology to co-develop patches that deliver their particular drugs. However, Prometheon Pharma also has a drug discovery division that is pursuing the development of anti-obesity drugs.
Prometheon's technology was developed in Hsu's laboratory at the University of Florida's College of Medicine in 2010. Hsu officially founded Prometheon Pharma on May 9, 2011. The company currently resides in UF's Sid Martin Incubator in Alachua's Progress Corporate Park.
Hsu said basing his company in Alachua was attractive due to the many resources available in Progress Corporate Park, including a low monthly lease, extensive shared equipment and facilities and administrative and training support through regular seminars.
Hsu is proud of the company's role in the Alachua community.
"Prometheon's role in the Alachua community is to provide employment for local talent, draw industry and investor interest to the area and to add to the diversity of existing biotech platforms developed by other local companies," Hsu said.
The company also provides internships to undergraduate students interested in careers in biotechnology and pharmaceutical industries.
# # #
Email estanton@
alachuatoday.com
Add a comment
Add a comment
Grand opening a homerun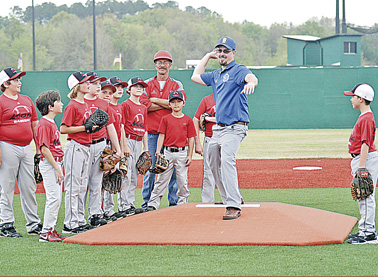 Newberry Commissioner Jordan Marlowe throws out a first pitch during opening ceremonies at Nations Park. Photo by Suzette Cook special to Alachua County Today.
NEWBERRY – The parade in honor of the Nations Park opening invitational tournament may have been fueled by the largest marching assembly in the city's history.
"It was a fabulous opening ceremony. I think it's the longest parade we've ever had—we almost lapped ourselves," said Mayor Bill Conrad, who spoke at the park's opening ceremony Saturday morning.
"I dedicated the fields to our youth and the sport of baseball and the family values that have always been a part of Newberry," he said.
"The facility is a very unique design so it becomes a different kind of game.
"The fans are all along the sidelines and out toward the outfield.
"There's no noise at home plate. It's more a coach and kids' game."
Conrad was optimistic about how the parking was synchronized. Even with upwards of 400 cars moving in and out at one time in the complex's parking lot, there were no lines or congestion.
"We didn't do a head count, but you could tell there were thousands of people," said Keith Ashby, Newberry's city manager. He has been met with a barrage of emails and phones calls with praise for the opening weekend.
"Probably one of the best things was that we were able to validate the technology. We have been reporting nationally that we have state of the art fields with an underground piping system."
Despite the rainy weather, players were back out on the field within 30 minutes after the rain stopped. Every game was played on schedule.
"The players and the parents seemed to have loved it," Ashby said.
"It was a great success."
In addition to Conrad, several other officials delivered speeches as well, including Congressman Ted Yoho and Commissioner Joe Hoffman who talked about a positive vision for economic development. Stephen Davis, who donated the 80-acres that is now Nations, also spoke.
Several commissioners threw the opening pitches on each of the 16 fields and Alachua County Commissioner Lee Pinkoson joined spectators along with City of Archer Mayor Frank Ogborn and City of Alachua Mayor Gib Coerper.
"I think the facility stands out in the number of ball fields and the number of teams that they can attract for a tournament at one time," Ogborn said.
"I was there for the initial shovel in the dirt," he said.
"It's come a long way from there, and I can see where it's going. The best is yet to come," he added.
Mayor Gib Coerper of the City of Alachua remarked about the community effort involved.
"All 16 fields were being used and that in itself takes a lot parents, grandparents, friends and family," he said.
Five organizations from Newberry High School ran the Nations concession stand and were able to keep some of the profits, including the softball and football teams and the cheerleaders.
The brain behinds this operation, Lou Presutti who brought New York its Cooperstown Dreams Park, could not have asked for a better first of many tournaments.
"It was unbelievable," he said.
"People were raving about it. Everything was over the top."
Nations'16 fields overflowed with 120 games across two days. The more than 60 teams were broken up into five age categories, designated by age from 9 years to 13. Sunday ended with five Georgia and Florida teams crowned tournament champions.
The Georgia Bateman team took the win in both the 9- and 12-year-old age group. Wesley Chapel Storm team took the win in the 10-year-old age group, Piranhas Baseball team won in the 11-year-old age group, and North Florida Gators were victors in the 13-year-old age group.
# # #
Email cgrinstead@
alachuatoday.com
Add a comment
Add a comment
HIGH SPRINGS – At the March 28, 2013 High Springs City Commission meeting, and following a significant amount of gavel passing, motions, seconds and discourse regarding the resolution to formalize rules of conduct for elected officials, the Commission voted unanimously to conduct a workshop to review the City's Rules and Procedures instead of moving ahead with the proposed resolution.
At the previous city commission meeting held March 14, 2013, discussion about the resolution culminated in a heated confrontation between city commissioners Bob Barnas and Byran Williams and the tabling of the resolution to the March 28 meeting. At the earlier meeting, some commissioners voiced the need for the civility resolution referencing a lack of civility on the part of Commissioner Barnas toward members of the public and fellow commissioners on his blog site. Barnas called the resolution "one-sided" and a violation of his right to free speech. Commissioner Linda Gestrin agreed that the resolution was an attack on free speech, adding it was a form of bullying. Vice-Mayor Scott Jamison said that public officials are held to a higher standard and should at least "adhere to the same level of civility that we hold our employees to." Mayor Sue Weller commented that the Commission is the "face of the City and we have an obligation to present ourselves in a manner becoming the position." She requested the resolution be tabled to allow commissioners time to review it and take a further look at it at the next meeting.
At the March 28 meeting, in an attempt to get the discussion started, Mayor Weller initially passed her gavel to Vice-Mayor Jamison so she could make a motion to consider establishing behavioral expectations for commissioners and charter officers. Hearing no second, Jamison passed the gavel to Commissioner Barnas to allow him to second the motion himself, which ultimately failed by a 3-2 vote.
Passing the gavel back to the Mayor to conduct the balance of the meeting and further discussion on the issue, suggestions were made by commissioners as well as some residents that the Rules and Procedures Handbook for Commissioners, which was adopted in March 10, 2011, needed to be updated to address the civility issue.
Citing lack of penalty and a clear way to judge if the rules of conduct were violated, commissioners generally agreed the resolution under consideration, if it had been enacted, would have been meaningless.
Although Vice-Mayor Jamison said he thought the resolution formally addressed what the City should be able to expect of their elected officials, he added his affirmative vote to make the motion for a workshop to review the rules and procedures unanimous.
City Manager Ed Booth was tasked with setting a date for the workshop. As of press time, Booth said he has not established the exact date, but anticipates it will be set toward the end of April.
# # #
Email Cwalker@
alachuatoday.com
Add a comment
Add a comment
HIGH SPRINGS – The High Springs City Commission is expected to restore monthly salaries for commissioners and the mayor at the Thursday, March 28, 2013 commission meeting. Resolution 2013-D, which would have made restoration of their salaries retroactive to the beginning of the 2012-2013 fiscal year, Oct. 1, 2012, failed to pass during the March 14 commission meeting.
While commissioners were in favor of restoring the salaries, some expressed displeasure at making the retroactive date the beginning of the fiscal year. Mayor Sue Weller and Commissioners Bob Barnas and Linda Gestrin defeated the resolution with a 3-2 vote and instead directed City Attorney Scott Walker to present another resolution at the March 28 meeting in which the retroactive date is set at March 1, 2013.
City Attorney Walker modified the wording as directed and it will now appear on the March 28 agenda as Resolution 2013-E.
Commissioners have been receiving $100 less in salary each month since October. If Resolution 2013-E is approved as anticipated, each commissioner will return to their previous salary amounts.
This fiscal year, commissioners have each been receiving $400 monthly and the mayor has been receiving $450 monthly. Adoption of the resolution would return those monthly salaries to $500 for commissioners and $550 for the mayor.
Salaries for hourly employees, which had been reduced at the beginning of the fiscal year by 6.07 percent, were reinstated earlier this year and made retroactive to the beginning of the fiscal year.
# # #
Email Cwalker@
alachuatoday.com
Add a comment
Add a comment