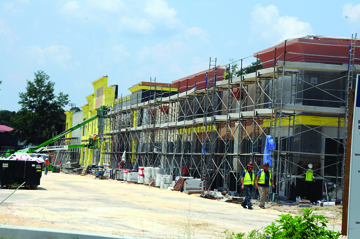 SUZETTE COOK/Alachua County Today
Alachua Publix is expected to open in the fourth quarter of 2015.
ALACHUA – Publix is nearing the completion of its Alachua location and is ready to start the hiring process next week.
According to Dwaine Stevens, media and community relations manager for Publix, "There are approximately 80 jobs available ranging from part-time to full-time opportunities in various departments."
Publix has been promoting a job fair by handing out fliers at locations throughout Alachua County. The job fair is scheduled to be held at Santa Fe High School in Alachua at 16213 U.S. Highway 441 on Aug. 4-6 from 9 a.m. to 6 p.m.
"We are asking anyone that has any experience in retail, as well as candidates seeking their first job, come to the job fair to find out about career opportunities with Publix," said Stevens.
He estimated start date for training the new hires as the beginning of September.
"They will be training at other stores in the area," he added so the staff will be prepared when the store officially opens. "The stores they will train at are still being confirmed.
Alachua Market Place, where Publix will serve as the anchor business, consists of an approximate 46,000 square foot Publix Supermarket, 9,100 square feet in adjacent retail stores and an outparcel with a 3,500 square foot fast-food restaurant.
This is the second time Publix has held its job fair at SFHS. "We have decided to use SFHS because having attended previous career fairs, there, we had an established relationship and wanted to continue that great partnership."
SFHS Principal Dr. Beth LeClear is happy to host the job fair in the media center.
"They came and asked if they could have some space," she said. "I feel it's a benefit because many of our students would like to apply."
Stevens said candidates are not required to apply online before the job fair. "It's not mandatory but an option," he said.
Interested applicants can schedule an appointment by registering at publix.fullslate.com and selecting Alachua. "Walk-ins are welcome but to avoid lines, you may register," reads the flier.
"We are excited to be there," added Stevens.
A grand opening date has not been officially announced, but according to Stevens, Publix is projecting for early in the fourth quarter.
"The City is pleased to have another major employer in the area to offer opportunities to our residents," said city of Alachua Assistant City Manager Adam Boukari. "Economic development and job creation are a top priority of the city commission and the city administration and this is another example of the results produced."
City of Alachua Mayor Gib Coerper said he is excited about store opening soon.
"I've been here for 41 years, and for 41 years, it's been 'when are we going to get Publix?' and here we are, it's 2015, and we are going to get a Publix," he said.
Coerper said he thinks residents of Heritage Oaks which is located directly behind the marketplace have an advantage.
"Now they can walk to Publix," he said.
Add a comment
Add a comment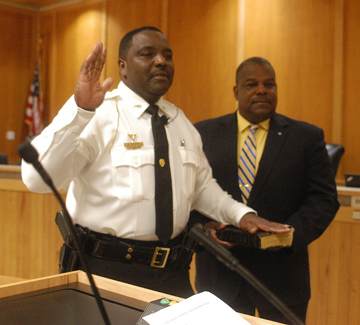 SUZETTE COOK/Alachua County Today
Alachua's new Police Chief Chad D. Scott is sworn in on Monday, July 13. APD's former chief Joel DeCoursey, right, served as Scott's mentor.
ALACHUA -- When Alachua Police Department Chief Chad D. Scott finished his oath during the swearing in ceremony held on July 13 at Alachua City Hall, the room erupted in applause and K-9 barking. APD officers, Alachua County deputies and law enforcement from neighboring communities, including High Springs, were in attendance.
At Scott's request, Alachua County Court Judge Susanne Wilson Bullard conducted the swearing in.
As Former APD Chief Joel DeCoursey Jr. stood by Scott's side holding the Bible that Scott's left hand rested on, Scott raised his right hand and pledged to "well and faithfully discharge the duties of the chief of police of the city of Alachua, Florida, so help me God."
Scott then addressed the city staff and commission and provided his background in law enforcement.
"I started in law enforcement in 1990," he began, and then he made a list of positions he has held in law enforcement.
According to the APD, "During his tenure at the Sheriff's Office, Chief Scott served in several capacities to include Patrol Deputy, School Resource Deputy, Detective, Special Operations, and SWAT. In 2008, Chief Scott began serving the citizens of Alachua as a reserve police officer. After a short time in the reserve program, Chief Scott was hired on as a full-time officer. He was assigned to the Patrol Division until his appointment to the Traffic Safety Unit.
"In March of 2010, Chief Scott was promoted to the rank of Detective and assigned to the Criminal Investigations Division where he investigated multiple high profile cases. In May of 2011, he was promoted to the rank of Sergeant and assigned to the Patrol Division as a supervisor. Chief Scott also supervised the Traffic Safety Unit until his promotion to the rank of Lieutenant in November of 2011. As a Lieutenant, Chief Scott was responsible for the oversight of Police Operations and Administration. In August of 2014, he assumed the position of Deputy Chief of Police and was responsible for the day to day operations of the Police Department."
Scott said during his speech that he enjoyed his time working for the ACSO, but that God directed his path in another direction.
"What I thought was my worst day," he said referring to his dismissal from his position after being accused of allegedly filling out timesheets incorrectly. He paused for a minute and took a deep breath before he continued, "Turned [out] to be my best day ever."
The State's Attorney was unable to substantiate the claims, and after Scott left the ACSO, he was hired by the city of Alachua.
Scott said he is grateful for the opportunity to continue to grow in his new position.
"Law enforcement was my passion ever since I was a teenager," he said. He described himself as a kid who always talked with local law enforcement, and asked a lot of questions, learning about the career by listening to officers' stories.
"My work ethic has always spoken for itself," he said. "I just think the city of Alachua noticed my work ethic. They recognized it as an asset to the 'Good Life Community.' "
Scott told the commission and staff that he knows what it takes to be a chief with passion.
"You have to be engaged in your community," he said. "That consists of, at times, of being a big brother or a big sister, a mentor…a counselor, a dad or a mother, a teacher. Sometimes you have to be a minister or a deacon. And my most favorite is being a coach."
Scott made a promise to Alachua.
"We are always going to be professional and treat people fair," he said and added, "I want to humbly thank you for this opportunity."
Scott recognized retired Police Chief Joel DeCoursey Jr.
"Now Chief Joel DeCoursey will always be chief," Scott said. "But I'll always be the new chief."
DeCoursey Jr. then declared from the podium: "You have a new chief. God is truly blessing this community."
People lined up to speak about Scott. They all had positive comments to make.
Burt Wetherington of Gainesville said he met Scott while attending Lake Forest Elementary School 25 years ago. "He's always been a part of my family," Wetherington said. "He is a great leader."
Pastor Natron Curtis of Mount Zura Full Gospel Baptist Church in Newberry said, "Leadership, fairness, integrity. I look forward to working with him as a pastor also in this community. Congratulations sir, well done."
Gainesville City Commissioner Charles Goston said, "Chad is one of the last of the men who is truly a man. He has impeccable ethics and great morals."
Former County Commissioner Rodney Long said he remembered talking with Scott after Scott lost his job with the ACSO. "This is a vindication to you for all that's been done bad to you," Long said.
Law enforcement advocate Bruce Borders said "Usually when you all see me, something's going bad," he joked. "If you wouldn't have made this fine man chief," he turned to look at Scott, "I would have been up here."
Borders then congratulated the city for hiring local talent.
"You didn't get somebody from up north or down south," Borders said. "You all made a good decision."
Then Scott's family took turns congratulating him. "That's my son," Scott's father said. His aunt was next to wish him well.
Then his sister congratulated her "baby brother" and said that she remembered combing Scott's hair when he was a child. "God bless you," she said.
His daughter thanked the city for giving her father a chance. "Always my hero," she said as she turned to her father. "Make Alachua proud," she added.
James Sheppard, assistant principal at Eastside High School in Gainesville said, "We're not brothers by blood. But I love this man with all my heart."
Tara Malone, Chief Scott's administrative assistant then addressed the commission and staff.
"He has been a leader for us. It really is a family here. A lot of people don't have sight of that or lose touch of it," she said. "I think we have someone who is going to help us hold onto it."
Mayor Gib Coerper then thanked former Chief DeCoursey Jr. for his service and welcomed newly sworn Chief Chad Scott.
Commissioner Robert Wilford said he was in favor of Scott taking over. "I know you'll do an outstanding job," he said.
Vice-Mayor Ben Boukari Jr. thanked the city staff for finding the best candidate for the job and said he was grateful that Scott was promoted. "You can look within and find great leaders," Boukari said.
Commissioner Shirley Green Brown gave her blessings.
City Manager Traci Cain said to Chief Scott, "I've always had the utmost confidence in your abilities and who you are as a person. And you have so much respect from everyone at the city…and especially the officers," she said. "I found that out years ago, when you first started here.
"I have all the confidence in the world in you, and I'm so proud of you."
Add a comment
Add a comment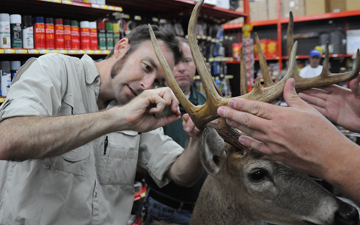 SUZETTE COOK/Alachua County Today
Florida Fish and Wildlife Hunting Areas Biologist Matthew Chopp measures the antlers of a deer during the Alachua Farm & Lumber fall hunting sale.
Add a comment
Add a comment
SUZETTE COOK/Alachua County Today
The High Springs Playhouse 2015 Youth Production is directed by Kayli Figueron and stars local youth from High Springs, Alachua, Fort White and Gainesville. There are three more opportunities to see the play on August 14 and 15 at 7 p.m. and August 16 at 2 p.m. Call 386-454-3525 or visit www.HighSpringsPlayhouse.com for more info.
Add a comment
Add a comment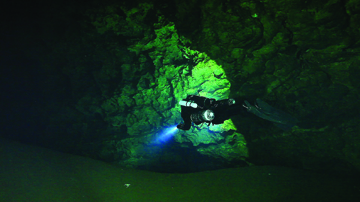 Photo by Dr. Andrew Pitkin/Special to Alachua County Today
Diver Matt Vinzant enters one of the large open rooms as he navigates the underground cave system at Mill Creek Sink in Alachua. The sink property is owned by the National Speleological Society and managed by the Cave Diving Section
BY SUZETTE COOK/Today Editor
ALACHUA – Lloyd Bailey, owner of Lloyd Bailey's Scuba and Watersports in Gainesville, remembers the conversation he and his diving buddy John Kibler Jr. had very well.
The discussion took place more than 20 years ago.
They had both just finished diving in what was then called the Alachua Sink off U.S. Highway 441 in Alachua on a piece of property located at latitude 29° 48' 4" N and longitude 82° 30' 30" W just east of Sonny's BBQ Restaurant.
It was Bailey's idea to introduce the cave system to Kibler who was also a scuba instructor and, coincidentally, worked directly across the street from the sink at Asgrow Florida Corporation.
"I started diving it in the early 80s," Bailey said about what is now called Mill Creek Sink.
"We would access it from the Sonny's BBQ side."
Back then, the scuba equipment was much heavier and bulkier, Bailey said.
"The logistics of getting in and out of there were so challenging, that I never took photography equipment in the water there," Bailey added. "We had to take a heavy duty rope and wrap it around a tree and walk backwards with this heavy rope. The gear we were wearing back then was well over 100 pounds on our backs."
According to his obituary, Kibler Jr. who passed away in 2009, worked for Asgrow for 33 years with his last position being a South Florida district manager for the subsidiary of the Upjohn Company. Asgrow was a distributor of agricultural materials, including chemicals, seeds and specialty products.
Bailey and Kibler both identified the cave system as an extremely advanced dive area and a dangerous one as well.
That's how the idea came about.
Bailey relayed Kibler's comments.
"He said 'My company owns this property. We can't do anything with this property. We could probably donate it as a win-win situation.' "
That is how the National Speleological Society came to own the property that is locked in a lawsuit with the city of Alachua over a rezoning ordinance that the NSS-Cave Diving Section (CDS) says will cause harm to the ecosystem that lives around and inside of the cave system. CDS is responsible for managing the property on behalf of the NSS.
"I've done upstream and downstream," Bailey said about his experience diving in the cave system.
"Alachua Sink [renamed Mill Creek Sink] is one of the most advanced cave dives in the state.
"It is a magnificent cave dive, he said, "white walls, beautiful walls."
Bailey said he has been following the case between the city of Alachua and Alachua County that was combined with the NSS-CDS lawsuit requesting that the approved rezoning be quashed.
"Everybody's wanting to blame everybody else," Bailey said, "If we live here, we've got to blame ourselves. Unless somebody wants to buy all the land and say 'I'm gonna preserve it.' "
"Sonny's is closer than the WalMart," he added. "The water source is coming from Hornsby Springs, northwest but everything has been developed.
"There's a line of sinkholes on the south side of 441 with houses built all around," Bailey added. "The NSS-CDS didn't pay a penny for it, and they have a responsibility to protect it," he said about Mill Creek Sink.
Hydrogeology
Geologist Stephen Boyes is the President of Geo Solutions, Inc., an environmental and hydrologic consulting company. In his Gainesville office, maps abound.
"Limestone is a sedimentary rock that's laid down, and with time it becomes hard," Boyes explained.
Boyes is an expert in hydrology, the scientific study of the movement, distribution, and quality of water, water resources and environmental watershed sustainability.
"If you break that rock, you begin to form preferential groundwater flow through the breaks. Rainwater is slightly acidic, because it is a weak form of carbonic acid. It begins to dissolve away the edges of the limestone in those breaks. And that's what forms caverns as well as groundwater flow along joints."
"Some areas of Florida are 'holier' than others."
Boyes has served as an expert witness in many land use cases and spent 15 years reviewing site plans for the city of Gainesville.
"Once you have approved the area for that level of development, it's going to take place," he said about his experience with rezoning ordinances. "If an applicant comes in with a site plan that fits exactly what the zoning is, Boyes said, "the site plan is a bad place to try to do the environmental stuff."
While the NSS-CDS continues to research their land and cave system by mapping it and conducting flora and fauna counts, Boyes said the more information that can be gathered about the ecosystem, the better the ability will be for everyone to understand what's at stake if development is carried out.
"The more you know about a place, the more protective you may need to be about it," he said.
Boyes said one of his concerns about the size of the 154.5-acre parcel and type of rezoning that occurred in Alachua involving the property owned by WalMart, is the impact development of that intensity will have on runoff and storm water.
"Storm water generally meets primary and secondary drinking water standards," he said. "In this particular environment, it is capable of transporting bacteria and viruses. Parking lot runoff it going to contain both.
"One of the complaints about parking lots is diapers on the ground," he said. "People spit, get sick, and that can travel.
"Short travel time between the storm water discharges from a large development in Alachua to the discharge point in the Santa Fe River is less than 30 days," he explained. "We're talking about the ability to transport bacteria that is still alive and healthy, as well as viruses, that entire length.
"A large rainfall event is very common here. It can run across the street and right down Mill Sink. Any form of development is not a natural situation. Discharges of things that transport down gradient offer an impact to the groundwater in that particular situation."
Boyes said he thinks the attention that Rezoning Ordinance 15 03 is receiving is because of the data that is now available through the Mill Creek/Lee Sink Dye Trace Study of 2005 and the mapping of the Cross-County Fracture Zone.
"A big key to this, is knowing that there is a Cross-County Fracture Zone that's different than other portions of the county. It's a long, linear fracture zone and this is where this site and portions of the Santa Fe River and the springs as well as Orange Lake and down in that direction there's an interrelationship.
"It's more fractured, it's more cavernous, it's more directly routed," Boyes said.
"Here's Alachua," Boyes said as he stretched out a map. "It's more cavernous, one of the largest water conduits in the county. The 1977 fracture zone was mapped and couple that with the 2005 dye trace study which found out how permeable it is."
"People want to develop in such sensitive areas without taking precaution of the users of the water down gradient. Cave divers have a concern because they know what's in it. Anybody who hasn't been in that cave has no idea about how big and how significant it is."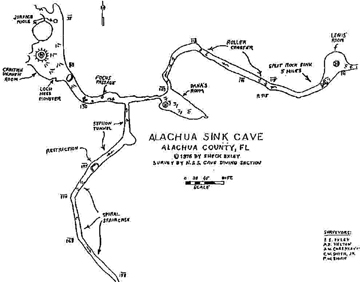 Divers' viewpoint
The collective data of diving conditions in the Mill Creek Sink are logged in at www.caveatlas.com. Dr. Andrew Pitkin logged this information from his March 21, 2013 visit.
"5-10 feet viz[visibility] in the cavern, improving to a hazy 40' at the upstream-downstream junction. About the same all the way upstream. Lots of leaves and other surface debris in the line in the new section, so the system clearly has reversed at least that far."
On Sept. 3, 2011, Pitkin logged this comment, "About 15' in the basin and cavern to about 50 feet depth, then very clear (80) all the way downstream. A little milkiness in the Subway tunnel, but still very good."
In order to dive in the Mill Creek Sink, divers must meet strict criteria. According to NSS-CDS Vice Chair Sylvester "TJ" Muller, even local law enforcement must be notified before a dive is made.
The NSS-CDS, which manages the property describes Mill Creek Sink as: "The surface stream system is dissected by more than 10 swallow holes which divert water underground, draining a basin of over 70 square miles. Sink visibility can vary dramatically from the cave visibility as tannins tend to wash into the sink during rainy periods, reducing visibility considerably. Extremely delicate flow formations pervade the system. Fine scalloped sheets of limestone are easily damaged and divers must be highly proficient not only in buoyancy control, but also positional awareness to ensure NO contact with any of these spectacular formations. Mill Creek Sink is an advanced cave dive both upstream and downstream, with significant siphon flow in the downstream section with depths in both directions exceeding 200 feet and shallow sections within the cave that provide potential decompression ceilings. Due to the nature and extreme complexity of the underwater cave system, access is permitted to only the highest qualified cave divers and absolutely no training is allowed."
Each diver must have the following qualifications and training to enter the complex system:
4. When Diver Propulsion Vehicles (DPV's) are permitted per site specific rules, the diver must possess a DPV specialty card or show proof of prior experience and have logged at least 5 swim dives at that site before a DPV may be used in that system.
The guided only dives can only be made by research and science divers and some of the world's top divers have come to the site to explore it.
"The sink is a really interesting dive," said top female diver, photographer, author and trainer Jill Heinerth, who said she last went through Mill Creek Sink's underground tunnels two years ago.
"The first time I dived it, there were no stairs," Heinerth said. "It was a tough, steep climb down to the water with tanks and took teamwork to get in the water. It was fun and rewarding, but the visibility was not stellar. In the murkiness, I could barely make out the full extents of the tunnels and every fin kick through the system was carefully measured to avoid completely silting the passages.
"There are few days where a cave diver could truly report that the conditions in the sink are genuinely pretty, but one is still struck by the magnitude of the passages and the importance of such a unique window into the aquifer. 'Apache Sink' as we refer to it in our community, sits at a nexus – an important doorway that geologically connects everything from Camp Kulaqua in High Springs to Paynes Prairie in Gainesville. Sitting on the linament that connects an entire region speaks to its importance in protecting a vast swath of our regional water resources. It may not seem popular to protect such a meager hole in the ground tucked behind a Sonny's BBQ Restaurant, but we have to look at such places as the "beginning of a pipe" that can serve to protect an entire region's water resources."
Expert diver and Owner of Karst Environmental Services Peter L. Butt said he won't let his dive teams tackle Mill Creek Sink because of the danger and liability, but he himself has dived there.
"When you're swimming upstream, you're kicking against the current," Butt said. "And when you're downstream you've got to worry about working back in that current.
"I bow to the guys who are doing the research with some of the maps that they are surveying because they are re-breathers really hanging it out there to do this kind of work. It's beyond what I would allow in the scope of my company to do. The depths, the times and duration."
Butt has collected data at Mill Creek Sink and his company executed the Mill Creek and Lee Sink dye trace study 10 years ago on July 26, 2005.
The study is being used as key evidence of the connectivity and karst nature of the properties near the parcel rezoned by the unanimous vote of the city of Alachua Commission on April 27, 2015.
Imperiled species
As the NSS-CDS promises to push forward with the lawsuit against the city of Alachua trying to quash the rezoning decision, the Suwannee St. Johns Group Sierra Club (SSJ) pledged funds to help the cause, noting that the dye trace study's proof of connectivity and the imperiled species living in the ecosystem as main reasons for concern.
The last dive logged for Mill Creek Sink on its cave atlas web page took place on January 11, 2014. Brandon Cook noted visibility at 30 feet basin, 60 to 80 feet upstream.
His remarks reads, "Finally, first dive in the system, guided by Rick C. Vis was pretty good the entire dive, really opened up past T upstream. Saw lots of really large crayfish and massive clay banks. Great dive, cool cave."
In a report released by Thomas R. Sawicki, Ph.D., assistant professor of biological sciences at Florida A & M University, three imperiled species are identified as living in the Mill Creek Sink. The Florida Cave Amphipod, Hobbs' Cave Amphipod and Pallid Cave Crayfish are rated on scales of rarity.
In the global ranking, they are rated as G2 meaning "Imperiled globally because of rarity (6 to 20 occurrences or less than 3,000 individuals) or because of vulnerability to extinction due to some natural or man-made factor and G3 meaning "Either very rare and local throughout its range (21-100 occurrences or less than 10,000 individuals) or found locally in a restricted range or vulnerable to extinction from other factors.
In the state ranking, they are all ranked as S1 "Critically imperiled in Florida because of extreme rarity (5 or fewer occurrences or less than 1,000 individuals) or because of extreme vulnerability to extinction due to some natural or man-made factor," and S2, "Imperiled in Florida because of rarity (6 to 20 occurrences or less than 3,000 individuals) or because of vulnerability to extinction due to some natural or man-made factor."
Heinerth offers a solution to the conflict over rezoning and protection of natural resources.
"If we can see forward to creating a Mill Creek Regional Water Reserve," Heinerth said, "We'll be not just protecting water, but also creating a recreational reserve of significance to the future of our population."
Add a comment
Add a comment