WALDO – The Suwannee River Water Management District (SRWMD) is helping the City of Waldo replace its water meters as part of an initiative to help local governments with water conservation.
"The district is pleased to partner with the City of Waldo in a project that will conserve water," said Ann Shortelle, district executive director for the SRWMD.
The funds, about $76,836, will pay for 543 new water meters in Waldo to replace the outdated and broken ones. The new meters are more accurate, according to the SRWMD, and are better at detecting leaks. The new meters could save nearly 5 million gallons of water a year.
The SRWMD set aside about $1.5 million in cost-share funds for the current fiscal year to help water conservation in the district, finding alternate water supplies, providing flood protection, ecosystem restoration and water quality improvement projects. Waldo was one of 14 local governments that were approved for the funding.
"We are grateful that the district is assisting the city with the installation of meters that have better detection capabilities," said Waldo City Manager Kim Worley.
# #
Email cmckinney@
alachuatoday.com
Add a comment
Add a comment
ALACHUA – For the first time ever, Santa Fe Softball and Santa Fe Baseball are hosting the 12U 2014 Babe Ruth World Series.
Alachua's assistant recreation director Damon Messina says that as of now, he knows the tournaments will take place a week apart at the Hal Brady Recreation Complex on the World Series field and three softball fields.
Winners from each of eight regions throughout the country will compete in the World Series tournaments in Alachua. Teams come from the Southeast, New England, Middle Atlantic, Ohio Valley, Southwest, Midwest Plains, Pacific Northwest and Pacific Southwest regions.
Florida teams follow the same procedure as teams from other states. Each team competes in district competition to then move on to state level tournaments to qualify. The champions in the state play against winners from other states within their region. Each host location has a team that will participate in the World Series.
Aside from the regional winners, there are qualifiers throughout the country that get an automatic bid to play, Messina said.
The local baseball organization has not hosted the World Series since 1992, he said.
The softball organization hosted the 2010, 2012 and 2013 tournaments.
It is expected there will be at least 20 softball teams and 10 baseball teams participating in the tournaments.
# # #
Email dshahnami@
alachuatoday.com
Add a comment
Add a comment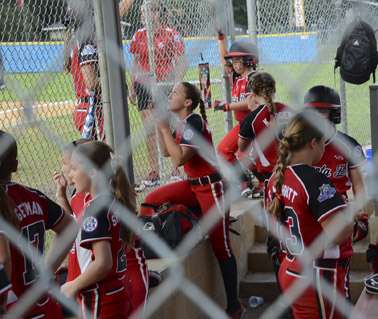 The Santa Fe team eagerly watches the action on the field. Santa Fe lost to Pitt County, 6-5.
ALACHUA – On Sunday afternoon, parents and family members braved the incredible heat to cheer on the players of the Babe Ruth Softball World Series 12U Commissioner's Cup. These teams didn't make it into the regular World Series games, but that didn't stop the parents in the crowd from cheering on at the spectacle.
"We are proud of you," the crowd chanted in unison at the players.
During the last games of the day, Lodi Extreme, from California, played the Oakleaf Bandits, from Florida. Tri-County, from Florida, played Prairie Village, from Kentucky.
Parents and players attended games until Tuesday night, as teams from around the country competed at the Hal Brady Recreation Complex.
"Seeing these girls improve and doing their personal best is the best part of all this," said Shawna Ahlbach, from Lodi, Calif., mother of Madison Ahlbach, 13.
Despite the crowd of parents in the stands, even more people showed up for the regular World Series games.
Monday night at 7:30 p.m., the Santa Fe team, 2010 champions, played Pitt County of North Carolina, the 2012 champions. Both of the teams went into the game undefeated, but only Pitt County left unscathed. Pitt County won the game by a single point, 6-5. In double elimination play, going teams will go on to the finals.
Alachua City Commissioner Shirley Brown attended the game so she could support children and families she knows from her time as a teacher.
"We've got to be here to support our girls," she said. "They're serious about this game."
# #
Email cmckinney@
alachuatoday.com
Add a comment
Add a comment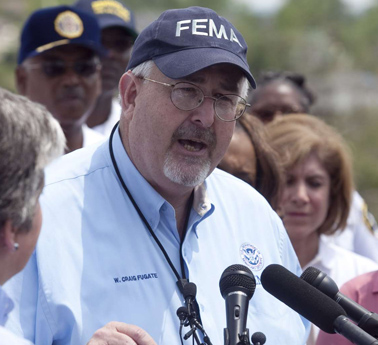 ALACHUA – When a natural disaster strikes, so does Craig Fugate.
Fugate has been on the hot seat under pressure of quick action when Mother Nature hits since President Barack Obama nominated him in March 2009.
Born in Jacksonville, the appointed Federal Emergency Management Agency (FEMA) director was prepared by the skills and knowledge he began acquiring in his high school days in the city of Alachua.
The 1977 Santa Fe High School graduate was appointed FFA chapter reporter in his senior year.
He pitched ideas to local media on a regular basis for news articles relating to the Santa Fe FFA chapter.
He was handpicked by advisers as the chapter reporter due to his ability to communicate with the public.
FFA is a vocational student organization involved in the agriculture industry that helps develop student leadership skills and prepares students to be confident and involved in agriculture in Florida, the nation and the world, said Larry Reese, Fugate's former vocational agriculture teacher at Santa Fe High School.
Fugate developed a good foundation through his leadership skills gained through the FFA, said Chuck Clemons, former Santa Fe High student and FFA member.
It helped him make sound decisions in the heat of chaotic situations.
Fugate took particular interest with parliamentary procedure, a method of conducting a business meeting in a prescribed fashion to maintain order, Reese said.
Fugate is a deep-thinking individual with a dry sense of humor, Clemons said. He jokes with a straight face.
He was focused on what he was doing and whatever task he had undertaken, said Bud Riviere, another of Fugate's former teachers. He was a dependable student.
Fugate thrived on organization and did not tolerate inconsistencies, Reese said.
It was hard to miss the senior standing at about 6'2" with square-shaped glasses.
Forty years later, the people who have known him for a long time would say he hasn't changed. His demeanor remains serious with a strict sense of leadership.
After high school he attended Santa Fe College. Upon completion of college, Fugate became a volunteer firefighter, then a paramedic and lieutenant for the Alachua County Fire Rescue.
Fugate served as the emergency manager for Alachua County for about 10 years. He was responsible for all local emergency response efforts. That effort included delivery of food, water and ice to disaster victims. But the process involved more than just delivery of much needed items, it also required that large quantities of food are broken down and mixed with other food products in local kitchens and provided to the public in mass feedings rather than disseminated in large containers to individuals, Reese said.
Fugate was also appointed bureau chief for preparedness and response for the Florida Division of Emergency Management. His position was to manage the state's response to disasters and coordinate with FEMA and other federal agencies.
During the time Fugate served as the director of the State of Florida Division of Emergency Management, he also was Florida's coordinating officer for 11 presidentially declared disasters.
It was under his leadership that four hurricanes devastated areas of Florida in 2004: Hurricanes Charlie, Francis, Ivan and Jeanne. Florida was struck again in 2005 with three hurricanes that touched land: Dennis, Katrina and Wilma.
Also, under Fugate's leadership, the Florida FEMA program became the first statewide emergency management program in the nation to be awarded full accreditation from the Emergency Management Accreditation Program.
It was this hands-on training that caught the attention of President Barack Obama when nominating Fugate as the FEMA administrator.
Former Homeland Security Secretary Janet Napolitano said Fugate's management of Florida's hurricane seasons was a testament to his qualifications as head of FEMA.
Clemons said Fugate is the most qualified director he has seen in over 30 years, having honed his skills on the dozens of tropical storms and hurricanes that impacted Florida.
In a 2009 interview with Alachua County Today, Fugate attributed his successful leadership skills to his small town upbringing.
More recently, in May 2013, Fugate was a guest speaker at Santa Fe College's commencement ceremony.
"American people are fortunate to have someone of his caliber leading FEMA," Clemons said.
# # #
E-mail dshahnami@
alachuatoday.com
Add a comment
Add a comment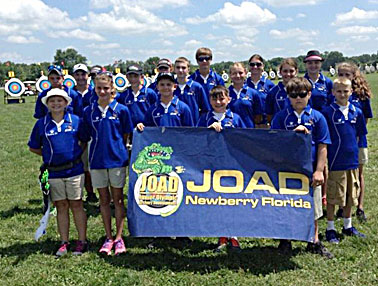 Front L-R: Abby Huffer, Ragan Oliver, Tyler Levanduski, Ryan Salom, Aidan Collins and Wesley Francis. Back L-R: Ryan Oliver, Wyatt Pogue, Taylor Gray, Tristan Hyde, Cade Pogue, Hunter Brant, Chris Francis, Olivia Huffer, Amye Francis Meghan Collins, Julia Francis and Emma Harris.
NEWBERRY – This year has been successful for Newberry's Junior Olympic Archery Development Club (JOAD). As in years past, the members of this youth archery club have demonstrated their ability to compete successfully on a national level. Most recently, the team of 18 traveled to Hamilton, Ohio to compete with archers from across the nation. Over 400 archers, ages eight to 20, competed for four days. The competitions included a ranking round of 144 arrows, match play and team competitions.
The Newberry JOAD Club brought home a total of 10 awards. The strongest showing by the club was in the team rounds. Archers earning medals in the team round were Olivia Huffer: Silver, Abby Huffer: Bronze, Ryan Salom: Gold, Tyler Levanduski: Bronze, Hunter Brant: Silver and Ragan Oliver: Silver. Ryan Oliver, age 14, won third overall in the 15-17 year old division for Men's Olympic Recurve Bow and Meghan Collins earned Silver in the Ranking Round, Gold in the Match Play/Olympic Round and First Place Overall in the 13-14 age division for Women's Olympic Recurve. Archers Wyatt Pogue, Cade Pogue, Taylor Gray and Emma Harris had strong showings in their respective divisions. Aidan Collins competed for the first time at Nationals and enjoyed shooting with other archers his age.
Earlier in the year, the team brought home two Indoor National Titles earned by Ryan Oliver at the U.S. Indoor Nationals in Snellville, Ga., and a total of 19 South Regional Awards. The archers shot a total of 120 arrows. In the first ranking round of 60 arrows Gold Medals were earned by Wesley Francis, Amye Francis, and Chris Francis. Silver went to Tyler Levanduski, Tristan Hyde, Hunter Brant, Meghan Collins and Ryan Oliver. Hannah Collins and Bayleigh Bivens earned Bronze.
On day two and three of the ranking round, these club members brought home the following South Regional awards: Gold: Wesley Francis, Ryan Oliver, Amye Francis, Chris Francis, and Bayleigh Bivens. Earning silver were Tyler Levanduski and Olivia Huffer. Tristan Hyde and Meghan Collins brought home Bronze.
The club reached another milestone in January. Two members were selected to the National Junior Dream Team, which is comprised of the nation's top youth archers. Chris Francis and Ryan Oliver were chosen to train with U.S. Olympic Coaches at the Olympic Training Centers in Chula Vista, Calif. and Colorado Springs, Col. Chris and Ryan attend coaching camps four times a year as a part of the National Team and receive weekly training from National Coach and professional archer Diane Watson from Hudson, Fla. Olivia Huffer attended the March camp as an invitee for observation and possible future selection. Archers chosen to the National Junior Team must meet a minimum qualifying score at a nationally ranked event, and maintain score and training requirements, while applying the national shooting technique. Several other archers in Newberry JOAD Club are striving to make the National Junior Dream Team.
While preparing for competition and training five days of the week, the archers were also busy fundraising. Their attendance at these events would not be possible without the support of local businesses. The archers sold website ads and banners for their practice location at West Park in Newberry, Fla. Over 30 businesses bought advertising from the club. Fourteen local businesses bought banners for West Park and major sponsor Nanoptics Corporation, a Gainesville-based fiber optics company, donated $2,000 for the travel to Ohio. With the help of the local businesses, LP Archery, NanOptics. Inc. and bagging groceries for tips at Hitchcock's, the Ohio Nationals Team earned $10,000 toward travel expenses.
Most recently, several older youth club members gained their coaching certification by club leaders. Julia Francis, Chris Francis and Amye Francis will offer lessons to the public at club practices at West Park.
Newberry JOAD Club is a program sponsored by U.S. Archery. The local youth archery club was formed in 2010 by parents. JOAD offers both recurve and compound archers the opportunity to learn range safety and proper shooting technique in an environment that also fosters focus, increased self-confidence, and team-building skills. JOAD is open to any youth archer aged eight to 20, and is designed to grow with the youth archer. Introductory JOAD classes teach the fundamentals of proper shooting form. As the young archer develops, they will learn more advanced techniques. Newberry JOAD Club archers earn achievement pins and medals at monthly tournaments.
This fall, the club will turn its attention to giving back to the local community that supports its efforts. The club will host a Fall Food Drive for the Newberry community and host a Wounded Warriors Project Indoor Benefit Tournament in December. Newberry JOAD Club, a non-profit, volunteer-led 501c3 organization, wants to thank the many businesses and individuals that helped make this year so successful. The mission of Newberry JOAD is to promote a love of the sport of archery, while encouraging sportsmanship and volunteerism. To learn more about the club, get involved in youth archery or to become a supporter, visit www.newberryjoadclub.org, visit them on Facebook or drop by West Park to see their shooting skills in action.
# # #
Submit your story by
Emailing community@
alachuatoday.com
Add a comment
Add a comment