Final shows Friday and Sunday
ALACHUA – Will "Southern Hospitality" live up to its reputation and will the Futrelle sisters be able to save their town? These questions will be answered Friday, March 21 at 6:30 p.m. and again on Sunday, March 23 at 2 p.m. at the Alachua Woman's Club.
Back by popular demand, club members are presenting "Southern Hospitality," a small town adult comedy. Frankie, Twink, Honey Raye and Rhonda Lynn are in trouble again. This time, the problem is bigger than ever: their beloved hometown, Fayro, Texas, is in danger of disappearing and it's up to the sisters to save it from extinction.
Ever since the Super SmartMart and the rendering plant closed, folks have been leaving Fayro in droves, but Honey Raye, with a major assist from her former nemesis, Geneva Musgrave, has come up with a possible solution. It seems a salsa manufacturing factory is looking to relocate and a company representative is headed to Fayro on a scouting mission.
Honey Raye, as the president of the Chamber of Commerce, makes promises that are not to be believed in order to woo the rep to choose Fayro. In fact, Honey Raye has told them that on the very weekend of the rep's visit, the town just happens to be having their biggest celebration of the year: "Fayro Days," which includes a craft show, a pet costume parade, a beauty pageant and a huge Civil War battle reenactment. So now it's up to the citizens of Fayro to quickly make her promises a reality.
The Friday night showing offers dinner and a play for $30 and the Sunday afternoon showing features a play and dessert for $20. Tickets are available at Valerie's Loft or 352-214-6342 or 352-226-0153 or e-mail This email address is being protected from spambots. You need JavaScript enabled to view it. . This fundraiser helps support the Alachua Woman's Club in their efforts to support the community.
# # #
Email editor@
alachuatoday.com
Add a comment
Add a comment
NEWBERRY – Half of the City of Newberry's elected government could be new after the April 8 election.
Three of five city commission seats are being contested in what Mayor Bill Conrad – whose seat is not on the ballot – calls a very important election.
"We need voters to turn out on Tuesday, April 8," Conrad said in an e-mail response.
"The new commission will be hiring a city manager, a fire chief and a utility director, decisions that will have a big impact on the city's future. We need to have commissioners who are up to the challenge."
No other elections or issues will be on the ballot according to Conrad.
Citizens can vote on Election Day from 7 a.m. to 7 p.m. at the Newberry Fire Station at 310 NW 250th Street.
A candidate forum will be held a week before the election at Newberry City Hall on Tuesday, April 1 from 7 to 9 p.m. City Hall is located at 25440 West Newberry Road.
The mayor and five commissioners serve two-year terms, with three seats up for election every year. Candidates are placed into three groups for each election.
Two of the groups feature incumbents, with Commissioner Joe Hoffman running against Ricky Coleman in Group One and Commissioner Alena King Lawson facing Monty Farnsworth in Group Three.
The Group Two race offers two new candidates – Barbara Hendrix and Jason McGehee – for the seat being vacated by Commissioner Lois Forte.
Hoffman, owner of Hoffman Construction, has served on the commission since 2002. His Group One opponent, Coleman, is a property appraiser for Alachua County.
The Group Two race features another 2012 commission candidate in Hendrix, who is Executive Director of the Newberry Main Street Program, against newcomer McGehee, a small business owner.
Group Three pits Lawson, an investigator for the Public Defender's office and first elected to the commission in 2001, against her opponent from the 2012 City Election, Farnsworth, a longtime nurse who has also previously served as a commissioner.
Commission seats not involved in this election are those held by Commissioners Tim Marden and Jordan Marlowe, as well as the position of mayor. Those will be determined by election in 2015.
# # #
Email dwisener@
alachuatoday.com
Add a comment
Add a comment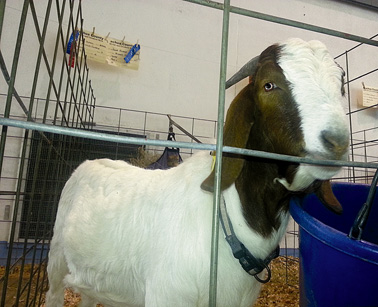 GAINESVILLE – The Alachua County Youth Fair and Livestock Show kicked off last Thursday and concluded on Tuesday, March 11. Featuring a wide array of activities teaching youngsters about livestock and agriculture, the event drew in huge crowds throughout its six-day run.
Cows, pigs, goats and other animals were paraded around the auction house, waiting to be sold off.
The fair was set up for different events to be scheduled on certain days. From morning to night, exhibitions, auctions and contests took place at the Alachua County Fairgrounds.
The youngsters attending the event generally came in two camps. Those involved in the local 4-H program, and those involved with the local Future Farmers of America, or the FFA.
The 4-H program's division included various clubs composed of volunteers of different ages, up to the age of 19. Within the 4-H program, there were four categories which the fair's attendees were classified into, including cloverbuds, juniors, intermediates and seniors.
The FFA division was more specific in terms of its qualifications to join, since it is a middle and high school affiliated program with an age limit of 18.
Sierra Holsbeke, a 17-year-old junior at P.K. Yonge Developmental Research School, has been an exhibitor ever since one of her friends introduced her to a goat that was being exhibited three years ago.
This year, she represented her club, Micanopy Friendship, in the 4-H program.
Raising livestock animals is hard work and takes a lot of time, she said.
"It's a long-term investment," Holsbeke said.
Holsbeke's project consisted of auctioning off her 81-pound goat that she had taken care of since last September. The fair's rules and regulations dictated that she had to keep up with record-keeping in terms of the goat's weight, making sure it didn't exceed the 110-pound limit. She had to be mindful to check on the goat regularly and feed it twice a day, every day. The fair rules also prohibit naming the goat, in order to avoid attachment.
"It teaches responsibility and caretaker skills," she said.
The auction drew one of the largest crowds at the event. As people flooded the area and bid on the livestock on display, the youth got to see the end result of raising an animal.
Chenoa Dixon has been involved with the Youth Fair and Livestock Show for 12 years, having been part of the executive board for six years. She has been president for the last two years now. She had been involved with the 4-H division from age 8 to 18. Dixon became so devoted to this organization that she became a volunteer after graduating high school.
She is in charge of finding sponsors and making sure the event runs smoothly. Like Holsbeke, she agrees that the fair teaches responsibility, but it also imparts business skills. She said the main goal of the show is educational.
The process of raising an animal takes about three to six months, so the youth has to learn to be patient in order to see their efforts pay off.
"The point is to show them the start and finish of the project they're involved in," she said.
With agriculture playing such a large part in the county's economy, many local families like Dixon's have grown accustomed to making this annual event a tradition. That is why she believes that this function will never die out.
"It becomes a generational thing," she said. "They come back."
# # #
Email dprizontcado@
alachuatoday.com
Add a comment
Add a comment
HIGH SPRINGS – The Alachua and High Springs Relay for Life Committee will be hosting its 2nd Annual Pink & Purple Party on the Patio. The event will take place Thursday, April 10 from 5 p.m. to 9 p.m. at the Great Outdoors restaurant, located on 65 N Main St., High Springs.
The event will include celebrity bartenders, including Storm Roberts the "morning drive guy" from 98.5 KTK.
"Oh, it's going to be so much fun," Sharon Yeago, Relay for Life event co-chair for High Springs and Alachua said.
The event will take place on the patio. Last year's Pink and Purple Party brought in $2,000, and this year's goal is to exceed that.
"All the proceeds from drinking and being merry on the patio go to Relay for Life," Yeago said.
Reservations can be made, and are encouraged.
"I imagine we're going to be real busy, it's going to be great," Yeago said.
Individual teams will be represented at the event. When customers come in, they must choose a team to support for that night. Proceeds from the dinner then goes to that team.
"It's really neat, and important for the teams to get their family and friends out there," Yeago said.
There will also be various baskets, donated art work and gift cards up for grabs in chance drawings.
Donations are still being accepted for the event, as well as the Relay for Life Event on May 9 and 10, which will be located at the High Springs Civic Center at 330 Santa Fe Blvd.
Relay for Life also hosted an event Tuesday night at Sonny's BBQ in Alachua. There was a buy one get one half off price coupon available from any relay team member. Fifteen percent of all the sales at Sonny's was donated to Relay for Life.
Yeago encourages anyone interested in Relay for Life to get involved in the fundraising. Whether its local businesses, organizations or community members, she said many people make up teams in support of their loved ones or the cause.
"We really want to keep the community aware. It's time to get busy," she said.
# # #
Email berickson@
Alachuatoday.com
Add a comment
Add a comment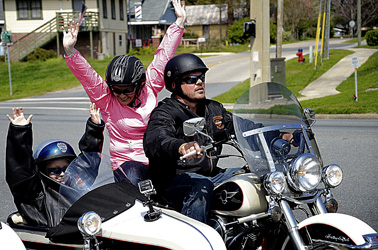 Marc Okes, 8, who has brain cancer, had a wish to go on a motorcycle ride. When he and his mother arrived at the Harley-Davidson shop in Gainesville, a crowd of riders ande police officers were there to take them on a motorcycle ride. Pictired are Marc and his mother as they ride through Alachua on Monday,March 10. The local Make-A-Wish foundation helped make the dream come true for Marc as he was accompanied by over 100 riders.
Add a comment
Add a comment