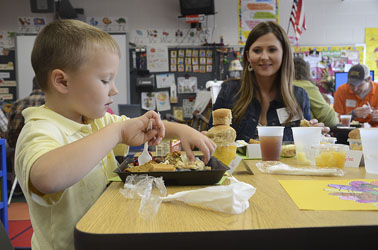 CARL MCKINNEY/Alachua County Today
Evan Maroon, 5, eating a Thanksgiving lunch with his mother, Blair Poole. The students helped out with preparation of the holiday meal.
ALACHUA – Turkey soaked in gravy, creamy white mashed potatoes and homemade cranberry sauce made its presence in the classroom for parents and children at W.W. Irby Elementary School on Thursday, Nov. 21.
Thanksgiving came early to all of the kindergarteners sitting down to a traditional feast with their parents.
Having Thanksgiving dinner at W.W. Irby Elementary with the kindergarteners has become a tradition started by kindergarten teacher Kathryn Lehtola.
The meal wasn't just any meal for the parents and students, but made with love from the students themselves, Lehtola said. Having spent half of the morning the day before, moving to different stations for each item for their meal, 5- and 6-year-old boys and girls worked to make the parent-child lunch possible.
"Your child has had their hands in, around and about everything you will eat," Lehtola said.
However, before dinner, all of the kindergarten classes came together, dressed in Native American headbands and pilgrim costumes, to entertain the families with a couple of Thanksgiving-themed songs.
First the children started with the popular "Grinding the Maize," then there was a song about Bert the Turkey and to conclude the morning's music was a song about Thanksgiving, which was performed with laminated signs spelling the word "Thanksgiving," all while Lehtola directed.
Valdenora Fortner, W.W. Irby Elementary principal, said that the tradition is one that promotes family time, which is important to parent-child bonding.
"The kids of course talk it up because they've been working on placemats, recipes and food," Fortner said. "They're very excited. They've even earned some of their feathers for their headbands."
The preparation for the feast had some educational value, too.
Students learned measurements while cooking and listened to the history behind grinding maize, according to a letter that was sent out to parents announcing the annual Thanksgiving dinner.
While the children and parents sat and ate their homemade Thanksgiving meal, children dove into their mashed potatoes and turkey and parents chatted about the upcoming holidays.
Parents April and Alan Rice attended the Thanksgiving dinner with the school for their second year in a row. The parents looked forward to the dinner this year after experiencing it with their son for the first time last year and asked for the day off weeks in advance in order to attend.
"It's a good idea because nowadays nobody cooks, so this is a good learning procedure for them at an early age," said grandmother, Ella Voture.
The children's experience with cooking and making the food proved was worth it, according to Jeremy Nipper, 5, who said that making the food that he was eating was a lot of fun.
# # #
Email eotero@
alachuatoday.com
Add a comment
Add a comment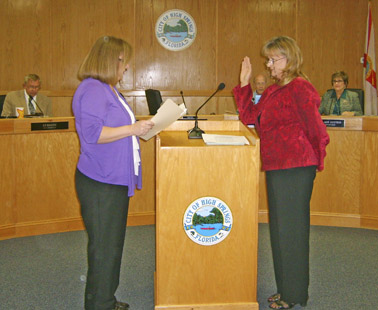 C.M. Walker/Alachua County Today
Sue Weller being sworn in for another term as a commissioner. Shortly after, she nominated Byran Williams as the next mayor.
HIGH SPRINGS – A motion by newly re-elected High Springs City Commissioner Sue Weller resulted in the unanimous approval of Commissioner Byran D. Williams as mayor of High Springs for the upcoming term.
Commissioner Scott Jamison had already nominated Weller for the position, which she has held for the past year. Weller nominated Williams to run against her.
Jamison then nominated Weller for vice-mayor, a position she won.
After seats were changed to reflect the new positions, Williams said he was surprised by the turn of events, but would gladly fulfill his duties as mayor.
Williams' election as mayor seemed unanticipated by some in the audience who thought Weller would be a sure bet to continue as mayor for another year after having recently won re-election against challenger Bobby Summers for her seat on the commission.
"If it ain't broke, don't fix it," Jamison said as he nominated Weller for mayor. Later, he said he thought things had been going well with Weller as mayor for the past year and did not see a reason to change. He said he ultimately voted for Williams because he thought he would also do well in the position.
"You're mayor for a year and then someone else gets to be mayor," Weller said in a later interview. "That has been the protocol in the past and it seems to work."
"I nominated him for the position because I knew he would do well," she said.
Williams is the most senior commissioner of the five currently serving on the High Springs City Commission. He served as mayor during 2005-2006, and as vice-mayor during 2008-2009 and 2010-2011. He has served on the commission off-and-on since 2003, according to city records.
Earlier in the evening, Weller was sworn in for another three-year term following her re-election to the commission against Summers on Tuesday, Nov. 5. She thanked the 710 people that voted and her supporters who helped to re-elect her and commented that she would like to see the city commission work as a group to help solve the challenges facing the city in the future.
# # #
Email cwalker@
alachuatoday.com
Add a comment
Add a comment
HIGH SPRINGS – Families in need got a little extra help this Thanksgiving to make sure they could have a traditional meal. The High Springs Community Outreach Program, located on 15 SE 1st Ave., which feeds and helps to clothe hundreds of area families each month, has received support from local businesses and residents to assist hungry families.
In an effort to help the fledgling organization meet its goal to feed hundreds of families for Thanksgiving, Santa Fe Ford in Alachua donated 110 turkeys just in time for the holiday.
The organization ended up with almost more than it could handle.
"All of a sudden, we had so many turkeys our freezers couldn't hold them all," said Bell Diefenderfer, director for the community outreach program. The overflow went to St. Madeleine's Catholic Church until recipients could be called to come in and pick up their turkeys.
"This is the kind of problem we'd like to have more often," she said.
The need for donations has been great, said Lucille Gabriel, volunteer for the program.
"Before receiving the large turkey donation, our freezers were bare by the end of each day," she said. The gift from Santa Fe Ford arrived at just in time to help feed the families in need.
While Santa Fe Ford made a major donation, other families, businesses and organizations have also stepped up to help out.
Graceworks, located in High Springs, is an organization that helps the needy by selling donated items and clothing at discounted prices. It offered to provide Thanksgiving dinners to families from Gilchrist County, Diefenderfer said.
The Knights of Columbus at St. Madeleine's Catholic Church in High Springs earns money throughout the year by providing a fish fry every Friday. Some of their funds go toward helping community outreach throughout the year, particularly Thanksgiving and Christmas.
Trinity United Methodist Church in Gainesville gave out Thanksgiving food baskets and a turkey a few days before the holiday to anyone sent by the Community Outreach Program.
"All of the area churches help us out as much as they are able," Diefenderfer said. "It's really heartwarming."
One such family receiving a Thanksgiving dinner through Trinity Church this year is the Honeycutt family in High Springs.
"I don't know how we would make it each month if it wasn't for Bell and the volunteers at community outreach," said Victoria Honeycutt, one of a family of six who are helped each month by the organization.
Honeycutt gets government assistance providing seven cans of baby formula each month for her 11-mont-old daughter, Kali-Anna. About halfway through the month, she runs out and looks to the Community Outreach Program for help. It provides a box of food, formula, diapers, wipes and baby clothes to help the family make it to the end of the month.
"When you have three young children, you need all the help you can get," she said.
Her husband is disabled and she hasn't had a chance to look for work since the family moved from Trenton to High Springs. "In this economy and with three children, it is difficult to find a job," she said. Until Honeycutt finds a job to help her family out financially, she said they will have to continue to rely on Bell and the community outreach volunteers for help to feed and clothe her children.
"We have a lot to be thankful for this year," Honeycutt said.
# # #
Email cwalker@
alachuatoday.com
Add a comment
Add a comment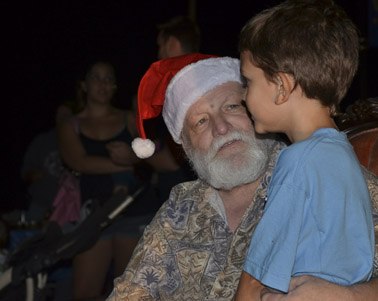 CARL MCKINNEY/Alachua County Today
Children sat on Santa's lap and brought him cookies to snack on.
HIGH SPRINGS – Lights, music and art brought an air of festivity to the town of High Springs last week.
The annual Christmas-tree lighting was held on Friday, Nov. 22 in High Springs.
The event, located near the railroad tracks, had Christmas music, lights and refreshments, started off at 6 p.m. and went until 7:30 p.m.
New mayor, Byran D. Williams, opened the lighting of the 8-foot tall Christmas tree with a short speech thanking the Chamber of Commerce.
When the lights went on, parents and children began to gravitate toward the food and drink stands, but some children were more interested in meeting Santa Claus.
"What did you bring me?" asked Lance Lounsbury, playing the part of Santa, as three children brought him cookies.
One of the stands offering refreshments such as cookies, hot chocolate and pigs in a blanket was managed by the Coffee Clutch Cafe, who also participated in the Art Walk that was held at the same time.
Jesse Lounsbury, son of Lance, ran the table for the Coffee Clutch Cafe to help his mother, the owner of the cafe, Nancy Lounsbury.
"We got the opportunity to come out and have fun," Jesse Lounsbury said.
Children also had an opportunity to make Christmas-tree decorations. The ornament station was laid out on the ground with paint, glue and glitter gave kids the chance to dig down deep and bring out their inner Picasso by decorating their own leaf ornaments.
The High springs Community School participated in the lighting. The school sat with their table on the back of the lot selling cookies, cupcakes and other baked goods to raise money for the school's safety patrols.
One parent, Jackie Helton, brought her children for the first time to the event and said that the tree lighting was a great experience for her kids. She said she looks forward to coming back next year.
Volunteer DJ Michael Loveday said that the audience for this year's lighting had grown significantly since last year.
"There are about 50 percent more people showing up," Loveday said.
The event began to clear out around 6:30 p.m. when the art walk started, which had various businesses displaying photos, paintings and sculptures by local artists.
Each of the businesses hosting the walk offered food and wine to enjoy while browsing the art collections.
One artist, Linda Tiffany, brought out her photography from the Ponce de Leon exhibit. The retired art teacher said she used to be predominantly a painter, but since teaching children she has had to ease back into it.
"I'm finally getting back to some of my artwork again," Tiffany said. "I've got some paintings going, but I didn't have them done in time."
Larry Behnke, a member of the Art Co-op and one of the artists on display during the art walk, said the event was great for both local artists and businesses because it gives people the opportunity to notice places that they wouldn't usually see.
"The fun part is that there are 15 other artists around town, and in High Springs most of the businesses close at 5 p.m.," Behnke said. "This allows them to stay open at night and people come downtown and say 'oh I didn't know this shop was here,' and so this is getting the public out to see not only different artists, but different businesses in the town."
# # #
Email eotero@
alachuatoday.com
Add a comment
Add a comment
HAWTHORNE – Santa Fe College will be offering community education courses at Hawthorne High School starting in January.
Computer skills, dancing and pottery will be among the six or seven courses available.
Hawthorne resident Heather Surrency began laying the groundwork for the courses last August, when she was inspired be the number of Hawthorne students with scholarships and good grades, but no access to transportation to go to Gainesville for classes.
"So I thought, let's bring the classes to them," she said.
She started calling people from Santa Fe College, the University of Florida, the Hawthorne Chamber of Commerce and others to set up meetings.
The classes will not be worth college credit at the start, but Surrency hopes they will be before the start of the next school year.
There will be an introductory computer class and courses on dancing, pottery, painting, Microsoft Excel and Word, Microsoft Powerpoint and Publisher and preparing and sending resumes through email.
The course on using email to apply for jobs is free. The rest will cost around $34 to about $69.
"They're affordable classes," Surrency said.
Surrency said she believes as more jobs come into the area, it's important to make sure the residents are prepared.
"Knowledge is power," she said. "I think it's an opportunity to have our citizens be ready and skilled for the jobs that are coming."
The program has already brought some jobs to the area. Santa Fe College has hired Hawthorne residents to teach the classes. Only experience and knowledge in the subject is required, Surrency said, teachers for the community education classes do not need certificates.
In the future, the program could expand, she said.
"If we outgrow it, maybe one day we will have our own future Santa Fe campus," Surrency said.
# # #
Email cmckinney@
alachuatoday.com
Add a comment
Add a comment