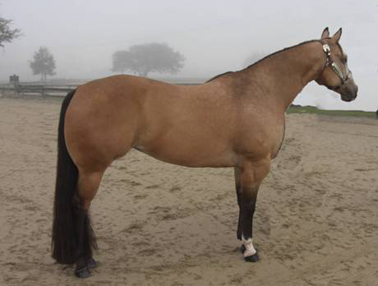 Photo special to Alachua County Today
Grand Champion Mare Lovin' that Scotch. The horse is owned by High Springs resident Jeri Langman
HIGH SPRINGS – The Sunshine State Buckskin Association (SSBA), an official charter of the American Buckskin Registry Association (ABRA), has judged a local mare as the winner in three SSBA state championships this past year.
Following her competition in 12 shows during 2013, Lovin' that Scotch, a 9-year-old buckskin quarter horse mare owned by High Springs' resident Jeri Langman was named Grand Champion Mare. She clenched her championships on Saturday, Dec. 14, at the Holiday Celebration Show at Canterbury Showplace, Newberry.
Lovin' that Scotch competed in and won three classes.
"There are three show circuits with four shows each," Langman said. "Each show has four judges. In order to win Grand Champion, Scotch had to win consistently from April to December."
Everyone whose horse won a class throughout the year shows their horse again and is judged to determine which one is the best of all of the mares at the show. That mare becomes the Grand Champion Mare. The first runner-up is called the Reserve Champion Mare.
Horses that are ridden typically have 10-15 year show careers, Langman said. Halter horses like Scotch begin to be shown as a 1-year-old and are usually shown through their fifth or sixth year.
"It's exceptional that a mare of her age is consistently winning," she said.
In order to compete at that level, the horse has to be kept fit and well exercised throughout the year, tasks which Langman takes seriously and performs herself.
"Consistent grooming, the right food and correct exercise program must be maintained to keep her healthy, well-muscled and to keep her coat shiny, just like in a dog show competition," she said.
The horse is considered a show favorite, Langman said.
"She loves to compete," Langman said. "She's just a perfect show horse. She is sweet, cooperative and a fun mare to own," she said.
Langman first saw the horse when she was younger and liked her immediately. She was Reserve Champion when she was a foal.
"I thought she was absolutely gorgeous and fell in love with her," Langman said. "I raved about her to my friends, who owned her by that time."
Langman and her friends worked out a deal for Langman to own the horse.
While the horse was basically trained when she got her, she has worked to keep her conditioned and properly exercised, particularly with help from Barbara Pless, a professional trainer from Ocala.
"I have known her for 30 years and she helps me work with Scotch to prepare her for a show," she said.
While there are no cash prizes for winning horses at the state level, larger and larger ribbons are awarded the higher the competition level that is won.
"It's mostly for the prestige of winning at that level," Langman said. "Later, when she is bred, her babies will be more valuable and more prestigious because of the competition level Scotch achieves."
# # #
Email Cwalker@
alachuatoday.com
Add a comment
Add a comment
ALACHUA – School grades came out on Dec. 18 and Santa Fe High School sat among the top schools in Alachua County.
The high school, which was recently touted for its jump in graduation rates, received an A for its academic performance in the last year, according to preliminary high school grades released by the Department of Education.
The school went from a 75 percent graduation rate to an 84 percent senior graduation rate between 2011 and 2012.
Santa Fe High School principal Beth LeClear, has worked to bring the school grade from a B to an A over the last year by enforcing a closer relationship between advisors and students.
"Teachers needed things, so whatever teachers needed, we provided."
LeClear said she knew that the high school was capable to be more than a B school. Her goal was to work with seniors that we in danger of not graduating. She said that many of the students at Santa Fe High School sat down and planned their academic calendars.
"When I got here, I said, 'this is not a B school, this is an A school,'" she said.
The importance of earning an "A" has been great on the school, LeClear said. In a year where graduation rates are the highest in the county, $40,000 grants for new books and technology are awarded, and now an "A" for the school marks a great end to the year for Santa Fe High School, she added.
Only 240 schools in the state earned an A grade. Three of those schools came from Alachua County. Other than Santa Fe, P.K. Yonge Developmental Research School in Gainesville and Newberry High School also earned an A.
Hawthorne Middle/High School got an F this year, one of eight in the state.
The community in Alachua has been a big factor in the success of Santa Fe High School, LeClear said.
"This community is so supportive of our school and our students," LeClear said.
# # #
Email eotero@
alachuatoday.com
Add a comment
Add a comment
HIGH SPRINGS – After a few hours of driving, the couple arrived at the High Springs Community Theater to a sold-out show. Luckily, the theater was able to find them a seat for the play. Some weren't as lucky.
The High Springs Community Theater finished its three-week run of the play "The Homecoming" last weekend. Each of the nine showings was sold out.
"We had to turn people away," said Arlene Levine, president of the theater.
From Dec. 6 to Dec. 22, people from Lake City to Ocala and everywhere in between came to see the play, said Wanda Roe, who co-directed the production.
The show was inspired by the book "Spencer's Mountain," which also inspired the TV show "The Waltons."
It's about a family struggling to get by in rural 1932 Virginia. The father of a family of eight has to take a job in a nearby community and has not yet arrived home for Christmas. The family is concerned about his absence, so sends the oldest child to brave a winter storm and find him. Along the way, she meets members of the community and learns about them and her father, having her misconceptions corrected along the way.
"It was just a heartwarming message," Roe said.
Wanda Roe co-directed with her husband Pete. The couple wasn't certain about working together at first.
"We weren't sure if we would fight about it," Wanda Roe said. "But we got along great."
The play featured 28 actors from Alachua, High Springs, Gainesville and all around the area.
Working with such a large cast was challenging for the theater that usually deals with 10 actors or fewer, she said. Most of the actors were new to the stage, though there were some veterans.
The cast was comprised of a diverse cross-section of the area, including actors from ages 9 to 72 of multiple ethnic backgrounds.
There were also two students from Santa Fe High School who operated the sound and light boards.
"We could not have done it without everyone working together," Roe said.
Community members from High Springs and beyond pitched in and provided props, costumes and help create the sets.
Throughout the three-week run, 675 people came to see the show, Levine said.
The themes and messages of "The Homecoming" resonated well with the audience, Roe said.
"Family is the best gift of all," she said. "That's the theme that attracted most people to the show."
# # #
Email cmckinney@
alachuatoday.com
Add a comment
Add a comment
Details

Published on

Wednesday, 08 January 2014 23:57

Written by Special to Alachua County Today
Hits: 1187
HIGH SPRINGS – From the Monster Mash to Jingle Bells, from the walking dead to Santa Claus. How did a Haunted House in October bring gifts to children in December? It was done through the High Springs Lions Club's (HSLC) Madness and Mayhem 2 Haunted House and Graveyard held this past October, the largest fundraising event held in the history of the club.
The High Springs Lions Club had never before attempted a feat of such magnitude. It took the cooperation from the Lions, a few civic-minded local businesses and other volunteers from the community to pull it off. Over 60 volunteers devoted hundreds of hours planning, meeting, rehearsing and working event nights for one of the scariest haunts in Florida. All of this was done for a good cause.
Recipients of the funds raised from the HSLC Madness and Mayhem 2 Haunted House and Graveyard were discussed and decided at one of the earliest committee meetings. For the past four years, the HSLC had provided underprivileged children with Christmas presents. This year, they wanted to continue the tradition. So, The Catholic Charities Community Outreach Christmas Wishes was one of the charities chosen. The same as the preceding years, Catholic Charities chose the children and provided the HSLC Lions with their gender, age, and Christmas wish list. Names of the children remained anonymous.
A budget of $40 was spent on each child. Members of the Lions club volunteered many hours of their time shopping to fulfill the children's Christmas wishes. Lions Phil and Stephenie Griffith took on the shopping for a family of nine children.
"I spent three hours at Toys R Us and had a lot of fun choosing gifts for the children," he said.
Lion Mark Moomaw's wife, Amy, and their daughter Alyssa, bought gifts for 16 of the 38 children on the Catholic Charities list.
"They spent two days shopping for all those children," Mark said.
The High Springs Lions Club' Madness and Mayhem was an incredibly successful fundraiser and will continue as an annual event to help provide great things, such as Christmas gifts to needy children, for their local community.
# # #
Email editor@
alachuatoday.com
Add a comment
Add a comment
HIGH SPRINGS – Santa was escorted by a bright red High Springs fire engine and police vehicles, all with lights flashing and the occasional sound of a siren when crossing a busy intersection. The caravan snaked through back roads and highways to make sure everyone on the list received their Christmas gifts.
Each year, the High Springs Police Department (HSPD) organizes a gift-giving program for people in the community who need help with Christmas gifts. This year, "Operation Holiday Cheer" received gifts throughout the collection period, which began the Monday after Thanksgiving.
Most of the donations of unwrapped children's gifts showed up about one week before Christmas, said HSPD project organizer Stephanie Hall.
"We were beginning to get a little worried that we would not have enough gifts for all of the people on our list," she said. Ultimately, not only did the High Springs community step up to help out, but the Live Oak Fire Department also showed up with eight-and-a-half large boxes of toys.
"They collect gifts for 400 kids each year and actually had some items left over after they completed their gift distribution," Hall said.
On Monday, Dec. 23, a white city truck and a trailer, filled to overflowing with puzzles, games, dolls, clothes and many other requested items, left the HSPD with Santa riding in the front seat. All were bound for 12 area homes. Santa had a list of 38 children to deliver presents to. In addition, restaurant gift cards and other items were delivered to parents as well.
Five children shrieked with delight at one house where Santa handed out bicycles, scooters and other gifts. The bearded, gift-giving gentleman received more than his fair share of hugs from grateful children and their moms for his efforts. In some areas, neighbors came out to see what all the fuss was about.
One family, which had suffered a tragedy this past year, received tickets to an adventure park, along with hotel and food accommodations and a gas card.
At another home, a mother of five had been diagnosed with a medical condition and had numerous surgeries in the past year and a half.
Jeanette Avila, 42, is the mother of four boys, ranging in age from 6 to 15 years old, and one 5-year-old girl. She is a stay-at-home mom and her husband works as a police officer at a local hospital. Between the cost of all the surgeries and her ill health, the Avilas were not able to provide their children with the type of Christmas they would want. This is the second year Operation Holiday Cheer has chosen to help this family with gifts for their children.
"I surprised the kids and did not tell them they were going to get a visit from Santa and all these toys. They were absolutely thrilled," said Avila, who praised the HSPD and organizer Stephanie Hall for all her work to make this event happen for her children. Bicycles for the older children and scooters for the younger ones were a big hit with her kids.
"They have been racing around the house with the scooters and are just having the time of their lives," she said.
Hall obtained the list of families who needed help from the High Springs Community School and from the day care owners in High Springs.
"After we received the abundant supply of boxes from Live Oak, we realized we had more than we needed for the original list of families," Hall said. "That's when we contacted the day care centers in town. We wanted to make sure everyone who needed toys this year had them."
# # #
Email Cwalker@
alachuatoday.com
Add a comment
Add a comment