Details

Published on

Tuesday, 26 November 2013 16:50

Written by Special to Alachua County Today
Hits: 1157
LOUISVILLE - Three prize-winning High Springs Community School students traveled to Louisville during the week of Oct. 28 and represented the school's Future Farmers of America (FFA) chapter at the National Agriscience Fair.
The journey for Cody Emerson, Moss Caballero and Tim Myers started over the summer at the Florida State FFA Convention in Orlando. They each placed first in their respected categories. Cody Emerson was chosen as the overall winner in his division. Winning first place at the state level allowed their projects to be forwarded to the National FFA for the opportunity to represent Florida at the National Agriscience Fair. Only fifteen students from each category were chosen to compete at the national level from a pool of winners representing all 50 states and the U.S. Virgin Islands.
The National FFA Agriscience Fair is a competition for FFA members from grades seven to 12 who are interested in the science and technology of agriculture. To qualify, students must conduct a scientific research project pertaining to the agriculture and food science industries and present their finding to a panel of judges.
Cody Emerson won first place in the food products and processing category with his project that tested consumer's preferences for red meat used in jerky. Moss Caballero won third place in the power, technical and structural category with his project on energy efficiency. Tim Myers placed ninth in the animal systems category with his project on bee repellents. Emerson was the only first-place winner from Florida and the youngest to ever take first place at the national level.
As far as futures plans for these students. They each plan on competing in FFA activities throughout high school. After high school, Cody Emerson would like to become a State FFA officer, then attend the University of Florida and obtain a degree in agriculture communication and education and become an agriculture educator. Moss Caballero plans on attending the University of Florida and majoring in journalism with a minor in biotechnology. Tim Myers plans on getting a degree in agriculture and moving to Illinois to take over his family farm.
Getting to Louisville was a very expensive trip. There was an overwhelming support from the community to help assist with the expenses. The trip to Louisville will be something these boys will never forget. It was an honor and privilege to represent High Springs and the State of Florida at the convention.
# # #
Email editor@
alachuatoday.com
Add a comment
Add a comment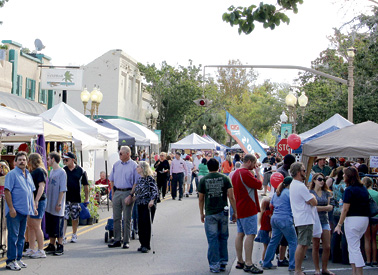 Crowds line the street in Alachua's downtown area. The festival has been held in Alachua for a number of years, featuring food, arts and crafts and souvenirs.
ALACHUA – It was a beautiful stroll down Main Street for Brighton Taylor and her dog, Tyson, on Sunday, Nov. 10. The sun was shining, there was a cool breeze and the sweet smell of kettle corn filled the air. They did not have the street to themselves, however. They shared this picturesque day with hundreds.
There were booths and tents lining the street as far as the eye could see for the annual Alachua Main Street Harvest Festival. People from all over Alachua County walked the main street in downtown Alachua, taking in all the festival had to offer.
"There is really a little bit of everything," Taylor said. "I like to look at the art and different crafts that people bring."
This was not Brighton's first time visiting the annual festival, but it was Tyson the dog's first time experiencing the day. He seemed really excited to be around that many people and kids, Brighton said.
With all of the booths available for people to browse, there was no shortage of options. Several offered fried food, featuring fish, scallops, clams and crab cakes. Others had cotton candy and kettle corn, along with drinks and other snacks.
But food was not the only thing bringing in the crowds. There were some attractions for kids, with bungee jumping trampolines set up, as well as a small track where kids could drive motorized animal carts.
Local businesses brought out displays to attract possible future customers. A roller derby team was out looking to recruit future members.
The Alachua Police Department was in attendance, with a squad car they let kids climb into.
Bill Blake, a Newberry resident who made the trip with his sons to visit the festival, was more pleased with the weather than anything else.
"It is such a nice day out, really," he said. "It could not have been picked any better," Blake said.
He brought his sons, Dillon and Colby, and they loved that there was a shaved ice truck with so many options for flavors, Blake said.
More than anything else, vendors had food and crafts for visitors to peruse. Woodworking, clothing and trinkets of all sorts were heavily featured along the walk.
"This isn't my first festival," Blake said. "I've probably been to four or five. And after today, I don't think it will be hard to get the boys to come back next year, either."
# # #
Email ahart@
alachuatoday.com
Add a comment
Add a comment
Jim Dyksterhouse and Rodger Chambers show off the model of the town in the 1920s, complete with a working train.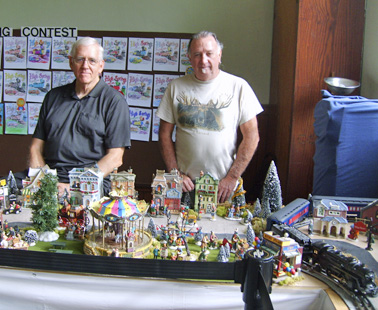 HIGH SPRINGS – The sound of a train whistle and wheels running on metal tracks can be heard as visitors enter the main display room of the museum.
The High Springs Historical Society's (HSHS) Railroad Museum, located in the Historic High Springs Elementary School and Community Center, hosts a small diorama of High Springs, showing visitors what the town looked like in the 1920s, complete with a running train.
The first section of the 6-feet-by-7-feet model was built by Jim Dyksterhouse, vice president of the HSHS. It took him three months to build.
"We wanted the children to see what the town looked like in the past and how it has changed," said teacher Sara Kirk, who visited the museum with her students. "Many of them had never seen an electric train before."
"They were enthralled with the trains," she said.
Representatives from several private and public schools in the area are talking with HSHS members about bringing their kids in to see the historic diorama, displays and trains.
The excitement of the schoolchildren was one of the most fulfilling parts of the visit, said Bob Watson, president of the HSHS.
"The smiles on 93 kindergarten faces was worth everything we had done," he said. "We enjoyed their visit as much as they did."
As the children looked at the model of High Springs, they could see glimpses of history, including a hospital, which existed between 1896 and 1902. The hospital was eventually closed because only 18 patients were seen during those six years.
In addition to the diorama of the past, the room also contained items from the city's old 1924 LaFrance Fire Truck, still housed at the fire station to this day. Hoses from 1913, a ladder, a mask and several tools were on display.
Rodger Chambers, HSHS secretary and retired construction engineer, curated the fire display and elements of George's General Store, originally located on 9th Street.
"It was where all the activity was back in those days," Watson said. Visitors and area residents supplied many of the items in the recreated store.
"We're always looking for more," Chambers said.
The group has used the remaining walls to display photos of the city's history.
"It's interesting to see how the town has changed," he said.
In the first four days of November, around 60 visitors stopped by to see the displays, Watson said.
"I think the diorama of the train yard and first section of the city has really excited people," he said.
In another room of the museum, known as the Youth Center Room, there are three running models of trains on two separate boards. One of them is the Polar Express, complete with an engine, a coal car and three passenger cars. It travels just past models of internally-lit homes and buildings.
"It looks really amazing at night," Watson said.
By Christmas, there should be a lot more trains running in the museum, along with interesting buildings, he said. For example, there might be a model of an old McDonald's restaurant. Visitors might hear a voice ordering lunch, and see a model car drive around the old-looking, but still familiar building to pick up the order.
"Our people are looking for more of that type of stuff at an upcoming show to bring the scenes in this room to life," Watson said.
# # #
Email cwalker@
alachuatoday.com
Add a comment
Add a comment
Details

Published on

Friday, 22 November 2013 13:33

Written by Special to Alachua County Today
Hits: 1311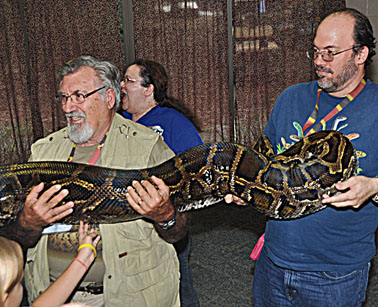 The Aldridge family gives a special presentation with Delilah, a 400 pound Burmese phthon. Camp Kulaqua sees around 50,000 guests each year.
HIGH SPRINGS – Children laughed, roasted marshmallows and shared stories around the campfire.
This all happened as Camp Kulaqua celebrated its 60th anniversary. Camp Kulaqua is a youth camp and retreat center that hosts over 50,000 guests year-round.
In the early 1950s, many young people from the Seventh-day Adventist Church had a passion for camping and the experience that can be found in the outdoors. Up until that year, the only available option was O'Leno State Park, which they had used for several years.
In 1953, the decision was made to purchase a property near the state park named Hornsby Springs, and what it is now known as Camp Kulaqua was born. Wayne Foster, founding camp director, first started developing the land, and since then, Camp Kulaqua has experienced much growth and expansion from several innovative leaders in the last 60 years.
For several years though, this place did not have a name. In 1959, a naming competition took place. The name chosen was submitted by the Coral Gables Pathfinder Club. It was named Camp Kulaqua, meaning cool water, because of the beautiful clear cool spring that stayed the same temperature year-round.
This year, Camp Kulaqua is celebrating 60 years and hosted an event to commemorate the occasion.
On Sept. 19 through Sept. 21, the camp welcomed more than 400 "alumni" and founding members to celebrate.
Many had not visited the camp in over 50 years and were overjoyed to see the growth.
"It was such an incredible moment to see people of all ages, from two to 92, take such joy in the wonderful experience that is camp," said Gabriel Saldana, alumni and development coordinator.
Many previous directors and leaders were present and shared what camp was like during their eras.
As part of the event, a special dedication was made for the founding director Wayne Foster and his wife Reba Foster. The designs for a new welcome center were unveiled that Saturday afternoon and dedicated to Foster's legacy.
The current camp director, Phil Younts, said he was excited about celebrating the camp 60th year anniversary.
"Prior to my arriving here in 1983, there had been a group who was trying to sell Camp Kulaqua and move the camp operation closer to the central part of the state," he said. "But overwhelmingly, the constituents of Florida Conference of Seventh-day Adventists voted to keep Camp Kulaqua within High Springs because they love the area and love the people."
Today, Camp Kulaqua serves the constituents of the Florida Conference of Seventh-day Adventists, as well as local community churches, civic groups, and schools.
# # #
Email editor@
alachuatoday.com
Add a comment
Add a comment
Details

Published on

Friday, 22 November 2013 13:25

Written by Special to Alachua County Today
Hits: 836
ALACHUA – Local leaders representing Alachua County, the City of Gainesville, the City of Alachua and law enforcement from the Alachua County Sheriff's Office, Gainesville Police, Alachua Police and Gainesville Regional Utilities (GRU) continue to meet to address the quality-of-life complaints related to the new Gainesville Renewable Energy Center (GREC).
The panel has been meeting since mid-October to discuss community concerns regarding noise, odor, and fugitive dust and debris issues related to the GREC facility. The most pressing concern discussed was setting up a centralized process to efficiently receive complaints and ensure the proper follow-up action is completed.
The panel is made up of Alachua County Manager Betty Baker, Gainesville City Manager Russ Blackburn, Alachua City Manager Traci Cain and Assistant Manager Adam Boukari, GRU Interim General Manager Kathy Viehe, Alachua County Sheriff Sadie Darnell, Gainesville Police Chief Tony Jones and Alachua Police Chief Joel DeCoursey.
Telephone complaints continue to be processed by the Alachua County Sheriff's Office Combined Communications Center and the Alachua Police Department Communications Center. Sheriff Darnell continued to express concern that 911 lines and personnel are being tasked with non-emergency related duties and suggested the creation of a call center for deflecting GREC calls away from the communications center.
The call center began operation on Nov. 7, and can be reached at 352-338-2479.
During the Oct. 31 meeting of local leaders, GRU agreed to utilize and pay for a call center for complaints pertaining directly to the GREC facility. This call center will handle only the quality-of-life complaints related to the facility and will not handle actual emergencies where response from law enforcement, emergency medical or fire are needed.
The purpose of the call center is to track non-emergency complaints specifically related to the GREC facility, and serve as a mechanism for local agencies to take necessary steps to address the complaints.
# # #
Email editor@
alachuatoday.com
Add a comment
Add a comment