Officer Kwandra Zeigler talks to detective Jessie Sandusky in front of the city's breast cancer awareness cruiser. Sandusky unveiled the vehicle this week at a city commission meeting.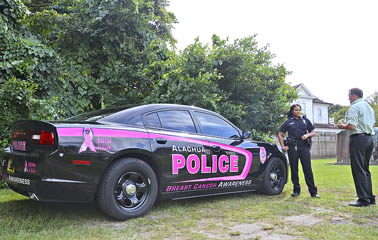 ALACHUA – Detective Jesse Sandusky of the Alachua Police Department (APD) had a surprise for the people at the city commission meeting on Monday night.
Sandusky went to the city commission on Monday, Oct. 7 to give a presentation on Breast Cancer Awareness Month. He asked everybody gathered in the commission chamber to go outside to the front of City Hall to unveil the APD's newest sign of support for breast cancer awareness.
Outside the building, a police car rolled off a truck, sporting a black and pink color scheme. On the back, there was the slogan 'breast cancer awareness."
Onlookers walked around and took photos, while Commissioner Shirley Brown sat inside the car.
There is a three percent chance that breast cancer will be the cause of a woman's death, Sandusky said.
"It's not about driving a cool car around," Sandusky said, "the main focus is to raise awareness in our community about breast cancer.
The disease affects everybody in the community, he said. People in the APD itself have been affected, either directly or indirectly through friends or family, he added.
Police agencies all over the country, including the Gainesville Police Department, have painted cars pink to raise awareness, which is where he said he got the idea.
"It's nice to join with other agencies in our county that are promoting the cause," Sandusky said. "It's such an important issue. It needs to be brought to everyone's attention."
Sandusky hopes the message will be received clearly by the public, and will encourage women to get exams and promote early detection.
He created some designs and had a general idea of what the car would look like, but he was still impressed when he saw it in person.
"When I actually first saw it in person, there was kind of a 'wow factor,'" he said.
The other employees at the Alachua Police Department were proud when they first saw the car, Sandusky said.
"They're excited about the message," he said.
The cost of decorating the car was under $500, Sandusky said. It was done by Showcase Advertising in Starke.
The decals are removable, Sandusky said, so the car could go back to normal whenever the department wants. It will probably remain until the end of the year.
The car isn't just going to be around for Breast Cancer Awareness Month, Sandusky said. It will be with the APD for an extended period of time.
Mayor Gib Coerper was at City Hall when the car was unveiled.
Going into the meeting, he only knew that he would have to walk outside to see 'something cool,' he said.
"'Wow' was all I could say when I saw it," he said.
"I really appreciate the effort the city has put in to progress cancer awareness," he added. "I think it shows tremendous support for the women and the families that have to go through this."
Breast cancer isn't just something that affects Alachua or Gainesville, Mayor Coerper said. It's a global problem.
# # #
Email cmckinney@
alachuatoday.com
Add a comment
Add a comment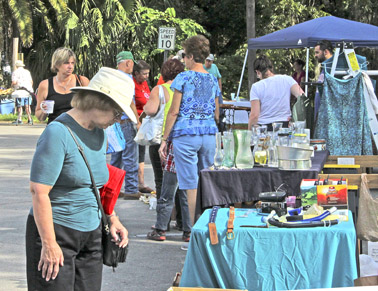 Shoppers look for deals at the sale. Vendors of all sizes and types were at the event, selling everything from antiques to arts and crafts to children's toys.
HIGH SPRINGS - Hundreds flocked to James Paul Park in High Springs Saturday morning, Oct. 5, to participate in the Chamber of Commerce Fall City-wide Yard Sale. There were vendors, big and small, from all over Alachua County there to try their hand at salesmanship.
The yard sale has been a fund-raising event for the chamber for over 10 years, as well as an opportunity for shoppers to find some deals. The event started at 9 a.m. and lasted until around noon.
Cheryl Thacker counted this as her fourth or fifth time running a table at the sale. Every year brings something new for her.
"One year, we had some scuba gear to sell and that was popular," Thacker said. "Odd items and books interest people usually."
There was no shortage of interesting objects on display at the yard sale this year, said Kelly Douglas, another vendor.
Douglas and her husband made a return to the event after missing the last few years. Their table mostly featured baby items, with some "knickknacks," as she called them, thrown in. For them, it was a great opportunity to de-clutter their house, she said.
While Douglas looked to offload some of her kid's old toys, Patti Bird was there to sell old things in general.
"We have a booth in a shop at Webb's Antique Mall in Lake City," Bird said. "An event like this is great for showing people what we have and creating some buzz for business."
Bird and her husband had several small antique tables with them, as well as other furniture up for sale. This was their second year attending the event, one they really try to enjoy, she said.
"Everyone is really friendly coming around, and we always take a couple of laps around throughout the day to see what we can find as well," Bird said.
While there were some veteran vendors set up once again for the yard sale, some took in the atmosphere Saturday for the first time. Among these was one Bryce Ware, an 8-year-old looking to capitalize on this financial opportunity.
Melissa Ware, Bryce's mother, oversaw the operation of their table. The yard sale was something her son was incredibly excited about, she said. It was his idea to get the family to come.
"This is our first time coming out and selling at the yard sale," Ware said. "My son urged us to, and really is the brains behind the whole thing."
Bryce was looking to get rid of some of his older toys and such so that he could finance the purchase of a new Nintendo DS videogame.
When Bryce wanted to get the new game, she told him, "You can get it, but you're going to have to buy it with your own money."
Bird and Douglas each took their own turn at checking out other people's booths, but Thacker and Ware weren't as interested.
"I probably won't walk around too much," Ware said." My husband and son are out looking at things now, but I'm not much of a gatherer."
Thacker felt the same, but said her husband was the opposite.
"He's probably been around five times already this morning," she said.
Kelly Douglas was looking to possibly find some toys and knew the yard sale would be a great chance for her and others as well.
"It's hard to buy new these days," she said. "If someone can find something they will use and love, then it's great. Besides, it is nice to see everyone from the city here and it turned out to be a gorgeous day."
# # #
Email ahart@
alachuatoday.com
Add a comment
Add a comment
ALACHUA – The Gainesville Police Department responded to the complaints of residents of Turkey Creek in Alachua regarding the noise from the Gainesville Renewable Energy Center (GREC).
The GREC biomass plant has been online since August. The plant is within Gainesville's city limits, but residents from Turkey Creek and neighboring communities in Alachua have complained about the noise from GREC, which some citizens said keep them up at night. The Gainesville Police Department, responsible for enforcing the city's noise ordinances, took some tests in Turkey Creek, but found the volume level within the legal limits.
The GPD said it will no longer respond to calls outside of the Gainesville city limits.
Citizens with concerns regarding the noise from GREC can call the non-emergency number for the Combined Communications Center of the Alachua County Sheriff's Office at 352-955-1818.
The tests the GPD took are not conclusive, said Ben Tobias, spokesman for the GPD. They were only taken over a short period of time and not necessarily indicative of the average volume level of the biomass plant, he said. However, the GPD will no longer be involved in testing the noise, according to its press release.
"The Gainesville Police Department is very sensitive to the needs of the citizens we proudly serve," the agency said, but directed residents to take their complaints to the jurisdiction where the noise is heard, not where it originates.
Several Turkey Creek residents went to the Alachua City Commission Monday night at the Oct. 7 meeting to voice their concerns.
"If we had our choice today, we'd be gone," said Russ Pisano, whose family has been affected.
Commissioner Ben Boukari, Jr., said he would talk to the city attorney about possible courses of action.
Boukari said he wished the problem could be solved as easily as flicking a light switch.
However, some residents of Turkey Creek feel that not enough has been done.
"In all essence, nothing has been solved," said one person, who asked the city to consider a nuisance lawsuit against the City of Gainesville.
# # #
Email cmckinney@
alachuatoday.com
Add a comment
Add a comment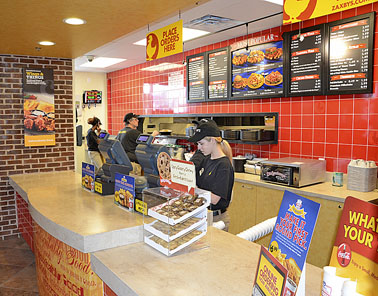 A Zaxby's employee relaxes for a moment after the line dies down at the grand opening. Business would pick up again in the afternoon after school let out.
ALACHUA – Passing traffic on U.S. Highway 441 could see the glint of the gold scissors used to slice through the thick blue ribbon being held in front of a long-awaited Zaxby's.
A crowd of citizens, city officials and owners of the newly opened Zaxby's stood behind the blue ribbon grinning from ear-to-ear for a photo for local newspapers and magazines.
On Tuesday Oct. 7, the City of Alachua said hello to their first, and so far, only Zaxby's restaurant. Located just past the intersection of Interstate 75 and U.S. 441, the restaurant has been anticipated by the Alachua community since the announcement of its opening, according to some who attended the event.
Zaxby's owner, Brooks Haisten, chose the location so that Alachua and High Springs residents, in addition to interstate travelers would be able to enjoy the restaurant's menu.
With news that the students from the high schools would be coming to the restaurant after school that day, Haisten said he was nervous about the rush of business within such a short period of time, but was excited to see how it would turn out.
However, Haisten would be the first customer of his establishment, not the students or hungry travelers. After purchasing his meal, he took a moment to enjoy the first of many Zaxby's chicken sandwiches the restaurant would sell.
Alachua City Commissioner Ben Boukari, Jr., and Mayor Gib Coerper were also among the people at the opening.
The first purchase is something Haisten has done a few times now. This is not his first restaurant. He bought his first Zaxby's 11 years ago, and now owns three of the restaurants. He is working on opening a fourth in Crawfordville, just south of Tallahassee.
After Haisten, David Flinchum, president of the Alachua Chamber of Commerce bought a chicken finger plate and sat down to enjoy it in the newly furnished dining room while the Dave Matthews Band played through the speakers.
He said the restaurant will help the local economy.
"It's going to be a boon," he said. "It's definitely something people have been anticipating."
The new business has added several jobs to the city of Alachua. Haisten chose to hire locally, rather than recruit employees from the nearby cities.
"The team members, cooks and cashiers, with the exception of two of them, they are all hired locally," he said.
One of those exceptions is manager Steven Schnieders, a seven-year veteran of the Zaxby's franchise. Schnieders said he is excited to see the reception of Zaxby's from Alachua residents
"The word around the staff is that everyone in Alachua is excited," Schnieders said. "I really hope that we can give that great experience."
With business just starting and the community buzzing about that new fried chicken restaurant, Schnieders is sure that Zaxbys will be a hit for some time.
"I don't think it's going to die down anytime soon," he said.
# # #
Email eotero@
alachuatoday.com
Add a comment
Add a comment
NEWBERRY – Who makes the best barbecue around? Everyone will know the answer to that question as amateur and professional chefs put their skills to the test at the 7th Annual Newberry Fall Market Festival and Barbecue Cook Off.
The event starts at 9 a.m. and runs until 4 p.m., Saturday, Oct. 12, when four amateur and three professional barbecue chefs compete in their own categories for the award of best overall barbecue. A cash prize of $100 plus an apron awaits the winner, along with all the bragging rights that go along with that distinction.
The smell of ribs, chicken, beef or pork, slowly roasting over low flames, will direct most visitors to the festival location along South Seaboard Drive in the downtown area. Many competitors will have been up all night tending their fires to deliver their best barbecue meats and sauces for sale to visitors during the day and to the judges at 1 p.m.
While the judges decide some of the winners, there will also be an opportunity for visitors to vote for their favorite barbecue in the people's choice category. Winners in the best amateur barbecue, best professional barbecue, best overall barbecue, best barbecue sauce and people's choice barbecue categories will be announced between 2 p.m. and 3 p.m.
In addition, more than 50 arts and crafts vendors will be displaying items for sale. One vendor, for instance, makes handcrafted music stands and harps made from old pianos. Christmas and Halloween decorations, purses, jewelry, handcrafted wooden bowls, cypress furniture, quilts, candles, canned goods and items made with dried flowers will be up for sale.
Live musical performances by Late Night Delivery and the Flying Turtles String Band will also go on throughout the day. Bounce houses, face-painting and other games and events for children will also be available.
Ten percent of the sales of barbecue foods from each competitor will be donated to the Main Street Organization for future projects to benefit Newberry.
# # #
Email cwalker@
alachuatoday.com
Add a comment
Add a comment