HIGH SPRINGS – High Springs depends on two water wells to provide their water service for the entire city. With the wells getting old, some residents worried that it might be time to replace them.
"The wells are in poor condition, and we use them so much, we really need them both working at 50 percent capacity just for daily water flow," said resident Ross Ambrose, who self-identifies as a politically active citizen.
The reason that the well field and the water supply have gotten into this situation could be deferred maintenance. Every city in Florida that operates on a well system has to deal with constant upkeep and handle these maintenance issues. If High Springs does not resolve the situation soon however, it could pose a problem for residents, Ambrose said.
Rodney Hoffman, the foreman for utilities over the water and sewer for High Springs, said that the wells are operating at the desired levels.
"We currently pump out about 660 gallons of water per minute from the water wells," Hoffman said.
Age is often the greatest enemy when it comes to something like water systems, and it is no different in this case. Lavern Hodge, the former public works director for the City of High Springs, said that the wells were put in in the 1970s, making them around 40 years old. It was really a matter of time before the wells would need to be fixed or replaced, she said.
"When I left the city in 2010, there had been plenty of talk about work for the wells already," Hodge said.
Hoffman said the city has recently done extensive work on the first well, after its motor burned out. The motor was replaced and the pump was refurbished, in a repair that cost around $11,000, Hoffman said. The city just got the okay to put the well back into the ground and resume normal operation last week, he said.
Amrbose said he believes there could be problems with the second well, and more changes could still be made.
"It's an infrastructure issue, first of all," Ambrose said. "If for some reason, one of the wells were to go out of service for any length of time, we could be without water."
In the past, there have been proposals on the table to correct the problems with the city's wells, but the commission never made a decision, he said.
Several years ago, an engineering firm offered a plan to install improvements to the system, but the city decided to wait, Ambrose said. There is also land that High Springs owns that was designated for the use of a new well field, should it decide to replace the wells.
Hoffman said he believes that High Springs has some of the best water in the state coming out of its aquifer, and the only time there is ever really trouble is when there is a massive amount of rain. The tests always come back great for the wells, he said.
With the first well being repaired, Ambrose could be hearing his wish answered.
"To me, the best way is to use a new well," Ambrose said. "But regardless of what the plan of action is, I hope it is soon, or it could spell trouble for much of High Springs."
# # #
Email ahart@
alachuatoday.com
Add a comment
Add a comment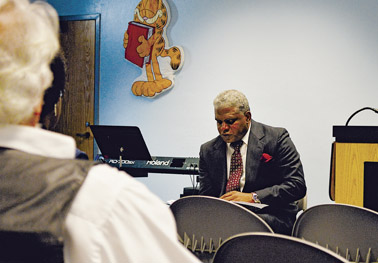 ALEX HART/Alachua County Today
Local poet Stan Richardson reading his work. His art focuses on the struggles of African-Amerians throughout history.
ALACHUA – The sound of "This Land is Your Land" filled the room. Everyone clapped and sang along as Gussie Lee led the celebration from the front of the room.
This was the scene on Sunday at the Alachua Branch Library during the African-American Read-In. The read-in was to celebrate African-American sports heroes and was organized by the Alachua Branch Friends of the Library.
Starting at 2 p.m., guest readers shared books they loved featuring the stories of trials and triumph of some of the most prominent African-American sports icons.
Some of the athletes included in the selection were Jesse Owens, Arthur Ashe, Jackie Robinson, Muhammad Ali, Magic Johnson, Tiger Woods, Dwight Howard, LeBron James and Gabby Douglas.
Alachua Mayor Gib Coerper read a story about Jackie Robinson, called "Stealing Home." Alachua City Manager Traci Cain read a book detailing the challenges faced by Jack Johnson, the first African-American world heavyweight boxing champion.
Librarian Linda Dean was proud of all of her readers, she said. She was especially happy to see some of the local middle school students come out and offer their reading skills to the event.
Eighth-grader Derrick Darling, from Mebane, read "Take it to the Hoop, Magic," a story about basketball legend Magic Johnson. Darling said he chose the book because basketball is his favorite sport.
"I was a little nervous," Darling said. "I have never read in front of people before, not like that." But reading about his favorite sport, and one of his favorite players, helped his nerves tremendously, he said.
In total, there were nearly 30 people in attendance at the Alachua Branch Library. The event was marked with sharing stories, singing songs and enjoying food to celebrate Black History Month.
The highlight of the reading was when local poet Stan Richardson displayed some of his art with his work on the struggle and progression of African-Americans in society over the years.
Vada Horner is the President of the Friends of the Library organization responsible for the annual event. She volunteers to help make a difference in the community, and she said she truly appreciated Richardson's words.
"His work makes us reflect on our lives, society and the world we live in," Horner said.
This was the idea the event aimed to bring to the forefront of attendees' minds. Shining a light on the path that African-Americans have taken to arrive where they are now in American society, and highlighting the richness of their culture, is something Horner and Dean both said they are proud of.
# # #
Email ahart@
alachuatoday.com
Add a comment
Add a comment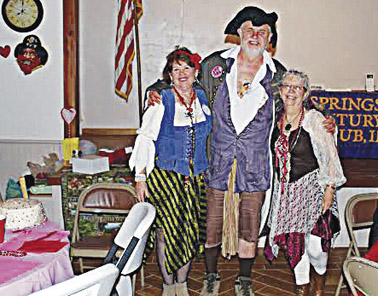 KAY EVANS/Photo special to Alachua County Today
The theme of this year's Relay for Life is "Hooked on a Cure." Participants in pirate costumes gathered for the event.
HIGH SPRINGS – The Woman's Club was decked out in pirate booty on Friday, Feb. 7 to raise awareness for this year's Relay for Life "Hooked on a Cure" theme. Raffles, prizes, cake, soup and fun were had at the second annual Soup 'R Sweet fundraiser.
The fundraiser was organized to raise money for the High Springs Relay for Life event coming up in May. Tickets were $7 per person or $20 for three tickets, offering attendees a buffet mainly featuring soup.
"It was fantastic, and a great turnout. There were six different kinds of soups," said Vickie Cox, president of the Woman's Club.
The local Sonny's and the Grady House donated to the evening's dinner.
"Honestly, I came to stuff my face. The food was so good. I baked two cakes for the auction," said Shannon O' Brien, team captain for PNC Bank's Relay for Life team.
Close to 100 people turned up for the event, said Marilyn Vanover, who was greeting people at the door.
"There was no financial goal. The goal was to have fun, and spread the word about Relay," Vanover said.
The number of attendees surpassed last year, said Kay Evans, member of the Woman's Club.
"It was wonderful, a lot more than last year," she said.
Evans dressed up in a pirate outfit for the event to spread awareness of the "Hooked on a Cure" theme. Several people donated cakes for the auction.
Nathan Brems, 13, who attends Fort Clarke Middle School in Gainesville, won a vibrant blue and orange Gator necklace and a framed photograph taken by Evans.
"I was really happy. I wanted to get both of these, and it was really suspenseful," Brems said.
The main goal of the event was to bring the community together to raise awareness. "[It] brings awareness for cancer treatments, and encourages leaders, small business owners and everyone together for a cause," O'Brien, PNC's team captain, said.
Sharon Kantor, team development co-chair with Linda Hewlett for Relay for Life, said her goal is to recruit more teams for the event. Right now, there are 15 regular teams, but her goal is to have 25 teams.
Kantor hopes the turnout for Relay for Life will be as positive as the turnout of the fundraiser.
"Everyone was enthusiastic and generous with their donations," she said.
In order to get ready for Relay for Life on May 9, Kantor will be providing the materials for people to create luminaria bags on the third Saturday of every month at Cootie Coot Creations. These bags will be lit up on the track during Relay for Life, and represent the memories of loved ones.
The fundraiser was designed to motivate the community to get involved in the cause, Kantor said.
"Cancer has touched peoples' lives in one way or another, and it is important we all join in to fight for the cure," she said.
# # #
Email berickson@
alachuatoday.com
Add a comment
Add a comment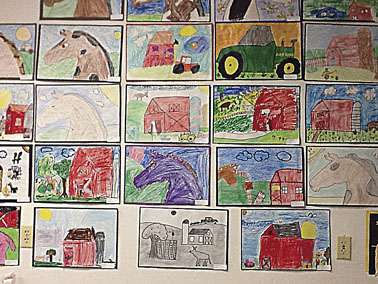 Photo special to Alachua County Today
This collection of pieces showcases farm life in Florida, this year's theme for the art show Around 150 students had their art on display.
NEWBERRY – Artwork from more than 150 young students is on display, as it has been for the past two weeks, at the Newberry Firehouse Gallery.
Newberry Elementary School students ranging from kindergarten through the fourth grade submitted their best artwork depicting the world they see around them. The pictures will be judged not only on the artistic quality of the work for their age group, but also on the ability of the artist to capture the theme of this year's Lions Club competition, which is farm life in Florida.
Susan Ling, Newberry Elementary School art teacher, said she was amazed by the number of students who participated this year.
"I expected maybe 80 submissions," she said. "I lost track after 130." The actual count was 152, said the Lions Club president, Jack Varnon.
Each artist's submission was mounted by Ling onto multi-colored backing and was submitted for showing at the art gallery. The gallery is open daily from 10 a.m. to 7 p.m. Newberry Main Street Organization's Dallas Lee and Barbara Hendrix, the executive director, along with Amy Dalusio, spent an entire day hanging all of the artwork to make it possible for viewers to visit the gallery and see all of the children's entries.
Awards will be given out to participants from 10 a.m. to noon on Saturday, Feb. 15 at the Firehouse Gallery. Monetary awards in varying amounts will be given to students winning "best in show" and the first and second place winners in each of the grades. In addition, a purple rosette will be given out to the grand prize winning student whose work best epitomizes the theme.
Past Lions Club president Mindie Fortson will provide the criteria for judging to the panel of five judges made up of from citizens of Newberry.
Varnon said the annual competition has been a part of the Newberry Lions Club annual Farm Toy Show and Tractor Parade in past years. Although Lions Club members did not produce the toy show this year, they decided to sponsor this aspect of their usual show as a way to encourage young artists to display their talents and share their work with the Newberry community.
"I am very excited for our students to have this opportunity to participate in an art show in their own home town that relates to elements of their daily life," said principal Ling. "There are people in our community that want to see our students succeed and show off their many talents. We could not have done such a fine show without the sponsorship of The Lions Club and the willingness of the Firehouse Gallery to host the event."
Although the Newberry Lions Club membership has dwindled in past years as members moved away or became incapacitated, Varnon said the organization is looking for new members.
"We're hoping to identify those community leaders who feel as we do that service is a privilege and an honor," Varnon said. The group is hoping to recruit like-minded individuals and restore the Lions Club to the viable service group that it used to be. "This Florida Farm Art Show is one way we hope to serve our community and encourage our youth at the same time," Varnon said.
# # #
Email cwalker@
alachuatoday.com
Add a comment
Add a comment
HIGH SPRINGS – A person suspected by local law enforcement to be involved in a string of armed robberies in the High Springs area last October was arrested last week.
Dennis Christopher Godden, 31, of High Springs, was arrested by Brevard County deputies in Cocoa Beach. He was then extradited back to Columbia County.
Information gathered by the High Springs Police Department (HSPD), including an anonymous tip and interviews with people who identified him as the culprit in a series of armed robberies, led to the arrest, said Antoine Sheppard, acting chief of the HSPD.
On Oct. 11 of last year, the Sunrise Food Star was robbed at gun point by an unknown white male. Two other robberies occurred shortly after in Ft. White and in unincorporated Alachua County.
Godden is currently in the Columbia County Jail. Alachua County, Columbia County and the City of High Springs have all filed identical charges of strong arm robbery and grand theft.
Godden will face three separate trials, one for each jurisdiction, Sheppard said. If he is convicted in all jurisdictions, he will most likely be given a concurrent sentence, he added. A concurrent sentence means Godden will serve time for each jurisdiction simultaneously, rather than having one jurisdiction's sentence stacked on to the other.
# # #
Email cmckinney@
alachuatoday.com
Add a comment
Add a comment