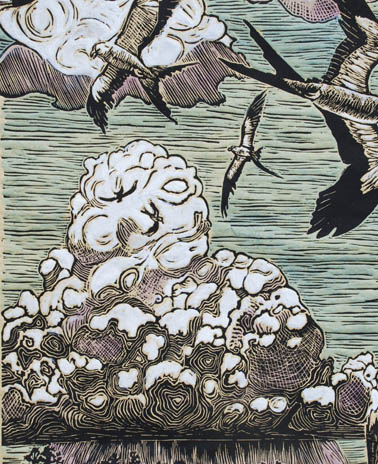 Artwork special to Alachua County Today
This piece was inspired by a view from CR 235A in Alachua. Pebbles draws her insiration from scenery.
ALACHUA – It has been a long road for Alachua resident Leslie Pebbles, who started out being a misfit in a New Jersey suburban school and has since become an award-winning artist at the age of 54.
"I just didn't fit in when I was in elementary school," she said. "My mother got into an accident when I was in the fifth grade and my grades plummeted." Eventually, her mother recovered and Peebles was moved to a private school where she was exposed to art instruction for the first time.
"Suddenly, I went from the worst student in school to one of the best," she said. "In the areas of music, theatre, creative writing and visual arts, I was in my element."
That success gave Peebles back her confidence and self-esteem and her grades improved dramatically. When she was in the seventh grade, her father gave up his corporate job in New York City and moved the family to a chicken farm in nearby Suwannee County, where she graduated from Suwannee High School.
Living in the country sensitized Peebles to nature, animals and the land.
"That's where my whole esthetic came from," she said. "I hated the suburbs and moving to the farm was like waking up in heaven to me."
Eventually she earned her B.A. in fine arts and found herself teaching art at an area school. That's where she eventually discovered the perfect artistic medium for her.
"I knew how to produce different types of art, but I just couldn't wrap my mind around how I wanted to translate what I saw and enjoyed in nature into actual art for others to enjoy," she said.
As it turned out, one art teacher's frustration in teaching block-carving turned into a golden opportunity for Peebles and her students. The frustrated art teacher turned over all of her materials to Peebles.
"I couldn't have afforded to buy all of those items myself at that time," she said. "So it was a great gift to me and my classes."
After teaching and working with block-carving and block printing with her students for a few years, she realized she had done a tremendous amount of work and was enjoying it more and more.
"I decided it was the perfect medium for me," she said, "and have now been doing it seriously for 15 years."
Block-carving or linoleum-carving, as it is also called, allows her to produce her art in such a way as to make it affordable to the average person, Peebles said.
"As a middle-class girl myself, I wanted my art to be affordable for the average person," she said. "I can put 20 or 30 hours into a piece and still keep my prices reasonable," she said.
In addition, Peebles finds block carving to be a portable medium. "I can work on it at home or go into nature with it," she said.
Living on five acres of land in Alachua, she finds inspiration close to home.
"We have foxes living next door in the woods, we have a neighborhood gopher tortoise and various other animals that travel through from time-to-time," she said.
She also finds inspiration at the local springs, on Rum Island and at the Santa Fe River, but does not limit herself to local areas. Although her Swallowtail Kites composition was drawn from a view of a field off of County Road 235A, her Alligator composition was inspired partly by Paynes Prairie and partly by a trip to the Everglades.
As part of her process, Peebles draws or photographs items on the spot when she finds something interesting. Once the block has been carved, Peebles prints her carvings at Sweetwater Print Cooperative in Gainesville, using an oil-based ink. She is then able to hand paint using water colors onto each one of her prints.
Peebles taught art for 17 years, but has been a fulltime artist for only the past four years. She was 50 before she started going to art shows and festivals.
"I applied to the prestigious Coconut Grove Show my first year, which is a very difficult show to get into," she said.
Not only did she get in, but she won first place in printmaking in her first year.
"That was a complete surprise," she said. Since then, she has won awards each year at Coconut Grove and several others.
Peebles will be demonstrating her linoleum block-carving and art-printing processes on Saturday and Sunday, Dec. 14 and Dec. 15, at the Third Annual Gathering of the Artists holiday show in Gainesville, her second year being invited to the event.
"It's a wonderful show and I enjoy doing my demonstrations and answering visitors' questions," she said.
# # #
Email cwalker@
alachuatoday.com
Add a comment
Add a comment
ALACHUA – A lawsuit from last year is lingering, while the City of Alachua seeks to end it.
The Heritage Oaks lawsuit that took place in August of last year nearly awarded developer John Curtis Jr. $3.9 million from the jury, but the judge withheld the money.
The lawsuit, which was filed by Curtis Jr. and the American Construction Development Co., said that the City of Alachua obstructed the developer's ability to receive permits and water and electricity.
According to reports filed by the court, the judge has postponed the jury's decision to award Curtis Jr. with the $3.9 million and is currently working on getting a summary judgment.
A summary judgment is a judgment made without a trial.
Curtis Jr. was forced to abandon the project after the city banned him from working on the subdivision.
In the case, Heritage Oaks residents were able to show the damages that had occurred to their homes since he left the project, noting sagging roofs and unpaved roads as some of the issues that the development faced, according to reports.
The original case against the city was filed in 2009.
Curtis Jr. alleged the city breached contract and interfered with the development. The trial called attention to issues relating to quality of construction, such as improperly paved roads. Photos at the trial showed that wastewater pipes had been repaired using duct tape.
He also said the city effectively precluded it from being able to market the property.
Heritage Oaks claimed the way the city treated it compared to other similar developers was done intentionally to discriminate against it.
On the five counts the city was charged with, it was found guilty of all of them and awarded the majority of damages the developer sought.
After the jury awarded the $3.9 million on the grounds that the city interfered in the development of the subdivision, Judge Hulslander set the jury verdict aside and called for an appeal because he felt that the city did not interfere with the construction, said David Theriaque, attorney for the city handling the lawsuit.
"He believed the jury verdict form was flawed and that a new trial needed to be held," Theriaque said. "It invalidates the $3.9 million jury verdict."
The case will focus on proving the city was not at fault for the issues faced by Curtis Jr. and his problems with permits and electricity.
The case is currently ongoing and has not moved into setting another trial yet.
# # #
Email eotero@
alachuatoday.com
Add a comment
Add a comment
HAWTHORNE – Hawthorne Middle School and Hawthorne High School were evacuated Thursday morning, Dec. 5, following a bomb threat.
Students at­ the school were immediately led to the football stadium while the Alachua County Sheriff's Office (ACSO) searched the school for possible explosives.
The students waited in the football stadium until the deputies finished their search and then allowed students back into class. The schools reopened around 11:30 a.m., according to reports from the ACSO.
The county kept parents updated on the bomb threat through the Alachua County public schools website and the county's Twitter account.
Many students were checked out after the school said that parents could take students home directly from the football stadium.
Notifications for the bomb threat were sent out immediately. Deputies later determined the bomb threat was a false alarm.
The updates on Twitter let parents know that school would still be in session on Friday.
Art Forgey, public information officer for Alachua County Sheriff's Office, was unavailable to comment on the bomb threat.
# # #
Email eotero@
alachuatoday.com
Add a comment
Add a comment
ALACHUA – The Alachua Lions Club is playing Santa Clause this holiday season, and it was shopping day this week.
A special committee, armed with a Christmas list for five small children went shopping for a local single mother's family.
The oldest is child is 8-years-old, and the youngest is 2-years-old.
The club asked a local school, Irby Elementary, to identify a family that is struggling to provide Christmas for their family.
"The whole goal of Alachua is to be the good life community," said John Hopkins, president of the Lions Club. "We want to spread that as wide as possible."
The Lions Club will also be partnering with a local church to distribute wrapped toys to other needy families.
"We wish we could do it for every needy family," Hopkins said.
Nevertheless, the Lions Club's goal this season is to "bring a few smiles to faces," he said.
"There is much to be thankful for, and we are happy to do what we can for those who are not so fortunate."
Mayor Gib Coerper of Alachua participated in the shopping on Tuesday, Dec. 10. Giving back to the community feels good, he said, and the Lions just want to make the community the best it can be.
"I see a wonderful tradition of 'Lionism' everywhere," Coerper said.
There will be four or five Lions with the children when they unwrap their presents shortly before Christmas.
"It's kind of like being Santa Clause, you know?" Hopkins said with a laugh.
# # #
Email berickson@
alachuatoday.com
Add a comment
Add a comment
Details

Published on

Wednesday, 18 December 2013 23:54

Written by Special to Alachua County Today
Hits: 1254
ALACHUA – One morning, as Alachua resident Linda Walker was spending time in her personal devotions and prayers to God, she began to write about things that were in her heart.
She remembered hearing a preacher say that if we make and keep appointments for different things, why not make an appointment to spend time with the Lord?
"Set aside some time in your life to spend quiet time with the Lord," she said.
So she started doing just that. Walker began her prayer time with a bible and journal. She would read the Bible and then write her petitions to the Lord.
As she continued spending time with God, he communed with her. Thoughts came to her that she said were not hers. Usually, it would be a verse from scripture, a word of encouragement, a song or something to pray about.
"He also would let me know how much he loves me," she said.
Being in the presence of the Lord is awesome, Walker said. As she sat quietly in his presence, he revealed to her that he was aware of everything that concerns her, that he is her father and has great love for her and that she is never alone.
"He wants you to know how much he loves you too," she said.
Walker said the Lord had her write "Whispering Pines" to encourage others to make an appointment with the Heavenly Father.
"He is waiting to fellowship with you," she said. "He has a great plan for your life and wants to guide you and keep you on the path prepared for you."
We all need guidance and wisdom from the Lord every day of our lives, Walker said. He is there to help us. He is Emanuel, God with us.
Walker believes that as others read the inspired words from God in "Whispering Pines," they will discover that God wants to reveal his heart of love to all and they will be filled with his love and peace and will know God in a more intimate way.
The book will be available Saturday, Dec. 21 at Hitchcock's in Alachua. From 11 a.m. to 4 p.m. Walker will be there signing copies.
# # #
Email editor@
alachuatoday.com
Add a comment
Add a comment