ARCHER – In a 4-1 vote, on April 8 the Archer City Commission passed an ordinance changing the City's municipal elections to the spring.
It was previously held on the second Tuesday of November, the same day as the national and state elections.
Commissioner Fletcher Hope voted against the election change.
Previously, during the Feb. 11 city commission meeting, Mayor Frank Ogborn said that during the last election, because there were so many amendments voters had to read, Archer's elections got "lost in the shuffle."
"Voters don't want to read all that stuff," Ogborn said at the February commission meeting. "I thought it was a good idea to move it to the spring."
According to the ordinance, the municipal elections will take place in even years on the second Tuesday of April.
Archer City Manager Al Grieshaber Jr., said there would be no early voting unless the municipality pays for it.
Archer, Alachua and Newberry will have their municipal elections on the same day.
Alachua County Supervisor of Elections Pam Carpenter said in February during an interview that she is working with cities to have their municipal elections on the same day in the spring in order to increase public awareness of their municipal voting day. This has been an on-going process for the last eight years.
"[It would] provide voters with another annual election day," she said in February.
So far, Gainesville, Newberry, Alachua, Hawthorne and the towns of LaCrosse and Micanopy have set their municipal elections during the spring.
Two other municipalities, Waldo and High Springs, still hold their elections in November.
Although the elections are on even years, in an interview Grieshaber said there will be an election in April 2015 in order to replace the November 2014 election.
This will be a one-time odd-year election on the second Tuesday of April, according to the ordinance.
This means that the commission seats of Gabe Green and Ogborn would be extended until the spring of 2015 instead of ending November 2014, Grieshaber said.
A commissioner's term lasts four years, and the positions of mayor and vice mayor, which will continue to be selected in January, last one year.
# # #
E-mail acarroz@
alachuatoday.com
Add a comment
Add a comment
WALDO – The City of Waldo has been approved to receive a grant from the Suwanee River Water Management District. The monies will be used to replace faulty water meters. The failing meters have been a recurring problem, said Waldo City Manager Kim Worley. The City was awarded $76,836, which will be matched with City funds, bringing the projected total of the upgrades to $153,672.
The grant funds will come out of the water management district's $1.5 million budget for projects that address or enhance water supplies within the district.
Known as the Local Regional Initiative Valuing Environmental Resources (RIVER) cost-share program, 43 applications were submitted by the December 2012 deadline for the 2013 fiscal year. Out of the 43 districts that applied, only 14 projects were approved, and Waldo was one of the approved projects.
The 14 projects totaled $1,499,903, which will be used for a variety of improvements including increased flood protection, removal of nitrates and reduction of sediments that enter into the Suwanee River.
# # #
E-mail dbonilla@
alachuatoday.com
Add a comment
Add a comment
Will replace "Huddle House"
ALACHUA – Alachua residents may soon dine on zalads, zappetizers and fried chicken in six to eight months.
Chasing Chicken 2, Inc. will redevelop the property commonly known as "the Huddle House" into a Zaxby's restaurant.
Ground breaking is scheduled for late April, according to Walter Jarvis, of Jarvis & Folsom, Inc., who represented Chasing Chicken 2, Inc. at an Alachua Planning and Zoning Board meeting on Feb. 12, 2013.
The request for consideration of a site plan filed in November 2012 showed the restaurant at approximately 3,800 square-feet with a drive-through and associated drainage, paving, grading and infrastructure improvements.
The property, located at 16062 NW U.S. Highway 441 at the junction of I-75, has been regarded as an eyesore by some residents and Alachua officials. It has been vacant for several years.
The property is still currently held by Sally Franklin, of Alachua Enterprises, Inc., but Jarvis said Chasing Chicken 2, Inc. and Franklin are working to transfer the property.
Construction is expected to be complete in six to eight months.
# # #
Email estanton@
alachuatoday.com
Add a comment
Add a comment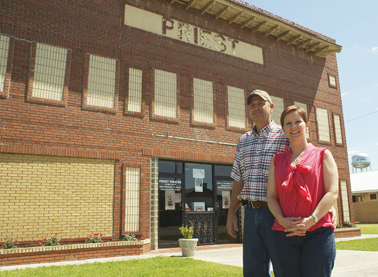 L-R: Alan and Janet Alligood hope to raise enough money to allow for upgrades to the Priest Theatre in High Springs. Among their amibtious goals is to convert from 35 mm film projectors to a modern digital projection system.
HIGH SPRINGS – The Priest Theatre in High Springs, located on 15 NW 1st Street, is reaching out to moviegoers and community members to donate money and help save the theater as it transitions into the digital age.
The independent movie theater along with many others across America is struggling to keep up the transition as the movie industry has made the switch from using 35 mm film projectors to digital projectors. The cost to continue showing movies and upgrade the projectors is about $85,000.
Janet Alligood, daughter of Priest Theatre owners Bobby and Janice Sheffield, has made it her mission along with husband, Alan, to help save the theater. The Alligoods created a "Save the Priest" webpage on Kickstarter.com to help raise funds and awareness.
According to the website, approximately $10,498 has been raised. The digital upgrade will allow movie studios and distributors to save money on producing and shipping movies. The new projectors also increase the quality of screening by increasing the movie's lighting and clarity.
Alligood said besides working on the webpage she has been working with volunteers to help come up with other ideas to fundraise money which includes applying for grants. She also said the theater will be participating in the 37th Annual High Springs Pioneer Days celebration selling corn, giving tours of the theater and showing a free screening of western movie "Winchester 73."
The Priest Theatre, which lies in the High Springs Historic District, was built around 1910 by William Jefferson Priest, who also owned the Ford dealership. Since its construction, the 103-year-old theater has transitioned from hosting traveling vaudeville shows to plays and from silent movies to "talkies."
In 1986, the Sheffield's bought the theater because it was near their hardware store and provided them needed access, according to the "Save the Priest" webpage. They decided to keep the theater as is and have restored and operated the theater ever since. In 2011 they put the theater up for sale because they could no longer keep up with cost. However, the theater did not sell. Alligood said she took this as a sign that she needed to get involved and save the theater from closing.
Along with the projector upgrade, donations made to the theater will fund projects to upgrade the digital surround sound system, docking station and server, digital pedestal, electric wiring, a flying silver screen, construction fees, installation and training.
Alligood says she wants to restore the theater's stage and bring back live shows to the community.
"I want to see that stage," Janet said. "Neither my generation nor my mother's generation has seen that stage operate since vaudeville, and I want to see live shows entertain our community and happen again."
The theater, which still shows movies three times a week, includes an auditorium that seats about 240 people, along with a balcony, sloping floors and a main lobby.
Donations are currently being accepted online at the Kickstarter's "Save the Priest" webpage from now until June 3 at 7:01 p.m. However, Alligood said they will still be accepting donations at the theater after the deadline.
"I believe that if we bring [the theater] back to its beauty and restore it then it's going to be something you can't get anywhere else," Alligood added.
# # #
E-mail alinares@
alachuatoday.com
Add a comment
Add a comment
Details

Published on

Wednesday, 17 April 2013 19:08

Written by Special to Alachua County Today
Hits: 955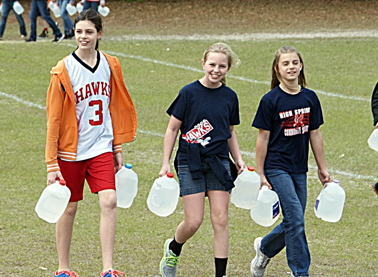 High Springs Community School students found sponsors and walked laps carrying two gallons water to raise money for a water well in a third world village.
HIGH SPRINGS – High Springs Community School middle grades media specialist Judith Weaver was inspired by a book she read from the Sunshine State Young Authors list. The partly biographical book, "A Long Walk to Water," brings to light the plight of children in certain Sudanese communities who are unable to attend school because they must spend their days walking for hours to find fresh water to bring back to their families for the basic necessities of life. Recent water conservation issues in our own area due to aquifers not replenishing after rains and river beds drying up bring this dilemma half way across the world from the Sudan right to the front doors of children in the High Springs community.
Weaver approached school's School Advisory Council (SAC) to ask for multiple copies of the book so that whole classes could read it and make connections between the information in literature and what is happening in their own backyards. The SAC authorized the purchase of three class sets of the novel. Hundreds of the students at the school read the book. In addition to reading the books, students have been informed about the importance of water conservation and its impact for the future in a myriad of ways.
On March 22, 73 kindergarteners, 100 fifth graders, and 176 middle grades students raised $2,200 to build a well in a third world village that needs clean water. Participants found sponsors who donated money for each lap the students walked. While the students were walking laps, they also carried two gallons of water to symbolize the plight of children worldwide who must walk as much as four hours each way for water. Much of this water is not clean and is responsible for death and disease throughout the world. As part of the "Walking for Water" project, students visited up to five environmental experts who lectured on global warming, water scarcity, underground springs in our area, alligators, reptiles and snakes, Sudan, Tanzania, groundwater and filtration systems.
This day culminated a year-long project that included many grades reading "A Long Walk to Water" by Sue Parks, a visit to the Natural History Museum and the Devil's Millhopper sinkhole in Gainesville, which was funded by the Alachua County Public School Foundation, and a focus on water conservation throughout the year. All monies collected were donated to the High Springs Rotary for the Rotary International's ongoing World Water project that seeks to provide a source for clean water for every person in the world.
High Springs Community School has expressed thanks to the teachers, students, volunteers, community members and guest speakers who assisted with and donated money toward this project. With the funds already collected, and the remaining pledge funds to be turned in, the school hopes to meet the goal of raising $2,400. This would provide for not one, but two wells for small communities, like High Springs, but located where children have "a long walk to water."
# # #
Submit your story by
Emailing community@
alachuatoday.com
Add a comment
Add a comment