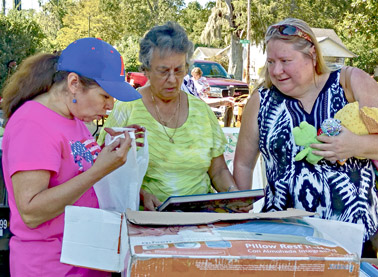 L-R: Bell Diefenderfer, Director, Community Outreach, peers into bags and goes over items along with volunteers and buyers.Today photo/C.M. WALKER

HIGH SPRINGS – On one of the most beautiful Saturdays in recent memory, High Springs residents got together to sell items they no longer needed to those who now need them.
Blue skies and cooler temperatures not only brought people to the High Springs City Hall parking area for the High Springs Chamber of Commerce-sponsored main sale, but also to the GFWC New Century Woman's Club, next door.
St. Madeleine's Community Outreach, just a couple of blocks away, also joined into the yard sale fun by putting out excess clothing, books, toys and other items that had been donated to the organization. "There's only so much room in our facility," said one volunteer about the barrack-like structure they work out of.
In addition to the usual items one might find at a yard sale, a like-new dishwasher, a small rice cooker, a fountain, furniture and many other useful items were available. At one point the Woman's Club items, which were priced very low to begin with, were dropped to half price. "We have to move these items," said Carole Tate, GFWC Woman's Club President.
In addition to yard sale items, the Woman's Club, which held their yard sale inside their air conditioned clubhouse, had hot dogs, soft drinks, bottled water and a sumptuous array of yummy baked items for sale.
Kids on skates were seen at each of the venues, picking over the items for what they coveted most.
Bell Diefenderfer, Director, Community Outreach, was seen peering into bags and going over items along with some of the volunteers and buyers. "Until you get everything out on the table, you don't always know what you have," said one visitor.
One lady was going through stuffed toys to find ones to donate to the residents at Plantation Oaks Senior Living Facility. A little girl used her money wisely to buy a large box of various colored chalks.
Two women held up an interestingly designed blanket, which one of them ultimately purchased.
# # #
Email Cwalker@
alachuatoday.com
Add a comment
Add a comment
Jill Yorke Equizel (center) displays her paintings at the Thornebrook arts festival. The High Springs artist engaged interested festival goers who stopped at her booth over the weekend. (Today photo/RAY CARSON)

GAINESVILLE – After a long hot summer, area temperatures began to cool down this past weekend, just in time for the 32nd Annual Arts festival at Thornebrook.
Featuring 123 artists and 13 musical acts, the event is considered one of the top area art festivals. The Thornebrook festival was originally established as a showcase of local artist who were members of the Gainesville Fine Arts Association, working in cooperation with the merchants in the Thornebrooke Village shopping center in northwest Gainesville. It provides the public with an art festival combined with various merchants and restaurants to provide all the amenities for a day out viewing art.
Unlike many festivals, which are laid out in straight lines along the street, Thornebrook offers a meandering set up through the shopping village for a more relaxed experience. As the festival grew in attendance and reputation, the organizers decided to take it to the next level and open it up to other artists from around the state that were not GFAA members. In 2003, the festival committee hired Lyn White to be the festival director. White had plenty of experience at organizing festivals. In 1982 she began directing the Gainesville Downtown Fall Arts Festival and ran in for seven years. But working full time and running the festival became too much to try to do both, and White retired as director in 1989. However, she continued to be involved in the Gainesville arts community.
White worked with the GFAA and the merchants to expand the show and provide more amenities for both the artist and the attendees.
"We wanted to create a festival that would appeal to a broad audience and draw good artists who would want to return each year," White said. "We also wanted to keep the diversity in the artist wide enough to appeal to a variety of attendees and have them want to return each year to see new work."
All artist applicants are reviewed and judged to gather a wide variety of styles from talented artists. The judging process attempts to limit the amount of any art form and chose different individual styles in each medium. Artist are picked from a wide variety of mediums including painting, ceramics, glass, fiber and textiles, photography, jewelry, drawing, mixed media and wood.
As an incentive to the artist, they also established cash prizes from ratings by judges. There are nine awards, ranging from a best of show prize of $500 and $150 awards of merit.
The winner of this year's best of show prize went to Candace McCaffery for her quilt work. "With the rising cost of entrance fees, it can be hard for artists to make a profit at shows, so the cash prizes help encourage them to want to return". White said.
The musical acts help round out the experience for the general public and encourage them to spend more time at the event and visit the merchants in the Thornebrook village.
"Each year gets a little better" White said. "You take what you learn and try to improve it every year to make it a better experience for everyone".
# # #
Email Rcarson@
alachuatoday.com
Add a comment
Add a comment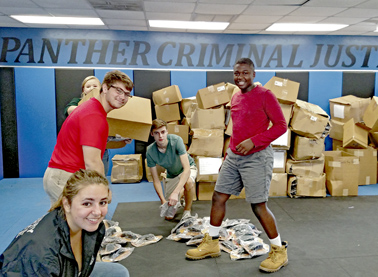 Newberry High School Criminal Justice Academy students unpacking some of the $1.2 million worth of inventory from Plalanx. (Photo special to Alachua County Today)

NEWBERRY – New law enforcement duty gear was recently donated to an area high school to be used as part of their law enforcement career magnet program, which was founded in 1996. On Monday, Sept. 26, 30 Newberry High School students and staff off-loaded a truckload of new equipment which was donated by Phalanx Defense Systems CEO James Coats to the school's Academy of Criminal Justice (ACJ) program.
"Phalanx is a Gainesville-based company that produces body armor and equipment for the military and law enforcement," said Patrick Treese, ACJ Director.
Some of the equipment will be used by students in the program, some will be made available for sale to help fund the purchase of a new patrol vehicle for the program, which currently boasts 150 students, 93 females and 57 males. "We need a vehicle similar to an F-150 that is large enough to transport students, 7-month-old German Shepherd K-9 Kora and equipment," said Treese.
The ACJ program enrolls high school students from all over Alachua County who are interested in law, law enforcement, forensics and related fields.
"We are very grateful for James Coats' generous donation to our program," he said.
Treese, who is in his eighth year as ACJ director, is also a reserve police officer at the High Springs Police Department.
# # #
Email Cwalker@
alachuatoday.com
Add a comment
Add a comment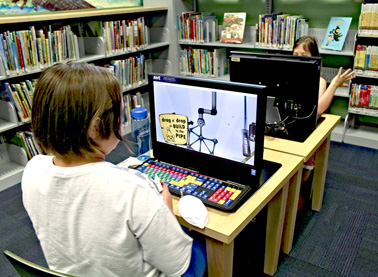 Youngsters are already taking advantage of the expanded space and computing power at the High Springs Branch Library. (Photo special to Alachua County Today)
HIGH SPRINGS – Today's public libraries are more than just shelves overflowing with books. Not only does the library of the 21st Century offer access to online resources unavailable to some community members, libraries help build and maintain strong community connections. In High Springs, area residents have reason to celebrate as the High Springs Branch Library has undergone a major expansion.
On Saturday morning, Sept. 24, High Springs city and Alachua County commissioners showed up for the High Springs Branch Library for celebration of the expansion/renovation with a ribbon-cutting ceremony
Speakers included High Springs Mayor Byran Williams, who spoke about the increased value to the community of the expansion, Shaney Livingston, Library Director, Alachua County Library District, Lee Pinkoson, Chair, Alachua County Library District Governing Board, and Susan Sonsini, Chair Alachua County Library District Board of Trustees.
"It was a real pleasure to see children using the early learning computers, teens gravitating to spaces and programs designed for them, crafters visiting the expanded crafting area, etc.," said Nickie Kortus, Alachua County Library District Marketing and Public Relations Manager. Kortus estimates 50-75 people attended the library branch's grand opening. "People trickled in throughout the day," she said.
The expansion creates a total of 8,200 sq. ft. of space designed to meet the needs of the growing community. In addition, the space now features a new children's area, two study rooms, a quiet reading room and a larger community meeting room.
Despite all the work involved in adding 3,200 sq. ft. to the library structure, the library branch remained open throughout construction. "The building was only closed a few hours one day due to the laying of the carpet," said Kortus.
An over-sized ceremonial donation check provided by the Alachua County Library District Foundation was presented to pay for the Snuggle Up Center and teen space. The quiet reading room was funded by the Friends of the Library.
On the outside of the building an expanded parking lot was created to make room for more visitors. "As many state-of-the-art energy efficient improvements as possible were added to the structure to help maintain lower operating expenses," said Kortus.
The celebratory reception was held in the large meeting room. Two large sheet cakes were provided by Friends of the High Springs Library and other refreshments were provided by the GFWC High Springs New Century Woman's Club. Thompson's Flower Shop provided flowers and decorations for the well-attended event.
# # #
Email Cwalker@
Add a comment
Add a comment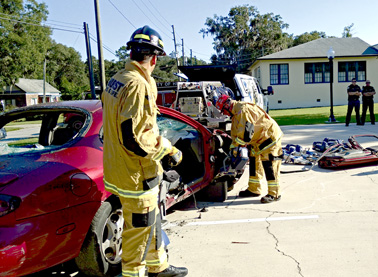 L-R: Mike Cannon and Barry Hopper, both of Hurst Jaws of Life demonstrate to area fire departments how the life-saving tool is used in a mock rescue operation. (Photo special to Alachua County Today )

HIGH SPRINGS – Local first responders now have another tool at their disposal to help save lives. Firehouse Subs Public Safety Foundation has issued a grant to provide one area fire department with state-of-the-art vehicle extrication tools. The High Springs Fire Department (HSFD) applied for the grant in June. In July they were notified they had been awarded the grant to purchase the requested new battery powered eDraulic by Hurst Jaws of Life.
Inclusive of the Jaws of Life are a Hurst eDraulic cutter, Hurst eDraulic spreader, Hurst telescoping eDraulic ram and C-Frame Ram Support, valued at up to $30,327.
On Thursday, Sept. 22, representatives from Hurst demonstrated how the equipment is used in a mock rescue operation. Firefighters from High Springs and other area fire departments, along with the media and members of the public attended as Hurst representatives dismantled a car as they would in an extrication situation. Not only were the doors removed, but the front quarter panel was dismantled to demonstrate how a person could be extricated, even if their legs were trapped.
The demonstration was held at the Historic High Springs Elementary School and Community Center, located next door to the High Springs Police Department.
Those in attendance who wished to participate were outfitted in actual turnout gear and worked with the team in using the equipment to extricate a patient from a vehicle.
"These new extrication tools from Hurst are battery powered and require no extra hoses or power unit, enabling firefighters to work freely and quickly with a stronger, smaller and lighter tool," said John Montgomery, Municipal Emergency Service (MES). MES carries Hurst equipment and Montgomery is the sales representative for northern Florida.
The battery included in the eDraulic extrication tools provides enough power for a one-hour rescue operation before needing to be replaced.
"Considering the amount of power and capabilities of these tools, this is a truly remarkable feat," said Kevin Mangan, Public Information Officer (PIO), High Springs Fire Department.
# # #
Email Cwalker@
alachuatoday.com
Add a comment
Add a comment