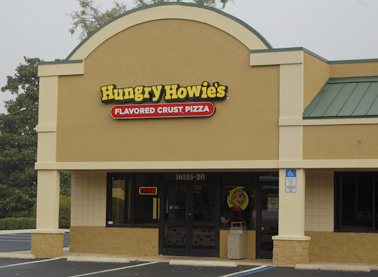 ALACHUA – Alachua isn't just a small town anymore. The reopening of Hungry Howie's is only one indicator of Alachua's economic potential.
Dee Vreen, 38-year-old co-owner of Hungry Howie's in Alachua, explained that bringing Hungry Howie's back was an easy decision to make.
"Alachua is booming right now," he said. "There's new growth in Alachua."
A Zaxby's opened in Alachua on Oct. 7 of last year, a new Raceway gas station opened a little over a month ago and a site plan has been recently approved for a Publix to be built next to Santa Fe High School.
With rumors of a Wal-Mart coming to Alachua for years, the opening of these businesses might actually be the push that Wal-Mart was waiting for to get a site plan in order.
"Alachua has seen a lot of economic development over the past 12 months, and that's a strong selling point [to potential businesses]," said Adam Boukari, assistant city manager of Alachua.
Boukari said in addition to the economic development, the fact that Alachua is in the Interstate 75 and Highway 441 corridor also makes it a target spot for tourists and potential businesses.
"Publix is an anchor-type business," he said. "It's going to draw other businesses to the area.
"Our city commission is very serious about economic development and we're committed to doing it the right way."
Vreen said that the Hungry Howie's second time around is going to be much different.
"This time I'm running it," he said. "There's going to be better customer service and more organization within upper management."
He added that the Alachua branch of Hungry Howie's isn't going to deliver this time. They're only offering carryout and drive-thru.
Vreen believes that offering delivery is one of the reasons why Hungry Howie's originally closed four years ago.
"It's been a long journey, but I'm glad to be back in Alachua," he said.
Previously, Vreen worked at the Pizza Hut in Alachua for six years.
"It's always been a dream of mine and when the opportunity came forth, I couldn't pass it up," Vreen said. "I achieved one of my main goals in life."
Boukari said that Alachua's economic development is also going to be beneficial to its residents.
"Seeing commercial development [in Alachua] is wonderful because you get a diverse employment base that provides more opportunities for our citizens," Boukari said.
"Alachua has a bright future. I can't wait to see it come to fruition."
# # #
Email Tschuyler@
alachuatoday.com
Add a comment
Add a comment
Details

Published on

Sunday, 14 December 2014 17:43

Written by Special to Alachua County Today
Hits: 481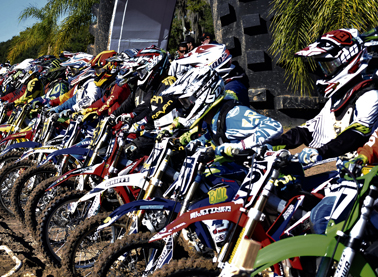 ALACHUA – Thanksgiving; the sweet smells of turkey, stuffing, pumpkin pie and the exhaust of a couple thousand dirt bikes. This year marked the 43rd running of the Thor Winter Olympics presented by Pro Circuit. The annual motocross tradition brings together the top amateurs from around the world to battle it out in Supercross and Motocross at the infamous Gatorback Cycle Park. More commonly referred to as Mini O's, it marks a unique time of year in amateur racing. Mini O's is the last major national of the year, but since Loretta's back in August, kids have signed contracts with new teams, new gear, and have graduated up to new classes. The week of Thanksgiving in Florida served up a healthy portion of what's ahead for the upcoming 2015 season.
The week kicked off on Monday with three days of Supercross racing. In the A and Pro Sports class newcomers Alex Frye and Tristan Charboneau joined the ranks of Darian Sanayei, Cody Chisholm and veteran and hometown kid Ricky Renner. Sanayei dominated the Pro Sport classes taking home both the 250 Pro and 450 Pro titles. Charboneau grabbed the 250A title and Renner showed the young up and comers that this old dog has still got some new tricks taking the 450 A title.
A pair of Australian riders stirred up the B and C classes, beating some of America's finest. Egan Louis Mastin put in some impressive rides to take home the Supercross title in the 250B and Schoolboy 2 (12-13) B/C classes. Reg Magyar dominated the C classes taking the checkers and the title in the 250C Limited and 450C Limited classes.
Carson Mumford, Garret Marchbanks, Jalek Swoll, and Pierce Brown proved that the future of our sport is only getting brighter, and faster. Combined these little rippers snatched up six Supercross titles.
Wednesday afternoon, after all the newly crowned Supercross champions had been served their number one plates, it was time to move to the outdoor track. After a slow start in SX, Alex Frye quickly became the man to beat on the Motocross track. Daniel Baker's speed was impressive all week, but several mistakes held him to only one championship in the 450 A class.
This year's Mini O's was the eighth and final stop of the 2014 AMA Women's Motocross Championship (WMX) series. Marissa Markelon wrapped up the series with a strong 1-1 performance.
Austin Forkner continued his success picking up three more championships in Schoolboy 2 (13-16) B/C, 250B, and 450B classes.
Jalek Swoll was nearly unstoppable. He was bested only once by Chase Fasnacht in the Mini Sr. 12-15 Main. By the final gate drop on Saturday, Swoll had four outdoor Championships. Swoll's impressive results throughout the entire week awarded him the prestigious Platinum Pipe Award and the Fox Bronze Boot Award. That's a lot of hardware.
Ryder, Difrancesco, Jett Reynolds, and Matthew Leblanc lead the mini riders with five championships between the three of them.
From the first gate drop on Monday, to the annual Thor Thanksgiving dinner on Thursday night, to the final checkered flag on Saturday it was another successful year filled with great racing, family, and friends.
For all the results of this year's Thor Winter Olympics, visit the Unlimited Sports MX website at unlimitedsportsmx.com.
# # #
Email editor@
alachuatoday.com
Add a comment
Add a comment
HIGH SPRINGS – A standing-room-only audience looked on as High Springs City Clerk Jenny Parham administered the oaths of office to newly-elected commissioners Jason Evans and Gloria James. Both took their seats as City Manager Ed Booth called the City Commission to order.
Both candidates offered brief remarks. James thanked the citizens of High Springs and all who had faith in her enough to give her a chance to serve her community. "While I am here, I will give you my best," she said. "I will do whatever I can as long as it is beneficial to the citizens of High Springs."
Evans said it was an honor to be on the commission. Although he ran unopposed, he said he was grateful to those supporters who encouraged and supported him.
"I have been told this is the first time a father and son have served on this commission. I don't know if that's true, but I hope I can be as well thought of as he is after serving." He made a point of saying that if people didn't want to know his honest opinion on something, they shouldn't ask. He further commented that he thought there was a good group of people on the commission and although they might disagree, he felt they could do so in a respectful manner.
When the moment came to elect a mayor and vice-mayor for the coming term, former mayor Sue Weller and former vice-mayor Scott Jamison were unanimously elected to serve in those same positions for the 2015 term.
"I am excited about being mayor again and look forward to what I believe will be a very good year for our city," said Weller later. "I appreciate the commission's confidence in my filling this position and will work hard with my fellow commissioners to move the city forward."
Jamison was clearly surprised by his unanimous election as vice-mayor. "I'm honored they would want me to serve in this position a second time," he said. "It was unexpected. I feel very humbled and appreciate their [commission] confidence in me."
City Manager Ed Booth presented a plaque to commemorate outgoing Mayor Byran Williams and his extensive service to his community as mayor. In presenting the plaque Booth praised Williams for his hard work during the past year in which the two attended numerous meetings, traveled to talk with people and agencies and "worked as hard as he could to help develop a solid economic development program for the city."
Commissioner Byran Williams said in a later interview that he had enjoyed his term of office, but he was ready to let someone else take the reins for a while. "As mayor, I have traveled a lot, attended a great many more meetings and events and been involved in more activities on behalf of my city. As grateful as I am for the opportunity to serve my fellow citizens, I am just as ready to serve in other ways now."
After the plaque presentation, Williams thanked the citizens of High Springs and said he hoped the city would have a wonderful year.
Due to the upcoming holidays, the High Springs City Commission will meet only one more time before the end of this calendar year on Dec. 11.
# # #
Email cwalker@
alachuatoday.com
Add a comment
Add a comment
NEWBERRY – The City of Newberry has appointed Ben Buckner as their new fire chief. Buckner has been serving as interim fire chief and City Manager Mike New announced his promotion to fire chief on Tuesday, Nov. 18.
Buckner stepped in as interim fire chief when former Fire Chief David Rodriguez was put on administrative leave for alleged multiple offenses in December 2013.
Buckner has been with the Newberry Fire Department for a little over 20 years, and it is where he started out as a firefighter. He has been living in High Springs since 1985.
"It's something that was unexpected at this time, however, it's nice to know that the city manager and the commission have confidence in me that we can get the job done… and move forward in a positive and productive way," Buckner said.
Buckner was the top candidate within the pool of internal candidates. He said the city wanted to find a chief from within their own department, but would have gone outside the department if they felt they needed to.
Chief Buckner was hired as a Newberry firefighter in 1994, promoted to lieutenant in 1998 and then promoted to captain in 2002.
There are currently 17 employees in the Newberry Fire Department who report to Chief Buckner.
"This job is made a whole lot easier because of the employees we have," Buckner said. "These guys and ladies, they know what to do. The fire department employees know what to do. You don't have to direct them very often. They work very well on their own, and it makes the chief's jobs so much easier when you have employees like that."
New said that as interim fire chief, Buckner has demonstrated fiscal responsibility, dedication, and commitment to the safety of Newberry residents.
When not at the station, Buckner said he spends all his time with his 14- and 16-year-old sons.
"That's what I do when I'm not here, baseball and doing stuff with them," Buckner said. "Those are the loves of my life. All my time out of here is devoted to them. They keep me busy."
He said his sons have shown interest in becoming firefighters themselves.
"I don't know how much of them wanting to do it is because dad does it or they really want to do it," Buckner said.
# # #
Email jhundley@
alachuatoday.com
Add a comment
Add a comment
ALACHUA – Publix, Family Dollar and AutoZone were given the green light for their respective projects in the city of Alachua. The City's Planning and Zoning Board approved two site plans at their Nov. 18 meeting. The approvals mark the final review required by a board.
City staff and project developers presented plans for the Alachua Marketplace, which will be the Publix shopping center, as well as the proposed Family Dollar and AutoZone site.
The Alachua Marketplace will be located on NW U.S. Highway 441, northwest of 167th Boulevard and adjacent to Santa Fe High School. A traffic signal will be installed at the intersection of NW U.S. 441 and 167th Boulevard before Publix or any of the retailers in that development receive a certificate of occupancy.
After the developer installs the traffic signal, the maintenance and operation will be taken over by the Florida Department of Transportation (FDOT).
Answering concerns of congestion at U.S. 441 from a resident in nearby Heritage Oaks, a representative for the Publix developer assured citizens that the traffic light would be installed as soon as possible.
The proposed project includes a 56,431 square foot building with 46,031 square foot for use by Publix and the remaining 10,400 square feett designated for some eight retail bays.
The Family Dollar and AutoZone will be located on U.S. 441 directly across the street from the Hitchcock's plaza in Alachua, and just south of the Oak Hill Plaza where Food Lion was formerly located.
The project site is currently home to a car wash and Tropical Sno snow cone stand, both of which will be demolished to make way for Family Dollar and AutoZone. The proposed Family Dollar will be 8,389 square feet and the AutoZone will be 6,816 square feet.
Family Dollar will be relocating from its current location in the Oak Hill Plaza to the new site. As part of Tuesday's approval, the site plan calls for a slight westward shift in the access point on U.S. 441. According to City staff, the shift was a requirement of FDOT, which expressed concerns that the existing entrance for the car wash and snow cone stand is too close to the NW 144th Street intersection.
One Alachua resident expressed concerns that Family Dollar's relocation from the Oak Hill Plaza would compound the likelihood of that plaza becoming dilapidated, especially since there is no occupant where former anchor tenant Food Lion was located.
Planning and Zoning Board member Virginia Johns said that the board would like to see Alachua grow.
"Hopefully there will be some businesses who are interested in the development, and we'd love to see it full as well," she said.
Since the Alachua Market Place development and the Family Dollar and AutoZone development received their final site plan approvals, the only other City hurdle is a certificate of occupancy for each building, which is issued after a satisfactory building inspection.
# # #
Email jhundley@
alachuatoday.com
Add a comment
Add a comment