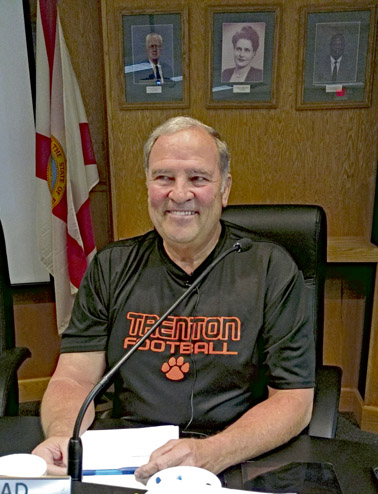 Newberry Mayor Bill Conrad is walking around in a Trenton t-shirt and explained his situation at the Oct. 24 city commission meeting. The shirt is the result of a lost bet about the Newberry vs. Trenton football game. (Today photo/C.M. WALKER)
NEWBERRY – Citizens may be surprised to see Newberry Mayor Bill Conrad walking around in a Trenton t-shirt. He opened the Oct. 24 city commission meeting by explaining the shirt.
"I made a bet with Glen Thigpen on the Oct. 14 Newberry vs. Trenton game," he said. "The bet involved the losing team's mayor wearing the winning team's t-shirt. Unfortunately, we lost, but I am hoping there will be another opportunity for a second meeting of our teams and I'm going to bet him double or nothing next time."
All levity aside, the meeting included a legislative public hearing to receive comments on an ordinance to amend the city's Comprehensive Plan to allow for a new future land use category called "Corporate/Research Park." In addition to the new category, modifications to the Urban Services Area and to the Economic Development Element are also part of this change.
"We are trying to clean up the ordinance," said City Attorney Scott Walker.
The ordinance was approved on first reading, and will be brought back to the commission for second and final reading to hear any additional comments before the final vote.
Commissioners resolved to rename the Newberry Community Center to Martin Luther King, Jr. Center. "A dedication will be conducted around the third week of January," said City Manager Mike New.
As part of the city's housekeeping agreements which are voted on routinely each year, a Traffic Signal Maintenance Agreement was approved which would allow the City of Gainesville to maintain traffic signals and school beacons within the city limits of Newberry.
Although it may seem odd that one city should contract with another to provide services of this sort, the City of Newberry also contracts with the Florida Department of Transportation (FDOT) to maintain the traffic signals on state roads in Newberry.
"We receive funding from FDOT to provide this maintenance service," explained city staff. "The City expects to receive $5,635 from FDOT this fiscal year," said New. The City of Newberry does not maintain a sufficient quantity of traffic signals and beacons to warrant obtaining the training and equipment to perform this function in-house.
A proclamation was read into the record which declared Nov. 10 as International Accounting Day in Newberry. Finance Director Dallas Lee took the opportunity to commend his staff and highlight some of the significant items that had been accomplished by them during the past year.
A decision on the Newberry Fire Department expansion program was put on hold as the city continues to negotiate prices on various aspects of the project to help reduce costs. City staff will update commissioners as to their findings at the next meeting.
# # #
Email Cwalker@
alachuatoday.com
Add a comment
Add a comment
HIGH SPRINGS – More than 20 people gathered in the High Springs City Commission chambers on Thursday, Oct. 27, encouraging commissioners to authorize a letter against a proposed 10,775-acre phosphate mine in north Florida by HPS II Enterprises. The proposed mine would border the Santa Fe River and straddle New River, a major tributary, which divides Union and Bradford counties.
Although commissioners had a few questions about the requested letter, they quickly and unanimously agreed to authorize the mayor to sign in support of Alachua County's position as soon as possible, without the need of another meeting.
Pamela Smith, President, Our Santa Fe River, made the initial request and provided supporting information for commission review. Both she and Mark Lions answered questions and explained how the phosphate mine would impact both water quality and the supply of drinking water for the state.
"Phosphate mining uses more water than any other industry," said Lions.
"Union County quickly voted in a one-year moratorium on mine permit applications on April 18, 2016, giving them time to revise outdated and inadequate LDRs. Bradford County did not issue a moratorium and soon after, on April 29, 2016, the mining company submitted to them a mine permit application," said Lions.
In other city business, Caesar, the High Springs Police Department's newest K-9 officer, will receive his new bullet-resistant vest at a special event on Nov. 15 at The Great Outdoors Patio Restaurant. "Yappy Hour" will take place from 6 – 8 p.m. and is sponsored by Humane Animal Treatment Charity, Inc., started by Arlene Levene and her husband, Gene. The public is invited to attend, bring their own dog, meet Caesar and thank Clare Noble, the person who wrote the check for the entire cost of the $700 vest.
Farm Share will be back in High Springs on Nov. 5 to donate food to area residents.
In light of upcoming holidays, the city has modified its commission meeting schedule for the rest of the year to Nov. 17 (Reorganization/ Commission Meeting), Nov. 29 and Dec. 8.
# # #
Email Cwalker@
alachuatoday.com
Add a comment
Add a comment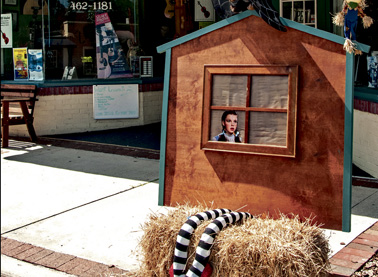 Dorothy looks out the window as the house drops on the bad witch. This colorful display was sponsored by The Music Junction. (Today photo/RAY CARSON)
ALACHUA – Main Street Alachua has been occupied by scarecrows – they stand in front of many of the stores – and the City of Alachua has even designated the street as Scarecrow Row. But even though Halloween is right around the corner, there is no reason for concern over the sudden appearance of so many scarecrows.
For 14 years, the Alachua Chamber of Commerce has hosted an event where businesses on Main Street and other local business sponsors have decorated Main Street in celebration of Halloween. This year the theme was based around scarecrows and the Wizard of Oz.
Each business on Main Street has the opportunity to decorate one of the light pole locations with a scene based on the Wizard of Oz story. They can either "purchase" a pole at $25 per pole or $75 for the pole and their name on the poster. They can also partner with a corporate business sponsor. The sponsors purchase a pole for $300, which also includes their business name on the banner at each end of Main Street. The money raised goes toward programs and events hosted by the Chamber of Commerce to help promote business on Main Street and provide services and facilities to the community, including events like the Trick or Treat on Main Street and the Christmas Parade. Funds raised by the Chamber of Commerce have also been used to make improvements at Alachua's Hal Brady Recreation Center Complex including the recent addition of a electronic scoreboard.
The Alachua Chamber of Commerce sponsors events to raise public awareness of local businesses downtown, bring more tourist and consumers to the area, and create a sense of community and partnership within the local businesses. Events like the Scarecrow Row allow the businesses to advertise and increase their customer base. They also have the support of a number of corporate businesses located within the community that are members of the Chamber. A comprehensive list of the Chambers members can be found at Alachua.com.
But events like the Scarecrow Row and Christmas Parade are not just about business and marketing. They are about the community and creating a friendly environment for all the citizens of Alachua. According to a Chamber spokesperson, it's about giving back to the community. "These events offer a place for the public to come out and enjoy free activities. The Trick or Treat on Main Street offers a safe alternative for our kids to celebrate Halloween in a specific well lit and safe location. Businesses give out candy for the kids and it helps build a sense of the small town community, she said.
Music Junction owner Leon Barrows agrees. He designed and built a scarecrow scene in front of his business as did 30 other businesses. "To me it's not so much about promoting my business; I did it for the fun of it and to participate with the other businesses on Main Street. There is a real sense of family among the businesses here and the Scarecrow Row gives us an opportunity to work together as a community." Barrows said.
Each participating business has designed and constructed their own display, and prizes, as well as plaques will be presented for first second and third place at the Trick or Treat on Main Street event on Oct. 31. The scarecrows will be up for the entire month of October for the pubic to view. So come wander down Main Street, currently known as Scarecrow Row to view the creative talents of local businesses.
# # #
Email Rcarson@
alachuatoday.com
Add a comment
Add a comment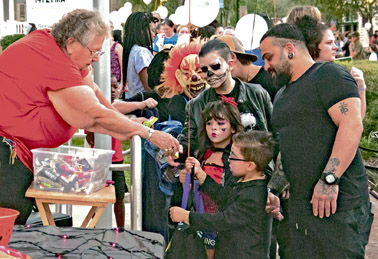 Left: Dot Evans of the Alachua Chamber of Commerce helps distribute treats during the Trick or Treat on Main Street event on Oct. 31. The event is hosted by the Chamber, co-sponsored by the City of Alachua and supported by local merchants who give away candy. (Today photo/RAY CARSON)
ALACHUA – Halloween is an ancient tradition. In modern times it's a celebration, a time to creatively dress up as witches, goblins, superheroes or any other alter ego. Adults celebrate with parities and children get to go trick or treating in costume asking for candy. It is a time of fantasy and imagination. But its roots go far back in history, a combination of the celebration of fall and a time to honor the departed.
In Alachua on Halloween and the days leading up to it, there were several celebrations filling the downtown Main Street area with spooks, witches, superheroes, demons and a myriad of other costumes.
On Thursday, Oct. 28, Tony and Al's restaurant in downtown Alachua held a special event featuring music and art based around the Halloween tradition. Seven artists were present at the event featuring photography, stained glass and drawings as well as jewelry, wooden masks and carvings. Mark Miale was the featured musical performer accompanied by Rickylee Brawner and Jon Rhoads. Member of the audience dressed in costume and prizes were given for best couple and best costume with Best costume going to Lynda Short who was dressed as a nun.
But the main Halloween event was Alachua's annual Trick or Treat on Main Street on Halloween night as thousands of young – and old – ghosts, goblins and superheroes took to the downtown area. The event is hosted by the Alachua Chamber of Commerce and co-sponsored by the City of Alachua. The celebration has been going on for 14 years and continues to attract large crowds each year.
Although Halloween in America has a long tradition of children in costumes going house to house, times have changed, and many parents are concerned for children's safety walking through neighborhoods in the dark. The Chamber founded the event to create a safe place for children and families to walk around and collect candy that is safety checked. They also wanted to maintain a spirit of community within the town by bringing the event to Main Street.
Local businesses on Main Street, city offices and corporate sponsors set up stations to give out candy to the children. All the candy is purchased by the individual businesses. Some of the corporate sponsors included Publix and Waste Pro. The city of Alachua Public Service division and Police department also provided candy stations. Several church groups also participated, including First Baptist Church of Alachua and River of Life church. Christ Central Church also handed out balloons to children.
In addition to the candy stations, other activities included a costume contest for children and prizes for the winners of the Scarecrow on Main Street contest. First prize went to Doctor Douglas Adel, second prize was awarded to Mebane Middle School Student Government sponsored by Waste Pro and the third prize went to Alachua Boy Scout Troop 88.
The event was a success with one of the largest crowds they have had and plenty of happy kids. As Alachua Mayor Gib Coerper stood watching the crowd with satisfaction, he said, "The event only lasts a couple of hours , but you walk the whole length of Main Street and see everyone having fun. They all go home with smiles on their faces and you can't ask for any better than that."
# # #
Email Rcarsonr@
alachuatoday.com
Add a comment
Add a comment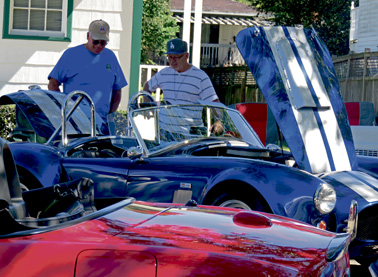 Tom Wallace chats with colleagues impressed with his handiwork in building his own car. (Today photo/RAINA BARNETT)
ALACHUA – Gentle country music lilted through the cool October air, pristine hot rods lined the street and blue lips slurped away on snow cones on Main Street in Alachua on Saturday, Oct. 22.
The Alachua Chamber of Commerce First Annual Car Show brought proud car owners from all over Florida to showcase and share their knowledge and passion for cars.
Andy Hamilton, an Alachua County resident, relaxed in a fold-out lawn chair in the shade as he discussed cars with his friend, Tom Wallace.
"This is just a great group of people who come together enjoying a common interest," he said. "I have a 2016 Mercedes AMG GTS I traded in for another one of my cars a while ago."
Wallace, who built his own replica 1965 Cobra Roadster by hand from a kit from Factory Five, said he remembers loving cars since he was a kid.
"When I was about five years old my neighbor had a 1963 Corvette," he said. "He took me for a ride in it. In the 60s, there was nothing faster."
Wallace broke out a scrapbook from the trunk he made that documented him buying the parts, transporting them, building the car itself, and finally driving it.
Couples, friends and families strolled down Main Street admiring the cars on display, which ranged from BMWs to cars from the 60s to Keith Perry's 1958 Buick Special.
With a toddler clung to his back, Marty Kurtz stopped in front of a classic yellow Dodge from the 60s.
"I just happened upon this," he said. "My wife and I went to Conestogas to eat and now we're just looking for something to do."
Next year, a bigger selection of cars will be displayed, and food trucks and even a bounce house for kids will be added.
For the adults who attended, however, they were happy to get out, enjoy the weather, and appreciate these makes and models from the "good old days."
"These cars are like women," Wallace said. "They've just got beautiful curves and you have to take great of them."
# # #
Email Rbarnett@
alachuatoday.com
Add a comment
Add a comment