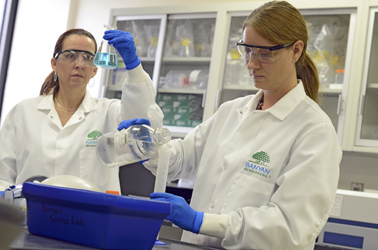 Researchers at Banyan Biomarkers work in their Alachua facilities to develop improved methods of diagnozing traumatic brain injuries.
ALACHUA – Speeding up the diagnosis of traumatic brain injuries is the focus of an Alachua-based bioscience company.
Banyan Biomarkers works to develop and commercialize biomarkers to accurately and quickly diagnose traumatic brain injuries. It has made progress in developing and clinically validating novel enzyme linked immunosorbent assays (ELISAs) for traumatic brain injury.
The company's research has identified unique biomarkers present in a patient's blood following injury to the brain. The detection and quantification of these biomarkers may provide early indications of brain trauma essential for earlier intervention and management.
Approximately 1.7 million people are treated and released from an emergency room as result of traumatic brain injury, according to the Centers for Disease Control and Prevention. Common causes of injury are automobile accidents, falls, sports-related injuries and assaults.
The company resides in Progress Corporate Park at 13400 Progress Blvd. along with more than 30 other bioscience and technology companies due to its proximity to the University of Florida.
"We work closely with UF, and many of our employees have UF affiliation," said Banyan Biomarkers CEO Jackson Streeter.
Banyan Biomarkers was founded in 2002 by Ron Hayes, Kevin Wang and Nancy Denslow at the McKnight Brain Institute at UF. Its goal was to create the first point of care blood test, a blood test at or near the site of patient care, to diagnose traumatic brain injuries.
Currently no blood test exists for use by physicians to detect the presence and severity of brain trauma.
Located within the city of Alachua, the company has created more than 30 jobs within the community and contributes to several area charities.
"We support Tyler's Hope, Heroes of Military Medicine, Wounded Warrior project and have an annual scholarship for disadvantaged youth interested in a career in science or medicine," Streeter said.
# # #
Email estanton@
alachuatoday.com
Add a comment
Add a comment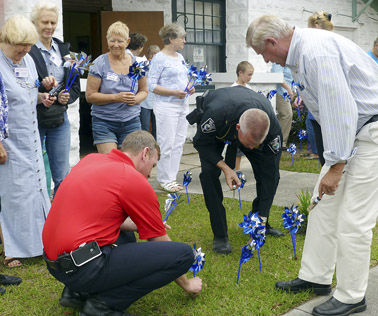 L-R: High Springs Fire Chief Bruce Gillingham (kneeling), Police Chief Steve Holley and City Manager Edwin Booth help place pinwheels on the lawn at the High Springs Woman's Club April 4.
HIGH SPRINGS – High Springs city leaders and New Century Woman's Club members joined forces to plant a pinwheel garden in front of the Woman's Club on Thursday, April 4, to help focus local awareness on the issue of child abuse in America. The pinwheels represent only a fraction of the number of children identified as abused in the United States.
As April is Child Abuse Prevention Month, the General Federation of Women's Clubs (GFWC) and Prevent Child Abuse America (PCAA) Pinwheels for Prevention teamed up to begin a campaign to focus on activities locally to bring awareness to all communities.
Pinwheels for Prevention began as a grassroots campaign in Georgia, Florida and Ohio, according to information on the website www.pinwheelsforprevention.org. The first National Abuse Prevention month was proclaimed in April 1983.
Pinwheel distribution began in 1998 with 400,000 pinwheels to help create a national symbol for child abuse and neglect prevention. Since that time more than 2.3 million pinwheels have been distributed by the group for display in all 50 states.
This year's awareness focus is on bullying and cyber bullying. Recent deaths resulting from both have escalated. Learn more about what you can do at www.preventchildabuse.org or contact Anita Odom, Executive Director, Ounce of Prevention Fund of Florida at This email address is being protected from spambots. You need JavaScript enabled to view it. or visit the website at www.ounce.org.
The blue and silver pinwheels represent the bright futures children deserve as well as representing commitment to provide a happy, healthy and safe childhood for all children.
# # #
Email Cwalker@
alachuatoday.com
Add a comment
Add a comment
City of Alachua & Heritage Oaks may face off in new trial
GAINESVILLE – A staggering $3.9 million verdict against the City of Alachua awarded by a jury following a two-week trial in August 2012 has been set aside according to a court order signed last week. The shocking award came as a result of a case filed in 2009 by Heritage Oaks – TND, LTD., in which numerous charges leveled against the City of Alachua as to its dealings with the developer of the commercial and residential development adjacent to Santa Fe High School on U.S. Highway 441.
Since that verdict was handed down by the jury last year, thousands of post-trial documents have been filed in the case, including four motions by the City of Alachua. On Friday, April 12, Circuit Court Judge Victor Huslander denied two of the motions sought by the City, but granted one in which the City moved for a new trial on the basis of improper jury instructions and an improper verdict form.
Due to interruptions in preparing the jury instructions and verdict form, the jury was sent back with inadequate information on which to base a decision.
Huslander wrote, "The end result was that a breach of contract claim by the Plaintiff [Heritage Oaks] went to the jury without a legally adequate instruction as to what actions on the part of the Defendant [City of Alachua] could have constituted a breach of contract."
"Such an error is not harmless, and thus, a new trial is necessary." He added.
Still, another pending motion before the court may yet trump the direction for a new trial. In addition to agreeing that the jury instructions and verdict form were flawed, Huslander partially granted a motion in which the City sought to have the court reconsider three key legal issues that had been raised earlier in case.
The judge said the court would reconsider whether or not a subdivider's agreement is a regulatory document on which the basis for a breach of contract action cannot be formed. Huslander said he would also reconsider whether or not the City's 1993 Land Development Regulations can be incorporated into the subdivider's agreement.
Perhaps even more crucial to the case, the judge said he would reconsider whether or not before filing the lawsuit, Heritage Oaks was required to exhaust all administrative remedies, such as appealing its concerns to the City Commission of the City of Alachua.
City officials were tight-lipped about the order, citing the ongoing litigation. Attorney David Theriaque, who is now representing the City's interests in the case said, "The city is very pleased with the order and appreciative of the judge setting aside the verdict."
The basis of the lawsuit rests on allegations by Heritage Oaks that the City of Alachua breached a contract and interfered with the development. It reportedly sought damages for losses of profit, future sales, loss of appraised property values and expenses it claims the City forced them to incur.
On five counts upon which the jury was ultimately sent back to deliberate, they found the City guilty of all of them and awarded the vast majority of the financial damages sought by Heritage Oaks.
In the case, Heritage Oaks claimed, "The difference in the way the City treated Heritage [Oaks] as compared to other similarly situated developers, was done in order to intentionally discriminate against Heritage [Oaks]."
Other accusations are that the City "inordinately burdened" the developer and "effectively precluded" them from being able to market its property.
As part of his order issued Friday, the judge has directed both sides to schedule a conference with the court to address the status of the case.
# # #
Email editor@
alachuatoday.com
Add a comment
Add a comment
Details

Published on

Thursday, 25 April 2013 00:51

Written by Special to Alachua County Today
Hits: 828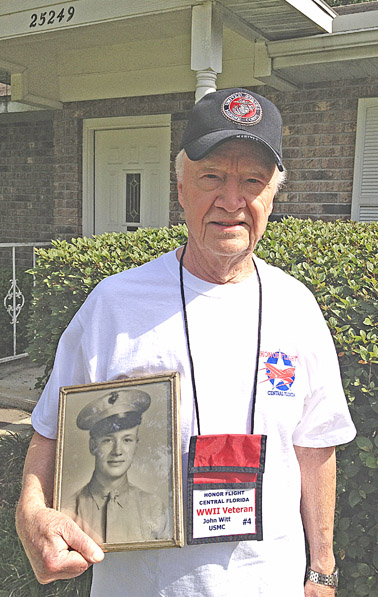 WW II Veteran John Witt will be onboard the April 27 Honor Flight to Washington, DC where he will visit the World War II Memorial on the National Mall.
NEWBERRY – John Witt, a WW II Veteran from Newberry has been selected for the Honor Flight to Washington, DC in Saturday, April 27. His Neighbor, Brad Caron, a retired Air Force veteran, will accompany him on the one-day trip.
Three separate Central Florida Honor Flight "hubs" of the National Honor Flight Network are working hard to put all the final touches in place to assure a safe and meaningful visit to Washington, DC by 75 veterans who are to be accompanied by 75 volunteer "guardians" and a staff of other volunteers on Saturday, April 27. Each of three separate volunteer organizations in Central Florida is acting on their plans to provide a truly memorable trip to vets who might otherwise never see the memorials erected in their honor.
Central Florida Hub Chairman, Allen Wilson, keeps that hub's organization focused on a single priority – "it's all about the vets who have honored us with their service, because it's our time to honor them". Central Florida area Veterans in their 80's and 90's, both men and women, who have served in the Army, Navy, Air Force, Marines and Merchant Marine, will travel to the World War ll and Korean War memorials, Arlington National Cemetery and the Tomb of the Unknown Soldier. They will have a full carefully planned day where they can bond and reminisce on their personal memories of their service to our country.
Honor Flight Network is a non-profit organization created solely to honor America's veterans for all their sacrifices. They raise funds to transport our heroes to Washington DC to visit and reflect at their memorials. Top priority is given to senior Veterans – WW II survivors, along with those other veterans who may be terminally ill. Senior members of the "greatest generation" are dying at the rate of 800 a day, and the time to express thanks to these brave men and women is quickly running out.
Honor Flight volunteers strive to make the trip one of the more memorable events in each veteran's life. "It took over 60 years for our World War ll Veterans to be formerly memorialized and we want them to know what their service means to a grateful nation" says Wilson.
Following the Honor Flight trip on April 27, a reunion of our Veterans and Guardians will be held on Saturday, May 18 in Altamonte Springs to again celebrate our Vet's service and present them with personal mementos to commemorate their experience. Some of the more rewarding experiences occur when family members or active-duty serviceman and women participate as volunteer guardians and get to share this special trip with an honored vet, friend, family member or fellow patriot.
Since the inaugural Honor Flight in May 2005, taking 12 World War ll Vets on a visit to their memorial in Washington, DC, Honor Flight has flown more than 100,000 veterans to Washington from cities all over the country. Honor Flight Central Florida has five additional Honor Flight mission trips planned in 2013. For more information, visit http://honorflightcentralflorida.org/ or call 407-203-7010.
# # #
Email editor@
Alachuatoday.com
Add a comment
Add a comment
HIGH SPRINGS – The High Springs old school building, which has been renovated, continues to operate without an official name. It had earlier been suggested that the building be named after long-time educator, the late Georgann Grady Roberts. During the Thursday, April 11, 2013 High Springs City Commission meeting, city manager Ed Booth revealed that Roberts' family has withdrawn her name from consideration. Booth said they didn't give him any direct reasons for the request.
Roberts taught in the old school and served on the High Springs City Commission. Her grandfather donated the land for the school. While a decision to name the school after her was never finalized, it had been a top contender. In light of the situation, Booth said the City is still accepting suggestions for naming the school. He said there is no deadline to do so. Once he receives the names he will gather biographical information on each candidate and present it before commissioners for discussion.
Recently, the old school building won the Renovation and Rehabilitation award from the Florida Trust for Historic Preservation for its outstanding recognition in adaptive use. The building has five rooms, a small stage that holds 75 people and hosts a range of events and meetings.
# # #
E-mail alinares@
alachuatoday.com
Add a comment
Add a comment