LACROSSE – Three Florida Department of Transportation (FDOT) projects are expected to impact LaCrosse residents beginning in late 2015 or early 2016. The first is a 6-mile resurfacing project from LaCrosse to the Union County line, which is currently slated to begin fall 2015. Preliminary cost estimates for this project are in the vicinity of $3.25 million.
Another resurfacing project beginning at U.S. Highway 441 in Gainesville and continuing approximately 9 1⁄2 miles to LaCrosse on SR 221 is slated to begin in spring 2016. Preliminary cost estimates for this project are in the vicinity of $3.89 million.
While both projects are needed and will greatly enhance the safety of traffic and pedestrians along S.R. 221, the project that will have the most direct impact to the town's residents is part of the Transportation Alternatives Program. Project information was available to the public at an open house held July 14 at LaCrosse Town Hall.
At the meeting, FDOT representatives proposed enhancements which would add a new sidewalk to connect to an existing sidewalk and provide for the installation of pedestrian lighting on both sides of the roadway from N.W. 202nd Place to just south of the CSX railroad crossing. Welcome signs at both ends of town were also included in the project description.
Residents were encouraged to review the proposed plans, ask questions of FDOT staff and provide input into the project, which is currently scheduled to begin in early 2016. Project costs are estimated to be $971,000.
The enhancement project has been a long time in coming. Mayor Dianne Dubberly submitted an application for project funding to Alachua County in 2001.
"Eventually, our project worked its way up to the top of the list as other projects were scheduled to be completed," said
Dubberly. Once the project reached that point, the county turned it over to FDOT to add to their project list.
"We are about half-way through their [FDOT's] 5-year plan," said Dubberly. "I feel confident that this project will be completed as scheduled."
# # #
Email cwalker@
alachuatoday.com
Add a comment
Add a comment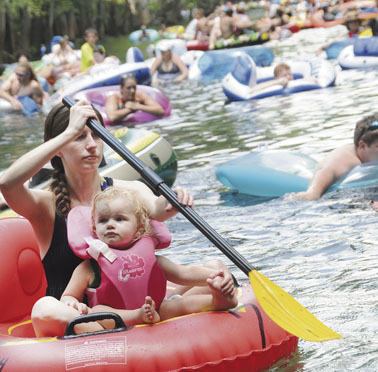 If you canoed the Sante Fe River last weekend taking advantage of the long holiday, you might have been floating alongside of world-renowned cave diver Rick Stanton.
Rum 138 co-owner Doug Jipson said the European diver came into his kayak and canoe rental shop near Rum Island asking to explore the river from above instead of beneath the surface for a change.
"He asked 'Can you take us up to 441 to dive,' " Jipson said about Stanton's request. "He has dived every springs," Jipson added. "He's the number one rated diver out of Europe."
So Jipson said he dropped Stanton and his crew off at Hornsby Springs near Camp Kulaqua.
"He's always been beneath," Jipson said. "Now he's going to be above."
Jipson and his wife Merrillee opened Rum138 one year ago. "It's our anniversary," Jipson said.
"We have seen a huge growth because we are smack dab in the middle of all of the springs. I turned 40 people away on Saturday.
Meanwhile, at Rum Island, snorkeler Jim Allen and his granddaughter Mia, 8, said they were searching for creatures. "We come here to enjoy the flora and fauna Allen said with his mask still on as he climbed out of the water.
A canoe was approaching sporting an American flag and paddlers Andrew and Sarah Kittrell of Jacksonville were trailing behind their friends from High Springs. The Kittrells were being watched by 10 turtles perched on a branch and a Blue Heron.
Over at Itchetucknee Springs State Park, employee Jimmy Decker was trying to squeeze as many tubes and rafts onto the flatbed of the tram hauler as possible so he could get the next 75 passengers back where they started.
"Memorial Day weekend is when we start the tram service," Decker said.
Lisa and Justin Daniels of Jacksonville have just reached the end of their float down the Itchetucknee as they introduced their daughter Paisley, 2, to the experience. "She sat on my lap the whole time," Lisa said.
Now Miss Linda Lynch is manning the booth below the tube tree her employee Rudy made. Lowe's Tubeland was hopping all weekend and Lynch was enjoying a plate of hot dogs and fresh cut watermelon.
Lynch is a co-owner of the business that's been in the family for years, she said. "My grandparents started it."
"Sundays are always slower to start," Lynch said about the weekend. "Part of the river is still closed.
"Best time is to come during the week," she advises to avoid crowds. "It starts Memorial weekend through Labor Day weekend."
Over at Poe Springs things are going smoothly. "It was busy," said Vernest LeGree, Acting Parks Open Space Superintendent for Alachua County. "A lot of activity, not overcrowded. Everybody seemed to enjoy themselves and there was a steady stream of people coming and going.
LeGree said new steps replaced the old steps into the springs that had started to erode. And he noted that water levels were still above normal.
"It's pretty high, he said. "There's three or four steps going down into the springs."
River Ranch Water Park lifeguard Jeremie Thompson, 16, of Lake City, was enjoying the start of his second season at the water park of Camp Kulaqua.
"It gets crazy when the summer camps come in," he said. "The heat is the most challenging and the funnest park of the job is the slide," he added.
"You get to go down it at the end of the day."
Joseph Shook, 18, is waving cars down on Route 27 trying to entice customers to stop at the Ichetucknee Tube Center. His day started at 7:30 a.m. and lasts until about 3 p.m., he said.
He describes his job. "It can range from when a customer pulls up you tie the tubes on for them, to greeting customers," he said. "It depends on the situation."
Shook bows and waves his arm as if to give permission for the next car to pull up curbside.
"Since I'm waving for hours, I might as well enjoy myself," he said.
"Those blue ones right there," he said as he pointed to a stack of tubes, "Are really comfy and they're two dollars more."
Back to Kulaqua River Ranch where Manager Jeanette Queen said they had a good turnout. We've had 300 to 350," she said.
"Our next community days are June 22 and 29.
We're starting to catch on and trying to make it where we're out in the neighborhood more," she adds.
"There's all locals here. If they aren't a local, it's because they came with a family that is local."
Back in Alachua, one-year-old Christopher Torres won't budge from the circle of fountains squirting all around him. He is soaked and sporting a Superman shirt. His parents heard about the Splash Park on Gainesville Word of Mouth on Facebook.
Manning the facility is City of Alachua employee Kade Talton who is double checking the pH and chlorine levels. He just emptied a filter and jotted down the readings in a log.
"My job is to keep it clean and make sure the chemicals are right," Talton said.
It is Christopher's first birthday and he is still sitting in the circle of sprinklers and he couldn't be happier.
# # #
Email scook@
alachuatoday.com
Add a comment
Add a comment

ALACHUA – An Alachua man was arrested recently on several drug-related charges stemming from an ongoing investigation by the Gainesville/Alachua County Drug Task Force with participation by agents of the Drug Enforcement Administration.
Vonzell Demond Howard, 31, was arrested and booked into the Alachua County Jail on May 12, on several counts of drug possession and possession with intent to sell. Howard, who lives at 13912 N.W. 142nd Place, Alachua, is also charged with maintaining a drug dwelling.
At the time of his arrest, Howard was out on $25,000 bond for a previous arrest on Sept. 19, 2013. His earlier case was still pending when his bond was revoked and he was rearrested on May 12.
Gainesville Police Department and Alachua County Sheriff's Office arrest records show Howard was in possession of morphine, oxycodone, methamphetamine, cocaine and cannabis. The total bond amount for all charges is set at more than $3.6 million.
Howard was arrested on three warrants. His first warrant was for trafficking in cocaine, a felony of the first degree, carrying a bond of $50,000.
His second warrant was for drug possession with intent to sell Schedule III or IV drugs, a felony of the third degree and maintaining a drug dwelling, a misdemeanor of the first degree, carrying a bond amount of $5,100. During a search of Howard's home, investigators found morphine and oxycodone.
His third warrant was filed by the Alachua County Sheriff's Office and carries a bond amount of $3.6 million. He is charged with five drug-related charges including possession of methamphetamine and the purchase of cocaine, both of which are second degree felonies, the purchase and possession of marijuana, both of which are third degree felonies and trafficking in cocaine of more than 28 grams, but less than 150 kilograms, a first degree felony.
Howard has a history of arrests for drug possession, possession with the intent to sell, trafficking in cocaine, keeping a dwelling or vehicle with drugs inside and has either bonded out with a $25,000 bond or was released on his own recognizance in those cases.
At press time, Howard remains in the Alachua County Jail under a combined bond of $3,655,100.
# # #
Email cwalker @
alachuatoday.com
Add a comment
Add a comment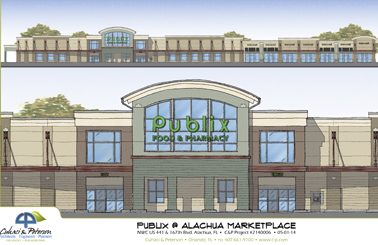 A rendering of Public at Alachua Marketplace designed by Cuhaci & Peterson Architects Engineers Planners. /
Rendering special to Alachua County Today
ALACHUA – The Florida Department of Transportation (FDOT) gave the City of Alachua the green light to install traffic signals near the proposed Publix Super Market construction site.
The signals will be installed for turn lanes near the site, according to Gina Busscher, spokesperson for the FDOT office in Gainesville.
Busscher said the developer still had to close on the purchase, but construction on the property is projected to begin early 2015.
City officials and developers met to discuss development standards and process for the new Publix Super Market, according to Assistant City Manager Adam Boukari. However, site plans have not been submitted yet. "But we do anticipate a site plan to be submitted." Boukari said.
# # #
Email editor@
alachuatoday.com
Add a comment
Add a comment
NEWBERRY – Mayor Bill Conrad announced to the Newberry City Commission Tuesday night that he had checked Mike New's references and background and was ready to move forward on negotiations with a contract to hire New as the next city manager.
Commissioner Jordan Marlowe was ready to move a motion in that direction until dissenting commissioners brought up reasons to slow the process down.
"I checked Mr. New's background," Mayor Conrad said. "I talked to Gib Coerper, the Mayor of Alachua, he gave him a very high recommendation. I talked to Clovis Watson, our State Representative, who gave an extremely high recommendation," Conrad said. "And he [Clovis] offered to come and speak on Mr. New's behalf."
Commissioner Tim Marden then said he also checked references on both New and Isaac Turner, the second place candidate.
With that Commissioner Marlowe stated, "I will make a motion that we begin contract negotiations with Mr. New." Commissioner Marden seconded the motion and then Conrad asked, "Any further discussion?"
Commissioner Monty Farnsworth expressed concern over making the decision before getting a background report back on second-place candidate Isaac Turner. Conrad replied that even if Turner gets a clean report, based on rankings, New would still be the top candidate.
Farnsworth then said he wanted to bring New back to discuss "more specific things" other than the formatted questions they were required to ask during the formal interview process.
Marlowe tried to explain that he felt commissioners had plenty of time with the candidates and said he had talked on the phone with each and had meet-and-greets with both candidates.
"The strongest negative comment I heard about Mr. New is that he can be stubborn," Marlowe said.
"He's local, has qualifications…I'm ready to move forward."
Commissioner Rick Coleman agreed with Farnsworth. "At least bring him in here for off-the-wall questioning for the next meeting," Coleman said. "We've had a lot of citizens telling us not to hurry this. Maybe even get some questions from the citizens."
Conrad declared that two commissioners were ready to go, Marlowe and Marden, and that there were two commissioners who wanted to wait two weeks.
"It all comes down to you Mr. McGehee," Conrad said and turned the floor over to recently elected Commissioner Jason McGehee.
McGehee said, "I spent more time researching these two guys than I should have."
"This is the most important thing we're going to do for some time," he added. "I would like to move forward. I would like the citizens to have a chance. That way they feel it's not just us five up here making the decision."
City Attorney Scott Walker then urged the council to establish a pay range so that he could begin drafting a contract.
"Start at a number that you feel is appropriate given the candidate's qualifications," Walker said. "That is something that may go back and forth over some period of time," he added. "Then get with Mr. New and drop the numbers into the contract."
Conrad said, "My recommendation would be the low number because he doesn't have a lot of experience as a city manager."
But Marlowe was cautious about a low offer. "We get what we pay for," he said. "We set that range based on the average salary of cities our size."
Marlowe offered an idea of a salary that could increase with incentives. "I'd be comfortable with saying $80k for your first six months and reach benchmarks as incentive," he said.
Coleman reminded his peers that New would be getting more than salary if he took the position. "He's got a car he's taking home. He's got all of his benefits, there's a severance package that's going to be sitting out there.
"It's a whole lot more than $80,000. We gotta look at it like that too," he said about New, who currently works for the City of Alachua as Public Services Director.
"I don't think he has that over there where he's at," Coleman said. "He's not riding around in a car and probably doesn't have his six-month package."
Marlowe asked the city attorney, "New didn't meet the criteria set. Can we start out with something lower than we advertised?
The advertised amount for the Newberry City Manager position was $85,000 - $120,000 for a qualified candidate.
According to Conrad, a qualified candidate, according to the job posting, should have a Bachelors degree in Public Administration, (masters preferred), five years of experience as a city manager (10 preferred), strong background in utilities, strong background in economic development through sports.
"The commission decided to look at Mr. New, who did not have city manager experience, but had served under Clovis Watson for five years," Conrad said. "Also, it was felt that his exceptionally strong background in utilities and his engineering degree would more that make up for lack of actual city manager experience."
Walker answered Marlowe's question, "This is a negotiation. You can do what you think is appropriate."
Coleman said, "I don't want him to think we misled him," about a possible shift in salary offered.
The commission settled on a motion for a beginning salary of $80,000 and possible raise after a six-month probation and for staff to negotiate three benchmarks for New to meet for further salary hikes.
McGehee seconded the motion and it passed unanimously.
Farnsworth questioned, "That does not necessarily mean we hired him?"
The collective answer was, "No."
# # #
Email scook@
alachuatoday.com
Add a comment
Add a comment