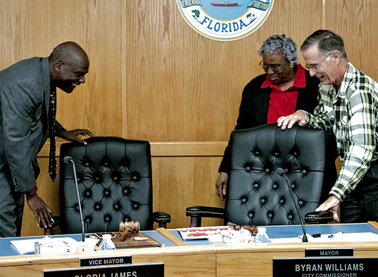 Former Mayor Byran Williams (left) and City Commissioner Scott Jamison (right) rearrange the chairs for new Mayor Gloria James (center). (Today photo/RAY CARSON)
HIGH SPRINGS – It was a time of change at the High Springs City Commission meeting on Nov. 17. The meeting started with the standard procedures of the Invocation, Pledge of Allegiance and roll call, but it was the last time this particular roll call would be spoken. Newly elected officials were sworn in and seated and voting began shortly thereafter for the positions of mayor and vice mayor.
After six years of public service as mayor, vice mayor and a city commissioner, Sue Weller was retiring from government service and stepping down from the City Hall dais. In a departure from the standard arrangement, her microphone was decorated with an array of various colored balloons as a celebratory parting gift from some citizens sad to see her leave.
The first order of business was the swearing in of Linda Jones by City Clerk Jenny Parham. Several commissioners gave short speeches commending Weller for her term of service. Weller thanked the commission and citizens of High Springs for their support and stepped down from the dais. Although she was retiring from the commission, she said she'd still be around and still involved in her community. Her immediate plans, however, included travel with her husband.
Although Commissioner Jones took Weller's vacant seat on the dais, it was not long before a shuffling of positions occurred due to the election of a new mayor and vice mayor for the 2016/2017 term.
Following the election of Gloria James as the city's newest mayor and Jason Evens as vice mayor, another shuffling of seats occurred. The whole process had the look of a game of government musical chairs as the members rearranged positions, and sometimes actual chairs, as the audience chuckled. Parham made sure everyone's name tags went with the proper seating arrangement to help eliminate any further confusion during the rest of the meeting.
Once the members had taken their seats, appointments and re-appointments to various city boards were approved by the new commission. Linda Hewlett and Linda Schaladant were both reappointed to the Parks and Recreation Board while Daniel Wise was approved as an alternate for the board. Donald Alderman was approved as a new appointment to the High Springs Plan Board. Barbara Miller and Nancy Linkous were re-appointed to the Code Enforcement Board.
Voting on the positions of mayor and vice mayor take place each year in November, while some of the other board appointments have longer terms.
# # #
Email Rcarson@
alachuatoday.com
Add a comment
Add a comment
NEWBERRY – The Villages may be the best known retirement community in Florida with retirees living out their golden years zooming around alongside cars on their golf carts.
The Newberry City Commission has been wrestling with the pros and cons, not to mention the acceptable wording, of an ordinance that would make certain areas of Newberry "Golf Cart Communities." A Golf Cart Community is one in which the city would allow the operation of golf carts on public rights-of-way with certain provisions, based on Florida State Statute 316.212.
The operation of golf carts on public streets is permissible, provided the municipality has determined that golf carts may safely travel on or cross the public streets. In addition, appropriate signage must be posted to indicate that such operation is allowed. Municipalities may pass more restrictive ordinances governing golf cart use in their communities in the future.
Although the issue has been brought before the Newberry Commission several times since 2013, the wording of an appropriate ordinance has yet to be decided. In a presentation by City of Newberry Planning Director Bryan Thomas, he reviewed the history of the city's efforts to complete an appropriate ordinance.
According to city records, the commission reviewed a staff determination by former City Planning Director Lowell Garrett on Jan. 14, 2013. At that meeting Garrett said that golf carts were permissible, with conditions, on public rights of way, pursuant to Florida State Statute 316.212. Although a motion was made and seconded to ratify the determination, after discussion a motion was passed to table the item indefinitely.
On Feb. 25, 2013, a follow-up two-hour workshop was conducted to discuss the proposed use of golf carts in residential areas of Newberry. Discussion focused on posting signs on designated street areas, registering golf carts and providing regulations for operation on city streets and charging a registration fee to cover the cost of signage and sign maintenance.
During the workshop, Newberry Mayor Bill Conrad suggested scheduling another workshop or bringing the item back on a future commission agenda to allow time for further review.
Recently, a commissioner requested it be brought back before the commission, which is why it was on the Nov. 14 agenda. Approximately, six residents were on hand in support of moving ahead with the initiative, according to city records.
Alachua County Sheriff Department Sergeant Billy Beck was also on hand to speak to the commission's safety concerns and answer commissioners' questions.
Commissioners tasked the city's attorney, Scott Walker, to incorporate the items discussed into an ordinance, which is expected to be brought back before the commission at the Dec. 12 meeting.
# # #
Email Rbarnett@
alachuatoday.com
Add a comment
Add a comment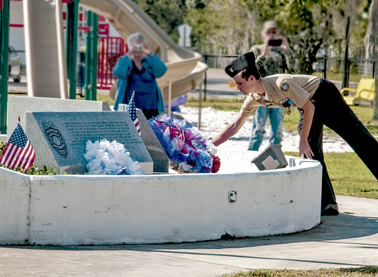 Eastside High School NJROTC Navy Cadet James Whitney places a wreath at the veteran's monument during the Waldo Veterans Day ceremony. (Today photo/RAY CARSON)
WALDO – Each Nov. 11, America honors its veterans who have served, and in some cases died, to preserve the freedoms and values of democracy. It is a day to reflect on the courage and sacrifice of the men and women who were willing to leave their homes, family and jobs to serve their country and put themselves in harm's way.
Communities, large, small and those in between, hold ceremonies as a way to remember and to thank those who served and continue to serve. This past Friday, Waldo was one of those communities that reflected on the history and meaning of today's Veterans Day.
The date was originally chosen to celebrate the end of World War I. It was 1918 and the world had spent four years in a conflict that cost over 15 million lives. It was a brutal war like none before, where new killing technology created massive battle losses while the military leaders still used outdated tactics. In many cases, there was little movement in the battle lines over the course of the war. Germany, England and France had exhausted their armies in a war of attrition with the soldiers stalemated in trench warfare.
For the United States, The first troops arrived in the summer of 1917, but did not enter combat until the spring of 1918, yet in that short seven months, there were 204,000 casualties with over 116,000 deaths.
For a war weary world, Nov. 11 celebrated the end of hostilities in what would be called "the war to end all wars." Many countries created holidays to remember the soldiers' sacrifices. In America, President Woodrow Wilson dedicated Nov. 11 as Armistice Day to commemorate "the heroism of those who died in their countries service and with gratitude for their victory." Congress passed a bill to recognize the official date in 1926 and Armistice Day was made an official national holiday in 1938.
Tragically, World War I was not the "war to end all wars." Between 1938 and 1941 the world again would sink into an all-out war that would cost over 48 million lives including 400,000 American soldiers. World War II would be the greatest mobilization of armed forces, which created a large force of returning veterans. The government's Veterans Affairs Bureau was created to help deal with those returning veterans. After the end of the Korean War, it was decided to change the name from Armistice Day to Veterans Day to honor all veterans who had served in our armed forces in all capacities, not just soldiers who fought in the two World Wars. Today, the holiday honors all veterans who have served in war or peacetime.
For the past four years, the small town of Waldo has held a ceremony on Nov. 11 to honor its veterans. This year marked the first time it was held in the city park, where a wreath was laid at a monument to its veterans.
About 30 people attended the ceremony including 12 veterans. The ceremony began with the crowd reciting the Pledge of Allegiance, the playing of the National Anthem and a prayer for all veterans who made the final sacrifice. Eastside High School NJROTC Navy Cadet James Whitney then laid the wreath at the monument garden, which contains three markers honoring veterans, police officers and firefighters.
Joe Lipsey was the emcee for the event and introduced Waldo Mayor Louie Davis, who served in the Army from 1965 to 1968. Davis spoke about the sense of duty and sacrifices that veterans make for their country and introduced the keynote speaker, former Marine Sergeant Major Pat McCullough.
McCollough was the first female to serve as a Sergeant Major on board a ship and the first women assigned to Air Defense. While in the Marines she met her husband, L.D. McCollough, who served 21 years in the Marines. McCollough spoke about her experiences as a Marine and the progress that women have made in the service and the special challenges they face in a male dominated career. She also talked about the sense of duty all service personnel feel. She spoke of the willingness to do whatever it takes to defend the country, even if it means sacrificing your life.
"When an enemy raises their hand against our nation, our military is there to protect and defend. It doesn't matter where you are, we will do our job and come and get you" she said.
The oldest veteran at the event was Emery Raymond Estes. A lifelong resident of Waldo, Estes is now 92 years old. After the Japanese attack on Pearl Harbor, he joined the Marines at the age of 17 and saw combat at Bougainville and Saipan.
After the ceremony, there was a tour of the train museum and lunch supplied by the City of Waldo. The Waldo Historical Society and the Community Center Seniors Group also helped organize the event to honor their fellow citizens who took the time from their lives to serve the country.
# # #
Email Rcarson@
alachuatoday.com
Add a comment
Add a comment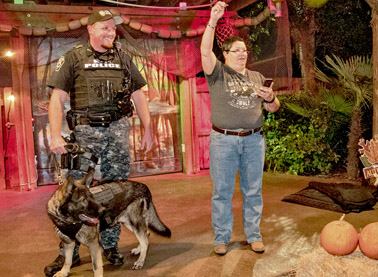 Retired Alachua County deputy Clare Nobel (right) shows the audience a special service coin for Cesar the police dog as High Springs Police Officer Ethan Presnell and Cesar look on. Cesar is wearing the bullet proof vest that Nobel donated. (Today photo/RAY CARSON)
HIGH SPRINGS – The Great Outdoors Restaurant was packed on Tuesday Nov. 15 as residents turned out to greet their new High Springs police officer. His name is Cesar and he is a bit unusual. He is only two years old, is from Czechoslovakia and has four legs. But then again, some of the residents who came to greet him had four legs as well. Cesar is the new police dog for the city of High Springs and the citizens came out to meet him and show support, and a number of them brought their own dogs as a sign of unity. The police department previously had Aggie, a golden retriever who was a drug sniffing dog. When Aggie passed away at the age of nine, the department decided they wanted a K-9 dog that was more versatile and could be trained for other duties such as tracking and subduing a suspect. They needed a larger more powerful dog that was bred for police work – but those dogs are expensive.
An anonymous donor came forward with a $10,000 donation to cover all costs of purchasing, initial care and shipping for the dog. Cesar is a pure breed German Shepard, and was brought from Czechoslovakia. The breed originated in Europe and dogs from the region are recognized as possessing superior genetics and health. Officer Ethan Presenell had worked with Aggie for her last few years and became Cesar's new owner and partner. Together they will undergo 570 hours of general training for K-9 units as well as an additional 100 hours in narcotics training. The department received Cesar in the spring of 2016 and the training will last until early February 2017.
High Springs resident Leda Carrero knew that the police dog for the City of Alachua had a bulletproof vest and wanted to help Cesar get the same protection, but the vests are also expensive. Carrero started a fund raising campaign to get the $700 needed for a vest.
One day she was having lunch with retired Alachua County deputy Clare Noble, who wanted to help with a donation. When Carrero told her the cost, Noble went out to her car and returned with a check. "When I first looked at it I thought it said $70 and I thanked her for her donation, but on second glance I was surprised to see it was for the full $700," Carrera said.
For Noble, it was just a way to help a fellow officer. "Some people feel you have to save your money when you retire. I am the opposite. You can't take it with you so I believe in spending it on good causes where it will benefit others," Noble said. "Cesar and Presnell were fellow officers and the vest could protect the dog, so I figured it was a worthy cause and could be paid in one donation" she said.
At the event at the Great Outdoors, High Springs Police Chief Joel DeCoursey, Jr., presented Clare Nobel with a certificate in gratitude for her donation. Then the main attraction came to the stage with Cesar wearing the vest that her donation bought. Officer Presnell and Cesar stood on stage as audience members took photographs. Because Cesar is young, energetic and in training, the audience was not permitted to touch him, and other dogs were kept at a distance to avoid any issues. Cesar took it all in stride and seem to enjoy the attention. High Springs now has a new lawman in town.
# # #
Email Rcarson@
alachuatoday.com
Add a comment
Add a comment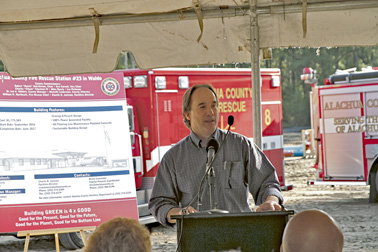 Alachua County Commissioner Lee Pinkoson at the groundbreaking for Waldo's new fire station. The facility will be located on U.S. Highway 301. (Photo special to Alachua County Today)
WALDO – Waldo just broke ground Friday, Nov. 4, on a new fire station, which is being built in their city by Alachua County. The station will be one of the newest fire stations in the county, and will be known as Alachua County Fire Station number 23. Completion date is scheduled for June 2017.
The new structure will be located in Waldo at 14377 N.E. U.S. Hwy 301.
Alachua County and the City of Waldo celebrated commencement of the project with a groundbreaking ceremony last Friday morning.
The 5,684 square foot single story facility will feature energy-efficient equipment and sustainable design building features. The concrete masonry facility will also have a 100 percent back-up generator. Cost to build the new building is estimated to be just over $2 million
"The new station is being made possible in part by the donation of the late J.D. Griffis," said Waldo City Manager Kim Worley.
"The City had some property owned by the late J.D. Griffis," she said. "He donated the land needed to the City of Waldo, we in turn donated the property to the County for the new station with a clause that it had to be started within 'x' amount of years or it would revert back to the City and then to the Griffis family."
The fire station will service areas ranging from Waldo to Orange Heights to northwest of the Gainesville drag strip, according to Waldo Mayor Louie Davis.
"We're excited about it," he said. "It's on [U.S.] Highway 301 so it's very visible. It's going to be a nice facility, and we hope its location will encourage more development in that area."
# # #
Email Rbarnett@
alachuatoday.com
Add a comment
Add a comment