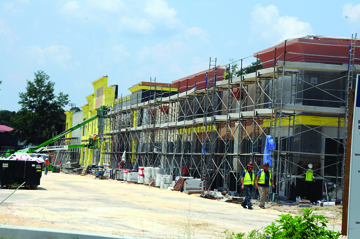 SUZETTE COOK/Alachua County Today
Alachua Publix is expected to open in the fourth quarter of 2015.
ALACHUA – Publix is nearing the completion of its Alachua location and is ready to start the hiring process next week.
According to Dwaine Stevens, media and community relations manager for Publix, "There are approximately 80 jobs available ranging from part-time to full-time opportunities in various departments."
Publix has been promoting a job fair by handing out fliers at locations throughout Alachua County. The job fair is scheduled to be held at Santa Fe High School in Alachua at 16213 U.S. Highway 441 on Aug. 4-6 from 9 a.m. to 6 p.m.
"We are asking anyone that has any experience in retail, as well as candidates seeking their first job, come to the job fair to find out about career opportunities with Publix," said Stevens.
He estimated start date for training the new hires as the beginning of September.
"They will be training at other stores in the area," he added so the staff will be prepared when the store officially opens. "The stores they will train at are still being confirmed.
Alachua Market Place, where Publix will serve as the anchor business, consists of an approximate 46,000 square foot Publix Supermarket, 9,100 square feet in adjacent retail stores and an outparcel with a 3,500 square foot fast-food restaurant.
This is the second time Publix has held its job fair at SFHS. "We have decided to use SFHS because having attended previous career fairs, there, we had an established relationship and wanted to continue that great partnership."
SFHS Principal Dr. Beth LeClear is happy to host the job fair in the media center.
"They came and asked if they could have some space," she said. "I feel it's a benefit because many of our students would like to apply."
Stevens said candidates are not required to apply online before the job fair. "It's not mandatory but an option," he said.
Interested applicants can schedule an appointment by registering at publix.fullslate.com and selecting Alachua. "Walk-ins are welcome but to avoid lines, you may register," reads the flier.
"We are excited to be there," added Stevens.
A grand opening date has not been officially announced, but according to Stevens, Publix is projecting for early in the fourth quarter.
"The City is pleased to have another major employer in the area to offer opportunities to our residents," said city of Alachua Assistant City Manager Adam Boukari. "Economic development and job creation are a top priority of the city commission and the city administration and this is another example of the results produced."
City of Alachua Mayor Gib Coerper said he is excited about store opening soon.
"I've been here for 41 years, and for 41 years, it's been 'when are we going to get Publix?' and here we are, it's 2015, and we are going to get a Publix," he said.
Coerper said he thinks residents of Heritage Oaks which is located directly behind the marketplace have an advantage.
"Now they can walk to Publix," he said.
Add a comment
Add a comment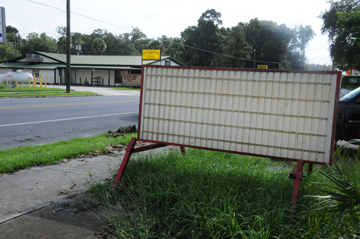 SUZETTE COOK/Alachua County Today
Rolling marquees do not comply with the current codes of Newberry.
City of Newberry residents and businesses can expect attention to be paid to city codes in the near future as the city tightens the reins on code violations that have gone unchecked for several years.
According to Newberry City Manager Mike New and Director of Planning and Economic Development Bryan Thomas, a restructuring in staffing at the city has allowed for full-time Code Enforcement Officer Connie Goode to start addressing concerns brought to the city and the commission by citizens.
"Because of budget constraints, we really didn't have a dedicated code enforcement program, Thomas said.
"Changes and reorganizations created an opportunity for a code enforcement officer," he said. "Now we have several years of catch up to accomplish.
"When you have years of time where you don't have code enforcement, people kind of get it in their heads that if nobody's saying anything then it must be okay," Thomas added about why there is a need for a code enforcement officer.
"Just because you've been allowed to do something for an extended period of time, doesn't mean you can continue doing it once we are enforcing codes more stringently than we have in the past."
Thomas said the city is taking a friendly approach to re-educate both residents and businesses about possible violations and the procedure to rectify them.
"You don't want to jump into it and start citing people," he said. "You ramp up slowly whether it's businesses or residences."
A notice will be in the next utility bill alerting citizens and businesses of some codes they may not be aware of such as the process of cutting a tree down in city limits. Since Newberry is a part of the Tree City USA program, Thomas said a $25 permit is required to remove a tree in Newberry.
"We've had a rash of people cutting down trees without getting a permit," Thomas said. "The $25 permit is necessary to make sure they aren't cutting down a protected tree."
The city will also be notifying local tree service companies reminding them that they have to get a tree removal permit.
According to Thomas, Goode has already started visiting businesses and residents about issues reported by citizens and elected officials.
"Connie will just knock on the door, introduce herself," Thomas said. "Most of the people didn't know it was a code enforcement violation or jut hadn't thought about and are happy to comply."
For residences, Thomas said debris such as out of commission vehicles or containers with scrap metal are some of the obvious violations being reporter.
"She's been very successful getting people to voluntarily to comply and feel good about it," Thomas said about the initial warnings which started last week.
"Eighty to 90 percent end in voluntary compliance in a reasonable amount of time," he said. Thomas said the crackdown is not about the city making money from citations or fines.
"If we never have to call the code enforcement board to a hearing to put somebody up before the board," he said.
Currently there are five members sitting on the Newberry Code Enforcement Board. Vinell Whitfield, Debra Campbell, Jim Stanfield, Rance Green and Jessica Norfleet.
The code enforcement process begins with a visit and verbal warning of what needs to be done for compliance and specifies in what time period the violation should be corrected.
"Then a friendly letter as a reminder, beyond that, talk once more and then formal notice saying it's a formal citing for a code violation."
The final step if the violation is not corrected involves scheduling a hearing with the code enforcement board. The biggest concerns the city is getting reports of about residences are dilapidated and parked vehicles and local businesses are exhibiting a wide range of signage that is not all within the sign ordinance specification.
"Look up and down State Road 26 in the downtown area," Thomas said, "Almost every sign would be considered non-conforming. However, most of them predate the passage of the code enforcement ordinance. If you have to replace the sign, it has to be brought in compliance."
The marquees on rollers that letters can be changed on, have never been allowed in Newberry, Thomas said.
And often when business owners are notified of a violation they "They point to the examples up and down the street, so it's difficult to get them to understand."
Thomas said the city is "not in love with the current sign ordinance," and he plans to revamp it by first researching current and best practices.
"You want signage that works for your businesses that get the message out," he said. "But you don't want to be so restrictive, that the sign you allow them to put up is ineffectual."
According to Newberry Mayor Bill Conrad, two main concerns he hears being reported are overgrown vacant lots and signs out of compliance.
"We've got some lots that are growing wild and have become a nuisance to the neighbors," he said. "And the last time we did a survey, 80 percent of our businesses were out of compliance of the sign ordinance. We want to work with our businesses to have attractive signs that fit in with our codes."
Add a comment
Add a comment
School holds 22nd annual Jump Rope for Heart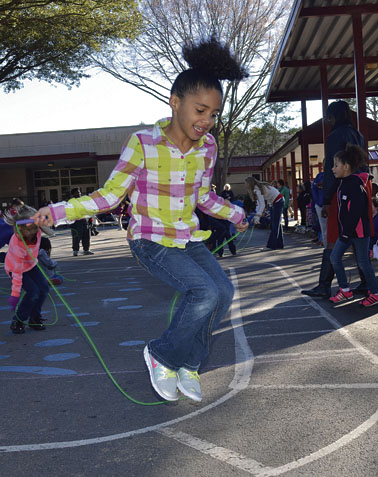 Irby Elementary students have participated in Jump Rope for Heart for 22 years. Students jumped rope with their classmates Feb. 11 to raise funds for the American Heart Association.
ALACHUA – Jump Rope for Heart has a special meaning to McKenzie Kozma, a second grader at Irby Elementary. Born with a hole in her heart, McKenzie was front and center Wednesday morning, encouraging her classmates to "Jump Rope for Heart." In her role as head heart cheerleader, McKenzie was this year's Heart Ambassador for the event at the school.
For over 20 years, Irby Elementary has participated in Jump Rope for Heart, which is dedicated to raising money and awareness for healthy hearts and healthy living. This year, it took place on an unusually crisp morning in front of the school's cafeteria with youngsters bundled up in coats and sweaters to demonstrate their rope jumping abilities.
A number of parents volunteered to help with the event, which couldn't have taken place without them, according to Irby physical education teacher and Jump Rope for Heart coordinator Ray Crone.
This is Irby's 22nd year participating in Jump Rope for Heart, and it has become a community event as students from Santa Fe High School and former teachers and principals from other Alachua schools showed up in support. Valdenora Fortner, principal of Irby, was joined by Santa Fe High School Principal Beth LeClear and Athletic Director Michele Faulk as well as Alachua Elementary Principal Eva Copeland. Irby's former speech pathologist and current City of Alachua Commissioner Shirley Green Brown was in attendance as well. Alachua Police Department Chief Joel DeCoursey, Jr., along with several police officers and an officer from the Alachua County Sheriff's Office were on hand to witness the event as was Damon Messina of the City of Alachua Recreation Department.
The span of the school's participation has been so long that now second generation students are jumping rope, such as Trista Jefferson. Crone remembers teaching her father. And second grader Emory Bryan used his grandfather's jump rope.
The students get excited about Jump Rope for Heart, Crone said. Students, such as Destiny, who just learned to jump rope, practice in the days leading up to the actual event. "She asked me to watch her jump in afterschool," said Crone. "Teachers love to see progress like that since now she's pretty good."
By the time the well-orchestrated event was over, students had participated in a Zumba warm up, watched teachers jump, jumped with long ropes, short ropes, participated in "minute mania" and the "endurance jump."
But the importance of the event isn't lost on these youngsters and they understand it's not just about jumping rope and having fun.
The goal of the event is to raise money for the American Heart Association, but it also aims to promote health awareness and live a healthy lifestyle by exercising, eating well and getting adequate sleep.
The students understand the importance of their participation, Crone said.
One youngster, Gage, asked Crone how much money does it take to save someone's life?
# # #
Email editor@
alachuatoday.com
Add a comment
Add a comment
ALACHUA – City of Alachua lineman Preston Howell says the 50 by 30 foot American flag hanging at stage left at the Hal Brady Recreation Complex in Alachua is soaking wet and very heavy.
Howell, 29, is strapped in and linked to a bucket and is rising up until he is more than 50 feet in the air. He's towering over the flag and crowd that is gathering at Alachua's 16th Annual July 4th Celebration, aka the "Largest Small-Town Fireworks Display in America."
"Each spot where there's a line," Howell says, "I've got a collar [knot] to keep it from coming down."
This is Howell's second time manning the flag borrowed from Santa Fe College's Veterans Affairs Office. For three years now, the flag release has been the sign that Fourth of July fireworks are about to begin.
Sandra Torres-Pintos, Coordinator of Veterans and Military Success Services at SFC said she is happy to loan the flag to the city of Alachua.
"We at the Veteran and Military Success Services Office are happy to help others display their patriotism, especially in celebration of our great nation's independence," says Torres.
The Flag, the fireworks, the entertainment, the activities leading up to the evening display. Maybe that's why Mashable.com has ranked the city of Alachua's yearly Independence Day celebration No. 6 in the country.
The digital media website founded by Pete Cashmore in 2005 and followed by more than 23 million, people lists the top 15 places to view fireworks in an article "Where to watch the best fireworks this 4th of July." It starts out with Boston, Massachusetts and ends with San Diego, California.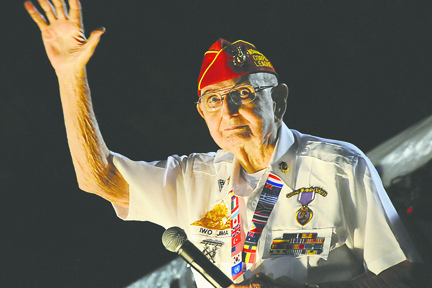 Thousands of spectators are already finding their spots as Howell hangs out high up.
"I've been a part of it two times," he says. Howell has worked for Alachua as a lineman for 9 years.
This is the end of Howell's shift, and hopefully, the last time he needs to rise up and fuss with flags or power lines on this Fourth of July, which he says he's excited about spending with his wife Katie, 4-year-old son Tate and his 1-year-old son Tibbs who has not yet witnessed fireworks.
Tate runs up to his father hoping he's ready to join him and the rest of the family, but he still needs to go up one more time to untie those ropes.
The day has been a busy and long one for Howell and other lineman and utility crew members. "I had five power out calls," Howell says about his day at work. "A limb fell on a line in Turkey Creek."
"We're here today mainly for all the vendors," he adds. "We've been running around all day."
"If you bump it, it rocks," Howell says about the bucket he's in. It's a super buggy that rotates all the way around. He tips it forward and back.
As he heads up to get ready for the unveiling, thousands are gathering around the stage and spreading out on blankets across the field. The sun is setting.
Four-year-old red haired Ariana Hollett is running around with a mini American flag in one hand.
Tyler Scian, 16, is painting with a bunch of kids and having fun mixing red, white and blue paints.
Datyana Coleman-Hubbard, 4, is standing on her dad's shoulders with her hands raised up high as a patriotic Natalie Nicole Green works her way around the stage in 6-inch heels. Her shoes, of course, have stars and stripes and her outfit has the same color scheme. Green is winding up the crowd gathered around the stage. She is singing "Rolling On The River" and folks are singing along and clapping and crowding the stage.
Little Mike and the Tornadoes were on that stage earlier in the evening and so was Gainesville artist TJ Brown.
WWII and Korean War Veteran Corporal Bob Gasche, 92, tells the crowd the advice he received before he wrote his speech.
"Be sincere, be brief and be seated," he says.
He then spoke of his morning taking part in the parade in Micanopy. He says it was warm and patriotic.
"People were cheering, flags were waving, fire engines were going," he says. "It was just a heartwarming morning.
"I fought on the island of Iwo Jima ladies and gentleman," he says. "During WWII it truly was a privilege to serve our country in this manner. I was not a great officer of any kind, I was a rifleman, I served on the front line. I was wounded after two weeks of combat at Iwo Jima," he tells the crowd.
He is decorated in medals including a Purple Heart.
Now, more than 25,000 people have gathered.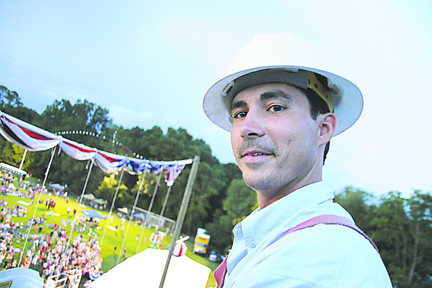 And it is time for the flag to drop.
If flows and is caught in the lights shining on it.
Alachua resident Bonnie Burgess and her friend Burt Wetherington of Gainesville are sitting on a blanket looking up at the fireworks. One after another, and then a burst of red. Burgess reaches her hands up toward the fireworks reaching out, moved by the display and the entire crowd takes it in.
Burgess wouldn't miss this show in her back yard.
"I'm a life-long citizen of Alachua," she says.
For more than 30 minutes the display continues and then settles down after the grand finale. And the sky goes dark. Everyone cheers and claps.
The crowd is disappearing and the field is almost empty when a few more straggling fireworks make their way into the sky.
The organizers are pleased. Alachua Vice-Mayor and Master of Ceremonies Ben Boukari Jr says, "The weather cooperated, the entertainment was excellent, the fireworks were spectacular."
The Alachua Police Department is pleased.
"Believe it or not everything went rather well," says APD Public Information Officer Jesse Sandusky.
"We had a huge crowd at the rec center, but everyone behaved themselves. No arrests were made and no one was escorted out of the event. It may have been one of the smoothest Fourths that we've had."
As for Howell's evening…He dropped the flag and joined his family and watched one-year-old Tibbs see fireworks for the first time and says, "He was mesmerized."
# # #
Add a comment
Add a comment
To the model train enthusiasts attending the National Model Railroad Association workshop, restoring model trains is an art and a science. And as these model train hobbyists can attest, it often takes glue, creativity and persistence.
ALACHUA – Forty-three railroad modelers from across northern Florida gathered at the First United Methodist Church of Alachua on Jan. 31 to attend a meeting and workshops sponsored by the North Central Florida Model Railroad Club in Alachua.
The Northern Division of the Sunshine Region of the National Model Railroad Association put on the program which included a workshop about using LED lighting in railroad models, presented by Larry Eggering from Jacksonville. A second workshop was led by David Orr of Jacksonville who described and demonstrated some techniques for weathering model railroad rolling stock. Harold McGee from Gainesville presented some of the history of railroads in North Central Florida.
The program also included a "show-and-tell" session. Eric Peterson, Richard Mellon, David Orr, Richard Paul, Rich Miller, Allen Scott and Sam Viviano talked about models they had brought for display. The High Springs Historical Society described the model in their museum of the former Atlantic Coast Line maintenance facilities in High Springs.
"Many more people showed up than I would have expected," said High Springs resident Sam Viviano who specializes in restoring old trains in damaged condition to almost new. "I have two trains that are 78 years old...my age," he said. Most of the trains he brought to share with others were 50-70 years old. "I look in junk train boxes and put trains together and restore them."
He explained that sometimes that can be difficult. "I was looking for wheels for one train. They aren't made any longer," he said. He eventually found a merchant that still had the old wheels in stock and ordered them. When they arrived, there were no axles. After searching for axles, which he was unable to find, he went into Sheffield's Hardware one day and showed Mrs. Sheffield an axle. "Do you have anything that's this shape?" he asked. She rummaged around in a nail bin and pulled out something close that he was able to make into an axle. "That's how it goes when you're trying to restore old items," he said.
"I received eight business cards or phone numbers from people I met at this event who want me to help guide them through restoring old trains," he said.
Viviano, a retired teacher, donated a train layout to the High Springs Historic Society to help get youngsters interested in railroading. "Model railroading teaches kids so much," he said. "Kids learn about art, architecture, mechanics, electricity and a whole host of things they would never be motivated to look into if they weren't interested in model railroading," he said.
One couple, both of whom are members of the High Springs Historic Society, attended after hearing about the event from a friend in Chiefland. Jayne and Pete Woodward said the historic society is working on an 8 x 24-feet diorama depicting the late 1800s to early 1900s in High Springs, which includes the railroad. "We were able to get some interesting and valuable insights and information on railroad history and modeling techniques," said Jayne Woodward.
After the meeting, attendees were invited to view the layout placed by the North Central Florida Model Railroad Club at the Alachua Chamber of Commerce and Historical Museum. They were also invited to visit the clubhouse, located upstairs in the Old Copeland Plan, where several more layouts were on display. For additional information about this organization, visit www.ncfmodelrailroad.com.
# # #
Email Cwalker@
alachuatoday.com
Add a comment
Add a comment