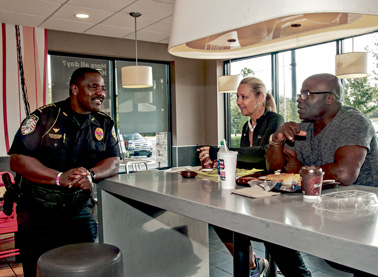 Alachua Police Department Chief Chad Scott (left) talks with Bobbi and Keith Owens at the Coffee with a Cop event. The Owens were driving to Atlanta and stopped in for a coffee break. (Today photo/RAY CARSON)
ALACHUA – On Friday, Oct. 21, the Alachua McDonalds was full of police, including nine officers from both High Springs and Alachua, as well as the chief of the Alachua Police department. But no crime had been committed, and they weren't serving out tickets. They were serving coffee. Known as Coffee with a Cop, the event is part of a nationwide program that helps police officers interact with the citizens they protect and build better communications with the community.
Typical encounters between the police and citizens happen when they are called for assistance or pulled over by an officer. These interactions are often stressful and confrontational, which puts the officers in a situation where he or she is seen as an authority figure, and not as a fellow human being. The idea behind the program is to allow an environment where the public and the police officers can interact over a cup of coffee on a personal level and where the public can ask any questions they may have about the department or policies.
The program was started in 2011 in Hawthorne, California, by the local police department. At the time they were trying to restructure their department to a more community oriented model where the officers worked within the community, so there was a familiarity between officers and the people they protected. As they considered ways of building community trust, it was suggested that maybe a simple idea like sitting down at a local coffee house could allow officers to interact in a more casual way with the citizens It could also have the benefit of putting a human face on the person behind the badge.
The program was such a success, that other police departments were soon emulating the program. In 2013, a national training program was established by the Hawthorne Police Department and The University of Illinois Center for Public Safety and Justice to help train police departments in better community interaction through the Coffee with a Cop program. The program continued to expand, including in other countries worldwide.
Michael Streicher, the owner of the Alachua McDonalds, had heard about the program and approached the Alachua Police Department to see if they would be interested in partnering by hosting an event. The Alachua Public Information Officer, Sargent Jesse Sandusky, had also heard of the program and was looking for ways to create better communications and get feedback from the public. They agreed to host the event and expanded it to include the High Springs Police Department as well.
"We wanted to create an opportunity for officers to interact with the public and allow the citizens the ability to express any concerns they might have directly to the officers. We wanted to create a positive setting where everyone could discuss what is best for the community," Sandusky said. The event was originally planned for Oct. 7, 2016, which has been officially recognized as National Coffee with a Cop day. But with the threat of Hurricane Matthew approaching the area on the same day, the event was postponed. With a State of Emergency declared, all officers would be on duty for the hurricane. After the storm passed, the event was rescheduled for Oct. 21.
At 9 a.m., Sargent L.A. Hunter of the Alachua Police Department began serving coffee to every customer that came in the door at McDonalds. Other officers mingled among the customers to answer any questions or address any concerns.
"This gives our officers the opportunity to talk to their fellow citizens. Some people see officers as an authority figure, but they are your neighbors, with the same goals, dreams and families," Sandusky said. "Nationally, there have been some shooting incidents in the news lately that have created mistrust among the public. We wanted to overcome that image. We want people to feel trust with the officers and identify them as your neighbor as well."
# # #
Email Rcarson@
alachuatoday.com
Add a comment
Add a comment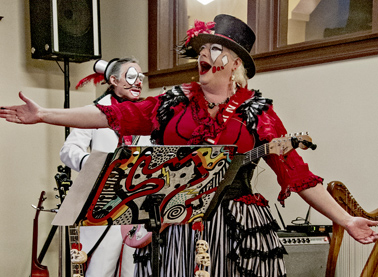 Dr. Sinn (Becky Sinn) sings during a performance at the Music in the Park series final show of the season. (Today photo/RAY CARSON)
HIGH SPRINGS – For Michael Loveday, Sunday was bittersweet. As the producer of the High Springs Music in the Park series, he had done 54 monthly consecutive shows. He had started from just an idea and himself on acoustic guitar, producing shows with no budget and little equipment. He bought the necessary sound equipment with his own money and taught himself how to run a soundboard. He then managed to convince the City of High Springs the value of producing a monthly music show in the park and that it would bring more visitors and increase revenue for local businesses.
Loveday was given a small budget from Community Redevelopment funds, and began the process of getting more musical acts. Over the months he produced shows with ever increasing professional acts in the park adjacent to the High Springs Police department. His shows became a Sunday staple in the community. But this Sunday, Oct. 16, marked the last show of the season. Now, as Loveday put it, "It's time to take a break and reflect on many good memories of great local music".
Many of the shows had featured folk music and acoustic acts, but Loveday wanted the last show to stand out, be something different and memorable. He had seen an act in Gainesville called Dr. Sinn's Freak Island Musical Sideshow. The act was part vaudeville, part burlesque and part circus, with a healthy dose of comedy and music to create a unique act.
The concept was the brainchild of Becky Sinn and Jenny Castle. Formed three years ago, the act had built a following in Gainesville and held regular shows at The Market Street Pub. Built around a cast of characters, mainly women, whose costumes mixed vaudeville, burlesque and clown makeup with ribald humor and songs, the act had a nucleus of five to seven members with others coming and going for occasional guest appearances. Sinn, who is a jazz vocalist, did most of the singing while the other performers provided the acting for the skits. They added multi-instrumentalist Don Austin to provide most of the musical accompaniment and began performing.
The act was unique and talented. But there was one problem for Loveday. Much of the humor and skits were risqué and adult orientated. "I knew that might be a problem for a smaller community and our shows are family orientated," Loveday said. He approached Sinn to see if they could revise their show for a more general audience. Sinn saw no problem with that. By placing more emphasis on the circus comedy and clown aspect with less on the burlesque, they could provide a show for all ages.
On Sunday, Oct. 16, they performed at the High Springs Historical Museum. With a mixture of song and comedy they produced several skits. In one, they included several members of the audience doing a chicken dance as Castle played a belt of rubber chickens with different tones. Another skit was based around TSA security guards, portrayed by Castle and Sally B Dash, and the surprising things they found in Henrietta Henhouse's luggage. A juggling act was also done by another character, Prince Elroy. Throughout the performance Don Austin played a variety of stringed instruments as the character called Fiddlesticks, to provide music for the skits. The actors also added elements on mime and tap dancing to the skits. In a reference to local environmentally sensitive springs, they whole troupe did a skit about polluting the water supply. The show is a unique blend of many entertainment styles and techniques and was a fitting temporary finale to the Music in the Park series. The series will return in spring 2017.
# # #
Email Rcarson@
alachuatoday.com
Add a comment
Add a comment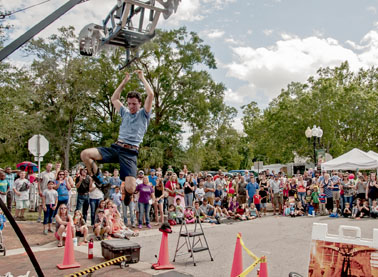 David Ferman escapes from the steel trap 5 seconds before the sharp metal teeth snapped shut. A former contestant on Americas Got Talent, Ferman presently lives in Gainesville. (Today photo/RAY CARSON)
ALACHUA – Sunday was a perfect day for a festival, a blue sky with white billowy clouds, temperature in the 80's and not a rain cloud in sight. Main Street in Alachua was closed down and 150 vendors set up to promote their products, services or expertise.
Since 2003 the Alachua Business League has been hosting two festivals a year to help promote local businesses directly to the public. Originally established to promote local services and help bring additional businesses to Alachua, the League has expanded the festival over the years, diversifying the type of businesses and vendors. They have also included more charitable organizations and general entertainment for both adults and kids.
According to Gary Kocher, President of the league, while the festival has expanded and some vendors come from outside Alachua, they try to limit vendors to small local businesses rather than corporations. "We want to promote local services, the mom and pop type businesses, whether it be services such as contractors and home improvement, health products, food vendors or arts and crafts," he stated. "We try to promote business-to-business support to help grow the community. We get a lot of return vendors, but have also seen an increase in new vendors and more diversity in the services."
The Alachua Business League holds the festival in the spring and the fall. This event marked the 28th time they have held the event. But the festival is not just about promoting business, it is also a way to bring the community together with fun activities, a variety of food and entertainment.
For children there are games such as the world's largest pinball machine, face painting, magic acts and balloon making as well as several organizations with animals for children to interact with.
Music was provided throughout the day on two stages. Most of the musicians are local as well. Some of the acts this year included Tiger Lily, Double Trouble and Southern Burn.
Other entertainment included comedian and extreme stuntman David Ferman, who was a semifinalist on America's Got Talent. Ferman ended his show by being tied in a strait jacket and suspended 10 feet off the ground upside down. He had a timer set to release two steel jaws onto him if he did not get out of the jacket in one minute. He managed to spring free and release his feet with five seconds to spare. There were a number of food vendors for attendees to choose from as well as local farms selling organic produce. There were also a number of charity organizations such as Bikers Against Child Abuse, veterans organizations and animal rescue. The Alachua Police department was also there with two cars decorated for Breast Cancer Awareness and a motorcycle children could sit on.
The Alachua Business League is a nonprofit organization that also sponsors a $2,500 scholarship for a local high school student from Santa Fe High School. The scholarship is awarded to a student that shows strong entrepreneur ability and is interested in starting or promoting a business locally after college.
The League consist of over 75 businesses in the Alachua area. The cost of joining is kept low to help encourage membership. Each business pays $75 a year, which provides a number of services including social media exposure, networking and workshops, as well as a booth at both festivals. For nonmembers, booth fee at the festival is also kept low to encourage participation. All fees go toward festival expenses to help keep the event free to the public. Estimates for this year's festival was about 7,000 attendees.
"Our goal is to continue to promote business and attract new businesses and attendees by providing a quality local festival," Koscher said.
The Annual Spring Festival will be held on Sunday April 9, 2017.
# # #
Email Rcarson@
alachuatoday.com
Add a comment
Add a comment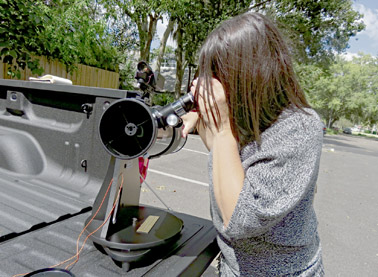 Newberry Library patron Korina Zamora checks out the Newtonian reflecting telescope. (Today photo/RAINA BARNETT)
NEWBERRY – The world of outer space is now more easily accessible to area residents.
The Alachua Astronomy Club donated a modified Orion StarBlast 4.5-inch Dobsonian reflector telescope to the Newberry Branch, Alachua County Library District. It can be checked out by any current library card holder, 18 years or older with photo identification, for a period of four weeks at a time.
As opposed to some telescopes which magnify tiny cells and objects on slides, this telescope opens up the world of outer space. Weighing in at 13 pounds, it is portable and has quality optics.
Beginner observers are able to see the craters of the moon with the telescope, Jupiter, and even Saturn and its seven rings.
"Most of the donations we receive are books," said Newberry Library Branch Manager Marlin Day. "This was a special kind of donation."
"I was approached with the idea of the club applying for a telescope grant about two years ago by one of the club members," Day said. "They didn't get it last year; but this year, they did and I think it's a really cool gift."
The Alachua Astronomy Club received the telescope as a grant from the Astronomical League, said Andy Howell, President of the Alachua Astronomy Club. "The Astronomical League is an association of over 240 astronomy societies across the United States," said Howell, who has been a member for 10 years.
"The telescope is a Newtonian reflecting telescope that uses a 4.5 inch concave mirror to collect starlight, Howell wrote in an email. The largest telescopes in the world, including the Hubble Space Telescope, are all reflecting telescopes.
"The Orion StarBlast telescope can detect stars down to magnitude 12, which is 250 times fainter than the faintest star the unaided eye can see," Howell said.
Already, two people have checked out the telescope. One was a high school student, and most recently, a mother and teacher, Korina Zamora. "I saw the telescope sitting in the library," said Zamora. When she realized it was available for check out, she had library staff assist her in packing it up into her truck. She said she intends to use it with her 6-year-old child.
"We live on five acres right near Watermelon Lake," Zamora said. "With those big open skies I'm sure we'll be able to get some use out of it."
Zamora also shared her plans to use it for the full four-week period.
"Astronomy night at the University of Florida is Nov. 4," she said. "I'm sure the people there will be like, 'where did you get such a nice telescope?' and I can tell them the Newberry Library!"
# # #
Email Rbarnett@
alachuatoday.com
Add a comment
Add a comment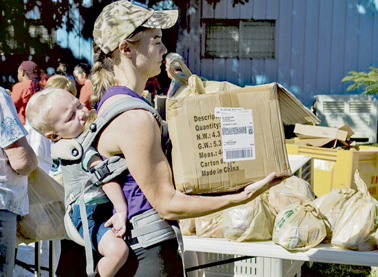 Allison Senkarik, wife of a U.S. Army Wounded Veteran, volunteers at the Newberry Food Distribution event. (Photo special to Alachua County Today)

NEWBERRY – Over 700 people were provided free food in Newberry on Saturday, Oct. 1. The Newberry American Legion Post #149, located at 26821 West Newberry Rd., hosted a Food Distribution Event from 10 a.m. to 12 p.m., made possible by county and state support.
A Christian Adventure Network named 10 CAN, Inc., which focuses on rehabilitating and improving fitness of veterans and military families through nature, held a soft launch of their program "Operation Farm2Health," also known as OF2H. The program would be a way to combat poverty while healing wounded veterans.
"Horticulture therapy is one of the most effective rehabilitative tools available for individuals with psychological wounds," said Matthew Burke, Post #149 Commander and Founder of 10 CAN. "Teaching impoverished families how to grow their own food is a vital part of fighting poverty. While it is important to provide free food to families in need, doing so without a lesson plan is counterproductive," he said.
Newberry Mayor Bill Conrad worked with Farm Share to set up the food distribution event. Farm Share was present with around 15 volunteers from the Jacksonville area.
"We have partnered with other organizations like Relay 4 Life and March for Dimes in the past," Conrad said. "When I heard about it [Farm Share], I realized other cities in Alachua County had been taking part in this type of program and we wanted to be involved to benefit our citizens as well," he said. "We knew we needed about 30 volunteers and a forklift when we took on this project. Fortunately, we had both."
Farm Share uses inmate labor and volunteers to re-sort and package an abundance of surplus food and distribute it to individuals, soup kitchens, homeless shelters, churches and other organizations feeding the hungry in Florida — free of charge, according to their website at farmshare.org.
"We expected around 500 individuals to show with around 50 volunteers," Burke said. "Both expectations were exceeded."
The event was open to everyone in and around the community, with families from all around the tri-county area showing up.
The American Legion, Farm Share, Blessed Hope Foundation, City of Newberry and 10 CAN, Inc. all worked together to host this event. In addition to Mayor Conrad, Newberry City Commissioners Jordan Marlowe and Ricky Coleman and City Manager Mike New were all part of this process. Newberry's Lions Club, Christian Life Fellowship Church, Compelling Family Outreach Ministry, Get Fit Gainesville and other volunteers and sponsors also helped make this event a success.
"I thoroughly enjoyed seeing the community working together," Burke said. "Many patrons who came to get food were low-income families."
OF2H was introduced at the event, "but cannot go forward without funding from the city," said Burke.
The OF2H program would teach 50 underprivileged families how to grow sustainable food throughout the year through local University of Florida Institute of Food and Agricultural Sciences (IFAS) workshops . They would also construct 30 residential raised garden beds for disabled individuals, two community gardens, a serenity maze and a children's garden at the Newberry American Legion.
"Let us not focus on what we cannot do, but rather what we can do," Burke said. "This is how we empower disabled individuals to be effective members of a community."
# # #
Email Rbarnett@
alachuatoday.com
Add a comment
Add a comment