HIGH SPRINGS – While High Springs City Manager Ed Booth has been acting in the capacity of Community Redevelopment Agency (CRA) Executive Director for more than a year, he says he is "delighted" to now turn over the day-to-day administrative duties. Amanda Rodriguez joined the staff on Dec. 8 and was introduced to the public formally at the Dec. 11 City Commission meeting.
The mother of three is approximately half-way through a Masters Degree program in Public Administration at Florida Gulf Coast University in Ft. Myer where she has maintained a 4.0 GPA. She is married to Sammy Rodriguez, the Director of Food Services at Camp Kulaqua for the past five years, and mother to two daughters, ages 10 and 13, and her 8-year-old son.
Much of her experience has been in marketing development and public relations for Sung Adventist Academy and as Community Development Coordinator for Partnership for Strong Families, both located in Gainesville. While she and her family currently live in Gainesville, they are actively looking for a home in the High Springs area. "I look forward to both my husband and I working in the same city," she said.
In her previous positions Rodriguez has written and managed grants, created marketing materials, newsletters, brochures, etc. and directed development of commercials and information videos. She has also been a fundraiser and event organizer.
When she applied for the position, Rodriguez was looking for a challenge. "I was intrigued by the fact that I would be starting at the ground floor at a time when there are a lot of changes being made. I am really excited that I will be in a position to help the CRA District's property owners to determine how they want to develop their district and to assist them in achieving their goals," she said.
"One of Rodriguez' initial duties will be to review the CRA District's residential and business facade grant applications and make recommendations for improvements," said former CRA Board Chair and current High Springs Mayor, Sue Weller. "She will also create a checklist for people applying for those grants to help streamline the application process."
She is reviewing the CRA Board's goals for the next two years and starting to gather information and materials to help the Board achieve those goals.
Rodriguez is also expected to meet individually with CRA District property owners and create a database to facilitate efficient communication with them. She is to develop materials to explain what the CRA District is and what programs are available to aid property owners within the District. She is also expected to develop a CRA website, which will include the different projects underway and/or projects and support are available to District property owners.
Rodriguez says she will be organizing community meetings and working directly with Alachua County as a liaison to develop a plan for the CRA District for the next 10 years. The plan will include grants for property owners within the District, she says. Upon the plan's completion and approval by Alachua County and the City of High Springs, Rodriguez says, "It will be implemented for the 2016/2017 fiscal year.
This is a tall order for a full-time Executive Director, but Rodriguez is part-time at 20 hours a week with a salary of $25,000 per year. Rodriguez says, "My door is always open. I welcome any ideas for improving the District that anyone would want to share."
Her office hours are Monday, Tuesday and Thursday from 1 p.m. - 6 p.m., and by appointment. The CRA office is located in the same building as the High Springs Building Department, 245 NW 2nd St., Unit 2. She can be reached by telephone at 386-292-3921.
Getting back to the topic of her education, Rodriguez volunteered that it is "very likely I will use High Springs and the CRA as part of my Master's thesis."
"I am really excited about the opportunity to help High Springs develop their Downtown District," said Rodriguez. "I think it's going to be fun."
# # #
Email cwalker@
alachuatoday.com
Add a comment
Add a comment
Baskestball Takes Center Stage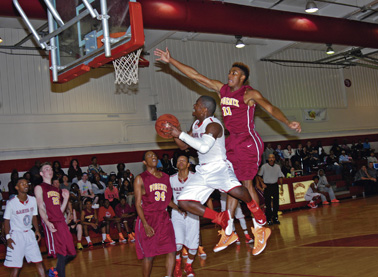 For thousands of high school basketball enthusiasts, Santa Fe High School was the place to be as fans filled the school gym to overflowing for four days of fast paced high school hoops. Starting on Dec. 26 and running through Dec. 30, 16 teams vied for bragging rights as the Hitchcock's Challenge basketball tournament champion. Area teams, including Santa Fe, Hawthorne, Eastside, Trenton, Bell, Dixie County, Union County, Columbia County and St. Francis, as well as teams from South Florida, the Florida Panhandle and as far away as Tennessee made the journey to shoot hoops in the Christmas tournament that has been a major sports experience since 1993. The tournament's 2013 champion, the Suwannee Bulldogs, is once again in the championship hunt in 2014, facing Fort Lauderdale's Archbishop McCarthy High School.
Add a comment
Add a comment
Details

Published on

Wednesday, 31 December 2014 16:24

Written by Special to Alachua County Today
Hits: 2326

GAINESVILLE ─ Graduating transfer students in the University of Florida's College of Agricultural and Life Sciences can soon receive a special award named for a 35-year CALS employee.
The new CALS Student Excellence Fund will be renamed to honor college Admissions Coordinator Emelie Matthews, a longtime Institute of Food and Agricultural Sciences and CALS employee, when she retires next year.
In her position, Matthews works primarily with transfer students. She has working for UF for 35 years. For 12 of those, Matthews also has served as an adviser for Sigma Alpha, a professional agricultural sorority.
"I've always tried to look at what's best for the students and guide them, so that they can go out and be successful individuals," Matthews said.
The fund will support an award to an outstanding transfer student who is graduating from CALS. The fund will also help to support the UF chapters of Sigma Alpha and Alpha Gamma Rho, Matthews said.
"There are so many opportunities for our students in CALS," college Dean Elaine Turner said. "Emelie has been such a valuable member of our team, working to make those opportunities available to students, and this fund will continue to do so."
Currently, $2,000 has been donated to begin this fund. In order to serve its intended purpose, the fund needs to grow to $30,000, Turner said.
During her career, Matthews has gone beyond her duties as admissions coordinator to invest in students' lives.
"It's about what we can also teach [students] about working with people, leadership and the communication skills that they need to be successful," she said.
To make a donation to support the CALS Student Excellence Fund in honor of Emelie Matthews, visit www.cals.ufl.edu/matthewsor mail a check, made payable to the University of Florida Foundation, to: Matthews Fund c/o CALS Development Office, P.O. Box 110170, Gainesville, FL, 32611-0170.
# # #
Email editor@
alachuatoday.com
Add a comment
Add a comment
Spreading the joy of Christmas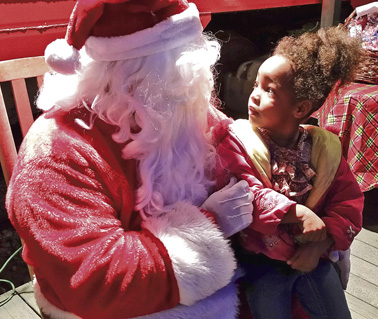 WALDO – Santa Clause told the Waldo area children to come one and come all – and they did. In fact, 128 children in all came for a visit with Santa during Waldo's Christmas at the Caboose Thursday, Dec. 18. As scores of children sat on Santa's lap to tell the jolly man in red exactly what they wanted for Christmas, Santa's little helpers gave the youngsters early gifts. At the end of the evening, Santa's helpers pulled raffle tickets for the children who had a chance to win a bike, skateboard, scooter, dollhouse and table set, home music system, video game system, or telescope/microscope set. Santa and his elves made sure that every child from baby to 12 years old left that evening with a gift and a sack full of candy.
Sure to make Christmas warmer, the City also passed out dozens of prizes including candy, coffee mugs, gift baskets, coffee makers, a crock pot with towels, a cookbook, and a cookie baking kit, said Waldo Area Recreation Director Erika Smith.
Sponsored by the City of Waldo and with contributions from community members and organizations, the Christmas at the Caboose event brightened the holidays for Waldo area children, and with the outpouring of community support, the City was able to help provide gifts for more than eight additional families
# # #
Email editor@
alachuatoday.com
Add a comment
Add a comment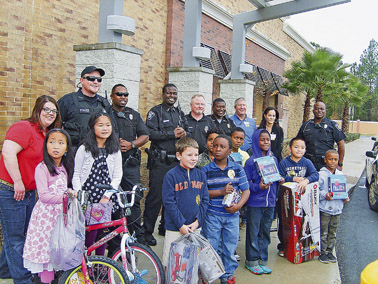 It was all smiles as High Springs police officers, staff and area children participated in the first ever High Springs "Shop with a Cop" event at the Walmart on U.S. Highway 441 in Gainesville.
Eleven High Springs children woke up on Monday, Dec. 22, and quickly remembered they were about to be the first children in their city to take part in a program that would lead to a fun-filled and fabulous pre-Christmas Day. They were the lucky participants to take advantage of a new program sponsored by the High Springs Police Department (HSPD) called "Shop with a Cop."
Although the idea is not new, it is new to High Springs. It is a concept Officer Adam Joy brought to the department. The idea began as a spark when Joy asked permission to take two children shopping for their own Christmas gifts at his expense. When some of the other officers heard about the idea, they offered to donate money so Joy could take more than two children on a shopping spree.
"I thought if they were willing to donate the money, they should go along and see the delight on the children's faces for themselves," said Joy.
HSPD was already involved in raising funds and gifts for "Operation Holiday Cheer" when Joy brought his "Shop with a Cop" idea forward. Despite that fact, Acting Chief Antoine Sheppard gave the go-ahead for the interested officers to proceed with a small group of children to see if the new program would prove successful. That decision fanned Joy's initial spark into a small flame.
Once they received the go-ahead, the officers were off and running. They managed to raise quite a bit of money in a remarkably short time. They donated funds themselves, as that was their idea in the first place, but they also received donations from the High Springs Historic Society and several other private donors who heard about the project.
Joy checked back with Walmart on U.S. 441 in Gainesville, the store he had originally contacted about the program, to confirm details a few days before the children were to arrive for their shopping trip.
"I was surprised when the store's management said they would be delighted to provide breakfast for the children and would also donate a $25 gift card per child towards the purchase of gifts for each," said Joy. "That got us to our goal of being able to offer a $100 gift amount to each child," he said.
Knowing in advance where they were going to be shopping, some families brought their children to the store a day or two early to look for the item(s) they wanted. Some had their hearts set on just one or two treasures...a bicycle and helmet or a tablet...while others took the more is more approach. Walmart department managers were available when needed with their handy scan guns to bring a bit of dollars and cents reality to the situation. Some children had to decide which items in their cart were most important to them in order to stay within their allotted amount.
Some children sought out items not only for themselves, but also to give or share with other family members. So as not to spoil the surprise, no names will be disclosed. One thoughtful child who had chosen items for other members of his family said he was purchasing a movie because he wanted to watch it with his dad.
The children who benefited from this year's "Shop with a Cop" program were chosen at random as officers encountered them while on patrol, said Joy.
"Walmart made everything possible," said Joy, who admits he didn't give the company much notice this year. "Next year we have been advised to apply for a Walmart grant, which we intend to do, and hope to be able to take more children along on our next "Shop with a Cop" trip," he said.
It appears Walmart may have fanned Joy's tiny spark into a full-fledged fire as he is clearly already thinking about ways to expand the program next year.
# # #
Email cwalker@
alachuatoday.com
Add a comment
Add a comment