Articles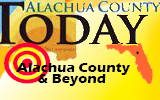 NEWBERRY – Cane Day without bottles of traditionally made sugar cane syrup is unimaginable.
Dudley Farm Historic State Park is working to preserve its historical sugar cane syrup boiling complex by building a new one.
Morgan Tyrone, the park manager for Dudley Farm, said the original furnace was used so much that it couldn't take the continuous wear and tear and risked being damaged beyond repair. The original furnace was build by the Dudley family, the homesteaders and farm namesake.
Tyrone said the only way to keep its historical value is to build a modern replica that can be used eight times a year without structural damage.
The new firestone brick furnace will be safer to use than the original lime rock. It will make about eight gallons of syrup, which is two gallons more than its predecessor.
Friends of Dudley Farm is funding the project with a $10,000 budget, according to Bill Dunk, a member of the Cane Day committee. And donations are being requested to help purchase the furnace.
To date, an 80-gallon cooking kettle was purchased for $700 and a cane mill for $500.
The next steps, which are required to finish the project, include building the furnace and the 12 X 24 sq. ft. pole barn, and mounting the cane mill.
The complex is scheduled for completion on Nov. 1, giving volunteers enough time to begin making the syrup the second week of November.
Dunk said if the project isn't finished by then, they're in trouble, as that will affect the amount of syrup sold at Cane Day.
The $5,000 made from cane day sales helps fund the park.
"With state cutbacks they [Dudley Farm] really need the money," Dunk said.
Cane Day is the park's largest event. There have been years when syrup sold out in the first two hours, according to Tyrone. This year Cane Day will be Dec 1.
Dudley Farms is listed on the National Register of Historic Places, and through three generations of the Dudley family, represents Florida farming from the 1850s to the mid-1940s. It is an authentic working farm, which includes the family farmhouse, complete with original furnishings. In addition to the cane syrup area, there is a general store, post office and an 1880s kitchen outbuilding.
The park is located at 18730 W. Newberry Road, Newberry, and is open from 9 a.m. to 5 p.m. Wednesday through Sunday, closed Monday and Tuesday.
Persons wishing to help with fundraising for the new syrup boil complex can donate at the Friends of Dudley Farms web site, http://friendsofdudleyfarm.org/learn/goals.html or by check, marking the donation "syrup complex" and mail to Friends of Dudley Farm, lnc., 18730 West Newberry Rd., Newberry, FL 32669.
# # #
Email This email address is being protected from spambots. You need JavaScript enabled to view it.