Articles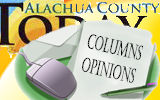 Vice-Mayor Bob Barnas has sent out a community wide blog and a Letter to the Editor in
Alachua County Today
slandering the actions and character of High Springs City Clerk, Jenny Parham. Mrs. Parham has more than 25 years of service to the City of High Springs and served as Interim City Manager for 22 months. She ran this City with intelligence, hard work, high moral standards and total attention to each detail of the City Charter.
In her many years of service to High Springs she has received accolades from all who know her. Suddenly, freshman commissioner, Vice Mayor Barnas, claims she "circumvented a process that would have allowed voters…to make a choice for debt." His blog remarks are much more insidious – a fact that moved Commissioner Scott Jamison to come out of his seat at the Tuesday, July 17 meeting.
Let's break this down. Mr. Barnas has had a death wish for the city's sewer system since the idea first appeared. He even declared to the commissioners at the time that the sewer was against his first amendment rights.
Now this commission, led in fact by Barnas, has decided that despite our proximity to the Floridan aquifer, they will not complete phases 4 or 5 of the sewer.
So, how could he ensure for all time that no sewer project can ever be completed?
That would be Charter Amendment 2012-13 that would require a two-thirds vote by the commission and a referendum approved by the voters for the commission to even temporarily borrow more than $1 million.
Commissioner Sue Weller pointed out that this could keep High Springs from using transportation tax dollars to pave roads. Former City Attorney Tom DePeters said this would squelch any chance of improving our very aged water systems, adding additional highway projects, or any other infrastructure needed for substantial growth.
How does this tie in to Mrs. Parham?
Step 1) There was a commission meeting on July 12 in which the charter amendment was proposed, but the majority of commissioners voted it down;
Step 2) Barnas ordered Parham to publish public hearing notices for the failed amendment in the newspapers. This, despite the fact that the city attorney has repeatedly told Barnas that he may not direct the activities of City staff (in fact there are more than 600 Charter and Sunshine violations submitted for legal action to the State against Barnas);
Step 3) Because the commission did not pass the amendment, Parham did not publish it, as per legal advice from the city attorney;
Step 4) The commission met in an emergency meeting on July 17 and voted to pass the amendment. Now Parham puts the ad into Alachua County Today, but not with Barnas' dates for public hearings, but with the dates as legally required for notices.
The city manager, at the beginning of the July 17 commission meeting, explained to everyone in the room the exact steps Parham had followed regarding publishing Charter Amendment 2012-13 and explained why. Nevertheless, Barnas put out the letter slamming Parham on July 19.
Barnas has repeatedly proven to be unwilling to follow the High Springs Charter. This document must be the guide for the city manager and all commissioners. Parham knows it well, and abides by it as it is her legal (and moral) obligation.
Apparently, if a Charter Officer is unwilling to follow the individual direction of one commissioner the result is a public lashing. Commissioner Jamison asked Mayor Davis if the mayor condoned such verbal public abuse of an employee and Mayor Davis said he could not stop commissioners from saying whatever they want.
Jamison also pointed out that Davis has been on the commission for three years, and Barnas and Gestrin have been on the commission for seven months. If this charter amendment is such an important matter, why are we just hearing about it now? Why does lack of planning by Barnas result in an emergency for everyone else?
# # #