Articles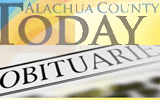 Albert Ray Dowling, Sr., 80, of Flemming Island, Florida went home to be with the Lord on July 17, 2012. He was born in West Monroe, La. on September 17, 1931 to Albert F. Dowling and Raye Christie Dowling.
He grew up in Lake Butler, Fla. and Wilmington, N.C. He was in the National Guard and also served in the Navy during the Korean War. He retired as a firefighter with the City of Jacksonville after 32 years of service in Station 5.
He is survived by his loving and devoted wife Betty Halbrook Dowling of 57 years and four children, Becky (Terry) Davidson, Ray (Darlene) Dowling, Steve (Cyndi) Dowling, and Jeanne (David) Johns; eight grandchildren, Andy and Jacob Davidson, Carol-Anne and Austin Dowling, Tyler and Parker Dowling and Garrett and Julia Johns as well as nieces and nephews.
The viewing was Friday, July 20 at Hibernia Baptist Church, Flemming Island, Fla., followed by funeral services at the same location on Saturday, July 21 at 11 a.m. with Rev. Scott Yirka officiating. Archer Funeral Home in Lake Butler, Florida was in charge of the arrangements. Graveside was at North Pleasant Grove Baptist Church Cemetery in Alachua, Fla. In lieu of flowers, donations can be made to Hibernia Baptist Church or Community Hospice in Mr. Dowling's name.