Articles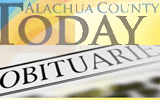 Mary Elizabeth Barker, 85, of Worthington Springs passed away at her home on July 16, 2012:
Mrs. Barker was born July 29, 1926 in Fernandina Beach, Fla. to James Matthew Monds and Cora Lee Hutto. She moved to Worthington Springs 30 years ago from High Springs. She was a restaurant owner and operator.
Mrs. Barker was preceded in death by her son, Robert Joseph Barker and is survived by three daughters, Linda Woods (Roy) of Lake City, Fla., Peggy Long (Wendell) of Sanderson, Fla., and Betty Elixson (Dean) of Worthington Springs; brother, Dick Monds of Perry, Ga.; sisters, Alice Walker of High Springs and Nora Lee Groover of Carterville, Ga; 13 grandchildren, 29 great-grandchildren and two great-great grandchildren.
Funeral Services will be at 11 a.m. Thursday, July 19, 2012 at Sardis Baptist Church, Hwy 121, Worthington Springs, Fla. Visitation will be from 5 to 7 p.m. on Wednesday, July 18 at Evans-Carter Funeral Home, 220 N Main Street, High Springs. Arrangements are in the care of Evans-Carter Funeral Home.