Articles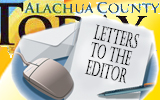 "Hats off" to you and your dedicated staff(s), as well as the planning committee, for a job well done.
As usual, "The Good Life Community's" Independence Day celebration was a huge success due to the untiring efforts of so many people that it is impossible to recognize each person individually by name.
Suffice it to say that all of the fine folks who contributed to the tremendous success of "America's" birthday celebration in Alachua should be immensely proud of the fine job they all did. I met a Korean War veteran, his wife, and daughter, during the festivities and watched the fireworks show with them.
They reside in Gainesville and this was their first visit to our unprecedented event. Each of them kept repeating over and over again what a beautiful and exciting spectacle it was of "The Country's Largest Small Town Fireworks Display in America!"
This veteran and I shared several "war stories" since I am a retired military veteran and both of us were cryptanalysts during our careers. We were both humbled by the show of patriotism displayed during the entire event.
It was heartwarming to have speaker after speaker thank our veterans for their past service and to recognize in word and song – Antoinette (Hunt) hit another vocalist "home run" as usual – the tremendous sacrifice our courageous men and women in uniform are currently making.
Please thank everyone involved in our unprecedented celebration for their untiring efforts. They truly did a magnificent job!
I am immeasurably proud to be one of your city commissioners.
Robert Wilford
Alachua Vice Mayor