Articles
Details

Published on Sunday, 15 July 2012 13:56
Written by Special to Alachua County Today
Hits: 1184
Migrant education students present songs and dances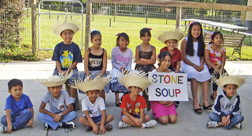 ALACHUA – Elementary students enrolled in the Alachua County Migrant Education Summer Program entertained Alachua Elementary's extended year students and guests with the play "Stone Soup," a "La Raspa" dance and a musical presentation with songs sung in both English and Spanish.
The Migrant Ed Summer Program included students attending Irby Elementary as well as other schools throughout the county, and was held at Alachua Elementary School.
Under the direction of teachers Liz Alza, Mike Maren, Mike McCarthy, Judy Beverly and high school volunteer Ryan Beverly, students spent three weeks practicing math skills, increasing reading skills and completing art activities, as well as rehearsing for the Alachua County Migrant Program's third annual summer performance.
# # #
Submit your story by
Emailing This email address is being protected from spambots. You need JavaScript enabled to view it.