Articles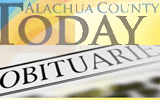 Sara Harriett Curry, 87, of High Springs, Fla., passed away on July 3, 2012 in Gainesville, Fla.
She was a member of the Baptist Faith.
She is survived by cousins, Maston O'Neal and Maston A. O'Neal, III, both of Orlando, Fla., and friend, Charles Seip of High Springs.
Funeral service was held on Saturday, July 7, 2012 at Mt. Pleasant Baptist Church in High Springs, with Rev. Don Mauldin officiating.
Interment was in Evergreen Cemetery, Jacksonville, Fla.