Articles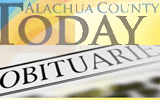 Anna Ruth Sumpter-Wilson, 97, entered into eternal rest on Thursday, June 28, 2012 surrounded by family and friends.
Mrs. Sumpter-Wilson was born to the late Lewis and Eva Sumpter in Fort White, Fla. She moved to High Springs in 1945. She was preceded in death by husbands Andrew Black and Pedro Wilson and son Johnny T. Franklin.
She joined Shiloh Missionary Baptist Church at an early age and served faithfully for many years.
She leaves to cherish her memories one daughter, Minnie Ruth Davis, of High Springs; one step daughter, Ella Thompson, of Sacramento, Calif., sons Lewis (Barbara) Black of West Palm Beach, Fla., Aaron (Deloris) Black, Alphonso (Marcia) Wilson both of Missouri City, Texas, and Maurice (Joan) Wilson, Sr. of Richmond, Texas; 22 grandchildren, 36 great grandchildren, 32 great great grandchildren; daughter-in-law Irma Franklin of Salamis, Calif., two adopted daughters, Paula Joyner Simmons and Teresa Joyner; one god son Ronald Durr; a host of nieces, nephews, cousins and many caring friends.
Funeral service will be held Saturday, July 7, 2012 at 1:00 p.m. at Shiloh Missionary Baptist Church, Rev. W. F. Cunningham and Rev. Bernard Walker, Eulogist. Burial will follow in Pine Hill Cemetery. Visitation will be Friday 6-8 p.m. at the funeral home.
Arrangement Entrusted to A. Jerome Brown Funeral Home 1560 NW 1st Avenue, High Springs, Fla.