Articles
Details

Published on Saturday, 30 June 2012 15:22
Written by Special to Alachua County Today
Hits: 1511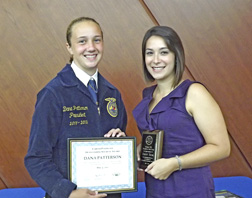 L-R: High Springs Community School Outstanding Student in Career and Technical Education Dana Patterson and Career and Technical Education Rookie Teacher of the Year Ashley Young.
HIGH SPRINGS – School may be out for the summer, but five FFA students at High Springs Community School (HSCS) are about to take one last field trip for the school year. They will attend the FFA State Convention in Orlando on June 27-28 where their chapter will be recognized as one of the top 30 in Florida.
HSCS students Kadie Feagle and Cody Donaldson will join three other classmates as Cheyenne Donaldson, Heather Donaldson and Tim Myers will attend the convention as well as compete in the state Agriscience Fair.
FFA sponsor and agriculture teacher for HSCS, Ashley Young, helped organize a fundraiser with The Great Outdoors Restaurant in High Springs to pay for the FFA State Convention field trip.
FFA students shadowed waiters and waitresses and worked for tips Tuesday and Thursday evenings in March and April to help with the cost of attending the convention.
Assistant principal Beth Pearlman recently spoke with Carol Doherty, manager at The Great Outdoors, to thank her for the restaurant's continued support of High Springs Community School educational initiatives.
At the end of the school year, HSCS was twice recognized by Alachua County Career and Technical Education, as Ashley Young was named Career and Technical Education Rookie Teacher of the Year, and HSCS eighth-grader Dana Patterson received the Outstanding Career Pathways Student Award for Alachua County Career and Technical Education. Patterson is the first HSCS student to receive this accolade.
# # #
Submit your story by
Emailing This email address is being protected from spambots. You need JavaScript enabled to view it.