Articles
Details

Published on Saturday, 30 June 2012 15:17
Written by Special to Alachua County Today
Hits: 2169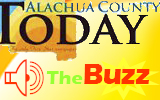 ALACHUA – Alachua native, Gator Hall of Famer and NFL Veteran Mike Peterson will host his annual Family Fun Day this Saturday from 5 – 8 p.m. at Skinner Field in Alachua. This free event, also presented by The Centers for Special Needs Trust, is open to all area residents and will feature family friendly activities such as face painting, kickball, music and dancing, bouncy houses and more. Dinner will also be provided.
While the entire event is completely free, guests are asked to bring at least one non-perishable food item. Upon entering Skinner Field, guests can exchange their canned good(s) and receive a ticket that will enable them to get a free ice cream. Immediately following the event, all donated food items will be donated to the Cleather Hathcock Community Center in Alachua to feed the hungry.
For the second consecutive year, Alachua Family Fun Day will have a "Get to Know Your Community" section, highlighting local businesses and their products and services.
A graduate of Santa Fe High School, Peterson created the Mike Peterson Foundation in 2004 as a means of giving back to his hometown of Alachua and his NFL hometowns of Jacksonville and Atlanta. The foundation's mission is to support families in need in the community and to stimulate the positive development of youth through education, recreation and life skills programs. To learn more about the foundation or its events, call 352-897-0673 or visit www.mikepetersonfoundation.com.
# # #