Articles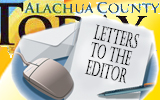 Regarding Sylvia Newcomb's recently published letter where she was encouraging everyone to do their own research, I whole heartedly agree. She also advised everyone to believe only half of what one reads, one third of what one hears, discount the rest.
This causes one to ask what part of her letter one could discount? She stated to get our dispatch center back would only cost a few thousand dollars. To my recollection the difference in what we are paying annually to the CCC (Combined Communication Center) of Alachua County and what it will cost to bring our dispatch center back was $148,000 and growing. She may feel that is only a few thousand dollars, but it is a lot of money to me. Furthermore, they do not know where this money is coming from. Have the city commissioners figured in training for six applicants that will be hired before being trained at the overtime rate for 232 hours per employee?
Mrs. Newcomb stated that Ginger Travers acted correctly when dispatching Sgt. Harper's call to the school. How could Mrs. Newcomb, who has had absolutely no dispatch training or experience, determine whether or not a dispatcher acted correctly when dispatching an emergency call such as Sgt. Harper's call?
As I stated previously, without going over the same issues again, I disagree with that statement. A dispatcher is the officers' lifeline and taken less serious than that could be detrimental to the officers working to keep the community safe. Hence, training and verification that the trainee can properly apply those principals is essential.
I would like to ask her what episode Sgt. Sheppard was involved in that would cause his actions according to protocol to be questioned? Secondly, to refer to Sgt. Sheppard as" Officer Sheppard" shows total lack of respect.
She referred to me as a previous disgruntled employee. Previous I am; disgruntled I am not. Having been through the trenches of working on the streets of High Springs, I have a genuine concern for the safety of the officers who work at the High Spring Police Department. It seems that because I disagree with Mrs. Newcomb she would like me to shut up and go away.
Some of my fondest childhood memories are after school on hot summer days when I would stop at Berry's Drug Store, owned by Sylvia Newcomb's parents, and have a cherry coke. Her mom taught me it was naughty to slurp your drink. Bert Peterson taught me as a preteen not to put an electric coffee pot in the dish water. Having walked to the old school by the High Springs Police Department in elementary school, my love for High Springs and its residents go further back than my tenure as a police officer.
Being safe and secure is not derived by having fuzzy feelings of security, but by the professional, intelligent actions of the officers who responsibly enforce the law. If asking questions of one person gives one a fuzzy feeling of security, more power to them. Personally I cannot.
Officer Ryan Scott can give a perfect presentation as seen at the Town Hall Meeting. If memory serves me correctly, High Springs Police Department is the first experience he has had on the road as a police officer. That leaves one to question whether or not he has enough experience to intelligently offer an opinion. Degrees are good, but they do not replace experience.
I welcome any comments or calls concerning any matters I have written about. Thank you for reading my letter to the editor.
Martha Hines Retired Sgt.
High Springs Police Department
High Springs, Fla.