Articles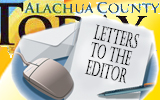 Florida is running out of water, an on-going problem for Alachua County residents, without an apparent solution. At issue is the fact that large cities such as Tampa and Jacksonville are increasing the pressure to get further access to North Florida's precious water supply. For example, Jacksonville has been granted a permit that allows JEA (Jacksonville Electric Authority) to withdraw up to 155 million gallons per day from the Suwannee Water Management District, and divert it to their customers in the St. Johns Water Management District over the next 20 years.
Several recent experiences and news items lead me to believe we are not placing proper emphasis on this issue, and Alachua County is either not taking or being provided the opportunity to be a leader in finding a solution. Two task forces/committees have been formed in which Alachua County has not been directly included. One was the formation of the Water Working Group that Alachua County chose not to join. Perhaps the more troubling is the fact that Alachua County was left off the St Johns Water Management Advisory Board. When one considers factors such as our location, both geographical and hydrological, Alachua County must be a leader on water issues.
In addition to better management of our basic water supply, we must be open to solutions such as expanded water reclaim and re-use programs. Desalinization and recharge programs must be investigated as well as the use of reservoirs. In short, all possible solutions must be on the table.
While campaigning for Alachua County Commission over the past year, I am struck by how little the water issues have played in the campaign. There seems to be a disconnection between the concerns voiced to me by residents and how little candidates and political groups share that concern. Most residents ask me questions concerning water, but the other candidates never mention the issue, and I remain the only candidate that discusses the problem. I have also not yet had this issued raised at the various forums by sponsoring groups. We must definitely address the critical water shortage and hold our leaders accountable on this issue. Our future depends on it.
John Martin
Republican Candidate
Alachua County Commission, District