Articles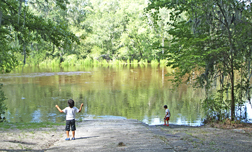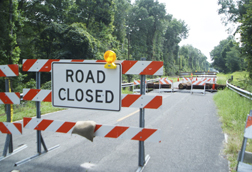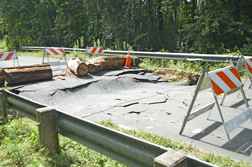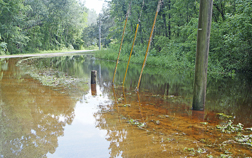 Tropical Storm Debby's soaking rain swamped NE 1st Avenue near U.S. Highway 441 in High Springs, forcing the road's closure on Tuesday.
ALACHUA – Following the deluge by Tropical Storm Debby, area residents awakened Wednesday, June 27 to what seemed like the first rays of sunshine in days. As Debby churned over the Gulf of Mexico, the meandering storm dropped massive amounts of rain across north central Florida.
Although much of northern Florida and southern Georgia have experienced long-term drought conditions, Tropical Storm Beryl, which skirted the area in May and this week's Tropical Storm Debby have left Alachua County waterlogged.
Debby's downpour was enough to cause localized flooding in some places and even more widespread flooding in locales such as Live Oak, Fla., where much of that city's downtown area remained under water through Wednesday. By the evening of Tuesday, June 26, NE 1st Avenue near U.S. Highway 441 in High Springs was underwater and forced a road closure. One of the entrances to the Woodland Oaks neighborhood in Alachua was closed due to flooding of a nearby creek that flows into Burnett's Lake.
The Santa Fe River, meanwhile, has seen a significant increase in volume and flow. That's a far cry from where it was just one month ago when record water level lows prompted an emergency meeting by Florida water experts.
But as of Wednesday evening, the Santa Fe River was continuing to rise and measured at 35.76 feet at 6 p.m. The National Oceanic and Atmospheric Administration (NOAA) expects river levels to continue rising. The agency predicts the Santa Fe River near Fort White, Fla. will crest Saturday evening at 31.4 feet, categorized as a major flood stage in that area. The river has not reached such a level in that area since Feb. 26, 1998 when it reached 32.98 feet and Sept. 16, 1964 when it reached 36.20 feet according to NOAA historical records. The unusually active hurricane season of 2004 caused river levels near Fort White to reach 30.42 feet on Sept 12, 2004. NOAA did not have flood stage and historical data on the Santa Fe River near High Springs at U.S. 441.
Alachua County Environmental Protection Department (EPD) Director Chris Bird said the heavy rains have triggered numerous sinkholes throughout the county. His office is asking the general public to report sinkholes to EPD using an online reporting system available on the County's website.
A large portion of western Alachua County, which sits above karst underground rock formations, is susceptible to sinkhole formations, especially when conditions are dry and the water table is low. Substantial rainfalls within a short period of time weighs down and ultimately causes the topsoil and underpinning limestone to collapse, Bird explained.
The rain is likely to help bring water levels up a bit, but Bird warns that Debby's rain won't cure the area's water woes.
"No one should get any false hopes that this one rain is going to solve all of our water issues," he said, adding that the rain came at such a high volume over such a short time that he believes only a small fraction of the water is going to make it into the aquifer because most of it will evaporate or flow down the river and out to sea.
More specifically to High Springs, Bird said that just because the Santa Fe River is rising doesn't mean the aquifer is at the same pace.
As Debby moved off the east coast of Florida Wednesday, the slow-moving storm left a soggy north central Florida in its wake. With river levels continuing to rise into the weekend, additional flood damage is expected.
No other tropical storms appear to be looming nearby, but the National Hurricane Center is watching a tropical wave currently moving across the tropical central Atlantic.
# # #
Email This email address is being protected from spambots. You need JavaScript enabled to view it.