Articles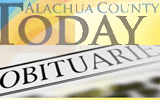 Mildred A Crawford, 82, longtime High Springs resident, departed this life on Saturday, June 23, following a lengthy illness. Mildred moved to High Springs in 1952, on the occasion of her marriage to Edward Crawford.
She was a member of the High Springs Church of Christ and operated the Western Auto Store in High Springs with her husband.
She was preceded in death by three brothers and three sisters.
Survivors include her husband, Edward Crawford; two daughters, Diane Greek and Ginger Travers, all of High Springs; one brother, Howard Collins, Leesburg; one sister, Marie Wirt, High Springs; special niece, Cynthia Brewster, Lake City; and two granddaughters, Tiffany (Brian) Griffis and Nancy Greek.
Graveside services will be conducted Wednesday, June 27, 2012 at 10:30 a.m. in the High Springs Cemetery. Visitation will be Tuesday, June 26, from 5:30 to 7:30 p.m. at Evans-Carter Funeral Home, High Springs.