Articles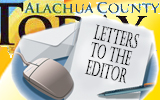 I requested to the commission at the June 5, 2012 meeting that they address Mr. Mayberry, interim manager for the City of Archer, concerning his unprofessional behavior on the dais at public meetings.
No citizen should have to endure the rudeness that he expresses toward them at a public meeting.
As I mentioned at the meeting, we can not dictate any commissioner's actions at the meeting, but the commissioners can dictate the actions of the city manager or the interim city manager.
Mr. Mayberry told me to be quiet when I was speaking at the podium. He continuously interrupted me; he accused me of blaming him or withholding information. And to top it off, he said, "I know what you are doing, I know exactly what you are doing."
I handled myself in a very professional manner and expect the interim city manager to do the same, instead of intimidating citizens when they speak at the podium.
So with all this said, again, I'm requesting that the commission take this complaint very seriously and do something about it. This is not the first complaint about Mr. Mayberry acting unprofessional in the chambers.
Laurie Costello
Archer, Fla.