Articles
Details

Published on Sunday, 10 June 2012 14:55
Written by Valera Delgado and Bryan Boukari
Hits: 1602
Area seniors celebrate graduation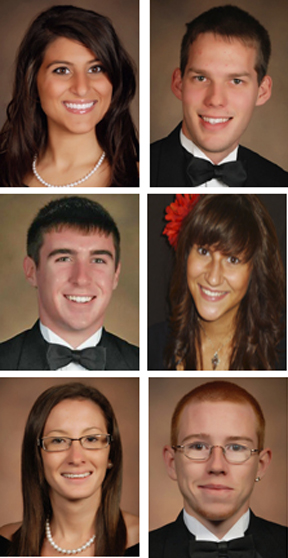 Top Row L-R: Heather Hoffman, George Saltzgiver; Middle Row L-R: William Herring, Rachel Lewis; Bottom Row L-R: Amanda Pernin, Nicholas Wade
ALACHUA COUNTY – Students from Alachua County public schools celebrated their high school graduations this past week. Hawthorne Middle/High School (HHS), Newberry High School (NHS) and Santa Fe High School (SFHS) students are embarking on their new life journey as high school graduates, and many of them will continue their education at colleges throughout the nation. NHS commencement was held Thursday, May 31 at the O'Connell Center; HHS graduation was held Saturday, June 2 at the Phillips Center for the Performing Arts; and SFHS commencement was held Saturday, June 2 at the O'Connell Center.
SFHS valedictorian William (BJ) Herring and salutatorian Rachel Lewis will both be attending the University of Florida (UF) this fall.
William Herring is the son of Bill and Debbie Herring of Alachua. He was on varsity cross county for four years and served as captain from his sophomore through senior years and Editor-in-Chief of the 2012 yearbook at SFHS. His activities included Beta, SADD, Interact, FCA, cross country, soccer, track and field and weightlifting. Herring plans to pursue a degree at UF's M.E. Rinker Sr. School of Building Construction.
Rachel Lewis is the daughter of Diane and Allen Lewis of Alachua. Lewis was a member of BETA, Interact, FCA, softball and volleyball. Dual enrolled, she also received an AA degree from Santa Fe College.
NHS valedictorian Heather Hoffman plans to attend the University of Florida along with several other NHS graduates, including salutatorian George Saltzgiver.
Heather Hoffman is the daughter of Teresa and Joseph Hoffman of Newberry. She was the Editor-in-Chief of the NHS yearbook, SGA president, cheerleader and a member of Spanish Club, FBLA and the National Honor Society. Hoffman plans to study Architecture at the University of Florida.
George Saltzgiver is the son of Phil and Helen Saltzgiver of Newberry. He was on varsity track, archery and varsity cross country teams. He is an Eagle Scout, dual enrolled at Santa Fe College, was a member of High School High Tech, the National Honor Society and participated in the Lexus Environmental Challenge. Saltzgiver plans to study computer science at the University of Florida.
HHS valedictorian Amanda Pernini plans to attend Santa Fe College. Nicholas Wade, salutatorian, plans to attend Daytona State College.
Maurice Dykes of Waldo is Pernini's guardian. Pernini was a member of Beta, on the yearbook staff and participated in Educational talent search in partnership with Santa Fe College. With a 3.9 unweighted grade point average, Pernini received numerous scholarships, including Education Foundation, Becca's Closet, Hawthorne Chamber of Commerce and Hawthorne Women's Club. Pernini plans to study health care administration at Santa Fe College.
Nicholas Wade is the son of David and Patsy Wade of Hawthorne. He was a member of the dram club, Beta and played baseball for four years. Wade has an unweighted grade point average of 3.7 and plans to study athletic training at Daytona State College.