Articles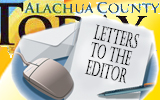 Dear Chair DeLaney, Vice Chair Byerly, and Commissioners Pinkoson, Baird, and Bradley:
Disclaimer… I am not contacting you in any official capacity in representing the Alachua City Commission. Consequently, my comments should "not" be construed in any way that I am voicing the views of the Alachua City Commission. The opinions expressed in this letter are mine as a concerned citizen who just happens to be an elected City of Alachua official.
I have been closely following the subject "Transportation Surtax Ballot Initiative" discussions on television including the county commission meeting conducted on May 22, 2012. Like the majority of Alachua County citizens, I agreed with a great number of comments expressed by members of the county commission and those of many of the residents who spoke at this latest meeting about this critical issue facing all of us who call Alachua County home. Conversely, I also disagreed with a number of comments made during the meeting.
Based on what has transpired during the "Transportation Surtax" issue over the past several months, while not having any desire to disparage any elected county and/or city officials, I am proposing recommendations in this letter solely in the spirit of fulfilling "transportation and transit needs" in our beautiful county. Although I am generally against increasing taxes and especially during these tough economic times, our roads need to be repaired "now" and I believe the action taken at the May 22, 2012, county commission meeting will delay critical road repairs being affected anytime soon.
It is important to note that my recommendations are "not" being offered in order to construct a ballot initiative that will simply have a chance of passing, but rather from a standpoint of focusing on and identifying the aforementioned "needs" of the county and its municipalities. I unashamedly admit that "Home Rule" is a major concern of mine in offering the following recommendations which I believe have a chance of reaching consensus among county and municipal governments, which will in turn provide Alachua County voters with a clear picture of the value in passing a transportation surtax to enhance and sustain the future growth of our county.
My recommendations are to propose a one-cent surtax for a period of 10 years for voters to consider at the ballot box to be used for transportation- and/or transit-related initiatives as determined by the county and each municipality based on a "Home Rule" philosophy. The county and each municipality could then decide what transportation and/or transit initiatives are needed in the areas of their individual purviews and then allocate their portion of the one-cent surtax to fulfill these initiatives.
Transportation-related initiatives should include sidewalks to be repaired/installed on new and/or resurfaced roads as "connectivity" and "best practices" initiatives. Transit-related activities should not be reserved strictly for the City of Gainesville but to the county and municipalities as they deem appropriate in fulfilling their individual transit needs.
The distribution formula will be need to be revised in order to be as equitable as possible to the county and municipalities in passing a one cent surtax. In doing so, population, road miles, and percent of the roads the county will be repairing in any municipality, should be considered.
Thank you for your service to Alachua County. You have tackled a tough issue and we all know a discussion about "taxes" is never a popular topic. I truly appreciate your commitment in addressing the need to improve our roads in order to ensure Alachua County's standing as a community of vision for the future is realized.
Robert W. Wilford
Alachua Vice Mayor