Articles
Details

Published on Saturday, 02 June 2012 15:52
Written by Special to Alachua County Today
Hits: 1249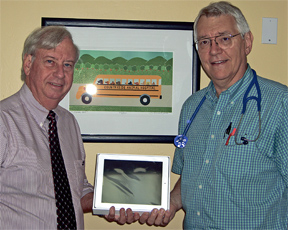 Dr. Gene Stine (right) takes possession of a new iPad from Kiwanis Club of Santa Fe president Tom Weller (left) after winning the device in a raffle.
HIGH SPRINGS – Dr. Gene Stine is the winner of the new iPad raffled off by the Kiwanis Club of Santa Fe. The raffle was recently held by the club to raise funds for its projects to help the children and others in need in the Alachua and High Springs communities.
Dr. Stine, a veterinarian, is shown receiving the device from club President, Tom Weller, who practices law in High Springs. Dr. Stine said that he was happy to support the club and its endeavors in the area.
The club recently donated a large trailer to the local Bread of the Mighty Food Bank project. Now it is far easier to collect and distribute the food for the communities.
The club has been active in the nine years of its existence. Club membership is open to all who want to help out children and the less fortunate. The club meets weekly at Brown's Country Buffet in Alachua.
# # #
Submit your story by
Emailing community@
alachuatoday.com