Articles
Details

Published on Saturday, 02 June 2012 15:48
Written by Special to Alachua County Today
Hits: 2337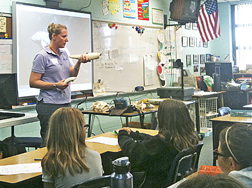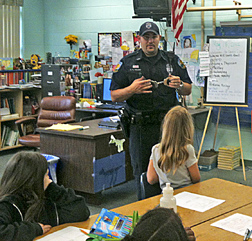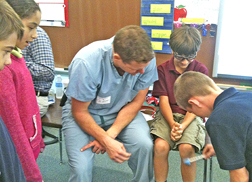 ALACHUA – Students at Alachua Elementary may have a better idea of career choices after the school recently conducted its annual career day. Youngsters received firsthand information about careers ranging from health care, to veterinary science to criminal justice to robotics and more.
Iske Larkin, an educational coordinator in Aquatic Animal Health at the University of Florida shared her special interest in manatees. She talked about manatee habitats, and showed students tracking devices that are used to learn about manatees. She also passed around ribs and jaws, which had been found in rivers.
University of Florida Police Department Officer Chad Holway talked to students about going through the police academy and showed them the equipment and gear he uses while on the job.
David Armstrong, who works at a University of Florida research lab, brought a robotic car encased in electronics and sensors, giving it the ability to drive itself. In response to a student's questions about the value of the car, Armstrong said it cost about $1 million.
Shands physicians Dr. Mehta and Dr. Kelleher, talked to youngsters about what doctors do and how much education it takes to be a doctor. They let the students use the reflex hammer, see into other students' ears and listen to heartbeats.
Alachua beekeeper Chappie McChesney shared information about bees. Students were interested to learn that bees live only a few weeks, except for the queen. He told the students that the oldest known queen is 8 years old. He also explained the duties of a beekeeper.
# # #
Submit your story by
Emailing community@
alachuatoday.com