Articles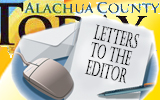 Recently two letters regarding the City of High Springs' purchase of a golf cart have been published. The golf cart is an example of just how dysfunctional the City of High Springs has become. I hope that city leaders step up and answer some simple questions:
1) Why was a golf cart purchased when the contract it was to support is not going forward? Since the revenue to justify the purchase will not be coming into the city, where in the budget is the money coming from?
2) If a work vehicle is needed in the City of High Springs why is the Polaris 4-wheeler the city owns not being used? Is the Polaris not working? Did our city manager and commissioners even know the city owned a Polaris work vehicle?
3) Why was Commissioner Barnas involved in the purchase of the golf cart? He has admitted, on the record, that he instructed the city manager to purchase the cart. A public records request shows that Commissioner Barnas picked up the check used to pay for the cart and, it is assumed, delivered the check.
4) Who was the cart purchased from? A public records request indicates that the cart was purchased from an individual by the name of John Fradd who lives in Turkey Creek. Would Commissioner Barnas like to confirm or deny that he had, as a realtor, a business relationship with Mr. Fradd?
The process of purchasing equipment for the city should be left to city employees and department heads. We should not be buying anything without a demonstrated need. Of all the tools city employees might make use of, I doubt any department head would put a $1,700 golf cart at the top of the list.
Ross Ambrose
High Springs, Fla.