Articles
Details

Published on Monday, 14 May 2012 01:02
Written by Special to Alachua County Today by Linda Hodge-Woodcock
Hits: 2435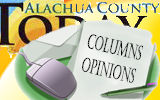 Watermelon Festival is almost here
I am so excited to be writing again and I hope you will all keep looking forward to seeing our news again. Now, you have to let me know if you have a special occasion coming up or an event you would like to tell me about. As before, I will try to cover as many things as possible.
The Watermelon Festival is coming soon, on Saturday, May 19 at Newberry's Oak View Middle School. Now, I know the date has been changed from when it used to be, the first weekend in June, and I know that old timers would like it to be at the Legion Hall, and so would I. The committee has worked hard to find a location where the event can be held. Parking is a major problem and paying to use private areas was not good cost wise.
Local melon growers are shipping melons as I write this, so moving the festival to an earlier date has meant that we can usually get local melons for the day. Our local farmers are very helpful and supportive in this project. The city and the festival committee have worked hard to find a suitable location and to be able to continue the Watermelon Festival Tradition. Now, let's go out and have a good time at the festival and be happy we can still have one here in our town. Remember that all profits go to our local schools for scholarships and enhancing other programs. For further information you can go to newberrywatermelonfestival.com
Another melon festival tradition is the parade. Line-up will be at 8:30 a.m. at the firehouse and the parade will start at 9. Kathi Thomas is the parade coordinator, and as most of you know, she starts on time, so be in line and ready to roll. She said you can bring a float, a boat, old car or truck, your club or church, and just about anything you can come up with. There will be a 1st place trophy. Alachua, Archer, and High Springs and other communities are invited to participate in this event. There is no charge for participating in the parade – just bring your smile and join us.
Watermelon picking is upon us and the local farms are shipping and hauling. A visit to Hodge Farms got me some melons and a view of the process: trucks, front end loaders, beeping and melons on the belts and everybody busy. It always amazes me to go watch how they work and see the process of getting melons from field to market. Newberry ships a lot of commodity crops that help feed families throughout the United States; look for USA stickers when you purchase produce and help our nation's farmers.
I hope to see many of you at the pageants and festival events and as always will be looking forward to visiting with you.