Articles
Parents can track student progress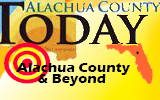 GAINESVILLE – Parents who use Androids can now access their child's grades, test scores, attendance and other school-related information through a new app offered free of charge.
The app ties into the already existing Parent Portal system, which has been expanding throughout Alachua County schools for the last two years. Currently all local middle and high schools and all but one elementary school are on Parent Portal. The final school should be on the system by the end of this year, and the plan is to have Meadowbrook Elementary School up and running soon after the school opens.
An app for users of iPhones, iPads and iPod Touch devices has been available since September.
About 5,700 Alachua County parents have signed up for the Parent Portal system. Nearly twice as many students have logged on to view their own data.
With the app, Android and iPhone users no longer have to log on Parent Portal through a browser on their laptops or desktops. The new app gives them quicker access from more places and it also allows those with more than one child in school to switch easily from one child's page to another.
Another advantage of the app is that it allows parents to set their phones to receive alerts—when a new test grade comes in, for example, or if a student is absent.
Parents who have already logged onto Parent Portal can load the app for free by clicking on the Available on the Amazon App Store for Android icon on the Portal page.
Parents who have not yet signed up for the Parent Portal can do so by visiting their child's school. They'll need to fill out a simple authorization form, verify their identity and will then be provided with a secure access code. Parents do not need to have an iPhone, iPad or iPod Touch to access the Parent Portal, just a computer with internet access.
Submit your story by
Emailing community@
alachuatoday.com