Articles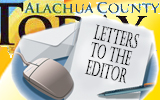 "Is that a possibility that he could get a job as an engineer, even though he's not an engineer?" Davis said.
As we have seen, the High Springs City Commission can do as they wish, even though it may not be what the people wish. He need only look to his left on the dais to see Ms. Langman, city manager, to know the answer to his question. And, of course, she said that Mr. Popoli had every right to apply for the position.
Commissioner Barnas made the city clerk stand up in front of everyone at the last commission meeting to allow him to discuss his vote of no confidence in her as city clerk.
I'm not going to go over each comment; there are too many, and unfortunately there was no call for citizen's comments after his diatribe, so I could not say publicly what I said to him privately during the 10-minute break.
I don't know Ms. Parham personally, but I can't imagine that all the previous commissioners overlooked all of her inadequacies until Mr. Barnas came on board.
She must have been doing a good job or would have been terminated long ago. To her credit, Ms. Parham did an excellent job of answering all of his comments, and in a most professional manner. This includes her comments to him regarding his proposal to decrease her salary to get her the help she needs.
Thank you to Mayor Davis and Commissioners Sue Weller and Linda Gestrin for their vocal support of Ms. Parham. I was glad to hear Commissioner Jamison's comments as well, particularly since he currently works in human resources for the Alachua County School Board.
Commissioner Barnas' jab at Commissioner Jamison as the "freshman commissioner," was a little much. Let's see – Barnas was sworn in Nov. 17, 2012 – five whole months ago.
He made the comment that the police chief and fire chief are working for a lot less. I have not checked into it, but I believe the positions are paid less than the previous chiefs, but I don't think the current police and fire chiefs are working for less than their previous positions.
I found it interesting to hear the current police chief's comments about his contract. Knowing that his job is controlled by the city commission, he asked that his contract state that, except for cause, should he lose his position as chief, that he maintain the position he had prior to being named chief.
It is my opinion that the city commission should seriously consider the $147,000 severance package requested by former City Planner, Christian Popoli. You need to understand that you are dealing with real people and their lives when you toss them out because they "serve at your pleasure."
Linda Jones
High Springs, Fla.