Articles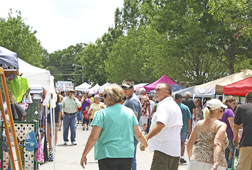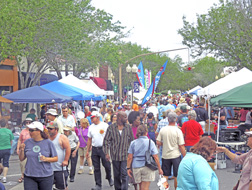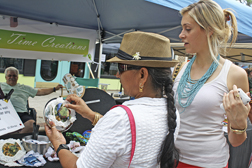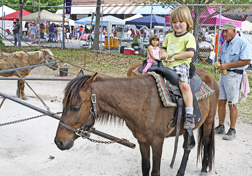 Thousands of area residents flocked to Alachua were they strolled up and down Main Street during the 10th Annual Alachua Spring Festival.
ALACHUA – A long wooden sign with the carved words "WOOD IS GOOD" caught the eye of those walking by Brian Hoblick's tent on Sunday afternoon.
Each piece is different, the Alachua resident said. The booth was filled with cypress and pine wooden carvings. There was a sign with a crane carved into it, a plaque with a fish and one piece with a carved cross.
Pops of color from flowers and art lined Main Street on Sunday afternoon. The sound of blue grass bands filled the street at the 10th Annual Alachua Spring Festival.
The festival took place from 11 a.m. to 5 p.m. and featured 174 vendors, according to one of the event organizers, Valerie Taylor. What started as primarily a festival to showcase home improvement vendors and gardeners has grown to encompass a variety of vendors, such as homemade dog treat bakers, churches, charities, artists and musicians.
"There's kind of something for everyone here," Brad Campen, of Gainesville, said. Campen, his wife Shirley and their 13-week-old son Cooper visited the festival because of the variety.
They said they preferred the Alachua Spring Festival to the art festival that was happening on the same day in Gainesville.
The vendors at the festival came out for a number of different reasons. Newberry residents Mike and Elizabeth Ewing said they came out for fun, rather than to make a profit.
They had a board full of bracelets with various names spelled out in the beading. Mike said when they first started, they picked up three different yearbooks and began making bracelets from those names. When they received feedback that they didn't have a certain name, they started to take custom orders.
Gainesville resident Stephanie Key had other reasons for attending the Alachua Spring Festival. Her business, the Curlie Girlie Bowtique, was started about two years ago after her then 23-month-old daughter Kylie was diagnosed with diabetes.
Kylie is the inspiration for starting this business. The profit goes to pay the medical bills and other expenses, Key said, who is now pregnant with her second daughter.
Daughter Kylie also inspired the product she makes. "She wears big, big bows," Key said.
The hand-sewn bows were laid out on the table in various colors from bright pink to dark blue. Behind the bows was a framed picture of Kylie modeling one of her mom's bows.
Another vendor at the festival sold plants and plant-growing kits. Renee Shiver and her husband sell mushroom growing plugs at festivals and around the world. The website for their business, Southeast Mushroom, has shipped the plugs to places like Hungary, China, Italy and Spain.
"People are interested, and it's not a hard thing to do," Shiver said.
Taylor said she was pleased at the turnout on Sunday. People kept moving at a steady pace, and the scene of art in front of her shop on Main Street created a wonderful atmosphere for the public to walk through, she said.
"Main Street is just a beautiful place to walk on, even without all this stuff," she said. "So when you add all this stuff back in, it's really beautiful."