Articles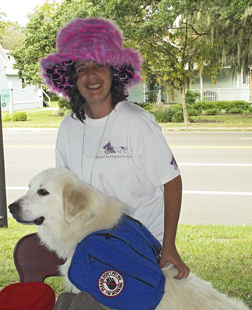 GAINESVILLE, Fla. - It all started with an unexpected meeting in a local club.
Tracie King, manager at Quality Cleaners in Gainesville, and a friend went to a club in Ocala one night where she noticed another woman at the bar.
"She was sitting over at the bar and I saw her and thought, she has this amazing positive energy coming from her, so I went over and started talking to her," King said.
The woman she was talking about is Morriston, Fla., resident Jennifer Bogumil, 35, a cancer patient who started the not-for-profit organization Hats for Happiness.
King said once she started talking to Bogumil she was hooked. "Jennifer had given me her card when I started talking to her and then about a month later I found it and looked up her Hats for Happiness website."
Bogumil's Hats for Happiness organization collects hats of all kinds, scarves, shawls and even children's bonnets, and donates them to cancer patients going through chemotherapy and struggling with the loss of hair.
After reading Bogumil's story, King knew she wanted to be a part of this organization and help others.
"I know people who have struggled with cancer, from co-workers to friends, and I would like to see people who go through chemo not just have to wear the bandanas and the scarves; I want them to have a wider variety," King said.
King contacted Bogumil and the two helped pick up hat donations from various people in the Ocala area.
Now, about a year later, King has continued to help Bogumil collect hats, and spreads the word about it every chance she gets.
King believes out of all cancer awareness organizations, Hats for Happiness is one that can help anyone and doesn't exclude particular groups of people.
"Whether you're a man, a woman or a child, it doesn't matter," said King. "If you want a hat and want a little bit of hope through the cancer struggle, Hats for Happiness is the perfect organization for that."
The organization's roots are a powerful story in itself.
Bogumil was diagnosed with uterine cancer in 2009 and started a blog called "The Adventures of CancerGirl and SuperDog," detailing her experience with cancer, being a student and how to manage both while trying to run a household.
The blog features Bogumil as a superhero and her "alter-ego" Clarice Kentwood.
The idea about the organization spawned within a week or two of Bogumil's start of chemotherapy treatment, as she had multiple people willing to give her hats at the start of her hair loss.
"I heard over and over again from people, 'Oh I have about five or six hats around someplace, let me send them to you,'" Bogumil said. "It occurred to me that if the handful of people I know have a number of hats each, I bet there are a lot more people who have hats they have never worn."
Hats For Happiness has come a long way since then, collecting around 500 to 600 hats a month from people and organizations all over Florida and nationwide.
Bogumil has about 200 volunteers for the organization from all over the country who help collect hats from their area and send them to further the cause.
"While distributing hats is our main mission, I think that the support and community that comes from the volunteers and patients coming together to support each other through the good and bad times is most important," Bogumil said. "I always tell people 'Cancer isn't contagious, but happiness is' and I have found that to be the truth."
To learn more about Hats for Happiness, visit www.hatsforhappiness.org.