Articles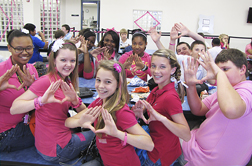 Fellow students of D'Aisha Porter form diamonds with their hands to show support for the Mebane Middle School student who has been undergoing treatment for Clear Cell Sarcoma.
ALACHUA – Forget black and gold; on March 23, Mebane Middle School's colors were pink and white.
Inspired by D'Aisha Porter, the students of Mebane donned the colors for D'Aisha's Pink Passion Day. Only 13 years old, D'Aisha has been fighting a rare form of cancer, Clear Cell Sarcoma, since 2009.
After 15 surgeries, she has exhausted all possible treatments available at Gainesville medical facilities as well as the St. Jude Children's Research Hospital in Memphis, Tenn. Now, D'Aihsa's parents are looking at treatment options available outside of the United States.
The treatment will cost an estimated $10,000, which the students at Mebane intend to pay for. Through bracelet sales and monetary donations, they have already raised over $1,400. Students wore pink and white shirts and "I Support D'Aisha Porter" bracelets during Porter's Pink Passion Day, which focused around a student rally held in the cafeteria.
Alisha Williams, club advisor for the Student Government Association, said it was impressive to see all the pink at the rally, supporting D'Aisha. Members of the Mebane Alumni Association, churches from around the community and Alachua Mayor Gib Coerper attended the event, among many more.
"We are extremely proud of our student body that they have a desire to help raise funds for their fellow classmate," said Anntwanique Edwards, Assistant Principal. "The students have been very encouraging. They understand that D'Aisha is in a battle and support her every step of the way."
During the week of March 19 through March 23, the school's 420 students were encouraged to bring in donations. When they did, they received "Think Pink" stickers and pencils.
"As president of the student body, I speak for all my peers and fellow student government representatives when I say that I support D'Aisha Porter and will do everything I can to help her," said eighth grader Jessie Stalnaker in a press release.
The cancer has spread to Porter's lungs, spine, lymph nodes and legs. Without the proposed treatment, her chance of survival is between 45 to 60 percent.
"I'm very proud because it shows how the students think about people other than themselves," said Williams. Most of D'Aisha's fellow students have been with her since she discovered she had cancer, she added.
Diagnosed with the rare cancer when she was in fifth grade, Porter is now in seventh grade and a member of the National Achievers. In 2009, D'Aisha was cheering for a local Pop Warner football team and remembers a pain in her leg. Not long after, doctors discovered a tumor the size of a cantaloupe in that leg.
According to the Manuel of Clinical Oncology, clear cell sarcoma accounts for less than one percent of all cancers.
But despite all the hardships, D'Aisha keeps a smile on her face.
"I found out myself that frowning just makes me sicker," D'Aisha said.
D'Aisha's parents, Tonnetta and Wayne, feel their daughter's strength is incredible. Despite her struggles, Wayne said, D'Aisha remembers to keep a smile on her face in and out of the hospital.
"She does not allow her sickness to hold her back, and in spite of it she still manages to keep up with her school work, chores at home and enjoys free time with friends," said Tonnetta.
Community members interested in helping can send kind words and encouraging thoughts to D'Aisha Porter at P.O. Box 913 Alachua, FL 32615, and forward donations to the following account: Capital City Bank Account number 9611870820.