Articles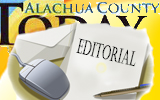 "We are not afraid to entrust the American people with unpleasant facts, foreign ideas, alien philosophies, and competitive values. For a nation that is afraid to let its people judge the truth and falsehood in an open market is afraid of its people."
These words, spoken by John F. Kennedy in 1962, have stood the test of time and are just as true today as they were 50 years ago.
Some people may find it appalling that in 2012 there are members of an elected body who seem bent on suppressing the free flow of information. Even more alarming, however, is that the attempt to stifle information occurs in one of our small towns, here in Alachua County.
Over the past several weeks, some High Springs commissioners have used the dais as a battering ram in hopes of quelling Alachua County Today's news coverage. This newspaper has endured sharp criticism from many of the same people in High Springs who, just months ago, lauded it as the truth teller.
Some commissioners are well on their way down a slippery slope – one that leads to and chips away at the very bedrock on which this nation was founded. The whole of the actions by these commissioners could easily be seen as coercion, an abridgment of First Amendment protections of the press and freedom of speech, a blockade on the free flow of information and an effort to thwart the public's right to know what their government is doing.
In a Feb. 22 email, Mayor Dean Davis wrote, "I will request that all private filming during commission meetings be prohibited." In that same email, he also said he wanted to put an end to public comments on scheduled agenda items.
During a Feb. 16 meeting, Vice Mayor Bob Barnas went on a tirade bemoaning Alachua County Today's coverage of the commission's actions.
Barnas said, "I hate having a newspaper who, you know, that beats us up about being professional and some emails and some naysayers saying, 'where's the experience?'"
It seems his contempt for the press is such that he is willing to resort to strong-arm tactics to elicit the response he wants.
"You know, I think advertisers are gonna soon realize that what happened to the North Florida Herald can happen to Mr. Boukari and his paper, a young man who just constantly wants to bash us and not write anything good," he said.
Barnas' statements are tantamount to a threat of inflicting financial harm against Alachua County Today, a small, locally owned and operated business, and makes reference to the town's now defunct newspaper that closed its doors last fall.
It came to light during the March 8 commission meeting that Davis reportedly directed at least one employee to remove Alachua County Today from his or her desk. The reason given by Davis for such a request only serves to demonstrate his lack of support for the public's right to know.
"The reason I said that [is] Alachua County Today puts headlines about the mayor the commission…and it's extremely negative. And I don't appreciate our citizens coming into the town and finding the newspaper laying on the City executive secretary's desk that said the mayor wants to stop filming and debate," Davis said. He went on to imply that this newspaper took his comments out of context or skewed them.
To be accurate, it should be noted that the actual headline referenced by Davis was "Mayor wants to restrict comments, end filming," which topped the March 1 edition of Alachua County Today. As to Mayor Davis' contention that his words were taken out of context, he would do well to read the article for himself and take note that of the 453 words therein, more than 30 percent were direct quotations from his email to City Manager Jeri Langman. The great majority of the remainder of the story was either a paraphrase of other parts of his own email or that of Ms. Langman.
To put it quite simply, if Davis dislikes what was written in the article, he only has himself to thank. Alachua County Today merely reported what he wrote. Moreover, when Davis was contacted by a reporter for clarification on his remarks, he declined to comment.
Unlike some of our most recent critics in High Springs who have transitioned from citizens to elected commissioners, Alachua County Today remains where it always has been– in a position of observation and reporting the actions of city officials.
It is indeed disturbing that public officials would openly threaten any person's constitutionally guaranteed rights. It is even more unconscionable that they would use their positions of power granted by the people to accomplish such abridgment when such actions place the City of High Springs itself at severe liability.
Today, some commissioners and citizens seem willing to place this newspaper at the crosshairs, sacrificing principles for political gain or self-preservation. Whenever any limitation is placed on the free flow of information to the public, our democracy is weakened, and our liberties are threatened.
Let us be clear that under no circumstances will Alachua County Today allow this flagrant intimidation to affect our reporting of the news. Instead, we remain fervently committed to our role as an independent government watchdog that will report the news only as it occurs.
This newspaper does not make the news – we only report it. If city officials are fearful of, or find troubling what they read, they would do well to alter their own actions.