Articles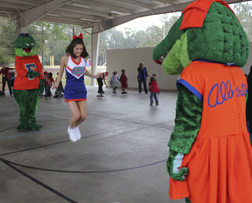 Irby Elementary students were joined by University of Florida cheerleaders and Albert and Alberta to help raise funds for the American Heart Association's annual Jump Rope for Heart held at the school Wednesday.
ALACHUA – Facing a mid-life crisis, Gainesville Police Department Sergeant Donald Geelhoed left the fancy new convertible at the dealership and challenged himself to run a marathon.
He didn't make it. Instead, he had heart surgery for a genetic defect in his aorta valve.
Geelhoed was just one of the many service men and women honored at Irby Elementary School's Jump Rope for Heart on Feb. 15 where the theme was "Be a Heart Hero." The American Heart Association coordinates the event every year.
"I'm honored and I'm humbled," he said. "But I think the real heroes on that stage are the military veterans."
While Geelhoed trained for his marathon, he experienced shortness of breath and numbness. After his surgery in October 2005, he accomplished his pre-surgery goal by running two marathons – the Marine Corps Marathon and the Gainesville Five Points of Life.
He shared his story with Irby students during morning announcements and donned a gold medal during the Jump Rope for Heart event, which labeled him the Heart Ambassador.
In addition to Geelhoed, military personnel, city officials and law enforcement officers representing the Gainesville Police Department and the Alachua Police Department were recognized as heroes.
Physical Education teacher Ray Crone, who organized the day's events, was inspired to bring the service men to Jump Rope for Heart during a recent trip. While waiting at a Dallas, Texas, airport gate, he noticed military men and women boarding a plane. The people waiting at the gate started to clap for them.
"So I decided to bring that to Jump Rope for Heart to teach our students to appreciate service people," he said.
Irby has a long history with Jump Rope for Heart, Crone said. Since starting the program, the school has raised over $100,000. This year, a new Internet e-card was available online for children to send to long-distance relatives or friends. The e-card pictured a superhero with a space for the children to place their face on the superhero. The school's Internet fundraising increased donations from approximately $400 a year to about $1500 for this year's event.
Megan Weinstein, representative from the American Heart Association, said the Jump Rope for Heart program has been going on for 35 years.
Using a jump rope is an excellent cardiovascular exercise, and it encourages children to see that exercise can be fun, she said.
"This school goes above and beyond in everything they do," Weinstein said. "They put a lot of heart behind it – pun intended."
The University of Florida's Albert and Alberta joined in the fun, along with Gator cheerleaders and Gator Dazzlers. Jessica Prentiss was given an award for her volunteer work. Michele Faulk, Santa Fe High School's athletic driector, was also given an award to recognize her contributions. Faulk's Interact Club, a service organization at Santa Fe High School, participates every year in the Irby Jump Rope for Heart by helping teachers entertain the children.
First and second grade students competed in a jump-rope contest to see who could last the longest. The American Heart Association provided prizes to the first, second, third and fourth-place winners. Prizes included a sports water bottle, a speed rope and a soccer ball.
For the first-grade class, Amari Ray took first place. Nathan Kemph came in second, followed by Everett Melvin and Joanna Scott in third place. Fourth Place was awarded to Tristan Rivera.
For the second-grade class, Serenity Carrodus won first place. Anthony Rollins came in second, and Raynard Robinson won third place. Savannah Terrell won fourth place.
Crone imparts three lessons to the students of Irby during Jump Rope for Heart. First, help yourself by exercising. Second, help others by fundraising. Last, help your school. For every $2000, Irby gets $100 in P.E. equipment.
"Kids get so excited for this event," Crone said. "What's really rewarding is when a high school senior told me a week ago that the Irby Jump Rope for Heart event was one of her favorite memories of going to this school."