Articles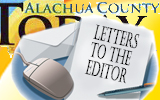 So what's your priority, Alachua School District, having your children score well on FCAT tests or having them get a rich educational experience?
Apparently the former, as Altrusa International cancels its program of having area citizens (including me) spend less than an hour reading books to children in the lower grades.
This year the program was cancelled, and the chair of the literacy committee of Altrusa expresses regret but also thinks the program should be eliminated because of the lack of "precious" time for teachers to prepare students for the FCAT tests.
Is this yet another instance of the testing tail wagging the educational dog? We have to "schedule" this opportunity for children to interact with adults other than their teachers so as not to conflict with the testing schedule?
In fact, based on a published article on the matter, the School District itself was "unaware" of Altrusa's decision to cut the program and a spokesperson pledges full cooperation to continue the program and cites a "miscommunication" with the organization resulting in this year's cancellation.
So what's next as the grim reaper of standardized testing works its deadly way across the landscape of public education?
Can we no longer "afford" to have: recess, school assemblies, field trips, music, drama, sports---anything that doesn't help kids fill in the correct bubble on an FCAT test?
Jerry D. Rose
Gainesville, Fla.