Articles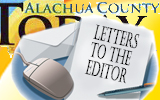 At a recent workshop sponsored by Plum Creek Development Group, Alachua County citizens in attendance were asked to provide recommendations regarding focused development needs in eastern Alachua County. The purpose was to provide citizen input regarding forthcoming Plum Creek plans for the area.
As a former mayor and city commissioner in Hawthorne it was heartening to see included, as an important element, our work to install a water and sewer system for Hawthorne's citizens. Such infrastructure has significant impact on investment and planning for development that will facilitate economic opportunity and reduce environmental concerns in the eastern part of the county.
While listening, I reflected on the struggles and sacrifices endured to ensure Hawthorne's future. The recent difficulties cities such as Waldo and Archer are facing to solve their infrastructure needs are similar to Hawthorne's, but Plum Creek's development plans provide hope for solutions.
This is in stark contrast to the unwillingness of a majority of the Alachua Board of County Commissioners (BOCC) to help Waldo, Archer and other small cities in our county. This contrast leads me to question the commitment of these commissioners to serve all of Alachua County's citizens. They are clearly opposed to our small cities being drivers of economic growth and prosperity.
Issues the BOCC claims to support, such as concentrated development, reduced congestion and environmental protection could be achieved by establishing a strong, positive working relationship with the small cities. Instead of punitive attitudes and actions, the BOCC would be better served if they worked with the small cities to reach their independent visions. Improved water and sewer are viable examples of the collective visions that exist.
The concerned citizens attending the workshop understood the importance of prosperous small cities in stark contrast to the majority of the Alachua County Commission.
John Martin
Hawthorne
Candidate for Alachua County Commission, District 1