Articles
Details

Published on Sunday, 04 December 2011 03:48
Written by Special to Alachua County Today
Hits: 7092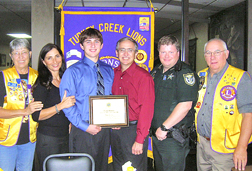 Lions Club Secretary AnnaMarie Martin; Andrea, Benjamin and Lynn Sollenberger; Alachua County Sheriff's Office Deputy Leo Lowe; Lions Club President Tony Stefanowicz.
ALACHUA – Benjamin Sollenberger was recently named Student of the Quarter by Santa Fe High School.
Benjamin and his parents were dinner guests at the Turkey Creek Lions Club meeting at Brown's Country Buffet in Alachua.
Sollenberger was presented a monetary gift for furthering his education and a Certificate of Achievement for fulfilling the four Lions' Pillars: Community Service, Academic Performance, Citizenship and Behavior..
Guest Speaker for the evening was Leo Lowe of the Alachua County Sheriff's Department Crime Prevention Unit.