Articles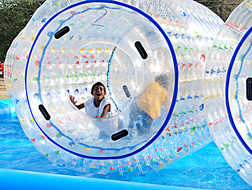 While crowds moved up and down Main Street browsing vendor tents at the Alachua Harvest Festival Sunday, Ajay and Rasala Barran found time to play in an inflatable water tube.
ALACHUA – Alachua kicked off its ninth annual Harvest Festival on Sunday, lining Main Street with over 200 vendors, several children's activities and strolling community members. Live music was provided at two separate venues along the street.
"We're blessed with good weather and good crowds that turn out, so we're pretty fortunate," Genie O'Brien, a vendor, said.
O'Brien sold shiny colorful stones, shells and other trinkets that glistened in the sun, at her corner table set up on Main Street. She said she had been attending the fall festivals since the first one, and has had the same location ever since.
"People know where to find me," she said, and the sunlight "works out to my advantage."
With temperatures in the low 70s, children climbed around in bounce houses and families walked their dogs. Many tables set up under tents sold items like jewelry, art, dog treats and ornaments, but not all vendors were retail-oriented.
"We're with the Alachua Police Explorers," Troy Doris said, at a table with free police-related goodies. Parked next to the table was a police car, and on the table were coasters, sticker badges, coloring books and crayons. The Explorers handed out temporary tattoos that said "police officers are my friends" to anyone passing by.
"The tattoos are pretty much to get people to come over and look at what we do," Doris said, "and to make little kids happy." He joined the group about three months ago.
Local farmers Hemchan and Kumarie Barran brought their children out "mostly to hang out, enjoy the festival, support whatever we could support," Hemchan Barran said. "And the kids have a good time, which is the most important thing," he said. He would like to see the bungee cord activity return to next year's festival, since his sons were looking forward to that from last year.
Instead, Ajay and Rasala Barran enjoyed playing in the Walk on Water children's activity, where they crawled around in inflatable tubes set afloat on a full inflatable pool.
At the opposite end of the street from the pool, artists set up their paintings-in-progress to work on under the public's eyes. Artist Tina Lanza Corbett, chair of the High Springs Art Co-op, painted and answered questions. She sets up her art at Thornebrook and Tioga art festivals too, and enjoyed the atmosphere of the Harvest Festival.
"This one was just really for fun and to advertise that our stuff is here in Garden Gallery," she said.
Corbett tells those who stop to visit her while she paints that she does commission work, paintings of local Florida and pet portraits. She said she liked that there were lots of dogs at the festival. "It's one of the few festivals where you can actually bring your pet, so it's fun," she said.
After lots of walking, festival goers had many options to refresh themselves with ice cream, lemonade and other treats. One vendor had free coffee samples and couches to lounge on. While sipping their hot beverages, guests could guess how many coffee beans were in a jar for a chance to win a Ghirardelli chocolate gift basket.
Community members could also get a blood sugar test for free at a table set up with the Alachua Lion's Club.
"We do it because we want to make people aware," said Georgann Grant, one of the volunteers who tested blood.
Grant explained that those with elevated levels of sugar could be damaging organs, and be causing their eyesight to deteriorate. Most people who stopped at the table already know that their sugar is high and that they need to take care of it, she said.
"The Lion's do it periodically throughout the year all over Alachua County," she said, and recommended that citizens take advantage of that.
Churches also set up tables at the festival. The Living Covenant Church held a raffle to win a Bible, where the winner receives any Bible they want and in any style, and posted a sign that said "Can we pray with you?"
"It's a way to make a contact," said the pastor Brian Coleman.
He said that many viewed praying as a sign of weakness these days, but that it strengthens many.
The next seasonal festival in downtown Alachua will be in April 2012 for the annual Spring Festival.