Articles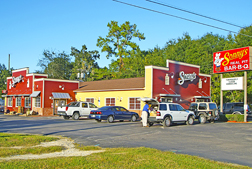 The doors are open once again at Sonny's in Alachua. The restaurant had closed to undergo a redesign after the restaurant chain's founder Sonny Tillman sold the business in late August.
ALACHUA – With a facelift inside and out, Sonny's Real Pit Barb-B-Q of Alachua was reopened Tuesday evening as new owners of the restaurant hosted a private party to celebrate and showoff the redesign.
Until the end of August, the popular Alachua eatery had been owned by Sonny Tillman's family since it opened in 1983. The restaurant has been closed for remodeling since the family sold it to Ken Kirkpatrick and Chip Dixon.
Exterior remodeling is noted by the entirely new façade giving the establishment a bolder highway presence. Like the outside, the interior redesign is not dissimilar to that of the NW 39th Avenue Sonny's in Gainesville.
In lieu of an interior takeout and order window, the entryway now boasts a lunch counter for customers who wish to sit down, but don't want to grab a full table. The area surrounding the lunch counter harkens back to yesteryear, with Sonny's memorabilia including old advertisements and signs.
From wall to wall and floor to ceiling, the dining room has been given a fresh look with new paint, booths, tables and ceiling tiles.
Although the restaurant was open for business to the general public Wednesday, Kirkpatrick said it was a soft reopening and the eatery would hold an official grand re-opening at a later date.
Also at a later date are plans to expand the restaurant to make the restrooms fully compliant with the Americans with Disabilities Act (ADA). Changes in the size of the restaurant to accommodate those improvements are still months away because it will require approval by the City of Alachua.
Kirkpatrick is no stranger to the Sonny's chain. In 1977, his father, John Kirkpatrick, opened the first Sonny's restaurant not owned by the Tillman family. That location, on State Road 200 in Ocala, is still in business and still owned by the Kirkpatrick family.
"Sonny [Tillman] is such an important part of our chain," Kirkpatrick said in a previous interview. "It's going to be wonderful having him right there in Alachua watching over us."
The acquisition of the Alachua Sonny's makes it one of 17 now owned by Kirkpatrick.