Articles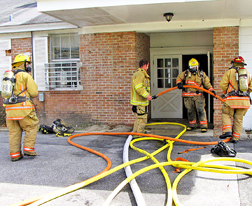 Firefighters and rescue personnel have been gaining hands on experience during training exercises at a First Baptist Church of Alachua building, which is slated for demolition to make way for the church's new multi-purpose facility.
ALACHUA – In October, the First Baptist Church of Alachua (FBCA) will begin demolishing a half-century old building, which runs alongside its sanctuary in downtown Alachua. The church plans to build an entirely new facility, which will be much larger, said Sherry Cato, a member of the Administration team working on the project.
Built in the mid-1960s, the current structure houses a kitchen, a fellowship hall and three classrooms – all within a 6,000 square-foot space.
Ringing in at a whopping 18,500 square feet, the new facility is slated to include a two-story building with classrooms for children and youth, a kitchen and a full-size gymnasium for activities such as basketball, volleyball and church social events, Cato said.
To be named The FBCA Family Ministry Center, the new building is being made possible through a large donation from a benefactor and an additional $400,000 in funds raised by the church's congregation.
Over the last week, the facility to be demolished has been a hotbed of activity as the FBCA has made it available to local fire and rescue personnel for training exercises. For the week of Oct. 3, construction crews will be removing asbestos found in the building. Then on the week of Oct. 10, fire and rescue personnel will again utilize the building for more invasive training exercises, which are to include breaking holes in the roof, walls and windows and the use of water, said Cato.
Following the FBCA's Oct. 16 church service, the congregation plans to hold a kickoff celebration. In the days that follow, local company O'Steen Brothers Construction will begin full demolition on the site. Once available, the actual date of the start of demolition will be posted on the church website at www.fbcalachua.com.
Construction of the new building is expected to take about 10 months.