Articles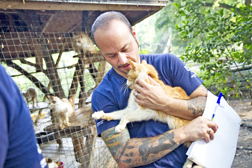 Adam Parascandola, Director of Animal Cruelty Investigations for the Humane Society of the United States hugs a Haven Acres Cat Sanctuary cat that was rescued along with an estimated 700 other cats in High Springs. Parascandola nicknamed the cat Velcro for his affectionate response to the attention/PHOTO: JULIE BUSCH BRANAMAN/The HSUS
Alachua County Animal Services along with two other organizations seized 697 cats and one rooster from the Haven Acres Cat Sanctuary near High Springs. Steve and Pennie Lefkowitz, whose home is also on the property, operate Haven Acres.
The seizure, which occurred over a two day period beginning Tuesday morning, was part of a criminal investigation and in response to concerns of alleged hoarding, said Animal Services Director David Flagler.
Animal Services was tipped off in late May when a person wanting to drop off a cat at the sanctuary became concerned upon seeing the conditions of the animals there, Flagler said.
The tip prompted an investigation by Flagler's office, which reportedly found medically neglected cats."
"We suspected the cat sanctuary had far more cats than we could take care of ourselves," he said.
That's when Flagler said they called in help from The Humane Society of the United States (HSUS) and the American Society for the Prevention of Cruelty to Animals (ASPCA), which both took lead roles in the seizure.
Officials conducting the operation first believed the number of cats to total about 500. By Wednesday afternoon, the final tally was 697 felines. That's more than triple the 200 cat limit Haven Acres was permitted by Alachua County to keep.
"Whether the sanctuary started with good intentions, it is now clear that it is unable to properly care for this number of animals, and we want to make sure they get the care and attention they need," said Ashley Mauceri, deputy manager of Animal Cruelty Investigations for The HSUS.
Most of the cats were being kept in pens scattered across the eight-acre property, but some were kept inside the home and elsewhere.
There were deceased cats found, including some in a refrigerator and at least one in a cage, said Flagler.
"Anywhere you could put a cat, there was one," he said.
County code enforcement checks apparently did little to catch the escalating feline population at Haven Acres. The operation was within its 200-cat limit according to code enforcement statistics retrieved this year. Flagler said every time code enforcement made a visit, they were told by people at the sanctuary that there were 197 cats on site.
According to The HSUS, a veterinarian on the scene Tuesday determined that many of the cats were underweight and suffering from medical ailments such as upper respiratory infections and parasite infestation.
The ASPCA Forensics Team was deployed to Haven Acres Tuesday where they were charged with documenting conditions and gathering evidence.
The cats were taken to an emergency shelter where they are continuing to be evaluated and treated according to The HSUS. The cats are expected to remain at that shelter while Alachua County Animal Services seeks a judge's order placing the felines in the custody of the County.
If Animal Services does gain legal custody of the cats, they are expected to be available for adoption through a non-profit organization.
A sanctuary with a contentious history
Although the sanctuary is zoned and permitted by Alachua County, it sits in a pocket surrounded by High Springs land and homeowners on all sides, leaving High Springs residents affected by it, but the City without any oversight as it to its operations.
The county's permitting of the sanctuary even resulted in a lawsuit filed several years ago by the City of High Springs.
Steven and Pennie Lefkowitz, whose eight-acre enclave at 21023 NW 168th Lane is surrounded by the City of High Springs, had used their property as a sanctuary for more than 400 cats and other animals since 2002.
The Lefkowitzs were granted a special exception for a private animal shelter in August 2007 by the Alachua Board of County Commissioners, to which the City of High Springs quickly filed an appeal, resulting in an ensuing lawsuit with the couple.
Many complaints had been made over the years by neighbors and High Springs city officials.
Neighbors complained of a strong odor emanating from the property. For several years, city officials warned Alachua County officials that they worried the 'sanctuary' could be a public health threat.
City officials also expressed their concerns over the couple's practice of burying deceased cats on their property.
Over the years, the living conditions of the cats have been reported as questionable by some. The Lefkowitzes, however, refuted claims that the cats lived in unsanitary conditions, saying litter boxes are changed regularly and their cages are appropriate housing.
In November 2009, High Springs and Alachua County Commissioners agreed on stipulations that would lessen the impact the cat sanctuary has on its neighbors, still allow Haven Acres to operate, and settle the lawsuit High Springs had filed against Alachua County for permitting the sanctuary around a residential neighborhood.
During a Nov. 17, 2009 county commission meeting, County Commissioner Mike Byerly said of Haven Acres, "Every animal that doesn't come to this shelter will be loose in the neighborhoods, passing diseases to pets, killing birds and probably dying on their own.
"That's the public interest…There is a need for a facility like this," Byerly said.